Deadlines are Mondays by Noon.
2023 Upcoming Holiday deadlines: SCRJ will be closed for Veterans Day on Fri., Nov. 10. Thanksgiving Deadline is Fri., Nov. 17 for the 30th Edition. Santa Letters Deadline is Fri., Dec. 1. Christmas and New Year's Deadline is Fri., Dec. 15 and SCRJ will be closed Dec. 23 – Jan. 2, 2024.
Web version – HTML web page where you can download the .pdf file to save to your computer or read in your browser. DO NOT CLICK OFF THE PAGE DURING DOWNLOAD. IF YOU HAVE TECHNICAL DIFFICULTIES PLEASE EMAIL US AT [email protected].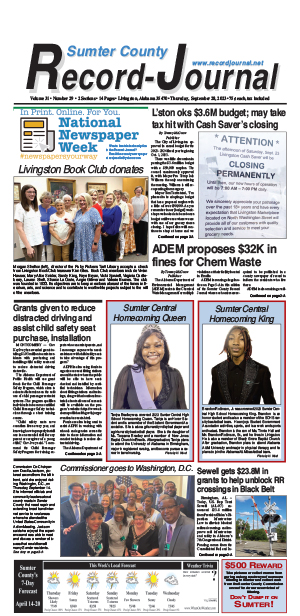 L'ston oks $3.6M budget; may take tax hit with Cash Saver's closing

Livingston Library Club donates

ADEM proposes $32K in fines for Chem Waste

Grants given to reduce distracted driving and assist child safety seat purchase, installation

Sumter Central Mr Homecoming King

Sumter Central Miss Homecoming Queen

Commissioner goes to Washington D.C.

Sewell gets $23.8M in grants to help unblock RR crossing in Black Belt
https://www.recordjournal.net/york-day-2023-gallery/

https://www.recordjournal.net/2023-sucarnochee-folklife-festival/
https://www.recordjournal.net/wp-content/uploads/2023/04/OHS-Monitoring-Review-Report-Sumter-County-Oppurtunity-Inc.pdf