Deadlines are Mondays by Noon.
2023 Upcoming Holiday deadlines: Santa Letters Deadline is Fri., Dec. 1. Christmas and New Year's Deadline is Fri., Dec. 15 and SCRJ will be closed Dec. 23 – Jan. 2, 2024.
Web version – HTML web page where you can download the .pdf file to save to your computer or read in your browser. DO NOT CLICK OFF THE PAGE DURING DOWNLOAD. IF YOU HAVE TECHNICAL DIFFICULTIES PLEASE EMAIL US AT [email protected].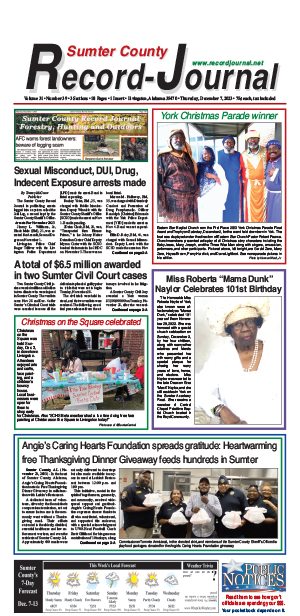 Sexual misconduct, DUI, Drug, Indecent Expos., arrests made

York Christmas Parade held

A total of $6.5 million awarded in two Sumter Civil Court cases

Miss Roberta "Mama Dunk" Naylor Celebrates 101st Birthday

Christmas on the Square celebrated

Angie's Caring Hearts Foundation spreads gratitude: Heartwarming free Thanksgiving Dinner Giveaway feeds hundreds in Sumter
https://www.recordjournal.net/2023-monster-walk/
https://www.recordjournal.net/university-charter-school-1st-homecoming/
https://www.recordjournal.net/york-day-2023-gallery/
https://www.recordjournal.net/2023-sucarnochee-folklife-festival/
https://www.recordjournal.net/wp-content/uploads/2023/04/OHS-Monitoring-Review-Report-Sumter-County-Oppurtunity-Inc.pdf