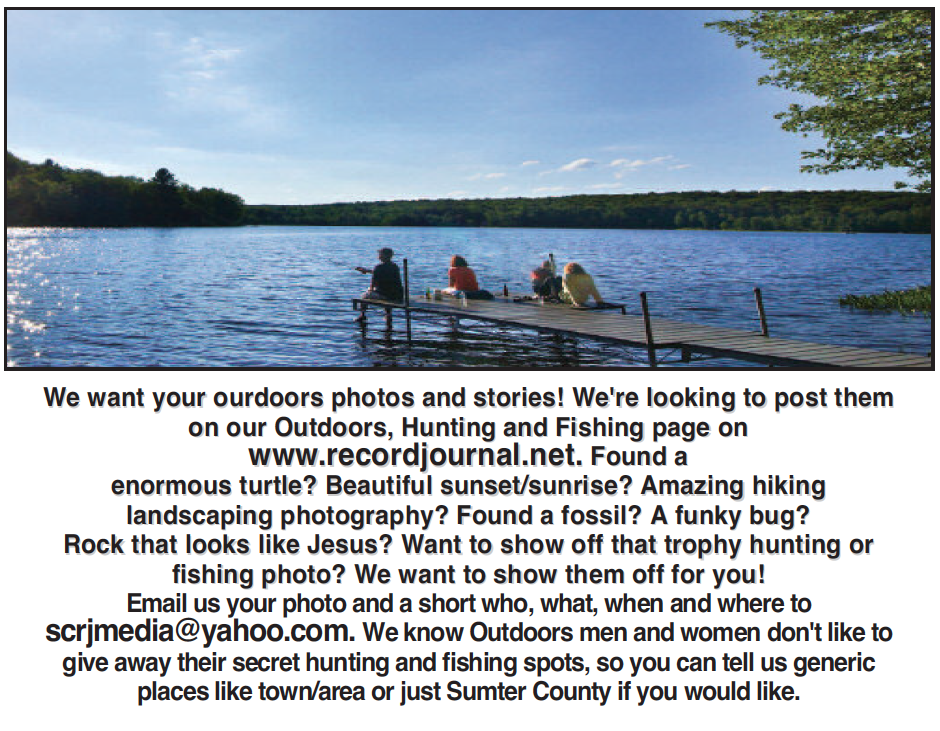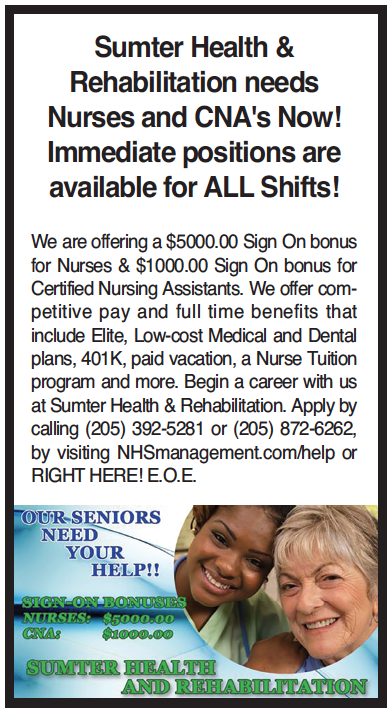 North Zone Dove Season Opens on Labor Day Weekend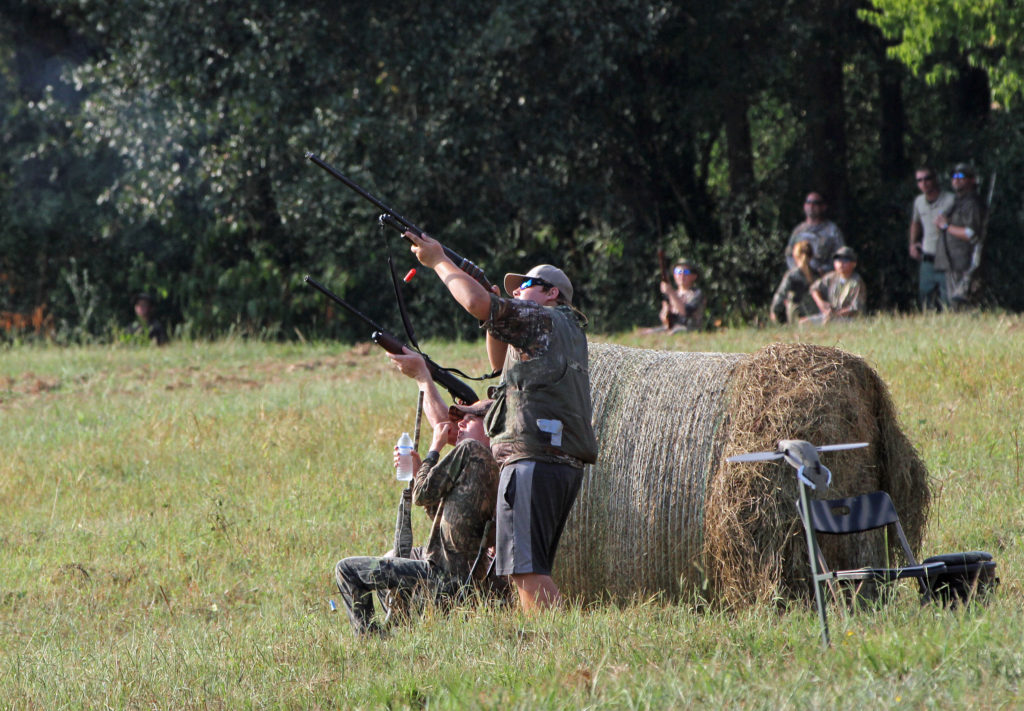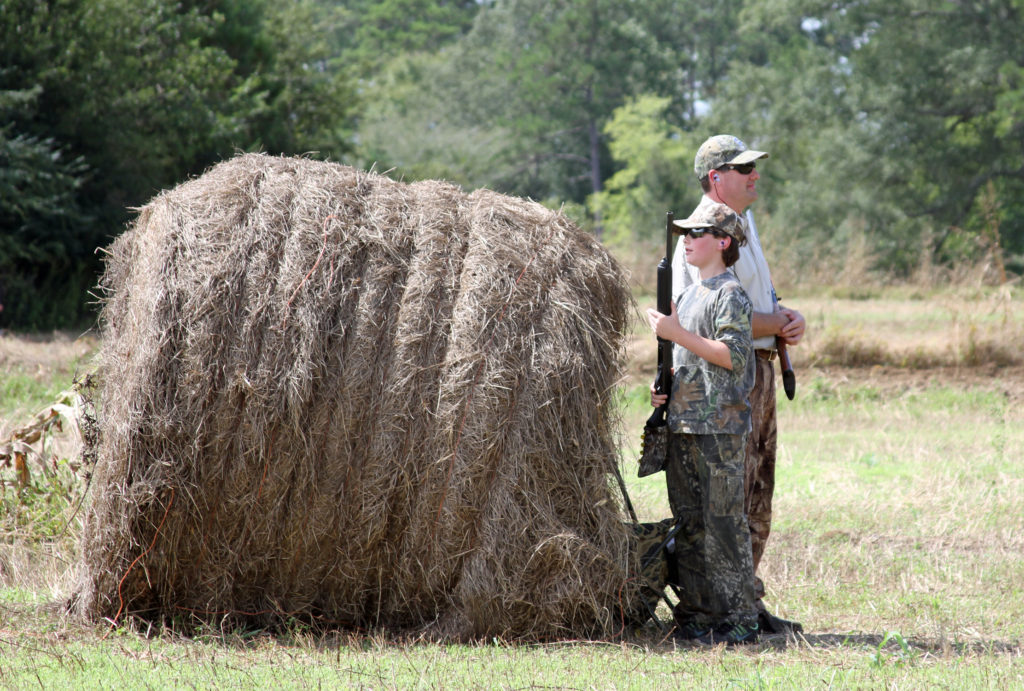 By David Rainer, Alabama Department of Conservation and Natural Resources
Alabama Wildlife and Freshwater Fisheries (WFF) Director Chuck Sykes wants to make sure dove hunters are not caught flat-footed this September when the season opens earlier than usual.
The North Zone dove season will open on Labor Day weekend this year, a week earlier than most people are accustomed to. Sykes wants to get the word out well ahead of the season.
"Most people, me included, typically think dove season opens in the North Zone the first Saturday after Labor Day," Sykes said. "That's the way it's been most years. There have been a few times since 2000 that the season has come in the Saturday of Labor Day weekend."
Because of a variety of opinions about when Alabama's dove seasons, North and South zones, should be set, WFF officials decided that a survey inviting public input would be the best way to accommodate the majority of dove hunters.
"With anything we do, you've got some people who want the season to start early," Sykes said. "You've got some who want to start late. Some want to hunt in October. Everybody has their own idea about what they want dove season to be, or any season for that matter. What that survey showed was that the majority of people wanted it to come in as early as it could in September. They wanted as many weekends and holidays as possible included where they would have opportunities to go.
"With Labor Day falling later this year, we had to decide if we wanted to push the season to September 12 in the North Zone or if we wanted to have it Labor Day weekend. There's pros and cons to both sides, but we looked at what that survey said. The majority said they wanted it early, so we gave them the earliest date possible. We were also giving them an extra weekend and giving them a holiday. Those were all three things that ranked extremely high on our survey."
The North Zone 2020-2021 season is set to start on September 5 and run through October 25 for the first segment. Hunters on opening day can hunt from noon until sunset. After opening day, hunting is allowed from one-half hour before sunrise until sunset. The daily bag limit is 15 birds of either mourning doves or white-winged doves or a combination of the two. The second segment is November 21-29, and the final segment is set for December 12 through January 10, 2021.
In the South Zone of Baldwin, Barbour, Coffee, Covington, Dale, Escambia, Geneva, Henry, Houston and Mobile counties, the 2020-2021 season opens on September 12 and runs through November 1. The final two segments are the same as the North Zone.
"We know we can't make everybody happy," Sykes said. "This isn't something we took lightly. This isn't something we didn't deliberate. And it definitely wasn't something where we didn't listen to the hunters' opinions. Basically, this is what the majority of the people who took the survey said they wanted.
"My biggest concern is that I didn't want people to be caught off-guard. I wanted them to have plenty of time to make their plans for Labor Day weekend or vacation."
Sykes also pointed out that hunters don't necessarily have to plan a hunt on opening day, but it is available if wanted. Some may choose to wait until the following weekend.
Sykes and WFF Migratory Bird Coordinator Seth Maddox said the window for planting crops like corn, grain sorghum or sunflowers for doves has passed, but there is a short window for browntop millet remaining.
"You might be able to get some browntop millet in the ground in the next couple of weeks, but the time for other crops has passed," Maddox said. "If you don't have anything planted, the best thing to do is to bush-hog or burn off a field and prepare it by disking so that you have a well-prepared seed bed, and then top-sow some winter wheat. You can begin that as early as August, and you are allowed to plant up to 200 pounds of wheat per acre on a well-prepared seed bed."
Anyone with questions can visit the ACES (Alabama Cooperative Extension System) website at https://www.aces.edu/blog/topics/forestry-wildlife/mourning-dove-biology-management-in-alabama/ to learn more about allowed agricultural practices for dove hunting are listed.
"We see it every year," Sykes said. "Yes, you can plant for erosion control. You can plant for winter grazing. There are agricultural practices that are legal, but simply going into a pasture and top-sowing wheat is not an accepted agricultural practice. Disking a field and spreading cracked corn is not an accepted agricultural practice.
"The ACES website explains in great detail what agricultural practices are allowed so that you will be legal and have a successful dove hunt."
Landowners and dedicated dove hunters sometimes make the extra effort by adding fake power lines to attract the birds. Maddox recommends giving the birds as many places to roost and loaf as possible.
"Don't cut down dead trees near a field," Maddox said. "They like to have those loafing trees to sit in and check out the field before and after they eat. If you can provide a water source for them, that can make a big difference. And make sure your seedbed is disked well. Doves don't have strong legs to scratch at the ground like turkeys do to uncover seeds. Doves are also attracted to freshly turned soil. It exposes seeds that didn't sprout and bugs they eat as well. They pick up bits of grit for their crops to help grind the seeds. Doves are definitely attracted to a freshly plowed field."
Dove hunting is one of the most popular outdoor activities in Alabama and the nation.
"Most people wouldn't know that doves are the most hunted and harvested game in the United States," Maddox said. "In our most recent survey, we had about 36,000 hunters with 200,000 days in the field and a harvest of more than 1 million birds. Most hunters don't hunt but five or so days a year, so that's a lot of birds harvested in the first couple of weeks of the season."
Maddox said the annual harvest has no impact on the overall U.S. dove population of about 250 million birds.
"Doves nest seven or eight times a year here in Alabama," he said. "They are a short-lived bird with a high rate of reproduction, so we're not hurting the population at all. This renewable and sustainable resource continues to offer abundant opportunities to Alabama hunters."
Prediction low for pine beetles in 2020
Good news for forest landowners – Alabama is predicted to have a low number of southern pine beetle (SPB) infestations in 2020, according to the Alabama Forestry Commission (AFC). More specifically, high risk counties are expected to have no more than six to nine SPB spots. The overall prediction for the state is that Alabama has a 16 percent chance of having any SPB spots this active season.
"Southern pine beetle is one of the most destructive forest pests in the southern and eastern United States," said Dana Stone, AFC Forest Health Specialist. "They will attack most species of pines, but the most vulnerable are dense, mature stands of loblolly, shortleaf, and/or Virginia pines," Stone continued. "The location and intensity of SPB outbreaks varies from year to year, and infestations are based on many factors. Condition of the pine stand is one factor. Other contributing factors are extended adverse environmental conditions and SPB population levels."
Since 2018, an updated analytical model has been used to predict infestation trends more accurately. Each year, a spring SPB pheromone survey is conducted to monitor population levels. Several southeastern states participate in the annual survey, including Alabama. Traps are deployed in several counties throughout each state, generally from late February to early March, and remain in place from four to six weeks. Baited with a lure – SPB pheromone (frontalin and endo-brevicomin) and a polyethylene blue sleeve (primarily alpha-pinene) – the traps are checked once a week by retrieving the insects from the traps' collection cups and counting the number of adult southern pine beetles as well as their predators, clerid beetles. After the survey period, the traps are removed from the site. The results of the number of SPBs and clerid beetles caught each week are used to obtain population levels and predict infestation trends for each state.
The 2020 survey data was collected and submitted by AFC and other agency employees in Alabama and analyzed by researchers from Bates College, Dartmouth College, and the USDA Forest Service. This analysis does not include data from the National Forests in Alabama, so the final report is not complete. While a preliminary summary was determined for the region, this information is by no means absolute confirmation of what will occur across the state.
Bama Bug Fest Goes on the Web
The second Bama Bug Fest will live stream on Facebook and YouTube starting July 7.
Bama Bug Fest: On the Web, a collaboration by University of Alabama Museums, UA Libraries and the Tuscaloosa Public Library, will provide interactive videos, interviews with experts and storytelling for all ages every Tuesday, Thursday and Saturday through July 25.
"I hope that everyone who gets to view the online content for our virtual Bama Bug Fest will learn something new about bugs that they didn't know previously, and as a result, will develop a greater appreciation for the biodiversity, beauty and importance of bugs in our world," said Dr. John Friel, director of the Alabama Museum of Natural History.
Content will include a family-friendly bug-related stand-up comedy, insect fashion with UA's Fashion Archive, baking chocolate chirp cookies with Arthropod Apothecary and world-renowned science educator Dr. Sebastian A. Echeverri.
Segments will air at 10 a.m., 2 p.m., 4 p.m. and 7 p.m. each day. A Q&A session with the public will be held at the conclusion of each day.
Bama Bug Fest will crawl on the web via UA Museums' YouTube channel; the Tuscaloosa Public Library's YouTube channel and Facebook page; Alabama Museum of Natural History's Facebook page; and Mildred Westervelt Warner Transportation Museum's Facebook page.
For more information, visit www.bamabugfest.org.
Unusual Weather, Unusual Year for Cotton Insects
Mild winter weather, cool spring days and a handful of heat-filled scorchers combined to create an interesting situation with cotton insects this spring and summer. Alabama Cooperative Extension System crop entomologists are keeping a close eye on the evolving situation.
Alabama Extension's Ron Smith and Scott Graham have been working with busy cotton producers all spring. Now they have focused their attention on summer cotton insects.
Cotton Insects to Watch
Grasshoppers
A warmer than normal, dry winter allowed grasshoppers to overwinter in large numbers.
"We've had more calls about grasshoppers than thrips," Smith said. "This is the worst year of grasshopper issues that I can remember. Grasshopper issues are worse on the Coastal Plain and the Southeast because they survive better in sandier soils."
The warm weather in March triggered early emergence. In turn, producers battled an influx of grasshoppers to their seedling cotton.
Threecornered Alfalfa Hopper
"We have observed a fair amount of threecornered alfalfa hopper (TCAH) damage in several fields of later planted cotton in north Alabama," Graham said. "TCAH damage plants by girdling stems leaving a characteristic 'knot' around the stem, typically below the cotyledons. Plants will be stunted, and leaves and leaf veins will turn reddish."
Treatment decisions for TCAH can be difficult because no damage thresholds are established. However, producers rarely observe yield losses from TCAH damage as injury happens early in the season. Unaffected neighboring plants can compensate for the yield lost from damaged plants.
Thrips, Snails, Slugs and Spidermites
Cool, wet April weather in north and south Alabama forced producers to plant later. Graham and Smith said the thrips moved right in with heavy pressure.
"Snails are an emerging issue," Smith said. "They don't eat the plants, but so many snails get on a plant that it pulls the plant over."
While it is not a huge problem, Smith said there is not a pesticide control option or another control option available for producers.
In an unusual situation in Talladega County, slugs destroyed five fields of seedling cotton on one farm.
"These producers planted their cotton into heavy residue, and slugs thrive in heavy residue," Smith said.
The damage was so bad the producers decided to disk up the field, destroy the old crop residue and replant.
Spider mites were observed and reported on cotton in several locations in central Alabama in mid-June. Mites are always present in small numbers in cotton fields, but can quickly increase in number during a hot, dry period.
Fall Armyworms and Tarnished Plant Bugs
Early in June, fall armyworms were present in conventional corn in Baldwin County. There are not large numbers of producers who have conventional corn so this may be an isolated issue. However, it is unusual for producers to see this pest present in early June.
Graham said producers are experiencing issues with tarnished plant bugs (TPB). Daisy fleabane is a primary host for TPB. It bloomed early and is drying down so TPB are now moving into cotton.
"Tarnished plant bugs typically develop into adults in roughly 21 days," Graham said. "We expect that generation is moving into cotton now. This is something to look out for because TPB can really damage cotton in the pinhead square stage. We found TPB populations above threshold on June 19 in cotton planted in April. Tarnished plant bugs will be the prominent pest of cotton through the third week of July."
Stink Bug Complex
Each year, Alabama farmers deal with several stink bug species, known collectively as the stink bug complex. The brown stink bug, the southern green stink bug and the brown marmorated stink bug cause significant issues in corn and cotton. While the brown marmorated stink bug is a new pest, it can cause extensive damage to corn and cotton. Thanks to mild winter weather, stink bugs overwintered in high numbers.
Both entomologists said the necessary control will be different based on geographical location in the state.
Corn and cotton in south Alabama will likely need multiple insecticide applications to control stink bugs, while cotton in the central part of the state may need two to three applications. Cotton in north Alabama may need one spray to control.
"Brown marmorated stink bugs are now part of the stink bug complex in central and north Alabama." Smith said. "The most injury from BMSB will occur around field borders and in the first 50 feet of cotton fields."
Corn, which serves as a trap crop, can be treated which may reduce their numbers in cotton.
Redbanded Stink Bug
In addition to the stink bug complex, soybean producers should keep a watchful eye on fields for the redbanded stink bug, which have already been treated in Louisiana.
"This is a major pest of soybeans," Smith said. "These stink bugs are natives of South America and came to Alabama through Louisiana. These stink bugs don't have an inactive state. Growers need to be aware as the crop beings to develop pods."
While the redbanded stink bug can overwinter as far north as Prattville, Alabama, they are pushed back to the Gulf Coast in colder weather. Because the winter was mild in Alabama, these stink bugs are already present in Alabama soybeans.
More Information
For more information about cotton insects from Alabama Extension professionals like Ron Smith and Scott Graham, visit the Alabama Crops website via www.aces.edu. Interested producers and industry personnel can also subscribe to the Alabama Cotton Shorts newsletter and the Alabama Crops Report weekly newsletter.
Read archived issues of Alabama Cotton Shorts online.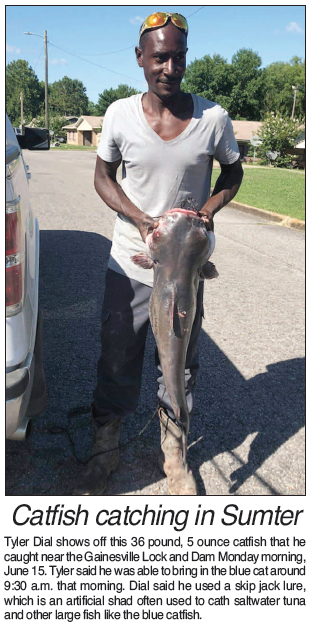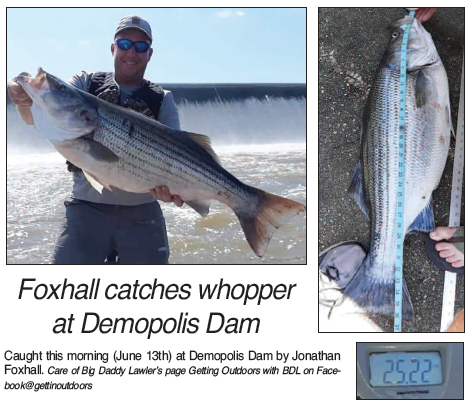 Getting the most from Hay Testing
By David Daniel, Jr., Regional Extension Agent – Animal Science & Forages, Alabama Cooperative Extension System
Having the results of a hay analysis offers the producer several benefits for livestock management. Knowing the nutritional value of hay prior to the feeding period allows producers to have a better understanding of the resources they have at hand when working to meet the needs of their livestock. Meeting the livestock's nutritional needs is one of the most critical pieces of the puzzle when it comes to providing care and optimizing their performance. Accurate test results prior to the beginning of the feeding period allow producers the opportunity to plan for meeting possible nutritional deficiencies in a cutting of hay. Below are a few sampling concepts to keep in mind to help ensure each sample offers an accurate representation of the hay being fed and provides information that will be useful to your operation.
Collection method and technique are critical to getting the most accurate information you can on your hay. Don't get me wrong, in theory, test results generated from a grab sample of the hay being fed are better than no information at all. But the best hay sample a producer can collect is the one that most accurately represents their entire "lot" of hay. A lot is defined as hay cut from the same field, at the same time under the same conditions. Randomly collecting individual core samples from 25% of the bales produced within a lot will help ensure the sample submitted is an accurate representation. These core samples from individual bales are then mixed together and used to fill a quart to gallon sized plastic bag to finish the overall sample.
Another consideration to keep in mind when collecting samples with the use of a hay probe is how to get the most information from each bale. Each bale represents forage collected from a portion of the field. If attention isn't paid to how each bale is sampled, we can reduce the accuracy of the overall sample quickly. The probe should be inserted into the bale on one of the rounded edges for round bales. For square bales, the probe should be inserted through a square end. By using these sample sites, the probe can collect hay from a greater number of locations within the field.
The final consideration before submitting your sample will be selecting what tests should be run. The Auburn Soil, Forage, & Water Testing Lab has a variety of different testing options. In many instances the results provided from the "F2" test should answer enough questions about the hay to aid producers when making management decisions. This test provides Relative Forage Quality (RFQ), crude protein and nitrate values for the lot of hay. These values will help identify if using the hay alone as a feed source will meet the needs of the animals you intend to feed it to or if an additional supplement will need to be provided. This test will also alert the producer to any potential nitrate poisoning issues that can be a problem for cattle, sheep and goats if the hay sampled has high nitrate levels. Test selection is made on the "Hay and Forage Testing Application Form" that will need to be sent to the lab along with your hay sample and payment. This form can be found and printed at the following link: https://ssl.acesag.auburn.edu/anr/soillab/forms/documents/ANR-2236.pdf , and contains additional details about how and where your samples should be shipped. If you would like an application printed or have questions about the testing process, please contact me at 334-407-9374 or your Alabama Cooperative Extension System County office. The Alabama Cooperative Extension System (Alabama A&M University and Auburn University) is an equal opportunity educator and employer. Everyone is welcome!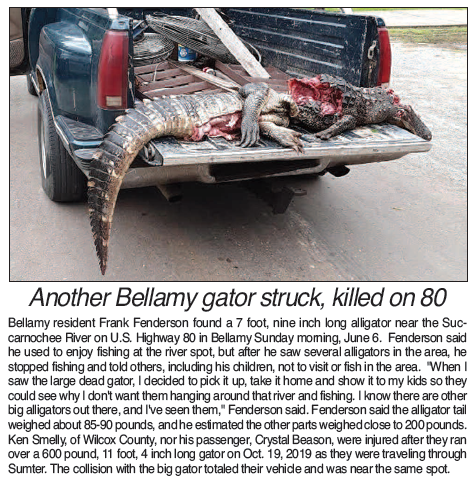 Pandemic Public Nights Allows for Digital Stargazing on Four Continents
After more than 30 years of sponsoring public telescoping, The University of Alabama Observatory closed to the public because of the coronavirus.
But where there's a will there's a way, as the old saying goes.
The UA Department of Physics and Astronomy returned access to its powerful reflecting telescope in the observatory atop Gallalee Hall through what's been dubbed Pandemic Public Nights, a digital viewing through the telescope.
The first Pandemic Public Nights is available on the department's Vimeo channel, and the department will share links to future digital viewings, which are captioned, through its social media channels.
"It's a good opportunity for people to get their space fix," said Dr. William Keel, professor of astronomy and physics.
The telescope is controlled by a computer, and can be operated remotely, so Keel said faculty in the department thought recording or livestreaming what is seen through the telescope would be a good way to avoid crowding the observatory.
"In the past few months, cramming people together into the observatory dome, which is 30 feet in diameter, seemed like a really bad idea due to COVID-19," Keel said.
The department has a webcam have a webcam and a moon map, so different faculty members can discuss what people see on the video.
"We'll do things like look at the moon and view where moon bases were, where Apollo 11 landed, where a lava flow overwhelmed a side of a crater, where a media shower damaged it and more," Keel said. "The other good thing is by doing it digitally we don't have to worry about Tuscaloosa's wild weather, which has canceled a lot of our viewings."
Another benefit of digital stargazing is it won't just be UA's campus telescope used for Pandemic Public Nights. Since UA is part of a group of universities that remotely operates telescopes on three continents, which, along with Tuscaloosa in North America, includes Arizona, Chile in South America and the Canary Islands off the African coast, Keel said for public access to all of the telescopes.
Two big upcoming astronomical events to look forward to this year include the solar eclipse on June 21 that can be seen over central Africa, Asia, the Pacific and southeastern Europe, and the once-in-a-generation "Great Conjunction" on Dec. 21 in which Jupiter and Saturn align in the sky.
Though Keel said the solar eclipse won't be something UA's telescopes will be able to capture – the visibility of it is just out of range – the Great Conjunction will be.
"Right before Christmas, Jupiter and Saturn will be lined up from our view point so close that it will look like they're side-by-side," Keel said. "This is very rare. Jupiter has lapped Saturn before only once in my lifetime."
The University of Alabama, the state's oldest and largest public institution of higher education, is a student-centered research university that draws the best and brightest to an academic community committed to providing a premier undergraduate and graduate education. UA is dedicated to achieving excellence in scholarship, collaboration and intellectual engagement; providing public outreach and service to the state of Alabama and the nation; and nurturing a campus environment that fosters collegiality, respect and inclusivity.

Additional news about The University of Alabama can be found at: https://www.ua.edu/news/news-media/
COVID-19 AG Survey
By Brittney Kimber
COVID-19 impacted the agricultural industry. However, the full extent of the impact is currently unknown. Professionals with the Alabama Cooperative Extension System and Auburn University's College of Agriculture are working to better understand these impacts. A study is currently underway to assess the effects that COVID-19 is having on Alabama's agricultural economy using an agriculture impact survey.
"We have all been affected by the COVID-19 pandemic," said Max Runge, an Alabama Extension economist. "However, for those involved in production agriculture, the production did not stop. Even with supply chain disruptions, animals had to be cared for and plantings had to move forward despite market prices falling below cost of production."
Through this agricultural impact survey, professionals are gathering information from all agriculture-related segments, spanning from row crops to livestock.
Complete the Assessment of COVID-19 Impacts on Alabama Agriculture survey.
The survey is voluntary and anonymous. Because of the broad-reaching impacts on all phases of agriculture, the survey may be longer than typical surveys. However, Runge says the gathering of as much accurate information as possible is crucial to making the best estimate.
Those wishing to participate should use the following guidelines:
Complete the survey only one time.
If a farm has multiple operators involved, one complete survey is sufficient as long as it reports all the impacts.
Submit surveys by June 30.
Professionals will share survey results with industry leaders, commodity groups and legislators in support of any policy and industry response that may be appropriate.
"The impacts of the pandemic will be felt for a long time," Runge said. "For now, we would like to assess the impact COVID-19 is having on Alabama's agriculture and related industries with this survey."
For more information on this survey contact Max Runge at rungemw@auburn.edu. People can also visit the Alabama Extension website, www.aces.edu, for information on the affects of COVID-19.
Cogongrass and the Threat of Fires
AUBURN UNIVERSITY, Ala. – Cogongrass is one of the most significant non-native invasive plants in Alabama. Not only does it invade a wide variety of habitats, but it also disrupts ecosystem function, particularly through fire regimes and fire intensity. Thrives On Fire "Cogongrass is a fire-adapted species that thrives on fire," Nancy Loewenstein, an Alabama Extension forestry, wildlife and natural resources specialist said. It burns easily and at extremely high temperatures in part because of its leaf characteristics but also because plants often have highly flammable thatch (dead leaf material) at the base of the plants. Plants re-sprout quickly after fires because fires rarely harm their extensive rhizome system. Late winter fires can also promote flowering. Ultimately, fire will make the cogongrass grow thicker, and produce more flowers and seeds which contribute to spread. How to Identify "One way to stop it from spreading is by increasing education so people can identify and avoid it," Loewenstein said. Identify cogongrass by its 2 to 3 feet tall leaves. These leaves are greenish-yellow and have a serrated margin. They will range from erect to floppy and turn a distinctive reddish-tan color in the winter. "You'll often see descriptions indicating that it has an offset white midrib, which is the case some of the time but not always," she said. Also, several look-a-like grasses have offset white midribs which can cause some confusion. The rhizomes, or underground stems, are strongly segmented, creamy white and covered with paper-like scales. The spring flowers serve as a very helpful feature for the identification of cogongrass. "The flowers are 2 to 8 inches long, starting out tan to purple in color, becoming silvery white," Loewenstein said. "The seeds are light and fluffy like dandelion seeds." North Alabama may see the flowers bloom in May or early June, while south Alabama may see the blooms in early spring. The cogongrass field guide can provide additional information on identifying the plant. Controlling Cogongrass Preventing spread is the best first step for control. Cogongrass can easily hitchhike and spread on all kinds of equipment. Avoid infestations when possible and clean equipment after working in areas infested with cogongrass. Fire alone cannot be used to contain this invasive plant. However, controlled fires can be used to remove the thatch which is then replaced by lush growth that can be effectively sprayed with a herbicide. According to Loewenstein, two effective herbicides, glyphosate and imazapyr, can provide control but it can take years of repeated treatment for the cogongrass to subside. Learn more about controlling the spread of cogongrass here. More Information Find more information about cogongrass and the threat of fires at the Alabama Extension website, www.aces.edu.
Participation Encouraged in COVID-19 Agriculture Impact Survey
By Brittney Kimber
COVID-19 impacted the agricultural industry. However, the full extent of the impact is currently unknown. Professionals with the Alabama Cooperative Extension System and Auburn University's College of Agriculture are working to better understand these impacts. A study is currently underway to assess the effects that COVID-19 is having on Alabama's agricultural economy using an agriculture impact survey.
"We have all been affected by the COVID-19 pandemic," said Max Runge, an Alabama Extension economist. "However, for those involved in production agriculture, the production did not stop. Even with supply chain disruptions, animals had to be cared for and plantings had to move forward despite market prices falling below cost of production."
Through this agricultural impact survey, professionals are gathering information from all agriculture-related segments, spanning from row crops to livestock.
Complete the Assessment of COVID-19 Impacts on Alabama Agriculture survey.
The survey is voluntary and anonymous. Because of the broad-reaching impacts on all phases of agriculture, the survey may be longer than typical surveys. However, Runge says the gathering of as much accurate information as possible is crucial to making the best estimate.
Those wishing to participate should use the following guidelines:
Complete the survey only one time.
If a farm has multiple operators involved, one complete survey is sufficient as long as it reports all the impacts.
Submit surveys by June 30.
Professionals will share survey results with industry leaders, commodity groups and legislators in support of any policy and industry response that may be appropriate.
"The impacts of the pandemic will be felt for a long time," Runge said. "For now, we would like to assess the impact COVID-19 is having on Alabama's agriculture and related industries with this survey."
For more information on this survey contact Max Runge at rungemw@auburn.edu. People can also visit the Alabama Extension website, www.aces.edu, for information on the affects of COVID-19.
Get a Grip on Summer Garden Pests
By Katie Nichols
AUBURN UNIVERSITY, Ala.—An influx of garden pests is every gardener's worst nightmare. Some pests can take a lush green garden and quickly undo the gardener's hard work by damaging leaves and produce.
Alabama Cooperative Extension System entomologist, Katelyn Kesheimer said home gardeners should have a proactive pest management plan in place before the seeds go in the ground. While it is a little late in the growing season to develop a proactive plan, there are still other things people can do to control garden pests.
Pest Control
Kesheimer recommends creating an environment where beneficial insects can thrive. Having a yard that is welcoming to these insects can provide free biological pest control throughout the year. Gardeners can do this by growing plants that provide supplementary food sources—like nectar or pollen— for predators that will feed on garden pests once they arrive.
Kesheimer also recognizes the importance of chemical control options for pests that cause damage in a garden.
"When using chemicals, only use the label rate and avoid broad spectrum insecticides that will kill the beneficial insects," Kesheimer said. "Remove diseased or severely infested plants from your garden so they don't act as a source of more pests. Scout your plants regularly so you know what insects—good and bad—are present to determine if action is necessary."
Common Pests in Alabama Gardens
The following are some of the common insect pests people may find in their gardens.
Stink Bugs
"Peas, tomatoes, beans, sweet corn and peppers are some favorite food sources for stink bugs in the home garden," she said. "Stink bugs rarely feed on squash and melons, but other pests, like the squash vine borer, will certainly fill that role."
Stink bugs overwinter as adults and will move into plants in the spring in order to feed and mate. There can be several generations of stink bugs each year, so their populations only increase throughout the summer, with the highest numbers occurring in the late summer months.
"Netting may be used for crops like tomatoes and peppers that are very susceptible," Kesheimer said. "Get these in place early before the plant starts fruiting and make sure it is sealed all around so the bugs cannot get in."
For small gardens and low pest numbers, hand removal of stink bugs is an effective approach. However, hand removal should happen early in the day and on a regular basis.
"Insecticides are the best control method for stink bugs," she said. "Since there are many generations of stink bugs that move in over the course of the summer, you'll likely have to treat multiple times. The most useful chemical controls are products with bifenthrin or permethrin."
Kesheimer encourages gardeners to read the label carefully before spraying. She said gardeners should also pay attention to pre-harvest intervals, as many products have usage restrictions. The pre-harvest interval will differ between crops.
Corn Earworms
"While corn is obviously the preferred crop, tomatoes are also a favorite," Kesheimer said. "Corn earworms feed on other crops including peas, peppers, spinach, squash, watermelon and okra."
Corn earworms will burrow into developing ears of corn through the tips. Selecting a sweet corn variety with good tip coverage by husks will help keep them out.
"Products containing Bacillus thuringiensis (Bt) are effective on small caterpillars," Kesheimer said. "It is important to scout for this pest because once the caterpillars get bigger, they are feeding more and hard to kill with chemical control."
Keep in mind that late season crops are at higher risk because there are more corn earworm moths in the area. Planting early or on time will reduce the populations in the garden.
Squash Vine Borer
Kesheimer said she personally battles squash vine borers on cucurbits in her garden, as they are a difficult pest to keep at bay. Squash vine borers are clear-wing moths that lay tiny eggs on plant stems. Once the eggs hatch, tiny larvae burrow into the stem to begin feeding.
"The best way to control is to use fine insect netting to keep out the adults," Kesheimer said. "Squash planted in the late summer or fall usually suffers less damage."
Protect Tomatoes
It is no secret that tomatoes are likely one of the Southern gardener's most treasured bounty. Kesheimer said corn earworm and brown marmorated stink bugs are the pests most likely to cause damage to the tomato plants.
"The brown marmorated stink bug is relatively new to Alabama, but it feeds on multiple fruits and vegetables," she said. "Most of the damage will be cosmetic, so the tomato is still consumable."
Gardeners also know corn earworms as tomato fruitworms. These pests will destroy the fruit by burrowing into the tomato. The small larvae complete their development inside the tomato while feeding.
"Check tomato plants regularly for corn earworm eggs once flowering begins," Kesheimer said. "Bt can be sprayed to kill the small caterpillars."
More Information
More information on garden pests and control can be found by visiting Alabama Extension online. Gardeners can also contact county agents or call the Master Gardener Helpline at 1-877-ALA-GROW (252-4769).
Harvest Fresh from the Garden
By Mary Leigh Oliver
AUBURN UNIVERSITY, Ala.—Alabama gardeners can harvest fresh vegetables almost every month of the year. But knowing when to harvest is the key to enjoying peak freshness from the garden. Dani Carroll, an Alabama Cooperative Extension System regional home grounds agent, said gardeners need to monitor their crops daily.
"Harvest vegetables when they are fully ripe for peak freshness," Carroll said. "Once they are fully ripe, many are perishable or need to be eaten quickly or preserved for later use."
Tomatoes, peppers, squash and beans are reaching peak season for harvesting in south Alabama. These vegetables, as well as cucumbers, are in season in central Alabama. As soil temperatures continue to rise, harvest of these vegetables will begin in north Alabama. Carroll said gardens in central and north Alabama are usually two to three weeks behind those in south Alabama.
While spring planting time is behind for most vegetables, sweet potatoes and okra can still be planted. Carroll said gardeners may want to consider a second round of planting to extend the vegetable bounty until fall. Find a planting guide here.
Each vegetable shows different signs of when it is at its peak and ready to harvest.
Pick summer squash when it bruises easily with a fingernail, but has not yet become a hard fruit.
"Tomatoes will often continue to ripen after they have been picked, therefore harvest at about 85 percent of their ripened color especially if you have problems with birds or need to harvest before leaving town," Carroll said.
Okra pods indicate levels of peak freshness when the pods are 2 to 3 inches long. Harvest every two to three days at minimum to ensure the okra does not become woody.
"Early morning after the dew has started to dry is a great time to harvest veggies and herbs," Carroll said.
After harvesting at peak freshness, store vegetables properly to preserve the same level of freshness.
"For fruit like tomatoes, store and allow to ripen at room temperature with no refrigeration," Carroll said. "Store summer squash, which is really an immature fruit, in the refrigerator immediately."
Learn more about harvesting at peak freshness. If the garden is producing abundantly, learn more on how to preserve vegetables for later use.
Find more gardening resources at the Alabama Extension website, www.aces.edu.
DeSoto Caverns Celebrates National Caves & Karst Day — June 6
Childersburg, AL – DeSoto Caverns is celebrating National Caves & Karst Day this June 6, through festivities, specials, and fun! The park will be showcasing demonstrations from a craft artisan, live entertainment including juggling and magic, multiple character quests, and more!
Spending time in nature has become a welcomed escape after weeks of sheltering in place. Many studies report that spending time in nature can boost mental and physical well-being, improve concentration, increase energy, reduce stress, and lower blood pressure and heart rates. When paired with exercise, such as hiking to or in a cave, the results are maximized. It's quality time that a family can spend together, focusing on nature rather than screens.
For more information, please visit www.desotocavernspark.com/
Participate in Alabama Backyard BioBlitz on June 5
All Alabamians are invited to join Weeks Bay National Estuarine Research Reserve in celebrating World Environment Day by participating in the Alabama Backyard BioBlitz on Friday, June 5, 2020. The event encourages the public to explore and document the natural world from the comfort of their own backyards.
"The theme of this year's event is biodiversity," said Clara Zubrick, Weeks Bay Education Assistant. "Alabama ranks fifth in the nation in biodiversity and first east of the Mississippi River. To protect and conserve our environment, we must first connect with what's out there. The best place to begin exploring nature is in your own backyard."
To participate in the event, download the free iNaturalist app from the Apple or Android app stores and search for the "Alabama Backyard BioBlitz" project. After joining the project on June 5, participants can observe and document the plants, animals, and insects present near their homes. You can also participate through the iNaturalist website at www.inaturalist.org/projects/alabama-backyard-bioblitz.
"We are excited to provide this opportunity to bring together citizen scientists throughout Alabama in an effort to increase awareness of our state's amazing biodiversity and celebrate its natural beauty," said Chris Blankenship, Commissioner of the Alabama Department of Conservation and Natural Resources (ADCNR).
Learn more about World Environment Day at www.worldenvironmentday.global.
Weeks Bay National Estuarine Research Reserve was established in 1986 and is managed by ADCNR as part of the National Oceanic and Atmospheric Administration's National Estuarine Research Reserve System. The Reserve is comprised of 9,317 acres in Baldwin County and contains upland and bottomland hardwood forests, salt and freshwater marshes, submerged aquatic vegetation and unique bog habitats. Learn more at https://www.outdooralabama.com/lands/weeks-bay-reserve.
Follow Weeks Bay on Facebook at www.facebook.com/WeeksBayNERR/.
The Alabama Department of Conservation and Natural Resources promotes wise stewardship, management and enjoyment of Alabama's natural resources through four divisions: Marine Resources, State Lands, State Parks, and Wildlife and Freshwater Fisheries. To learn more about ADCNR, visit www.outdooralabama.com.
Prevent illnesses caused by tick and mosquito bites
In addition to implementing prevention measures and social distancing strategies during the COVID-19 pandemic, the Alabama Department of Public Health (ADPH) reminds the citizens of Alabama to prevent illnesses caused by the bite of ticks and mosquitoes.
The summer months and social distancing practices mean more time spent outdoors and having fun in the sun for the entire family, but warmer months also bring unwanted visitors – ticks and mosquitoes. While most people think of ticks and mosquitoes as being only a nuisance, they can also transmit diseases, many of which can be extremely dangerous.
"Ticks and mosquitoes can transmit viruses and bacteria when they bite, causing illnesses that range from mild to severe or even fatal. While we continue to practice social distancing and handwashing this summer, we must not forget to take the steps necessary to prevent diseases carried by insects," says Public Health Entomologist Savannah Duke.
West Nile virus, Eastern equine encephalitis and Zika virus are diseases that mosquitoes can carry while Lyme disease and Rocky Mountain spotted fever are tickborne diseases that pose a threat to Alabama residents. According to State Public Health Veterinarian, Dr. Dee Jones, "The best way to avoid getting a disease from a tick or mosquito is to reduce the risk of being bitten."
The ADPH and the Centers for Disease Control and Prevention offer the following recommendations for preventing tick and mosquito bites:
· Use insect repellents with ingredients registered by the Environmental Protection Agency such as DEET, Picaridin and oil of lemon eucalyptus.
· Always follow instructions when applying insect repellent to children and do not use repellents on babies younger than 2 months or oil of lemon eucalyptus on children under 3 years old.
· Wear long-sleeved shirts and long pants and use permethrin to treat clothing and gear.
Make sure window screens are in good repair to reduce the chance of mosquitoes indoors.
· Conduct a yard inspection and tip or toss anything that holds water to reduce mosquito breeding habitats. Fill holes and depressions in your yard where water tends to collect and repair leaky pipes and faucets.
· Walk in the center of trails and conduct a tick check upon returning indoors.
· Remove ticks immediately and correctly. Visit https://www.cdc.gov/ticks/removing_a_tick.htmlto learn how to safely remove ticks.
See your health provider if you think you have a mosquito or tickborne disease. If you are bitten by a tick, save it for identification and testing. Health providers who suspect mosquito or tickborne diseases in their patients can submit clinical specimens to the ADPH Bureau of Clinical Laboratories. Visit http://www.alabamapublichealth.gov/bcl/index.html. On the home page, click "The Analytes Offered by BCL", and then search under the "Microbiology" heading for more information.
To find out more about ticks and mosquitoes, visit the following resources:
· For more information on repellents, visit http://cfpub.epa.gov/oppref/insect
· For more information on prevalence and prevention of tickborne diseases in Alabama, visit http://www.alabamapublichealth.gov/infectiousdiseases/tickborne-diseases.html
· For more information on prevalence and prevention of mosquito-borne diseases in Alabama, visit http://www.alabamapublichealth.gov/mosquito/index.html
4-H Announces Virtual Fishing Contest
4-H is inviting youth across Alabama to participate in the 2020 4-H Biggest Catch virtual fishing contest. This freshwater fishing contest is for young people ages 9 to 18 and will be held June 1 – 14.

"We teach fishing basics and aquatic education year-round through our 4-H Sportfishing program," said Emily Nichols, Alabama Extension 4-H specialist. "Now we are giving youth the chance to put those skills to the test in a little friendly competition."

Contest Entries and Requirements
To be eligible for the contest, youth must catch and land their own fish without the help of others. To submit an entry, participants must measure their fish, take a photo of it and submit it online along with the online contest entry form. Contest requirements are as followed:
Youth participants must submit official contest entries between 8 a.m. CST June 1 and 8 p.m. CST June 14 using the online submission form at bit.ly/Biggest4HCatch.

To enter, a photograph of the biggest catch must be uploaded. The photograph should include the youth and their fish, the contest code AL4H2020 and also the total length of the fish. Participants can write this on a piece of paper and hold it up in the photograph or write it on their hand.
One entry per youth is allowed. Only complete entries will be considered.
Contest categories are Basses, Bream (Sunfish), Catfishes and Crappies. Participants must submit their catch to the correct category.
Participants must catch the fish in Alabama waters.

First, second and third place recognition will be awarded for each category. Also, participants are to follow all state requirements for fishing license and permits, as well as creel and size limits. Visit OutdoorAlabama.com for more information.
"Right now is a great time for families to get outside together and explore the state's abundant freshwater," Nichols said. "From county lakes, rivers and streams to state parks, there are great spots for recreating responsibly."

About Alabama 4-H
Alabama 4-H is the youth development organization of the Alabama Cooperative Extension System. The program seeks to empower young people with the skills to lead their communities and also grow into future leaders. Visit www.alabama4h.com for more information.
Free Fishing Day is June 13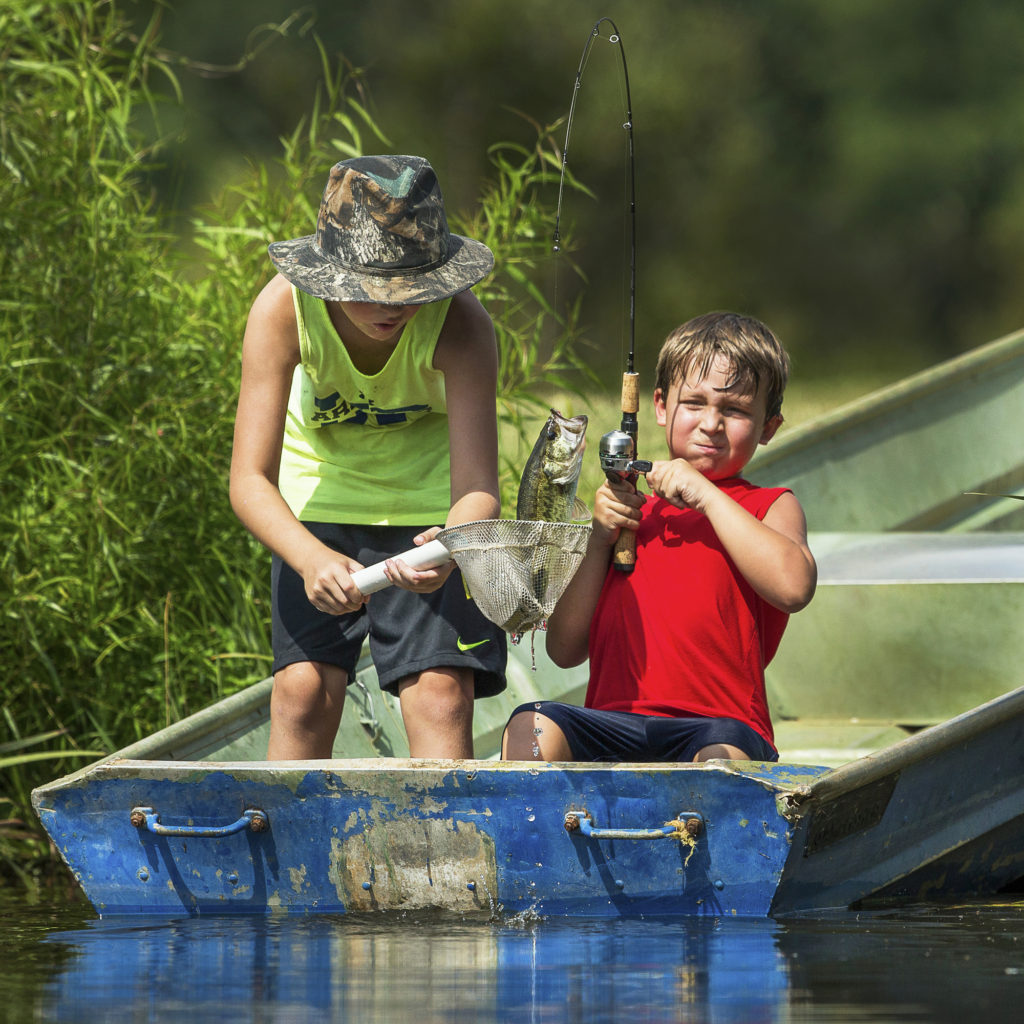 On Saturday, June 13, 2020, Alabamians and out-of-state visitors alike will have the opportunity to fish for free in most public waters including both freshwater and saltwater. Free Fishing Day is part of National Fishing and Boating Week, which runs June 6-14. The event allows residents and non-residents to enjoy the outstanding fishing Alabama has to offer without purchasing a fishing license.
"This is the perfect opportunity for non-anglers to test the fishing waters and to remind former anglers of all the fun they've been missing," said Chris Blankenship, Commissioner of the Alabama Department of Conservation and Natural Resources (ADCNR). "It's also a day for kids to learn how fun and exciting fishing is, while giving families a chance to do something together outdoors."
Free Fishing Day takes place during Alabama's red snapper season. While fishing license requirements are waived for Free Fishing Day, those fishing for red snapper will still need a $10 Gulf Reef Fish Endorsement and a free saltwater angler registration. For more information, visit www.outdooralabama.com/fishing/saltwater-recreational-size-creel-limits.
State Public Fishing Lakes still require a fishing permit on Free Fishing Day, and fishing in a private pond requires the pond owner's permission. Some piers may also require fees and permits. Anglers looking for a new public fishing spot are encouraged to explore the fishing section of www.outdooralabama.com.
ADCNR strongly encourages everyone to observe Alabama's current State Health Order and to practice CDC recommendations regarding hand washing and social distancing during the COVID-19 pandemic.

The Alabama Department of Conservation and Natural Resources (ADCNR) promotes wise stewardship, management and enjoyment of Alabama's natural resources through four divisions: Marine Resources, State Parks, State Lands, and Wildlife and Freshwater Fisheries. To learn more about ADCNR, visit www.outdooralabama.com.
Alligator Hunt Registration Opens June 2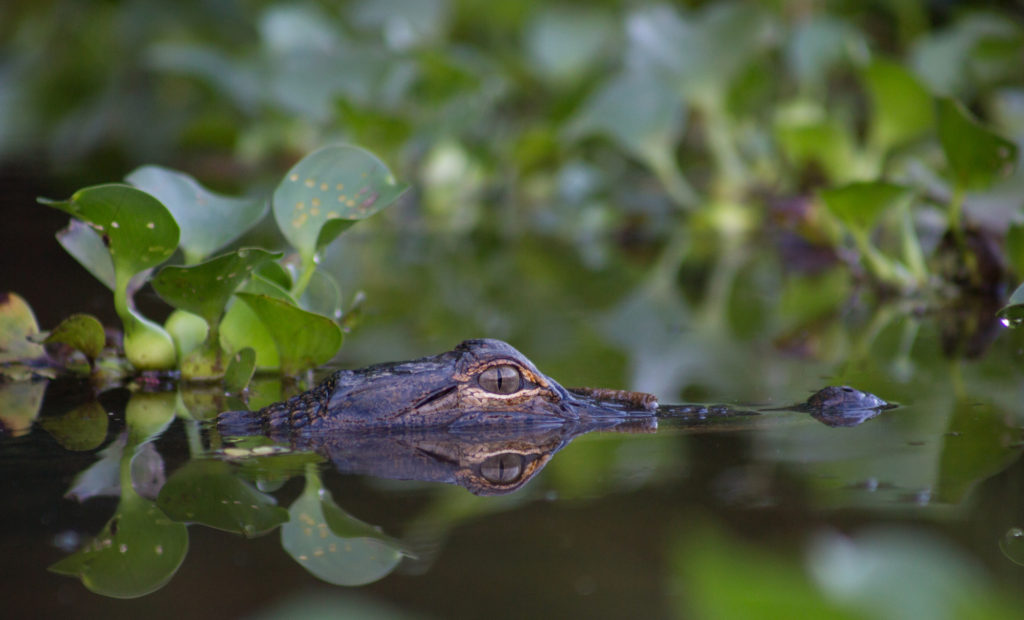 The Alabama Department of Conservation and Natural Resources (ADCNR) will open online registration for the state's regulated alligator hunts on June 2, at 8 a.m. Registration must be completed by 8 a.m., July 8.
A total of 260 Alligator Possession Tags will be distributed among five hunting zones. The administrative fee to apply for an Alligator Possession Tag is $22 and individuals may register one time per zone. While the tag is free, the selected hunters and their assistants are required to have valid hunting licenses in their possession while hunting.
Only Alabama residents and Alabama lifetime license holders ages 16 years or older may apply for tags. Alabama lifetime license holders may apply for an Alligator Possession Tag even if they have moved out of the state.
To register for the 2020 alligator hunts, visit www.outdooralabama.com/alligators/alligator-hunting-season-alabama during the registration period listed above.
Hunters will be randomly selected by computer to receive one Alligator Possession Tag each (the tags are non-transferable). The random selection process will utilize a preference point system. The system increases the likelihood of repeat registrants being selected for a hunt as long as the applicant continues to apply. The more years an applicant participates in the registration, the higher the likelihood of being selected. If an applicant does not register for the hunt in a given year or is selected and accepts a tag for a hunt, the preference point status is forfeited.
Applicants can check their selection status on July 8, after 12 p.m., at https://publichunts.dcnr.alabama.gov/public. Those selected to receive a tag must confirm their acceptance online by 8 a.m., July 15. After that date, alternates will be notified to fill any vacancies. Applicants drawn for the hunt are required to complete an online Alligator Training Course prior to accepting their hunter/alternate status. The official course will be available on the applicant's status page upon login.
If selected for an Alligator Possession Tag at two or more locations, hunters must choose which location they would like to hunt. The slot for locations not chosen will be filled from a list of randomly selected alternates.
Hunting zones, total tags issued per zone and hunt dates are as follows:
SOUTHWEST ALABAMA ZONE – 100 Tags
Locations: Private and public waters in Baldwin and Mobile counties north of interstate 10, and private and public waters in Washington, Clarke and Monroe counties east of U.S. Highway 43 and south of U.S. Highway 84. 2020 Dates: Sunset on August 13, until sunrise on August 16. Sunset on August 20, until sunrise on August 23.
COASTAL ZONE – 50 Tags
Locations: Private and public waters in Baldwin and Mobile counties south of Interstate 10. 2020 Dates: Sunset on August 13, until sunrise on August 16. Sunset on August 20, until sunrise on August 23.
SOUTHEAST ALABAMA ZONE – 40 Tags
Locations: Private and public waters in Barbour, Coffee, Covington, Dale, Geneva, Henry, Houston and Russell counties (excluding public Alabama state waters in Walter F. George Reservoir/Lake Eufaula and its navigable tributaries). 2020 Dates: Sunset on August 8, until sunrise on September 7.
WEST CENTRAL ALABAMA ZONE – 50 Tags
Locations: Private and public waters in Monroe (north of U.S. Highway 84), Wilcox and Dallas counties. 2020 Dates: Sunset on August 13, until sunrise on August 16. Sunset on August 20, until sunrise on August 23.
LAKE EUFAULA ZONE – 20 Tags
Locations: Public state waters only in the Walter F. George Reservoir/Lake Eufaula and its navigable tributaries, south of Alabama Highway 208 at Omaha Bridge (excludes Eufaula National Wildlife Refuge). 2020 Dates: Sunset August 14, until sunrise October 5.
Each person receiving an Alligator Possession Tag will be allowed to harvest one alligator during the season. An 8-foot minimum length requirement is in effect for alligators harvested in the Lake Eufaula Zone. There is no minimum length for hunts in the other zones. The use of bait is prohibited. All alligator harvests must be immediately tagged with the temporary Alligator Possession Tag and reported as directed for each Zone. The permanent Alligator Possession Tag will be distributed after the hunt by Wildlife and Freshwater Fisheries Division personnel.
Hunting hours are official sunset to official sunrise in the Southwest, Coastal, Southeast and West Central Zones. For the Lake Eufaula Zone, hunting is allowed both daytime and nighttime hours. All Alabama hunting and boating regulations must be followed.
The American alligator (Alligator mississippiensis) is the largest reptile in North America and can exceed 14 feet in length and 1,000 pounds. Known for its prized meat and leather, the species was threatened with extinction due to unregulated harvest during the 1920s, 30s and 40s. No regulations existed in those days to limit the number of alligators harvested. In 1938, it is believed that Alabama was the first state to protect alligators by outlawing these unlimited harvests. Other states soon followed and, in 1967, the U.S. Fish and Wildlife Service placed the American alligator on the endangered species list. By 1987, the species was removed from the endangered species list and the alligator population has continued to expand. Its history illustrates an excellent conservation success story.
The Alabama Department of Conservation and Natural Resources promotes wise stewardship, management and enjoyment of Alabama's natural resources through four divisions: Marine Resources, State Lands, State Parks, and Wildlife and Freshwater Fisheries. To learn more about ADCNR, visit www.outdooralabama.com.
Alabama farmers now eligible for coronavirus food assistance program
By Katie Nichols
Alabama farmers and ranchers affected by coronavirus will have an opportunity to apply for monetary relief through the Farm Service Agency (FSA). The Coronavirus Food Assistance Program (CFAP) will provide up to $16 billion in direct payments to American agricultural producers who have suffered losses during the COVID-19 pandemic.
The Alabama Cooperative Extension System's Farm and Agribusiness Management teamwill be working closely with FSA offices and USDA Service Centers to guide producers through the application process.Jessica Kelton, the Farm and Agribusiness Management team leader, said the monetary assistance is unique and much needed.
The CFAP program specifically targets producers of agricultural products who have suffered a five percent or greater price decline, as well as losses, because of market supply chain disruptions.
Eligible commodities are divided into five groups. Non-specialty crops; Wool; Livestock; Dairy; Specialty crops. A complete list of specialty crops is available in the Alabama Extension content piece, Applying for the Coronavirus Food Assistance Program through Farm Services Agency.
Alabama Extension economist, Max Runge, said unprecedented was a word used to describe many aspects of the coronavirus pandemic, but the payments to farmers as a result of this virus really are unprecedented.s
USDA began accepting applications Tues., May 26. Producers may submit applications through Aug. 28. Runge said FSA offices will have an increased volume of applications and phone calls, so patience on the part of the producer will be appreciated. USDA Service Centers will schedule appointments by phone only. USDA will accept applications by email, scan or fax. Extension professionals recommend contacting the local FSA office before sending applications.
Farmers can prepare for appointments by gathering records of recent farm sales and agricultural product inventories. Required application information includes: name and address, personal information, including Tax ID number, farm operating structure, adjusted gross income, direct deposit information. Necessary forms are available by visiting farmers.gov/cfap.
Ken Kelley, also an Alabama Extension economist, said the financial assistance for producers comes at a time when many livestock and dairy producers find themselves receiving prices well below the 10 year average, even as consumers see higher prices in the grocery stores.
While the situation is certainly improving, Kelley said it will be a while before processors catch back up to supply.
In order to ensure the availability of funding throughout the application period, producers will receive 80 percent of the maximum total payment for their operation upon approval of the application. Producers will receive remaining payments as funds are available. Find more information from Alabama Extension's Farm and Agribusiness Management team in the content piece, Applying for the Coronavirus Food Assistance Program through Farm Services Agency.
Read more about the Coronavirus Food Assistance Program at www.farmers.gov/cfap. Additional and more detailed information from the USDA is available via their website, www.usda.gov.
Conserving Water: Small Changes, Big Impact
By Justin Miller
Water plays an essential role in the environment. People use it in many aspects of their daily lives such as cooking, washing clothes, bathing and most importantly, drinking. While the Earth is covered by approximately 70 percent water, only one percent of that is easily accessible for human use.
"For the majority of the people in this country, some of the safest water in the world is just a turn of the tap away," said Roosevelt Robinson, an Alabama Extension forestry and natural resources regional agent. "Other parts of the world are not so lucky."
National Drinking Water Month
May is National Drinking Water Month. Highlighting drinking water during the month of May serves as a reminder to protect water resources while also educating the public on the balance of supply and demand.
"It takes much more than just turning on the tap to guarantee clean, drinkable water," Robinson said. "Reckless usage, coupled with global warming and pollution from impaired water tables, will surely have adverse consequences on future generations."
Water Usage by the Numbers
In Alabama alone, approximately 365 million gallons of water are used for domestic use every day. In fact, the average Alabama resident uses approximately 76 gallons per day in and around the home.
"The largest use of water in a home today comes from flushing the toilet," he said. "Each flush can use between 2 to 4 gallons."
Other aspects of daily life, such as bathing and doing laundry, also use large amounts. Taking a shower uses between 2 and 5 gallons of water per minute, while baths use around 8.5 gallons.
Water usage can depend greatly on the age of an appliance. For example, washing a load of laundry uses approximately 25 gallons per load in newer washers. However, older models can use as much as 40 gallons per load.
Conserving Water
Robinson said there are many simple things that can be done every day to help conserve this precious resource.
"If every Alabamian shaved one minute off of their shower, it would save 2.6 billion gallons of water each year," Robinson said. "That is enough water to fill more than 3,900 Olympic-sized pools."
By making a few changes to everyday routines, communities can greatly reduce the burden on their local water supply while also saving money. Robinson offers the following tips for conserving water in the home:
Always turn off the faucet while brushing teeth.
Find and fix household leaks, such as dripping faucets or worn toilet flappers.
Only run the dishwasher and washing machine with full loads.
Consider replacing old toilets with low flow or dual flush toilets.
Robinson said inside the home is not the only place people need to watch water usage. There are several ways to conserve water in yards and gardens.
"Nearly 50 percent of residential outdoor water use is wasted because of inefficient methods of watering," he said. "By selecting drought tolerant plants for landscapes and only watering during proper times of the day, people can help conserve large amounts of water."
More Information
Read more about water usage and conservation in WATER You Doing? Water Usage and Conservation. For more information, visit www.aces.edu or contact your county Extension office.
Wildlife Plot Management After the Hunt
By Katie Nichols
Deer season 2020 is in the books and turkey season just came to a gobbling close. An Alabama Cooperative Extension System forestry, wildlife and natural resource management regional agent said many hunters ignore their hunting properties through the summer months, but attention to the wildlife plot is still important.
Bence Carter said summer is an ideal time for hunters to enhance their property to benefit wildlife throughout the year. He recommends making plans for property maintenance during the winter months. However, it is not too late to develop a plan and begin work now.
Provide Nutrient Supplements
"Encouraging growth of native browse and planting warm-season food plots are a great way to provide needed nutrition to wildlife without the costs and risks associated with feeders," Carter said. "The average adult whitetail can consume four to six pounds or more of dry weight per 100 pounds of body weight per day. This translates to more than one ton of food per year."
With an average of one ton of food per year, continuous supplemental feeding may prove to be an expensive investment. Carter said hunters should keep in mind that feeders have the potential to increase exposure to predators and diseases.
Whitetail deer need a minimum average of 17 percent crude protein in their diet per year. Depending on age and physiological activity, the deer may need higher amounts of protein.
"While corn is a common choice for hunters, it only has six to 10 percent crude protein and is high in fat and carbohydrates," Carter said. "Encouraging establishment of native browse, like grasses, forbs and legumes, or planting warm-season food plots can be an effective option to provide supplemental food sources during a crucial developmental time. A diverse selection of available browse throughout your property will maximize benefit to whitetail."
Warm Season Food Plot Location
When selecting warm season food plot locations, identify areas that are not used for winter food plots. Also look for low bottomland locations which are likely to remain cool and moist throughout the summer.
Before planting, conduct a soil test to determine if any soil amendments, such as lime and fertilizer, are needed. Hunters should also check planting guides for the best crops for the site, planting depth and companion crops.
The Alabama Extension publication Plantings For Wildlife is a good resource for additional information.
General Management
The summer is a great time to enhance a property and complete general management tasks including:
controlling invasive plant species
maintaining or building new roads
maintaining or establishing drains, water bars and culverts
Identifying and managing invasive plant species is also a great way to encourage plant diversity, promote beneficial native vegetation and increase the value of timber. Identifying invasive plant species is important in determining the ideal management plan.
Carter said roads throughout the property can serve many benefits. These include improving access, adding fire lanes, linear food plots and increasing edge habitat.
"If you are looking to sell or lease the property in the future, roads allow potential customers to quickly and easily travel the property to evaluate timber, view wildlife and inspect habitat types and other improvements on the property," he said.
Surveys
Carter said another enjoyable opportunity in late summer is conducting camera surveys. These surveys allow hunters to gather useful trend data on sex ratio and buck age structure. Surveys also allow hunters to record reproduction and survival rates on the property.
For more information on camera surveys, check out the Alabama Extension publication Managing White-tailed Deer: Camera Surveys.
Predator Control
If done properly, predator control and trapping during the summer can be an effective way to increase fawn and turkey poult survivability.
"Coyotes and raccoons do not have a closed season during the summer months," Carter said. "This makes the summer an ideal time to get back into the woods to reduce their numbers."
Check the Alabama Hunting and Trapping regulations annually to brush up on game regulations. Hunters can also talk with a wildlife biologist or an Alabama Extension forestry, wildlife and natural resources regional agent about effective trapping strategies.
More Information
Carter said it is not imperative that all of these strategies be implemented during the summer months.
"If you are only able to select a few of these management strategies to implement, add others in the future," he said. "The important part is to begin looking at wildlife management practices on your property as a year-round activity, instead of just during the hunting seasons."
More information on many wildlife topics is available on the Alabama Extension website www.aces.edu. Individuals can also call their county Extension office or visit the Extension directory to be connected with a forestry and wildlife specialist or find a nearby agent.
Alabama Extension Inspiring Gardeners to Grow More, Give More
By Justin Miller
Home gardeners can now use their passion for gardening to make a difference in their communities through the Alabama Extension Grow More, Give More project.
Designed for both novice and experienced gardeners, this project provides the information required to have a successful vegetable garden. This project goes one step further and encourages citizens to use their garden bounty in ways to meet community needs.
"We are excited to launch this project that not only teaches people the ins and outs of gardening, but also helps provide much needed food assistance to communities across Alabama," said Bethany O'Rear, an Alabama Extension home grounds regional agent.
Grow More
Grow More, Give More is a collaborative effort between Alabama Extension horticulture agents and Alabama Master Gardener Extension volunteers. The Grow More aspect of this project is now underway.
Alabama Extension horticulture agents are distributing kit plans for growing vegetables at home. These plans cover some of the basic growing information related to commonly grown Alabama vegetables.
"These plans will have information specific to different garden types, such as how to grow tomatoes in a five-gallon bucket," O'Rear said. "We will suggest supplies needed, where to place it, when to plant it and how to maintain it."
Kits include plans for large container gardens, raised beds and in-ground row crops.
Informational Resources
Worried about getting started? Don't fret. Extension agents will help growers every step of the way by providing informational resources through a variety of platforms. Master Gardener Extension volunteers are also dedicating their time to support the project.
"These resources are great tools that help guide home gardeners through the entire process," she said. "In addition to the publications and informational articles on the Extension website, the Grow More, Give More project will have brief on-line tutorials, social media posts and one-on-one assistance through the Master Gardener Helpline."
Give More
According to O'Rear, the team is still finalizing plans for the Give More aspect of the project. However, the goal is that people use their extra produce to make a difference in their communities.
"People who grow more than they can use are encouraged to share with neighbors or donate it to local food assistance efforts," O'Rear said. "As people learn to Grow More, we hope they will Give More too."
This summer, the project will provide a way for gardeners to record their donations and also tell the story of how they utilized the Give More aspect of the project.
More Information
For more information on this project, visit the Grow More, Give More page on the Alabama Extension website, www.aces.edu.
Asian giant hornets? Murder hornets? Not in Alabama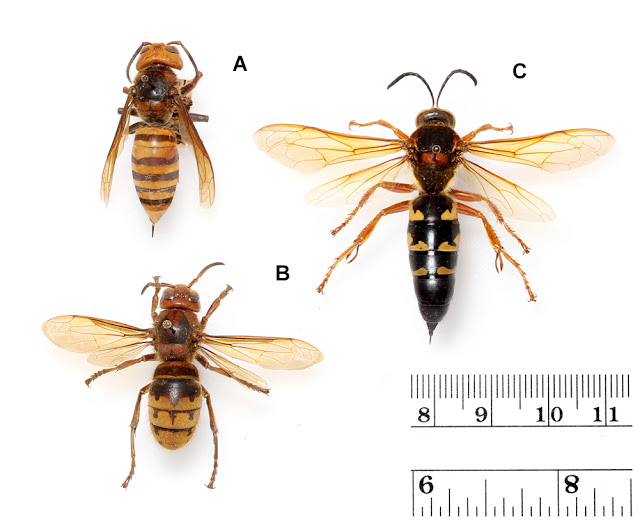 By Katie Nichols
Neighborhoods and social media are buzzing with hype as citizens are concerned about "murder hornets." Alabama Cooperative Extension System professionals would like to put this rumor to rest. These stinging insects have not been found in Alabama. However, the detection of Asian giant hornets is unnerving for beekeepers and citizens in the Pacific Northwest.
Asian giant hornets, Vespa mandarinia, are the world's largest hornet, measuring 1.5 – 2 inches in length.
Alabama Extension entomologist Katelyn Kesheimer said the giant hornets have a very unique coloration that makes them distinguishable from other hornets.
"Their large head is orange or yellow with prominent eyes, and they have a black and yellow-striped abdomen," she said.
The pest was first detected in North America in December 2019 when a Washington resident found a large, dead hornet. The hornet was confirmed to be an Asian giant hornet.
Since the positive identification, four more reports have been confirmed in Washington.
Kesheimer said public education and pest eradication plans are already underway.
The United States Department of Agriculture, the Washington State Department of Agriculture and local universities have begun work to educate citizens, conduct surveys, and eradicate the pest.
"Their goal is to eradicate the pest before it becomes established," Kesheimer said.
Asian giant hornets are native to Asia. The hornets are social insects and maintain underground colonies with one queen and multiple workers.
"These nests are difficult to locate," Kesheimer said. "Nests are often formed in pre-existing holes in the ground, like a rodent's nest."
The hornets will also nest in hollowed tree trunks or in the roots of dead trees.
Much like the fire ant—which Alabamians are very familiar with—the queens are colony leaders. The queens are able to disperse and produce offspring. Therefore, a solitary queen begins a nest and then populates it with workers. Kesheimer said the key to controlling a colony is to kill the queen.
"As social insects, they can carry out coordinated attacks against nests of other bees and wasps," Kesheimer said. "These group attacks usually occur late in the season as their nests become large and are in need of food. They will 'slaughter and occupy' the nests of yellow jackets and paper wasps, as well as honeybees."
Asian giant hornets are predatory insects. Their diet includes a variety of arthropods. These include: scarab beetles, long-horned beetles, spiders and caterpillars.
European honeybees are the preferred food source for Asian giant hornets because the honeybee hive cannot defend themselves against the hornet. European honeybee hives also offer a bounty of food and are full of protein and fat.
While Asian giant hornets have not been identified in Alabama or the southeastern U.S., there are other bees and wasps in Alabama that could be easily mistaken for the Asian giant hornet.
European hornets and Cicada killer wasps resemble Asian giant hornets and could easily cause concern for Alabama homeowners or beekeepers.
Alabama Extension entomologist, Xing Ping Hu, said the Cicada killer and the European hornet are also confused with one another, though the two have different lifestyles.
"Cicada killer wasps are large solitary wasps that behave differently from social hornets," Hu said. "The Cicada killer builds nests in the ground by pushing out soil, typically 10-20 inches deep and less than 1 inch wide."
Hu said Cicada killer wasps can be found small soil mounds in well-drained, sandy soils or loose clay in bare and grass-covered areas. Female wasps hunt for cicadas, sting them to paralyze the prey, then drag the cicada back to the nest to feed the young.
Male cicada wasps are often seen in groups buzzing aggressively above ground. Although the male wasps may look intimidating, they pose no risk to humans. While females can sting, they will not attempt to sting humans unless handled roughly.
European hornets are found sporadically throughout the state, as Alabama is likely at the southern edge of their range.
While the European hornet may be mistaken for an Asian giant hornet simply because of their size, hornet behavior may be another reason homeowners could confuse the two.
Similar to Asian giant hornets, European hornets will become aggressive if their nest is threatened. However, the European hornet is not known to be a threat to honeybees.
Kesheimer said Asian giant hornets do post a threat to European honeybees in the U.S.
"While they do prey on other arthropod species, we are most concerned about honeybees because of their value as pollinators and honey-producers," Kesheimer said. "Beekeepers across all states should be informed about this pest and the progress on eradication efforts."
Kesheimer said Asian giant hornets will attack if their colonies or food sources are threatened.
"It is important to remember that these hornets are not typically aggressive toward humans," Kesheimer said.
Many people have had experience with honeybee stings—the short, barbed stinger becomes lodged in the skin and only allows for one sting. The stinger on V. mandarinia is much larger and contains more venom than bee stingers. The Asian giant hornet stinger has a curved shape with less barbs to allow for easier entry. This means the hornets can sting more than once.
Kesheimer said the average beekeeping suit will not protect keepers from this pest.
"Anyone with an allergy should take extra precautions around any bees or wasps and seek medical attention when and if needed," she said. "It is important to remain calm when it comes to any types of bees or wasps. Remember, Asian giant hornets only become aggressive when their nest or food source is threatened."
For more detailed information on identification, biology, and control options, visit United States Department of Agriculture or the Washington State Department of Agriculture.
Read more about Asian giant hornets, also known as murder hornets, in a content piece found on www.aces.edu, titled Asian Giant Hornets Not in Alabama.
Put Asterisk by 2020 Alabama Turkey Season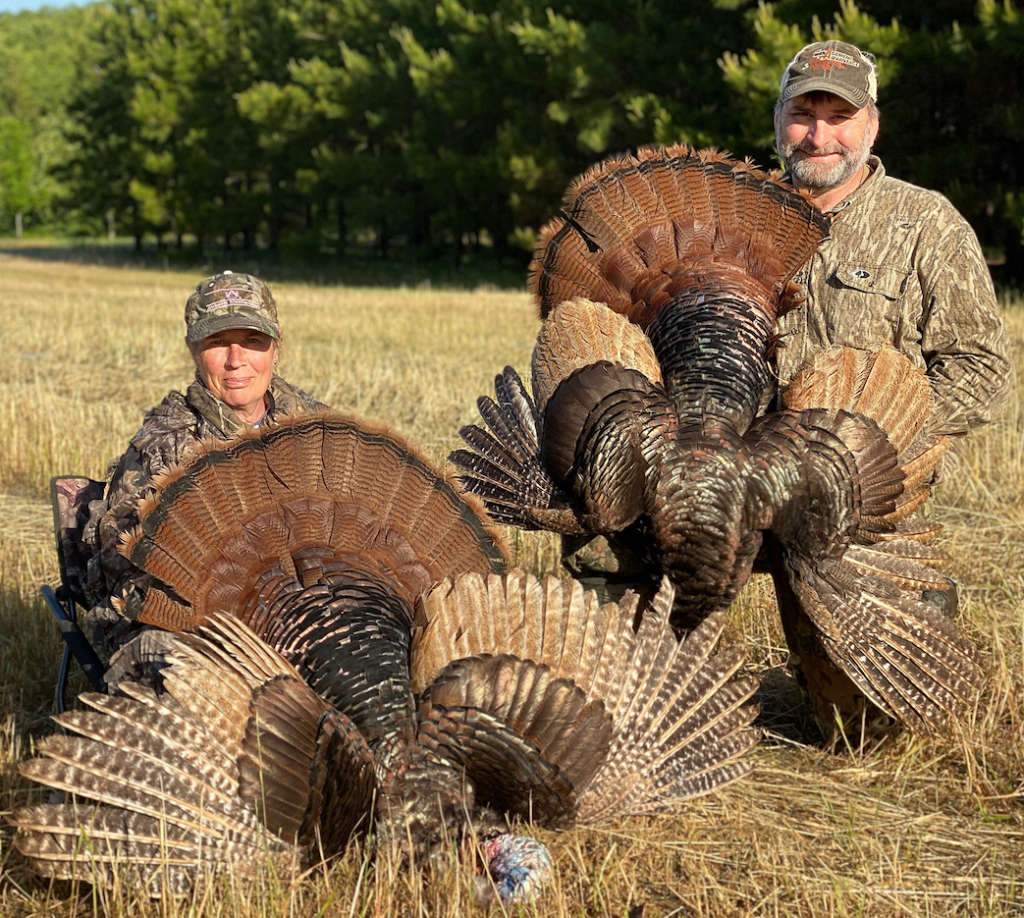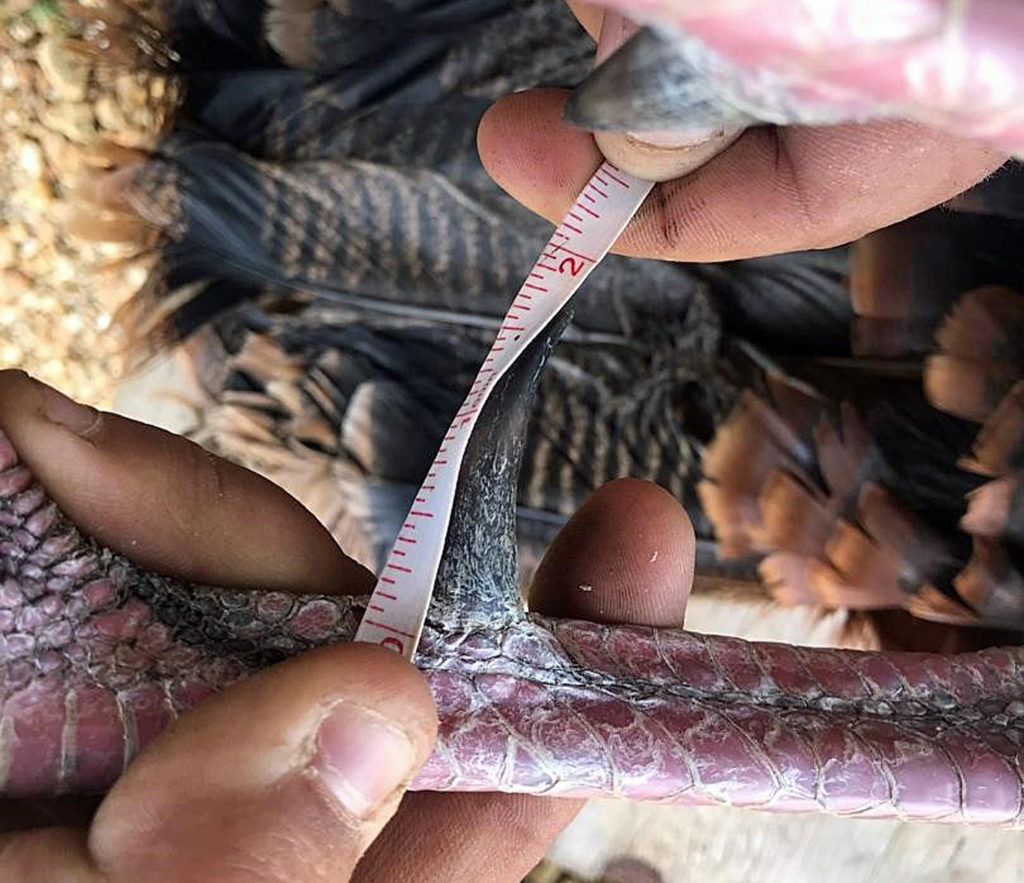 By DAVID RAINER
Alabama Department of Conservation and Natural Resources
The Alabama wild turkey season, which ended on May 3, will likely have to include an asterisk in the record books for a variety of reasons.
Obviously, the COVID-19 restrictions played a role as did a renewed push for successful hunters to report their turkey harvests.
Alabama Wildlife and Freshwater Fisheries (WFF) Director Chuck Sykes made a significant point at the Alabama Conservation Advisory Board meeting earlier this year that if compliance with Game Check's requirement to report all turkey harvests didn't increase, the 2021 season might be in jeopardy. Apparently, the message was delivered.
"I think it was a double factor," Sykes said. "I think more people did report taking birds this year because of what happened at the Advisory Board. However, I am 100-percent confident more birds were killed this year. I can use myself as a prime example. I am extremely fortunate to be able to hunt in some really good places year after year, and I keep a very detailed record of each turkey season. This was a banner year. The travel restrictions associated with the coronavirus was a contributor.
"I had way more turkeys killed with me in Alabama than in years past just simply because I had more days afield in Alabama," he said. "It wasn't that I did better this year. I still had roughly the same daily average. I just got more days in so there was more hunter effort in Alabama because I couldn't go out of town. All of my meetings out of Alabama were canceled, so I was in Alabama longer. I wasn't just a weekend warrior like I've been for the past few years. This year, the weather was bad on several weekends, so I got to hunt more good days during the week. Therefore, more turkeys were harvested for me personally."
With current regulations that state the season will start on the third Saturday in March, the opening day of the 2020 turkey season happened on March 21, the latest date possible. Add in relatively good weather, except for a couple of weekends, and Sykes said conditions certainly favored the turkey hunters.
"I think starting the season later put the turkeys farther into their breeding activity and made them easier to call," he said. "And people had way more time on their hands. I know a boatload of people who hunted public land this year for the first time because they had time to do it, and they killed turkeys."
That increase in hunting on public lands was affirmed by WFF Upland Game Bird Coordinator Steven Mitchell, who said Alabama's WMAs (wildlife management areas) had more hunter activity than he's ever seen.
"I think a lot more hunters were in the woods this year," Mitchell said. "The WMAs were getting used a lot more than in previous years. We don't know exactly how much more use right now. As a safety precaution associated with social distancing, we pulled the requirements for daily permits for the spring. But we're still working the WMAs. By observation, there were trucks at every place to park."
Mitchell said one lucky hunter was able to bag a trophy turkey on the Hollins WMA. The bird had 1¾-inch spurs.
"We've had a lot of use and a lot of harvest," he said. "With more than week to go in the season, we had 4,000 more birds reported through Game Check than all of last season."
Director Sykes said he normally hunts with one of his friends in Choctaw County about three days a year. This year, the hunting buddies spent 10 days in the woods.
"I was teleworking from the hunting camp," he said. "We could go hunting for a couple of hours before he had to go to work and I got on the computer.
"I got quite a few emails and texts, that people were seeing (the increased harvest) too. People who might normally kill one or two birds, they killed their (five-bird) limit. Others who hardly ever killed a bird, they killed two or three."
Mitchell also said more hunters participated this season in the Avid Turkey Hunter Survey, which will provide a variety of information for game managers.
"This is a precious resource and we need accurate information," he said. "We need to know what kind of gobbling they're hearing and what time. We can see peaks and valleys in gobbling and harvest activity."
Despite the great season for hunters, the game bird biologists are concerned about turkey numbers trending down in the past 10 years.
Mitchell said Auburn University is wrapping up its five-year study on the turkey population. Dr. Barry Grand is finishing the report and it should be available soon.
"Auburn was looking at a lot of things on turkeys on our research areas," Mitchell said. "This report will give us the vital statistics we need to develop a decision-making tool concerning seasons and bag limits.
"Some of the research around the Southeast is showing when gobblers are harvested. Usually in Alabama, it's the first couple of weeks. A lot of gobblers are getting taken out of the population before they have a chance to breed."
Steve Barnett, who retired as Upland Game Bird Coordinator last year, said Dr. Grand's report will augment the work done by WFF biologists and public input through the Avid Turkey Hunter Survey.
"The Auburn study took place on the research sites across the state," Barnett said. "We were updating the vital rates for Alabama in terms of survival, reproduction and harvest rates. We really haven't had any data since Dr. (Dan) Speake was doing all his turkey work in the 1980s.
"By updating those vital rates, it allows us to update our strategic decision-making tool. Those are key elements that go into that prediction model."
According to the WFF's Full Fans & Sharp Spurs (FF&SS) publication for the 2019 season, the turkey population is not rebounding as biologists had hoped. Visit www.outdooralabama.com/turkey-hunting-alabama/turkey-research for the publications for the past six years.
Barnett still compiles much of the information for the FF&SS publication.
"The brood survey is still showing a decline," Barnett said. "There's been about a two percent decline in poults per hen and a three percent decline in brood size."
Barnett said the 2019 numbers estimated poults per hen at 1.8.
"When it's less than two poults per hen, that's concerning to us," he said. "2013 was the last time it showed two poults per hen. It's not isolated to Alabama. The reproduction is in decline across the Southeast and continues to be."
The 2019 information indicated a large number of jakes (1-year-old gobblers) were observed last year, the largest number since the survey started.
"That likely accounts for some of the increase in reported harvest, and some of the good turkey hunts can be attributed to more 2-year-olds in the population," Barnett said.
Director Sykes said the results of the 2020 turkey season will likely be considered an anomaly.
"In my opinion, it was the factors of hunter effort and being able to hunt during the week when the weather was a lot more conducive," Sykes said. "Two weekends in row we had tornadoes and violent storms. If you're working 8 to 5 Monday through Friday and those were the only two days you had to hunt, you probably wouldn't kill a turkey. But hunters were able to go out on Thursdays and Fridays and were able to kill turkeys."

By Jim Stefkovich, Meteorologist, Alabama Emergency Management Agency
May 3-9 is National Hurricane Preparedness Week. Now is the time to prepare for the coming season. Although the official National Hurricane Center seasonal forecast doesn't come out until later this month, all indications are for an active season. Just keep in mind the forecast doesn't predict where the storms will form or where they go. As is said over and over, it only takes one to produce massive impacts.
There's a myth that tropical activity doesn't start until June 1st. Wrong! Tropical storms and hurricanes don't care about arbitrary "official" season dates. In 2018, Tropical Storm Alberto formed on May 20th, moved northward through the Gulf of Mexico, and into Alabama on May 29th.
What is known is the Gulf of Mexico is the favored region for tropical storm and hurricane development during May – June and continuing into the fall.1
A lot of people don't take Tropical Storms and some Hurricanes seriously. "It's just a Tropical Storm" or "It's only a Category 1", are common statements. The category and the actual impacts are significantly different.
Tropical Storms and Category 1-5 Hurricanes are defined by wind speeds only. However, there are many other impacts such as storm surge near the coast with both flooding and tornadoes that can occur well inland affecting anyone in Alabama.
So, hopefully, you will go to the following website and learn more about developing a plan and being prepared for this coming season at https://www.weather.gov/wrn/hurricane-preparedness
Finally, there is a section on this website about developing an Evacuation Plan. With the pandemic situation, will your current evacuation plan work? Now is a great time to review your plan so that it will accommodate health orders or conditions caused by COVID-19.
Watch Your Step Prickly Thorns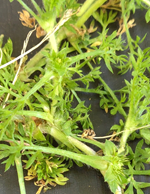 Tyrone D. Smith, Hale County Extension Coordinator
Alabama Cooperative Extension System
Control of lawn Douglas Fiddleneck also burweed or buckthorn is easiest by a preemergent herbicide application in September through November. It's an annual and comes back from seed every fall. Another alternative is to wait for it to germinate and kill it with a post-emergent herbicide in December or January. The most important thing when using post-emergent is to kill it BEFORE it makes the spiky fruits. Most years it starts to flower and fruit anywhere from February to March, depending on location, and often sticks around until May.
If you sprayed an herbicide in your lawn today, you could kill it but the dead plants would still have those spiky fruits. Almost all of the common pre and post herbicides will get lawn burweed. It's not hard to kill, but it grows low to the ground and can escape notice until you start stepping on the fruits. This plant has shallow roots and can be hand pulled. Wear gloves so the spiny hairs don't prick the skin. So a sharp eye in winter is the most important tool to use!
Visit us online www.aces.edu.
Virus Robbed Me of Bidding Farewell to Great Friend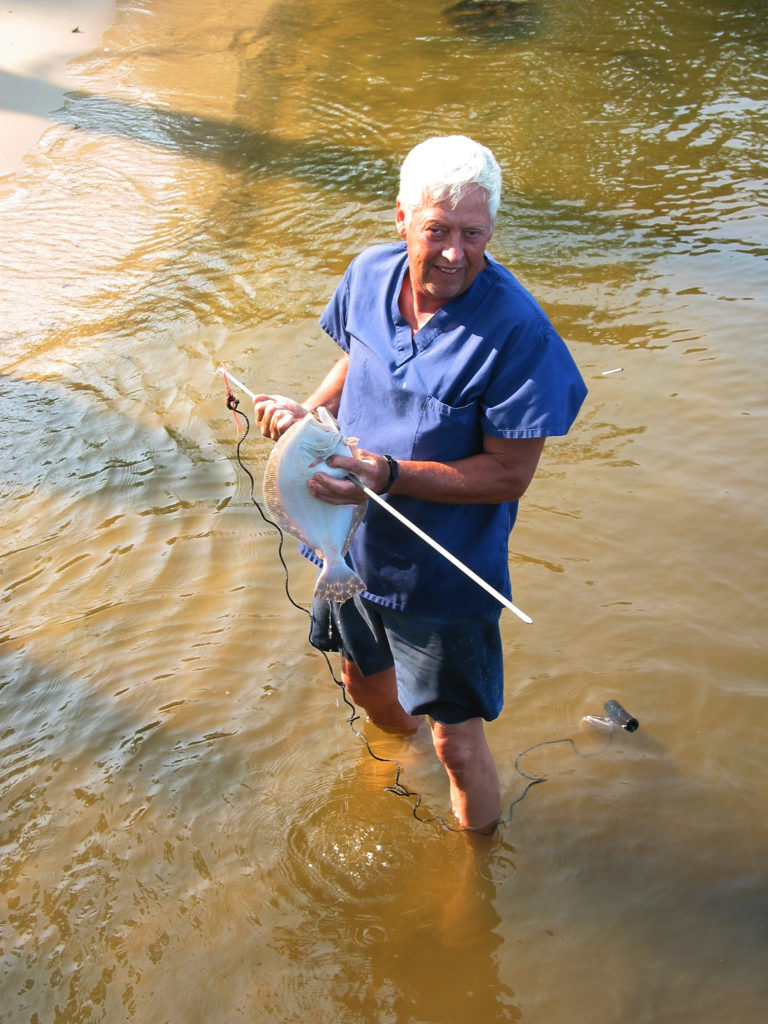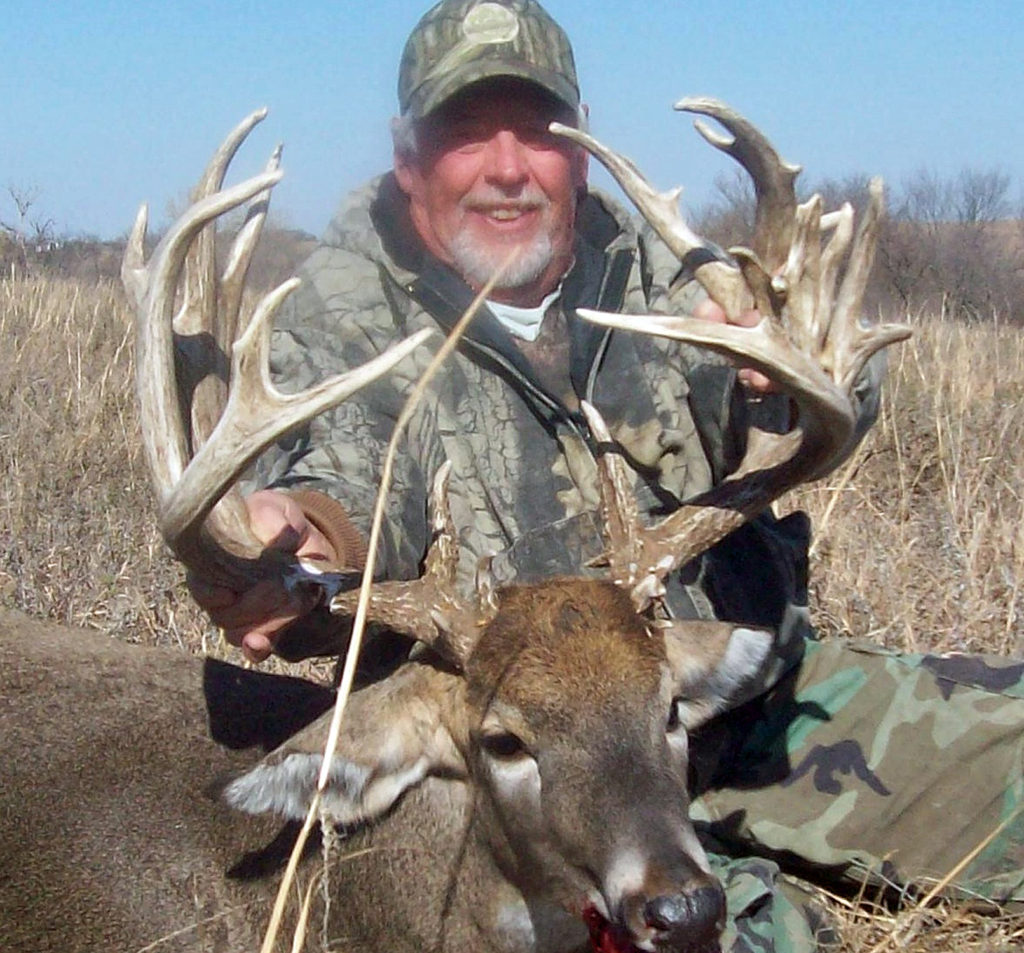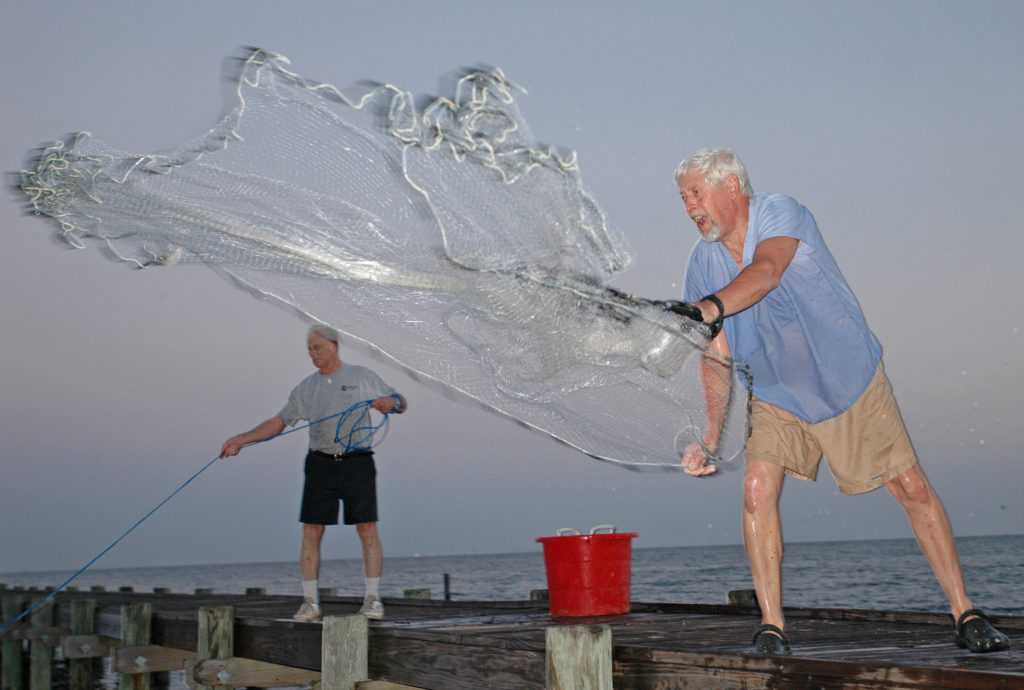 By David Rainer, Alabama Department of Conservation and Natural Resources
While I and my family have been blessed during the COVID-19 pandemic with basically no ill effects, the virus robbed me of the chance to say farewell to one of the people most influential in my career covering the outdoors in Alabama.
Robert Lee Rivenbark of Fairhope did not succumb to the coronavirus. He lost his battle with prostate cancer recently after a long struggle. He was 76.
Because of the virus restrictions, I was only able to visit over the telephone before he passed away.
Rivenbark fits in what I call my curmudgeon category. He could be short and to the point, and our last phone call started in typical fashion. When his wife, Charlotte, handed him the phone and told him it was me, no "How are you doing" or any such formalities ensued. The first sentence out of his mouth was, "Whadda you want?"
However, he always tried to help with what I wanted. When I first moved to lower Alabama to take the job as Outdoors Editor at the Mobile Press-Register in 1992, a friend of mine insisted I look up Lee when I got to town.
Boy, I'm glad I did. Lee was a man of the outdoors, from the intricate machinations of Mobile Bay to the haunts of the wary white-tailed deer.
In fact, we hit it off so well that before I got my family moved down, I rented a garage apartment on the Rivenbark compound on Mobile Bay at the south end of Fairhope, where the Rivenbark family had been since 1966.
It was a small apartment, but it had a great view of the Rivenbark pier and water beneath the pier light. Obviously, the pier light attracted bait fish and subsequently speckled trout and redfish. From my vantage point in the apartment, I could take a pair of binoculars and look at the pier. If I could see fish activity under the light, I would grab a rod and reel and head down to catch a few fish for the next night's meal. If the water was calm, I'd roll over and go to sleep.
I don't remember how many times Lee retold that story to illustrate how "sorry" I was, but it always ended in a big laugh.
Lee was the first to admit that he was not a hook-and-line angler. He much preferred a cast net and could throw a "silver dollar" every time. He tried to teach me but finally gave up when I got to the butterbean stage.
If mullet tried to swim past the Rivenbark pier when Lee was there with his cast net, the fish didn't stand a chance.
Despite his reluctance, one day he agreed to go with me on a little fishing trip to the Grand Hotel jetties. I was dragging a plastic grub across the bottom, hoping to locate a few flounder. I caught a flatfish and cast right back into the same spot and hooked up again. I got Lee to cast in that spot and he hooked a fish. If our baits landed in an area about the size of a washtub, we ended up with a fish. We caught a dozen before the spot ran dry.
Lee, known as Uncle Lee to my daughters, had knowledge of Mobile Bay was extraordinary, and I was lucky enough to be on his jubilee hotline.
For those who aren't familiar with the phenomenon, a jubilee happens when the bottom-dwelling fish and creatures in the bay end up on the shoreline.
Jubilees occur during the summer when patches of water with low dissolved oxygen form in the bay. With the right conditions, that oxygen-depleted water moves to shore, mainly Baldwin County's Eastern Shore, pushing those fish and marine creatures ahead of it.
It usually happens in the wee hours of the morning, and a jubilee could include everything from flounder to shrimp to crabs to eels.
If I got a call at 4 a.m. and I heard "Rivenbark, Fairhope Pier," I knew to jump up, grab my wading shoes, gig and light and meet him for the bonanza that is a jubilee.
Jubilees were always fickle experiences. Sometimes it would be only shrimp. At other times it was mostly flounder. At times it was everything, with blue crabs crawling out on piers and pilings to flounder stacked on top of each other trying to find oxygen.
When a thundershower moved through in the afternoon and the wind was blowing gently out of the east, Lee would tell me to expect a phone call.
But you never knew what you were going to get or whether it was going to materialize. One night we were all set for a big jubilee with everything falling into place. Just as the flounder got near gigging range, a huge wake from a ship heading down Mobile Ship Channel crashed ashore, and the jubilee vanished right before our eyes.
So many memories come to mind when I think about Lee, including the time we tried to go fishing in the Chandeleur Islands off the Louisiana coast. Tried is the key word here. We set out from Fly Creek Marina in Fairhope aboard Dr. Larry Ennis' catamaran sailing vessel for an extended adventure. By the time we got south of Biloxi, Mississippi, we got bad news. Not one but two tropical systems were forming in the Gulf of Mexico. We turned the boat around but could only make it back to Pascagoula before we abandoned ship and called for someone to pick us up.
When it came to hunting, Lee had never really taken up the turkey hunting sickness because he was too busy taking advantage of the bounty of Mobile Bay during the spring.
But deer hunting was his main outdoor passion. He hunted deer from Colorado to Conecuh County and everywhere in between. Of course, most of his deer came from Alabama, and he was a meticulous record-keeper.
"He kept a record of all the crabs and mullet he caught off the pier and every deer he shot," said younger brother John Rivenbark.
Lee was absolutely the luckiest deer hunter I have ever known. He could break all the rules and still be successful. He could be smoking a cigarette and the biggest buck in the woods would step out in front of him.
He had told me before the season started that all he wanted to do was kill his 400th deer. He only needed three to reach that milestone.
It was a struggle early in the season with the effect of chemotherapy on his body and the weather. Our mutual friend from Mississippi set up a hunt for Lee in Texas, but his health wouldn't cooperate. I tried to set up a hunt for him at Bent Creek Lodge in Jachin, Alabama, but he wasn't up to the trip.
With his brothers and friends like Ken Jansen, Judson Pizzotti and Gary Wolfe helping him along the way last season, Lee managed to accomplish his goal.
He bagged his 400th deer, a doe, with his twin brother, Arch, and family friend Carl Enfinger in tow.
Lee ended his deer-hunting career with 402 reduced to bag.
He asked me, after he knew this would likely be his last deer season, if I wanted one of his deer rifles or any of his mounts after he was gone.
I told him he should give those to family members, but I did have one request. He had a stainless steel rod, sharpened on one end with the small rope attached to the other. It was his custom flounder gig that allowed him to slide the gigged flounder down the rod and onto the string so he didn't have to stop during a jubilee.
"Lee, all I want is your flounder gig if that's alright," I said.
"That's all you want?" he said with curious look.
"Yep," I said, "because every time I stick a flounder I'll think of you."
I hope to rekindle those memories of my great friend real soon
Auburn forestry faculty help major YouTube influencer plant 20 million trees via #teamtrees
By Teri Greene
Two Auburn University forestry professors lent a hand to a hugely popular YouTube scientist in an effort by internet content creators of all types to raise $20 million for the Arbor Day Foundation, which has agreed to plant one tree for every dollar raised at teamtrees.org.
Professor Becky Barlow and Research Fellow John Kush of the School of Forestry and Wildlife Sciences joined up with Destin Sandlin, whose channel "Smarter Every Day" has more than 8 million followers, to share their insight and raise awareness about the growth cycles and conservation of trees.
Sandlin's video, How to Plant 20 Million Trees, which features Barlow and Kush, has received more than 1.3 million views. It's part of the National Arbor Day Foundation's lofty goal to raise $20 million in order to plant 20 million trees. The goal was met well before the deadline, and the project is retaining its momentum: By the end of February, the fundraiser had well surpassed its goal, with more than $21.7 million raised and donations continuing to pour in. To see a live count as the donations continue—or to make a donation in honor of National Arbor Day—go to teamtrees.org.
Kush said he had no idea how far a group of YouTube videos could go in terms of raising awareness and advancing education.
"I was amazed," Kush said of the million-plus views Sandlin's video received. "It's great exposure for the longleaf pine, the School of Forestry and Wildlife Sciences and Auburn University. I had no idea how many people subscribe to some of these YouTube channels."
The #TeamTrees campaign was started by internet content creators, sparked by a tweet from YouTube star Mr. Beast, who decided to commemorate reaching the 20 million subscriber mark by setting off a viral effort to plant 20 million trees. In May, his fellow YouTuber Mark Rober teamed up with Mr. Beast and his crew to kick off the project by planting trees in a field in Oregon. On the project's launch day, Oct. 25, Rober posted a video of that tree-planting and, with Mr. Beast and others—including Sandlin—began to rally social media influencers to spread the word about the #TeamTrees project, which ran through Dec. 31.
Since the trees are scheduled to be planted in locations worldwide, this effort places an emphasis on planting trees that are native species, where local conditions and forest plans allow. The National Arbor Day Foundation's motto sums it up: "To plant the right tees, in the right place, at the right time, for the right reasons."
Which trees, where to plant and why
Sandlin made a pitch to Auburn's School of Forestry and Wildlife Sciences, including the lines, "I'd love to include Auburn University in the video [even though I'm a Bama grad]. You're the authorities on forestry, and I'd like to highlight that to an international audience."
Sandlin, who's examined nature worldwide in his video adventures, has a keen interest in trees, and he's familiar with Auburn's forestry work: Back in the 1960s, his grandfather worked with Auburn students to see whether a group of newly planted longleaf pines would grow on his property, just north of the species' range. Only two of the many trees planted on his grandfather's land survived. One lived until the mid-1970s, and the other lived until the late '80s.
"My hope was that, if we are going to plant 20 million trees, we should gain some scientific knowledge about what species will perform best in certain soils and climates," Sandlin said of his contribution to the #teamtrees project. "Environments and ecosystems change, and I see this as a gigantic opportunity to gain data for the snapshot of time that we live in. What happens will be left up to the Arbor Day Foundation, but I hope to work with Auburn to gather data in some way.
"Dr. Barlow and Dr. Kush share my passion for education, but also were willing to lay out the facts in a clear, intelligent and respectful way," he said.
Barlow and Kush were enthusiastic to share their expertise with Sandlin and his viewers.
Barlow explained the importance of silvics—the study of the life history and character of forest trees. In the video, she explains the importance of the location in which trees occur, their growth levels, need for sunlight and tolerance of shade. She also emphasized that some species require higher levels of maintenance than others.
In the video, Kush's statement that certain trees need fire to survive seemed to take Sandlin—and probably his viewers—aback. But Kush said getting the word out about the health of the longleaf pine was one reason he was excited to work with Sandlin. He said the ecology of the longleaf—particularly its need of fire—is often misunderstood.
Kush noted that the species evolved with frequent fire.
"We need to be proactive and increase our use of prescribed fire," Kush said. "This will not only help in longleaf pine management but improve wildlife habitat for game species as well as numerous threatened and endangered species in the Southeast."
Sandlin was grateful that Kush shared this fact with viewers.
"It can be quite a challenge to help people understand that, at times, fire can be good for the ecosystem," Sandlin said. "I believe our message got through."
Funds already in action
The planting of 21.5 million trees is already underway, with specific projects planned for the spring, summer and fall of 2020, according to a joint press release from the National Arbor Day Foundation and #TeamTrees.
The funds are helping replant trees lost in the unprecedented 2018 California wildfire season, in which 8,000 fires burned through more than 1.8 million acres of forestland. Replanting this area will prevent mudslides and degraded soil, water and air quality and other challenges. The project is part of a four-year reforestation effort that will help families recover from those wildfires.
This spring and running through summer, the #TeamTrees team will aid in the replanting effort in Kenya's Kijabe Forest, an important wildlife corridor and water source for the country that has been damaged dramatically over the past 15 years as it has been cleared for charcoal and timber. The newly planted trees will help re-establish a sustainable water supply, restore habitat for wildlife by stabilizing landslide-prone slopes and secure local livelihoods.
In the summer and fall, the team will help reforest the Cauvery River Basin in southern India, which has shrunk by about 40 percent from its historical flows over 70 years, resulting in scarce drinking water and difficult farming conditions. A loss of tree cover has also led to poor soil health. Reforesting the basin and educating farmers will help stabilize the river and improve soil conditions over time.
A crowd-driven effort
In the end, the widespread social media push to raise awareness and educate had the greatest impact on the effort, with #TeamTrees identifying more than 800,000 unique donors. A handful of billionaires including Elon Musk and Tobias Lutke did contribute to the cause, but for the most part this was a grass-roots success.
"I predicted a few more wealthy individuals or organizations would realize the PR potential and jump on board," Sandlin said. "The fact that the majority of funds for the Arbor Day Foundation were raised by individuals feels really good."
Food Safety a Top Priority in Alabama Produce Industry
With Alabama's growing season in full swing, produce growers are working to ensure continuing food safety during the COVID-19 pandemic. The CDC, USDA and FDA agree that there is no indication the virus can infect consumers through food or food packaging.
Good Agricultural Practices
Alabama Extension food safety regional extension agent Kristin Woods said the produce industry uses Good Agricultural Practices (GAP) and Good Manufacturing Practices (GMP) to help protect against foodborne illness.
Woods said that many growers go through voluntary audits to verify that fruits and vegetables are produced, packed, handled and stored as safely as possible to minimize risks of microbial food safety hazards.
"Food system workers—including harvesters, packers, processing line workers and others—are critical to a safe and consistent food supply in the U.S.," Woods said. "In fact, a Department of Homeland Security issued guidance recognized agricultural production, food processing, distribution, retail and food service as well as allied industries workers as essential workers."
Health of Agricultural Workers
Woods said worker health is crucial to a stable supply.
"Farms already have food safety protocols in place to preserve the safety of freshly harvested products, but now there are also enhanced procedures to protect employees from the virus," she said. "These procedures protect workers during harvest and in packinghouses so that producers can keep food flowing from farm to table."
Woods said consumers should know some key facts about the produce industry.
Food system workers are highly trained. These workers undergo extensive training to prevent the hazards that cause foodborne illness. They have the knowledge to assess risks on the farm, during processing, at retail and in the kitchen.
If a worker tests positive for COVID-19, they go home. Individuals who come in contact with an infected person should self-quarantine.
Processing facilities have enhanced procedures to frequently clean and sanitize high-traffic surfaces. This virus, like others, can survive on surfaces for an extended time making cleaning and sanitizing vital.
There is no food shortage in the U.S. Shoppers may see empty grocery store shelves in the short-term. However, many packinghouses are shifting gears from food service accounts to retail accounts. This switch takes time to see on the grocery store shelf.
Woods encourages shoppers to exercise patience instead of stockpiling.
"Shifting our food supply from foodservice to retail in a short amount of time is not an easy job," she said.
Produce Safety
While Woods emphasizes the importance of purchasing and consuming Alabama-grown produce, she reminds consumers that because this virus does not appear to be foodborne, imported produce remains safe.
"That's especially good news for people who like tropical fruits including pineapples, bananas and papayas," Woods said.
Woods said using basic hygiene practices can curb the spread of the virus and other germs.
"Washing hands before and after a grocery trip, social distancing from other shoppers, covering coughs and sneezes or staying at home when feeling unwell help reduce the spread of the coronavirus," she said.
Farmers market shoppers may notice new packaging or rules as they begin shopping for produce this year.
Vendors will expect shoppers to shop safely. Take advantage of any opportunity to wash or sanitize hands. Also try to avoid picking up produce to inspect it before purchasing.
"If it is possible to pay in advance, use a credit card or use Apple Pay—do it," Woods said.
More Information
More information on food safety at the farmers market are in the Alabama Extension Food Safety at the Farmers Market Video Series.
Find more information on all aspects of food safety on the Alabama Extension website, www.aces.edu.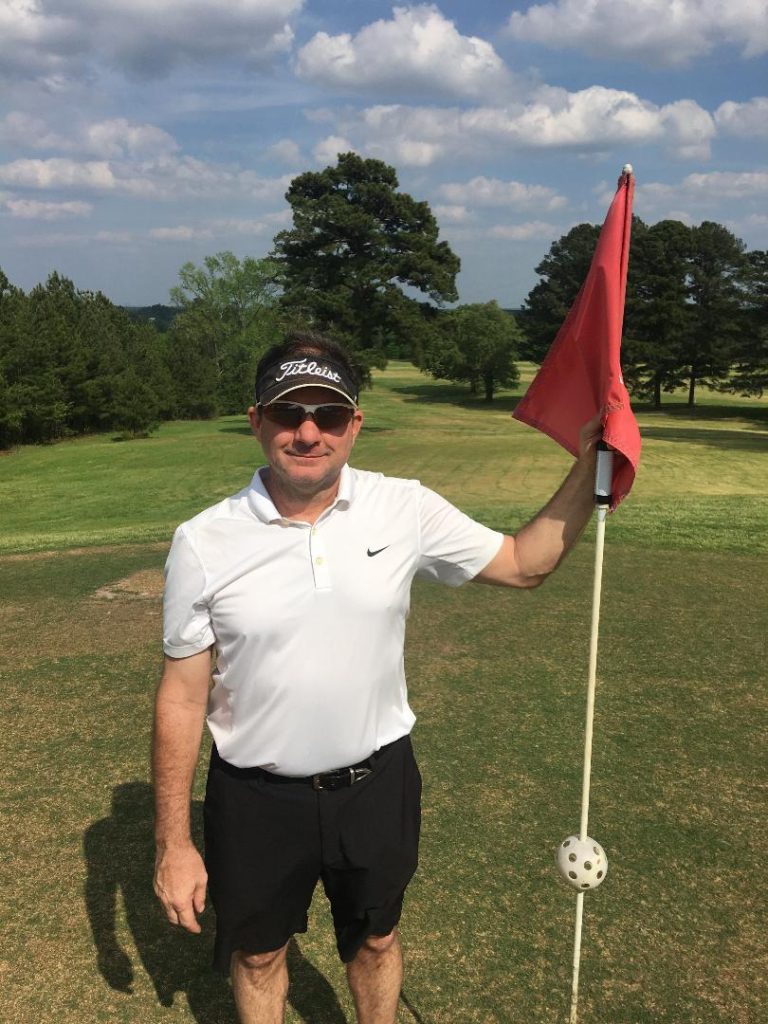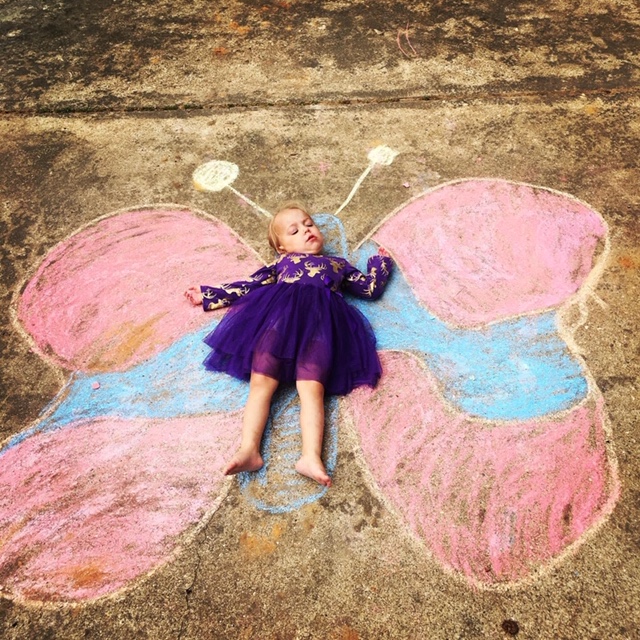 Vandalism Continues to Be Problem at WFF Shooting Ranges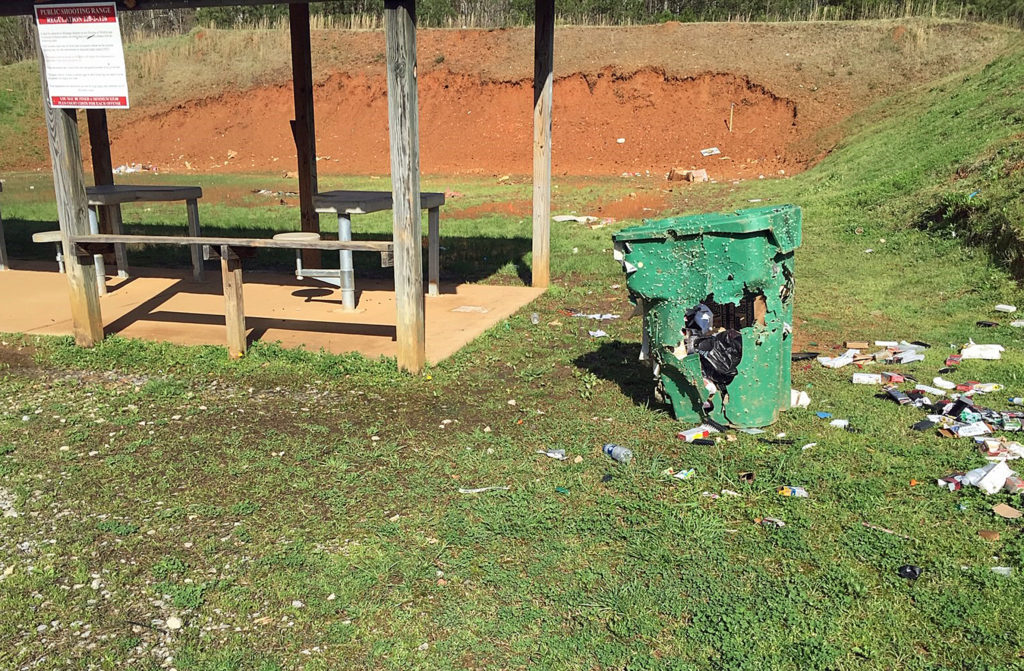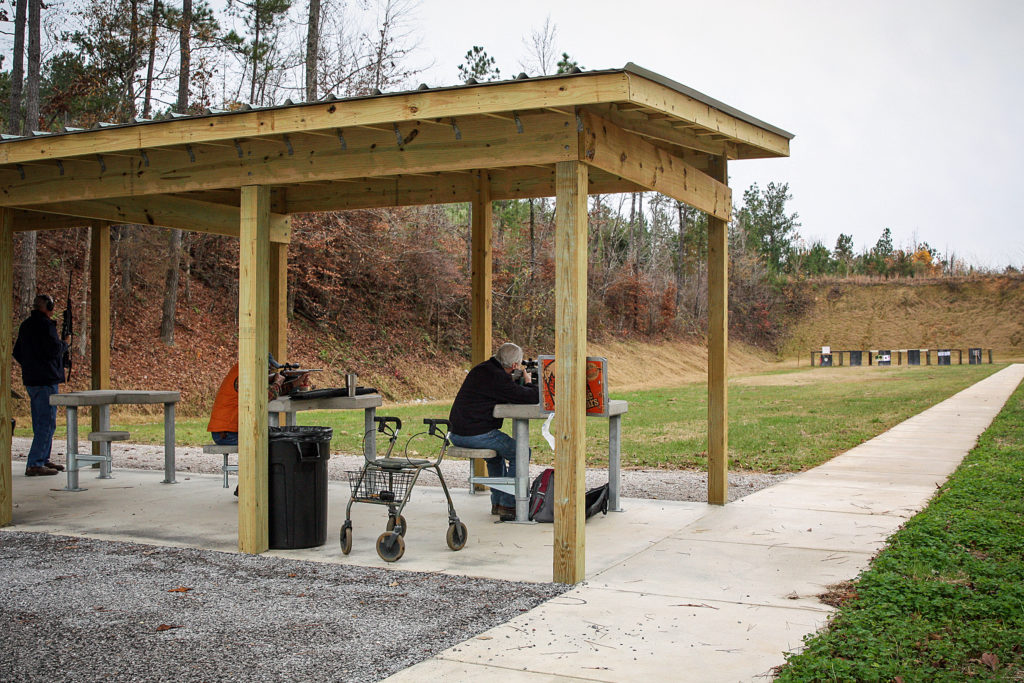 By DAVID RAINER
Alabama Department of Conservation and Natural Resources
It's like when their favorite lamps get broken by reckless youngsters and moms say, "This is why we can't have nice things."
I don't get riled easily, but one photo posted recently by the Alabama Wildlife and Freshwater Fisheries (WFF) Division really kicked my blood pressure up a notch.
Some yahoos at one of the WFF shooting ranges vandalized items at the range to the detriment of all who use and maintain the shooting facility.
Unfortunately, a few bad actors could jeopardize the use of some of these facilities if this malicious behavior continues. The facility where inconsiderate people destroyed state property is still open. For now.
WFF Director Chuck Sykes said the vandalism at Etowah Shooting Range that irked me so much is only one of many examples of how destructive some people can be.
"We installed new concrete shooting benches at several ranges over the past couple of years," he said. "Within days of us installing them, several were damaged through senseless vandalism."
Unfortunately, vandalism is not new, but this new destructive activity could have a greater impact. As far as the damage done at the Etowah range, Marisa Futral, WFF Hunter Education Coordinator, said the recent incident indicated a growing problem.
"People can be so inconsiderate," she said. "People will bring computers, washing machines or whatever to shoot. If they don't have anything, they'll just shoot up the garbage cans. It's not the first time it happened at Etowah, but this time was really bad. Then they just leave them for someone else to clean up."
Futral said another example of people being inconsiderate is when they place their targets too close to the bench, causing their bullets to impact the floor of the range instead of going into the earthen berm. This creates big ruts in the floor of the range and makes maintenance a nightmare.
"At South Sandy at Oakmulgee Wildlife Management Area, we had just put 13 new shooting benches there," she said. "They cost more than $900 each. We were trying to make the facilities as nice as we could. We weren't open a week before someone either shot or took a sledgehammer and tore up one of the benches. Fortunately, we did have some thoughtful users who were in the concrete business. They volunteered to supply materials and labor to repair the benches. That was a positive, and we wish all users would have this attitude. That's why we would love to staff all of our ranges – to stop all the vandalism.
"Unfortunately, it's the few who ruin it for the many."
Two facilities, the Cahaba Public Shooting Range in Shelby County and the Swan Creek Public Shooting Range in Limestone County, had to be closed temporarily because the users would not abide by specific social-distancing guidelines. Another facility, the Conecuh Public Shooting Range, was also shut down due to the temporary closure order issued for all U.S. Forest Service recreational access areas in national forests.
"As with most things, Alabama hunters have it really good," said Director Sykes. "Our Governor has been working generously with us to make sure we keep the outdoors open. It is providing a healthy alternative for people who are social distancing. You can be smart about it and still go to the woods and hunt, still get on the water and fish, as long as people take this seriously and don't think it's a three-week vacation, because it's not. We want you to get outdoors and have fun. What we do for a living is provide those opportunities. As long as people are smart about it, we will remain open. But we had to close two of our staffed shooting ranges because people would not obey the guidelines set forth by (State Health Officer) Dr. (Scott) Harris and the Governor."
Sykes said the staff taped off every other shooting bench at the staffed ranges to ensure people were maintaining the proper 6-foot distancing, to no avail.
"We told people coming into the range that they had to follow the social-distancing protocol or they would force us to close it," Sykes said. "Before lunch, people were stacking their equipment on the taped-off benches, walking all over people. We just finally had to close it."
Futral said the program had no other option than to close the manned shooting ranges that she and her staff oversee.
"Those ranges were so packed," Futral said. "Everybody was touching the same staple gun and same benches. People weren't maintaining the 6-foot social-distancing recommendations. Our staff was getting exposed. We definitely didn't feel like we were complying with Governor Ivey's order not to congregate."
The nine WFF shooting ranges that currently remain open are Barbour WMA Shooting Range, Coosa WMA Shooting Range, Etowah Shooting Range, Freedom Hills WMA Shooting Range, Marengo Public Shooting Range, Sam R. Murphy WMA Shooting Range, Skyline WMA Shooting Range, South Sandy-Oakmulgee WMA Shooting Range and Upper Delta WMA Shooting Range. Visit www.outdooralabama.com/activities/shooting-ranges for details about the ranges.
WFF Director Sykes said people in Alabama may not realize how good they have it right now in terms of enjoying the outdoors.
Governor Kay Ivey specifically granted Alabamians the option of enjoying outdoors recreation during the virus restrictions, with the proper social distancing of course, because she knows how cherished the outdoors is to people in our state.
"A lot of states are experiencing mandates to close public access during these restrictions," Sykes said. "For one example, Illinois shut down all of its public hunting lands. If you're an Alabama resident who drew a non-resident turkey tag in Illinois, you're out of luck unless you have access to private property. I hunted in Nebraska last year, and I received a text from their game department that said basically, thanks for buying your turkey tags last year, but, sorry, you can't come this year.
Sykes said a meme floating around social media nails the hoarding hysteria that hit the nation.
"It says the reason we have game and fish regulations is because of how some people acted in the grocery store," he said. "We're trying to provide an opportunity. People who abuse it, hurt it for everybody else. I'm not saying there are a lot of people who do this. For the most part, the people who use the shooting ranges and hunt and fish on the WMAs (wildlife management areas) are upstanding citizens. They buy their licenses. They abide by the rules and regulations. They abide by the bag limits and fish creel limits. And it's a pleasure to have them around.
"My daddy always taught me there's one in every crowd. And you know what that one is. Those people are the ones who could possibly ruin it for everybody."
Sykes participated in a conference call recently with the National Forest Service to determine if those lands could remain open during the coronavirus outbreak.
"They don't want to shut down the national forests," he said. "We are struggling nationwide for relevancy. People are not growing up in the country. They don't have a high value for outdoor recreation like we do because we grew up doing it."
As tragic as this virus has been for many in the nation, Sykes sees an opportunity.
"Let's make lemonade out of lemons," he said. "This is a terrible situation for the country as a whole, but this is a great time for us to show people what we do, how we do it and why we do it. We're providing recreational opportunities for people who would normally be going to soccer games, going to movies or concerts and stuff like that. We're providing them with a safe, healthy alternative to go outside and enjoy nature. This may be the silver lining for this.
"We're the only game open in town right now. If people use it wisely, it may help us create a new group of users."
Upcoming Virtual Field Trips To Feature Beef Cattle, Honeybees
Alabama farmers will keep their Virtual Field Trips moo-ving and buzzing with upcoming tours of an Autauga County beef cattle farm and Auburn University's Bee Lab. The Virtual Field Trips are offered through Facebook Live on the Alabama Farmers Federation Facebook page every Friday at 10 a.m. through May 22.
On April 17, viewers will learn all about beef cattle as they explore Hickory Hill farm in Billingsley with farmers Taber and Grace Ellis.
"This one should be very fun for students because they'll get to see big livestock up-close and not just far off in a field," said Mary Wilson, Federation director of news services. "They even plan to show how they use their horses to go out and check on the cattle, so viewers will be seeing a real life cowboy!"
Honeybees will be the focus of April 24's Virtual Field Trip as Geoff Williams provides a tour of Auburn University's Bee Lab.
"We've found a lot of people – students and adults alike – have questions about honeybees, ranging from whether or not honey helps combat seasonal allergies to how to help protect honeybee colonies," Wilson said. "This field trip will allow researchers at Auburn to tell us more about what they're doing to help keep honeybee populations healthy and thriving."
Viewers are encouraged to ask questions through the comment section, and each video will include links to educational activities centered around the featured commodity.
Scheduled topics for May, subject to change, are:
May 1 – Catfish
May 8 – Greenhouse and nursery products
May 15 – Forestry
May 22 – Cotton and other row crops
To receive Facebook notifications about the Virtual Field Trips, respond as "Interested" in the event or follow the Alabama Farmers Federation page.
Previous Virtual Farm Tours and educational resources may be viewed online at www.alfafarmers.org/virtual-field-trip. Row crop farmer Jonathan Sanders of Coffee County kicked off the program April 3, focusing on peanut production. The April 10 Virtual Farm Tour featured sisters Cassie Young and Allie Logan of Barbour County who discussed raising fruits and vegetables at their Backyard Orchards.
The Federation is Alabama's largest farm organization with more than 340,000 member families. Find additional educational materials, including Ag Mags and free printable coloring book pages, online at www.alfafarmers.org/schools and click on resources.
This Virtual Field Trips project was developed in conjunction with Girl Scouts of Southern Alabama (GSSA). For additional virtual programs from GSSA, visit GirlScoutsSA.org.
Drivers Should Watch For Farmers During Planting Season
Written by Marlee Moore
Alabamians are encouraged to stay home during the COVID-19 pandemic; however, farmers are still performing essential work planting crops to feed, fuel and clothe consumers.
That means drivers performing essential travel, such as to the grocery store, are sharing the road with more farm machinery.
"Springtime means farmers are moving equipment to and from the field as they work to grow crops we all depend on, which is especially critical during times like these," said Alabama Farmers Federation President Jimmy Parnell. "We encourage drivers to be alert, slow down and be patient as they encounter tractors on the roadways."
The U.S. Department of Transportation reports 15,000 accidents annually involving farm vehicles in the U.S. Alarmingly, 55% of highway deaths are on rural roads.
Parnell said farmers try to pull over to allow cars to pass. However, congestion is inevitable due to speed limitations of farm equipment.
"We ask drivers to understand farmers are on their way to work," said Parnell. "A little patience can mean the difference between life and death. Saving a few minutes is not worth endangering the life of yourself, the farmer or other drivers by passing on a solid yellow line, swerving around a tractor or approaching slow-moving vehicles at high speed."
Slow-moving vehicles should be identified by an orange triangle on the back of the machine, meaning it's designed to travel at 25 mph or less. The Federation noted it only takes five seconds for a car moving 55 mph to close a gap the length of a football field with a tractor moving 15 mph.
Safety tips for drivers include:
Slow down when you see a piece of agricultural equipment. Most farm equipment is designed to travel at speeds of only 15 to 25 mph.
Watch for slow moving vehicle (SMV) signs. SMVs are required for vehicles traveling less than 25 mph.
Watch for electronic or hand turn signals. Just because a tractor veers right does not mean the operator is pulling over to allow someone to pass. The size of farm equipment often dictates the necessity of wide turns.
Pass farm equipment cautiously. Even when passing safely and legally, machinery may sway or become unstable. Do not expect operators to drive their equipment onto the shoulder of the road.
Driving with one set of tires on loose-surfaced shoulders substantially increases the risk of turning over.
Watch for flashing amber lights. This type of light often marks the far right and left of farm equipment. Also watch for reflective tape marking extremities and sides of equipment.
Remember agricultural vehicle operators have a right to drive their equipment on the road.
Reimagine Your Recycling During COVID-19
The coronavirus has stretched into many aspects of daily life. With a strict enforcement on social distancing in many areas, it has left many people wondering what this distancing means for their daily curbside recycling.
Karnita Garner, an Alabama Extension environmental specialist, said many areas have halted the pickup of recyclables.
"The Centers for Disease Control and Prevention reports that the coronavirus can live on plastic and other surfaces for three days," Garner said. "Because of this, many municipal governments have stopped offering curbside services. They have also restricted the pickup of any loose recyclable materials not placed in plastic bins or bags."
Can't Recycle? Reuse Instead
With some recycling avenues momentarily shut down, many people are asking what they should do with the materials they normally recycle. There are many materials that people can reuse for other purposes.
In the Garden
Allyson Shabel, an Alabama Extension urban home grounds, gardens and home pests regional agent, said some items have great uses in the garden.
"Cardboard and paper products, such as newspapers, can be used to control weeds in flower beds and vegetable gardens," Shabel said. "Put down a few layers of these products and cover them with mulch. The mulch will keep them from blowing away and will look nicer. This will help keep weeds at bay over the spring and summer."
Plastic bottles with the caps on and packing peanuts are great to add the bottom of large or heavy flowerpots and containers. This makes them easier to move and also gardeners will use less soil. Shabel said only use this method with containers that are at least two feet deep, filling only one third of the depth with the filler material.
Shabel also said people can repurpose clamshell plastic containers, like the ones used for fresh fruits and vegetables, as seed starters and propagation containers for perennials and annuals.
"First, clean them well with soap and water, then fill them with 3 inches of potting mix," Shabel said. "Put the containers in a sunny window or a shady location outdoors. The closed lid will help hold a little humidity in and keep the cutting hydrated."
Around the Home
Garner said a lot of the items that are normally recycled could be upcycled and turned into useful or beautiful things.
"Now is a great time to do some arts and crafts with your kids. Some items, such as newspapers and magazines, are perfect for this," Garner said. "Other items, like glass and plastic containers, can be upcycled and used as organizers for household items or children's toys."
Garner said there are many websites and social media pages that have great ideas for reusing recyclable materials.
Ideas for Storage
For the items that people do not reuse, there is still the problem of storing them until recycling pickup starts again. Garner offers the following storage and space-saving tips that can help with this problem.
Request additional recycling bins or a larger bin from the city municipality. Contact your local municipality to determine if they have incorporated recycling services into the trash collection service because of COVID-19.
Purchase stackable storage bins and collect recyclables in cardboard boxes or plastic storage bins. If cost is not a factor, purchase larger outdoor recycling bins to store in the garage, shed or backyard.
Reduce the number of items to recycle during COVID-19. Focus on certain items that have the greatest environmental impact
Breakdown cardboard boxes or smash or minimize the size of recyclables like aluminum cans to save space.
For more information on recycling and other topics related to COVID-19, visit the Alabama Extension coronavirus website, www.alabamaready.info.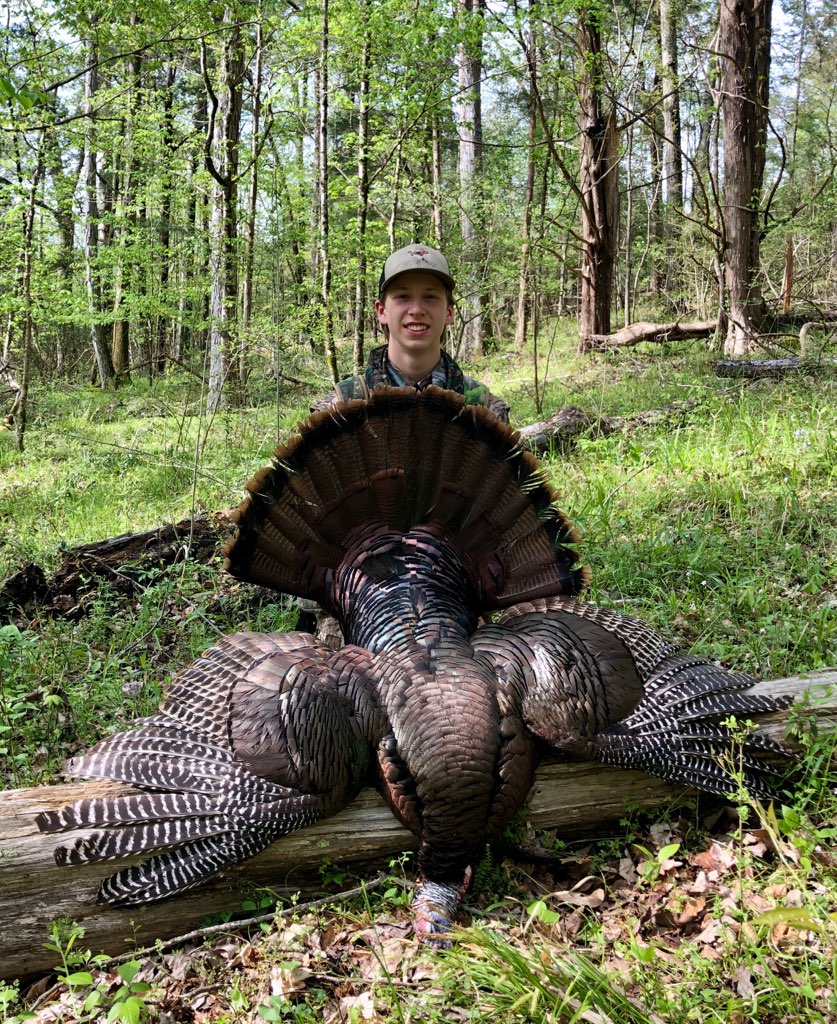 Governor Ivey Announces National Fish and Wildlife Foundation Projects in Alabama
Governor Kay Ivey announced today that the National Fish and Wildlife Foundation (NFWF) recently awarded nearly $24 million from its Gulf Environmental Benefit Fund (GEBF) to four new projects in the state of Alabama. The projects, developed in consultation with state and federal resource agencies, are designed to remedy harm and reduce the risk of future harm to natural resources that were affected by the 2010 Deepwater Horizon oil spill. The Alabama projects address high-priority conservation needs, including the acquisition and protection of important wetland habitats.
"The funding of these projects continues reinvestment in the Alabama Gulf Coast communities that were impacted by the Deepwater Horizon oil spill nearly 10 years ago," Governor Ivey said. "I appreciate the work of the Alabama Department of Conservation and Natural Resources and our partnership with NFWF as we continue to recover and build a more resilient coast."
NFWF created the GEBF in 2013 to receive and administer funds resulting from remedial orders in plea agreements between the U.S. Department of Justice and BP and Transocean. The plea agreements resolved certain criminal charges against both companies relating to the 2010 oil spill. Provisions within the agreements directed a total of $2.54 billion to NFWF to be used to support natural resource projects in each of the five Gulf States.
The number of awards from the GEBF in the state of Alabama now stands at 34, with a total value of nearly $215 million. All projects were selected for funding following extensive consultation with the Alabama Department of Conservation and Natural Resources (ADCNR).
Blackwater River South Tract Acquisition
This project, in partnership the Alabama Forever Wild Land Trust, will acquire and permanently protect 2,300 acres of coastal habitat at the confluence of the Blackwater and Perdido rivers. The subject tract includes four miles of frontage along both rivers, more than 1,200 acres of wetlands, and a 90+ acre lake. Wetlands and other diverse habitat types found on the property support a variety of bird species and other wetland-dependent species.
Protection of the subject property will maintain water quality in the Perdido estuary and the living coastal and marine resources it supports. Once acquired, the property will be conveyed to the Alabama Forever Wild Land Trust.
The project builds upon previous acquisition investments made within the area by the Alabama Forever Wild Land Trust, The Conservation Fund, The Nature Conservancy, ADCNR, and other partners in Florida which are working together to protect this important river corridor.
The acquisition was facilitated by The Conservation Fund.
Lower Halls Mill Creek Protection
This $2,687,000 project, administered by the Mobile County Commission, will acquire and permanently protect approximately 300 acres of wetland habitat in the Dog River Watershed. The target acquisition area in Lower Halls Mill Creek comprises one of the largest contiguous undeveloped areas of bottomland hardwood wetlands remaining in the watershed. Acquisition of this tract will preserve unique tidally influenced marshes in the Dog River Watershed that support many species of shellfish, finfish, birds, and other wildlife of the type directly impacted by the Deepwater Horizon oil spill. Protection of these natural wetland areas will ensure continued protection of downstream water quality and wetland habitats in the Dog River Watershed.
Lower Fish River Watershed Restoration
A $6,554,000 award under GEBF will focus on highly-eroded riparian areas and stream channels within the Lower Fish River Watershed, a priority coastal watershed draining into Weeks Bay. Engineering and design plans will be developed for the most severely-eroded stream channels. The project also includes the restoration of an unnamed tributary to Fish River near the community of Marlow. This project will reduce sediment and nutrient pollution into Weeks Bay, improving water quality and enhancing seagrass beds and oyster reef habitat.
Dauphin Island Causeway Shoreline and Habitat Restoration Project
A $9,392,000 award under GEBF will create and protect important coastal habitat, reducing vulnerability of the only access route between south Mobile County and Dauphin Island. This project will design and install breakwater and create intertidal marsh habitat to provide protection against future erosion and storm damage. Project activities will be co-funded through NFWF's Emergency Coastal Resilience Fund.
Hurricanes Michael and Florence, Typhoon Yutu, and the coastal wildfires of 2018 caused more than $50 billion in damage and severely degraded a range of wildlife habitats. Congress provided funding under the Supplemental Appropriations Act of 2019 (P.L. 116-20), allowing grants to be awarded through a partnership between NFWF and NOAA. Senator Richard Shelby was instrumental in the passage of this critical funding legislation.
The Emergency Coastal Resilience Fund will provide an additional $4.9 million toward the Dauphin Island Causeway Shoreline and Habitat Restoration Project.
For more information on coastal restoration projects in Alabama from all Deepwater Horizon funding sources, please visit https://www.alabamacoastalrestoration.org/.
Farmers Eligible for Forgivable Small Business Loans
Alabama farms, nurseries and other agricultural businesses may be eligible for forgivable loans under the Coronavirus Aid, Relief and Economic Security (CARES) Act signed last week by President Donald J. Trump.
Mitt Walker of the Alabama Farmers Federation said the Paycheck Protection Program (PPP) is designed to help small businesses and their employees weather the economic downturn.
"The $2 trillion stimulus package includes $349 billion for the PPP," said Walker, the Federation's National Affairs director. "The program helps small businesses keep employees on the payroll by providing guaranteed loans, which may be forgiven if used for approved costs."
Walker said the Federation and American Farm Bureau Federation (AFBF) worked with government agencies and Alabama's Congressional delegation to ensure farms are eligible for the program.
"Farm businesses are a vital part of our economy," Walker said. "They provide jobs both directly and indirectly. Every dollar earned on a family farm turns over about seven times in the community. The PPP can be an important tool to help these farm businesses and rural communities survive fallout from the COVID-19 pandemic."
Eligible businesses include limited liability companies (LLC), S corporations, sole proprietorships, contractors and non-profits with 500 or fewer employees. Loans are capped at $10 million, but can include up to eight weeks of average monthly payroll costs from last year plus an additional 25% of non-payroll costs. Different calculations apply to seasonal and new businesses. The PPP will be available through June 30, 2020.
According to the Small Business Administration (SBA), PPP loans will be forgiven if all employees are kept or quickly rehired and compensation levels are maintained for eight weeks. To be forgiven, loan funds must be used for:
Payroll and benefits
Mortgage interest incurred before Feb. 15, 2020,
Rent, under lease agreements in force before Feb. 15, 2020, and
Utilities, for which service began before Feb. 15, 2020.
SBA anticipates a high subscription rate for the program. As a result, non-payroll costs are likely to be capped at not more than 25% of the total loan amount. Borrowers will still owe money if the loan is used for non-qualified expenses or if staff and payroll are not maintained.
Applications open April 3 for small businesses and sole proprietorships and April 10 for independent contractors and self-employed individuals. Visit SBA.gov for a list of SBA lenders.
Gov. Kay Ivey wrote a letter to small businesses Wednesday encouraging them to act quickly in applying for the PPP loans. She also provided additional resources regarding the program on her website.
"This coronavirus has disrupted life as we know it, including the critical economic role played by Alabama small businesses," Ivey said. "Only a few short weeks ago, our economy was the strongest it had been in the past 100 years due to the hard work and entrepreneurship of Alabama small business owners. We need our businesses up and running and back at full employment as soon as possible. I urge business owners to act today and be prepared to apply for assistance designed specifically to get them in front of the line when relief checks are written."
Alabama agriculture is responsible for 330,186 direct jobs; $9.44 billion in direct wages; and $8.88 billion in business taxes, according to Feeding the Economy, a research effort supported by AFBF and others. When indirect jobs are included, the state's farm and food economy accounts for more than 638,000 jobs; $25.6 billion in wages; and $97.3 billion of economic output.
Wettest Winter On Record Affecting Spring Forages and Livestock
By Justin Miller
Coming out of the wettest winter on record, Alabama farmers face a different set of obstacles this spring. To overcome this, farmers will have to change many of their management strategies to ensure the health of the land and livestock.
Livestock
Kim Mullenix, an Alabama Extension animal science specialist, said cattle could need additional supplementation.
"As cattle make the transition from winter to spring, producers should body condition score their herds to determine if additional supplementation is needed," Mullenix said. "Cattle have greater maintenance requirements when they are in muddy, wet conditions for an extended period of time because they expend extra energy walking through these conditions."
According to Mullenix, if cattle are visibly losing body condition, they may need a supplementation with high energy feed (greater than 65 percent total digestible nutrients) to help them maintain or recover following wet periods.
Many producers are currently in a calving season. As best as possible, producers should provide a dry or drier spot on the farm for their cows to calve.
"Excess mud and wet conditions during calving can lead to issues with calf scours and potentially other health issues," she said. "Monitor cows during calving, and check cattle regularly during the early days after calving."
Feeding Hay in Pastures
​The increased rainfall may have producers changing their feeding schedule. Beef cattle producers should prepare to feed hay longer into early spring than they normally would. Mullenix said feeding hay longer will allow pastures to dry out and rest.
"Extremely wet pastures are prone to pugging or damage from hoof action of grazing cattle," Mullenix said. "Improved grazing management practices, such as rotational grazing or limit grazing, may allow producers to use cool-season forages for a short period of time, while allowing the pasture to rest and recover."
Leanne Dillard, an Alabama Extension forage specialist, said when feeding hay in pastures, it is important to be mindful of protecting the land.
"To combat the increase in rainfall, it is important that farmers limit foot traffic in pastures to reduce sod disturbance," Dillard said. "To do this, allocate a sacrifice area for feeding to reduce damage to the entire pasture."
Forages
Heading into spring, which traditionally sees a lot of rainfall and after a wet winter, forages may suffer. Most forages can handle flooding for seven to 10 days. However, if subjected to continuous flooding, it will likely kill the plants. Dillard said while rain is good for forage growth, the cloudy days that come with it are not.
"Forage growth will be limited by a lack of solar energy available to plants," Dillard said. "Forage yield may be reduced for now. However, once the sun returns, forages will grow quickly and may get ahead of you."
The rain may have also delayed applications of fertilizer to forages. Once a field is dry enough to cross with equipment, Dillard recommends farmers apply supplemental nitrogen. Farmers should base this application on the recommendations to fulfill that crop's needs. Contact an Alabama Extension animal sciences and forages regional agentfor help determining nitrogen fertilizer recommendations.
Dillard said farmers should not apply fertilizer or chicken litter if there is 1 inch of rainfall or more expected within the next week.
"If a farmer applies a fertilizer before large rainfall events (1 inch or more), it will likely leach out before the plants can use any of it," Dillard said.
In pastures with areas of damaged perennial forages because of foot traffic or flooding, farmers should reseed those areas.
"If the area is a warm-season perennial (i.e., bermudagrass or bahiagrass), you can replant in April or May," Dillard said. "If it is tall fescue, plan to reseed the area in the early fall."
Before planting, make sure to smooth out any ruts created by equipment traffic.
Harvesting Hay
The level of moisture when baling is an important aspect to producing high quality hay. If excessive amounts of rainfall continue, there may not be an adequate amount of sun to properly cure the hay.
Dillard said if the curing window is small, farmers can use a conditioner to reduce the curing time. They can also utilize a hay preservative.
"Hay that will be baled at 18 to 30 percent moisture can be treated with a hay preservative. A preservative will reduce microbial growth and the likelihood of spontaneous combustion," Dillard said. "However, even when using hay preservatives, care should be taken when baling hay with a moisture greater than 16 to 18 percent."
For bales harvested at this moisture level, check their internal temperatures frequently. Also, store the hay outside to reduce fire risk. The risk of fire will diminish approximately one month after baling. Dillard said farmers can also wrap this hay to create baleage.
"The optimum moisture for baleage is 50 to 55 percent moisture," Dillard said. "Wrap bales with five to six layers of pre-stretched baleage wrap."
More Information
For more information on combating wet conditions related to livestock and forages, visit the Alabama Extension website, www.aces.edu, or contact your county Extension office.
Flounder Fingerlings Released Ahead of Schedule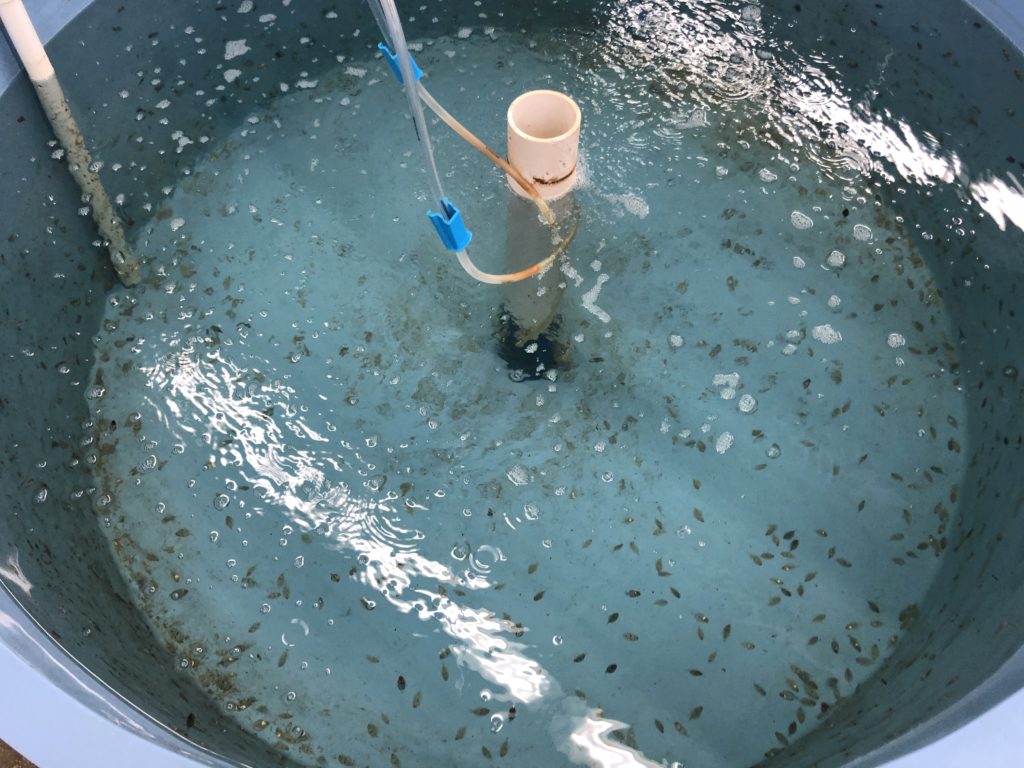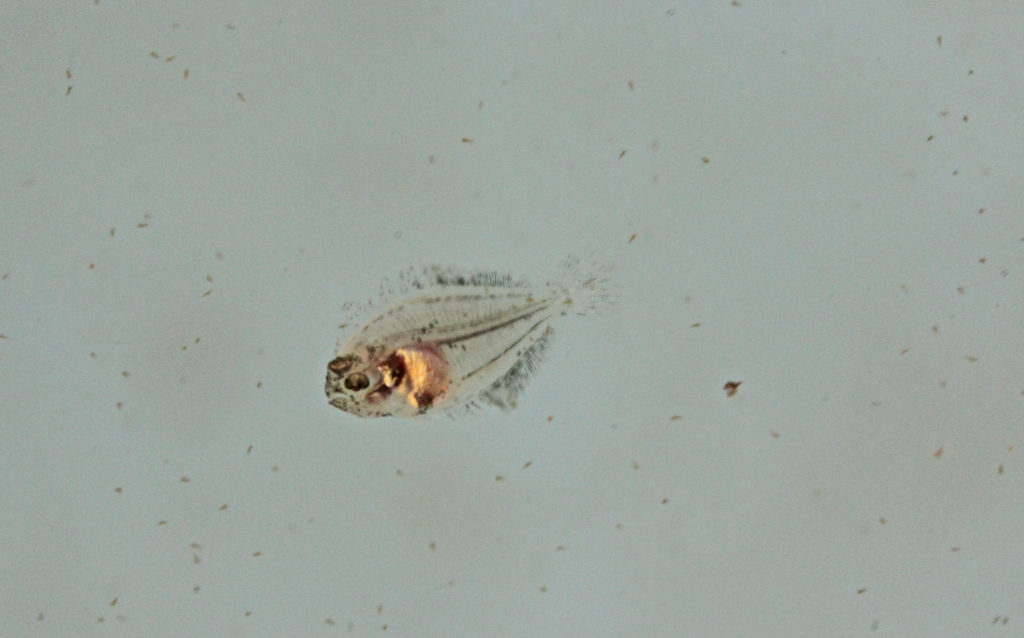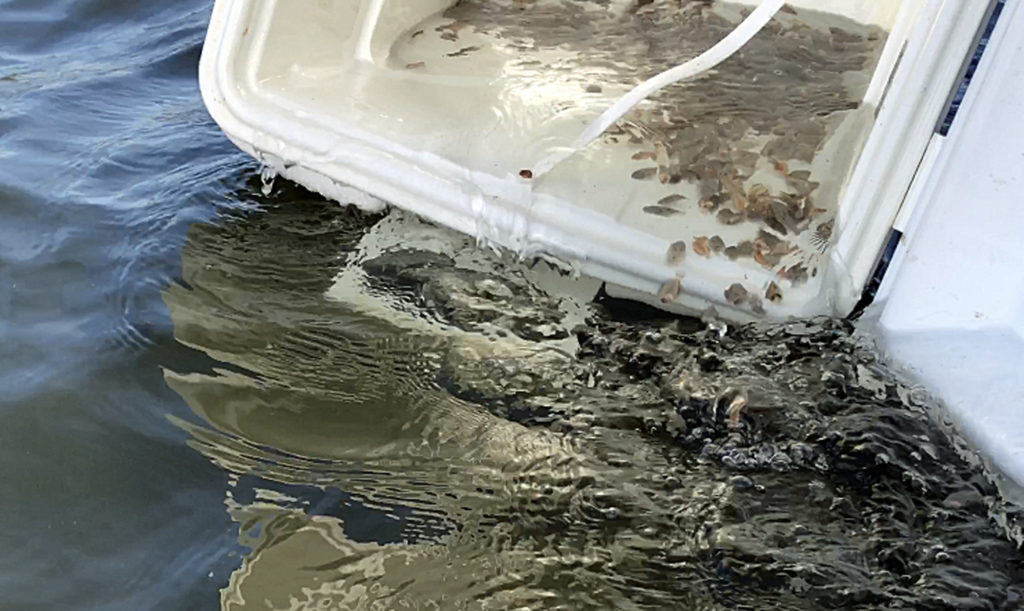 By David Rainer, Alabama Department of Conservation and Natural Resources
With the exception of those essential workers like healthcare, first responders and transportation, to whom we owe a great debt of gratitude, the COVID-19 outbreak has most of the world at a standstill.
Schedules had to be adjusted when Alabama Governor Kay Ivey issued the directives to minimize the spread of the virus.
One of those schedules involved the release of the southern flounder fingerlings that had been spawned at the Alabama Marine Resources Division's (MRD) Claude Peteet Mariculture Center in Gulf Shores.
The flounder spawn was a first for MRD's saltwater hatchery, and Max Westendorf, hatchery manager, said the release was executed about a week earlier than originally planned, but this didn't pose a risk to the fingerlings.
"It really wasn't detrimental," Westendorf said. "We just had to throw it into gear and get it done."
Another change of plans involved where the flounder were released. Hatchery staff had to find the best suitable salinity to maximize the survival of the fingerlings. The staff boated to the west but came back with reports that the salinity was too low.
"Initially, we had planned to release them in the Bon Secour and Oyster Bay areas and around Dauphin Island," Westendorf said. "But with all the floodwater that had been coming down from the northern part of the state, from basically the mouth of the Intracoastal Waterway at Bon Secour all the way to Fort Morgan, the salinity levels were below two parts per thousand. We were looking for salinity levels of 10-15 parts per thousand.
"We had to go east to the Wolf Bay and Josephine areas. We were able to find water that was from 9 to 11 parts per thousand. "
The salinity in the tanks at the hatchery was reduced to match the conditions in the wild, and the fingerlings were released the following day.
"We released an estimated 12,236 fingerlings," Westendorf said.
The method the hatchery used to determine the number of fish released is common to aquaculture facilities. The fish are removed from the holding tanks and a total weight is obtained. A random 50 fish are weighed and the total weight of this sample is divided by the number of fish counted to determine an average weight per fish. The total weight of all fish is divided by the average weight to determine the total number of fish released.
Westendorf said the density of fish in the tanks correlated with the size of the fingerlings. The tanks with fewer fish had larger individuals. Some fish in high density tanks could have been moved to a tank of low density to improve overall growth, but the extra handling could have stressed the fish and led to increased mortality.
MRD Chief Marine Biologist Kevin Anson said releasing the fish in the Perdido Bay system was not ideal but the best option under the circumstances.
"Releasing the fish in Mobile Bay would have been more productive than the Perdido system because it is more productive and typically has more juvenile shrimp than the Perdido system," Anson said. "Small shrimp are entering the estuaries this time of year and serve as their primary food source."
Anson said he hopes funding for a tagging program is available in the future to determine how many of the hatchery-raised fish enter the adult population (recruitment).
"We have an estimate of how many wild flounder enter the population, but we don't know if the hatchery-raised fish will have the same survival rate as the wild fish," he said.
Anson agrees that the early release date likely was not detrimental to the fish. He said the feed and brine shrimp fed to the fish in the hatchery is not as nutritionally beneficial as food sources in the wild.
Westendorf said the MRD team learned significant lessons during the hatchery's inaugural flounder spawn.
"We had a lot of trouble getting potential broodstock flounder to eat consistently after bringing them into the hatchery," Westendorf said. "We finally figured out a way to get them to eat consistently a month or two before spawning was scheduled to occur. If the fish were eating all year long, we would have had brood fish in better condition for spawning.
"Most of the mortality occurred right after hatch, which I attributed to poor egg quality. The fingerlings we were able to release came from the brood fish that looked significantly healthier than other spawned fish. They had better gonad development and their eggs looked healthier when placed under a microscope. We now know what we have to do to ensure that the appetite of the adult fish is maintained throughout the year."
Flounder don't readily expel eggs in captivity, requiring the hatchery staff to strip-spawn the fish. Westendorf said he and his team learned that multiple strip-spawns from the same fish (male or female) could be counterproductive.
"You have to be extremely delicate with these fish," he said. "Don't try to get too many eggs out of them at one time. And we learned it's best to strip-spawn them one time and return to the holding tank. The egg quality deteriorated each day I tried to collect more eggs out of each fish. We quickly realized the hatching rate depended on the quality of the eggs.
"We worked our tails off and after the first three or four days, we weren't losing any fish. When they hatch out, they're living off their yolk sacs. We don't really have any influence on survival during that stage. The quality of the egg yolk is correlated with the mother's diet and condition prior to spawning. Although southern flounder rarely move in the tank and get along with each other nicely, even in high densities, they are harder to prepare for spawning and tolerate handling less than other species I have cultured."
Anson said significant support from Coastal Conservation Association (CCA) Alabama will allow the hatchery to expand capacity for the next flounder spawn and make it significantly easier to minimize the disturbance of the fish. The CCA Alabama funds will be used to refurbish tanks to spread out the broodstock so only a few fish will be handled at a time when spawning is scheduled.
"Hopefully, anglers fishing in tournaments that supported broodstock collection efforts last year will provide us with more flounder broodstock this year," he said. "If you've got a handful of females in one tank and a handful of males in another tank, once you disturb them, they go off feed for a couple of weeks. With us having multiple tanks to choose fish from, we can go to one tank and pick out the fish in best condition to spawn without disturbing the rest of the facility's population. We need to cherry-pick the very best fish to increase our chances of meeting our stocking goals. We encourage folks to participate in providing us fish for our broodstock program, especially fish that just meet the minimum size as those have a higher chance of being male. Getting those fish from the tournaments (ACFA and Saltwater Finnaddicts) is a big help."
Westendorf said the hatchery is currently maintaining a skeleton staff to ensure all the broodstock remains healthy. A planned spawn of Florida pompano had to be postponed, but Westendorf hopes to spawn pompano sometime this summer and then speckled trout (spotted seatrout) at the end of the summer.
As far as the hatchery's first effort to spawn flounder, Anson rates it as a "glowing success."
"We released about 12,000 fish, which is one-fifth of our ultimate annual goal." Anson said. "Since this was the first time flounder were spawned at Claude Peteet Mariculture Center, I think we did well in terms of numbers. Max learned a lot about the feeding habits, tolerance to handling and other requirements of the southern flounder to get them to spawn.
"What was learned this year puts Max and his staff in a good position to meet our goal of 60,000 1-inch flounder sooner than we originally thought."
Marine Resources Director Scott Bannon was also very pleased with the initial spawn of flounder at Claude Peteet.
"They are a difficult species to acclimate and spawn, but our staff has worked very hard to make this happen," Bannon said. "I am especially proud of how they utilized partnerships with the community. The amount of money and effort that was saved by partnering with fishing tournaments and private anglers to obtain fish for our program as well utilizing the donations of equipment from the CCA Alabama to receive matching federal dollars is huge."
CCA Alabama Executive Director Blakeley Ellis added: "CCA Alabama is proud and excited to see this effort come to life after years of hard work and planning. Conservation projects like the hatchery will continue to be an area we plan to support, and we couldn't do that without our members, volunteers and corporate sponsors who help to support us throughout the year."
Westendorf agrees the flounder spawning and release were indeed successes.
"It was awesome," Westendorf said. "My goal for the year was to raise one fish. We smashed that goal."
Alabama Farmers To Host Virtual Field Trips Every Friday Through May 22
How do peanuts grow? When do Alabama farmers grow different fruits and vegetables? What's the difference between a cow, a bull and a calf?
Alabama farmers will answer all those questions and much more during Virtual Field Trips offered through Facebook Live on the Alabama Farmers Federation Facebook page every Friday at 10 a.m. through May 22.
"Parents and their children are making huge adjustments as their homes become classrooms, and we want to help by offering entertaining and educational field trips from some of our farmers," said Jeff Helms, Alabama Farmers Federation Communications Department Director. "While these videos will target third- through fifth-graders, people of all ages will learn more about how farmers grow food, fiber and timber."
Viewers are encouraged to ask questions through the comment section, and each video will include links to educational activities centered around the featured commodity.
Currently scheduled topics, subject to change, are:
● April 3 – Peanuts and other row crops
● April 10 – Fruits and vegetables
● April 17 – Beef cattle
● April 24 – Honeybees
● May 1 – Catfish
● May 8 – Greenhouse and nursery products
● May 15 – Forestry
● May 22 – Cotton and other row crops
To receive Facebook notifications about the Virtual Field Trips, respond as "Interested" in the event or follow the Alabama Farmers Federation page.
The Federation is Alabama's largest farm organization with more than 340,000 member families. Find additional educational materials, including Ag Mags and free printable coloring book pages, online at alfafarmers.org/schools and click on resources.
This Virtual Field Trips project was developed in conjunction with Girl Scouts of Southern Alabama (GSSA). For additional virtual programs from GSSA, visit GirlScoutsSA.org.
See more on AlfaFarmers.org
Time for a Garden Clean-Up
By Katie Nichols
Feeling down about the coronavirus quarantine? Shake away the blues with a spring garden clean-up.
While Alabama Extension does not encourage leaving home on a gardening supply trip, there are several gardening things that can be done without leaving the yard. Mallory Kelley, a home grounds, gardens and home pests regional agent, has some gardening ideas that will allow people to make great use of their time at home.
Clean Out Supplies
"Now is a great time to take inventory of your garden supplies and clean out old, unused items from the garage," Kelley said. "Throw out unused gardening items and start with a clean slate."
Throw out old seed packets.
Chemicals should be used according to the label. If discarding a chemical, call the Alabama Department of Agriculture and Industries to see when and where their next chemical collection time is scheduled.
Sharpen and clean all garden tools.
Oil and gas up motorized tools.
Use the fertilizer that has been sitting on the shelf, and give plants an extra boost.
If there are some extra bags of potting soil or seed starting mix lying around, get out and plant some of those seeds.
Kelley said when going though supplies, clean planting containers.
"Containers for planting need to be sterilized before replanting. It's best to wash them with a 1:10 bleach to water solution," Kelley said. "After cleaning, fill them with potting soil. Never use soil from the ground, as it has poor drainage and potential weed seed and diseases."
Clean and Compost
This time of year is also a good time to rake the pine straw and leaves from under plants. Kelley said this eliminates fungal diseases that may have overwintered in the leaf matter during the winter. Once cleared, apply a fresh layer of pine straw approximately 3 inches deep.
Use this old mulch and leaf matter to start a new compost bin. Also, prune some plants, like the Limelight Hydrangeas that bloom in mid-summer, and throw those branches and other weeds pulled during clean up into the bin.
People can also lessen their trash load by throwing things like eggshells, coffee filters, coffee grinds and all vegetable and fruit matter into the compost bin.
"As long as you leave out dairy products, oils and bones—throw it all in the bin," Kelley said. "Start turning thee compost daily, and add water to keep the pile moist. Soon you will have made garden gold."
Get Rid of Pesky Weeds
Kelley said the first step to getting rid of weeds is identifying them.
"If it is a vegetable bed and you want to prep for spring planting, you will want to spray the whole area now with glyphosate," Kelley said. "Give it at least two weeks for the weeds to completely die before you till the soil to make new rows."
Right before planting, spray the garden soil with a pre emergent such as trifluralin. This particular one is safe to use in flower beds, as well as a vegetable garden. Kelley said this will give a huge jump start in the battle to combat the weeds this summer.
"Remember, this is a pre emergent and will not kill weeds you can see," she said. "However, it will prevent the seeds of weeds you cannot see from germinating."
Growers who intend to plant vegetables, such as corn, okra, mustard greens and squash, by seed should be careful not to spray the soil in that area with a pre emergent. An application of it will prevent those seeds from germinating as well as they would without the application.
Also, to suppress weed growth, Kelley said people should add mulch. Even the weeds that might still emerge will be much easier to remove.
Get Moving and Pruning
Kelley said the winter months are the best time to plant and move plants in the landscape. However, if people can continue to water thoroughly, it is not too late to dig up and transplant those plants that have either outgrown their space or have not performed well.
"Don't be afraid to move plants around in the landscape until you find just the right environment for them to thrive," she said. "The conditions on one side of your house are totally different than the conditions on the other. The brightest light will be on the southwest corner of your house with afternoon sun. The most shade will be on the northeast side of the house."
Kelley said the best guideline for pruning is to follow the May rule.
"If a plant blooms before May 1, prune it as soon as its flowers are spent," she said. "For plants that bloom after May 1, prune when the plant is dormant."
If a shrub or tree flowers in summer or fall, this means it blooms on new wood. New wood is the growth that occurs throughout the spring months. Summer flowers produced after May 1 are on new wood growth. Pruning now would stimulate new growth and greater flower production this summer.
More Information
For more information on spring gardening, visit www.aces.edu or contact your county Extension office.
USDA Forest Service Temporarily Suspends Public Access to Recreation Sites throughout Alabama's National Forests
Public access to developed campgrounds, day use areas, and dispersed recreation area restrooms throughout Alabama's Bankhead, Conecuh, Talladega and Tuskegee National Forest is temporarily suspended indefinitely for the health and safety of visitors and staff. Effective immediately, the following recreation sites are temporarily unavailable: Bankhead National Forest, Houston Day Use Area, Brushy Lake Campground, Sipsey Trailhead (restroom only), Natural Bridge Day Use Area, Pine Torch Horse Trailhead (restroom only), Flint Creek Multiple Use Trailhead, Brushy Lake Day Use, McDougal Hunt Camp (restroom only), Hurricane Creek Shooting Range, Owl Creek (restroom only), Conecuh National Forest, Open Pond Recreation Area, Campground &, Day Use Area, Blue Lake Recreation Area, Conecuh Shooting Range, Tuskegee National Forest, Uchee Shooting Range, Talladega National Forest, Oakmulgee Ranger District, Payne Lake Day Use Area (swimming area only), , Shoal Creek Ranger District, Coleman Lake Recreation Area, Warden Station Horse Camp, Pine Glen Campground, Henry Creek Shooting Range, Talladega Ranger District, Lake Chinnabee Day Use Area, Turnip Seed Campground, Shepherd Branch Shooting Range, Kentuck OHV Trailhead. As we work through an unpredictable and rapidly changing situation, health and safety is our number one priority. We are committed to continuing to support our communities and fulfill our mission as we all work together to minimize the impacts and spread of COVID-19.
These actions have been taken based on the Centers for Disease Control and Prevention (CDC) guidelines and to promote social distancing. Visitors are encouraged to contact the ranger district offices with additional questions, email pa_alabama@fs.fed.us or visit the forest website at www.fs.usda.gov/alabama.
The National Forests in Alabama continue to monitor the COVID-19 situation and evaluate potential impacts and adjustments to reservations and our reservation policies through Recreation.gov. Reservation holders will be notified via email and/or cell phone text messages if there are any changes affecting their reservation. In the event of delayed openings of some, part, or all of the National Forests in Alabama recreation facilities to ensure safe social distancing, you will receive a full refund for your reservation. Please remember to review current recommendations from the CDC and focus on recreating safely while protecting yourself, Forest Service employees and our volunteers.
State Park Rangers on Duty in Times of Calm and Peril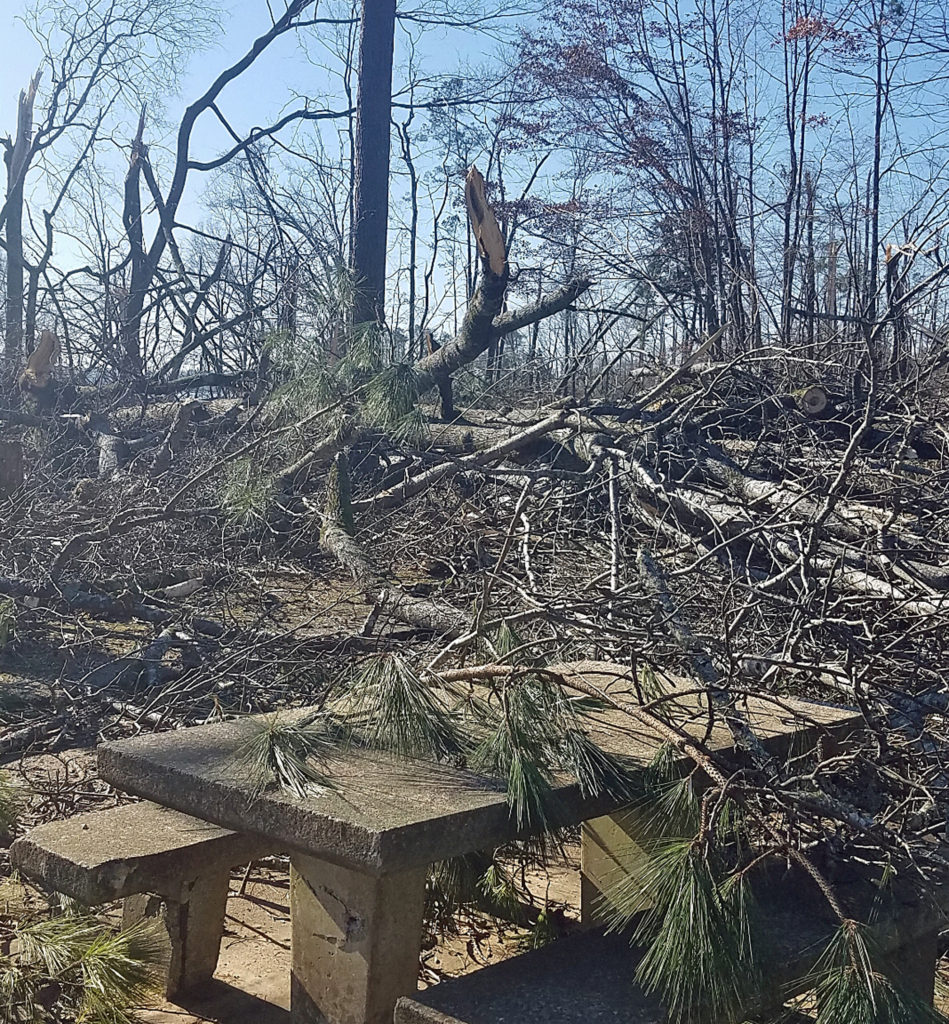 By David Rainer, Alabama Department of Conservation and Natural Resources
Thankfully, with a few exceptions, Alabama State Parks remain open during the COVID-19 restrictions.
And as diligent as always, our park rangers are on duty to deal with any situation that might arise with everything from a welcoming wave and helpful hand to rescuing park visitors in peril.
That peril was particularly apparent last December when a line of storms started moving through north Alabama.
Joe Wheeler State Park Ranger Ryan Robertson was on patrol on December 16, 2019, while Ranger David Barr had the day off, or so he thought.
"That afternoon, we had some pretty volatile weather," Barr said. "Ryan was running duty, and I stopped him at the boat ramp and told him I would be home if it got bad."
It got bad at the 2,550-acre park on the Tennessee River near Rogersville. When a tornado warning was issued a little after 5 p.m., Barr donned his uniform and headed into the park to help Robertson warn the patrons and park volunteers of the impending storm.
Fortunately, with the Christmas season in full swing, the park was not full of campers or visitors.
"Ryan already had people evacuated from the campground," Barr said. "We only had seven campers and four of those were volunteers. If we have a lot of people, we put some in the bathhouses and some at the campground store. Ryan took some of them to the lodge. He stayed with them.
"I was at the campground store with two ladies and two kids and a Pyrenees dog. I usually get out and ramble during something like this, but something told me not to do that. I stayed at the store. My son was with me, and he was watching the storm on the weather radar."
Barr's son told him the storm was about to hit, and Barr sent the visitors into one bathroom while he and his son got in the other.
The power went out, and a few minutes later it became apparent that they were in the tornado's path.
"The store has metal doors on each side," Barr said. "Those doors started flapping. I didn't stick my head out to see, but it sounded like those doors were opening all the way and closing. The wind was howling and whistling. That lasted for three or four minutes and then it was quiet."
While all campers, volunteers and park personnel escaped injury during the storm, the campground did not fare as well.
"When I was sure it had blown over, I thought we had escaped the worst of it until I went outside and got in my truck," Barr said. When the lights came on, I could see big pine trees down. I tried to go up the hill to my house, but the road was blocked by trees."
Barr walked the rest of the way to his house, which was unscathed, although numerous trees were down in the yard. Back in the campground, Barr discovered that the A section did not have much damage.
"But the B section was total destruction," he said. "The bathhouse was destroyed. The meeting pavilion was caved in by trees falling on it."
By that time, Barr was joined by Robertson and Park District Supervisor Chad Davis as well as part-time employee Morris Barnes, who has since become a full-time ranger at Monte Sano State Park.
Barnes hopped onto a backhoe and all hands started clearing downed trees out of the roadways until they realized live power lines were down in the park and decided to wait until daylight to resume their work.
The next morning, Barr discovered he had a view of the Tennessee River that he never expected or wanted.
"I've been a ranger and campground supervisor here for over 30 years," he said. "This is my home. To see my life's work blown away was devastating.
"We got strike teams in from other parks, cut our way through the different sections to assess the damage. I can't really describe it. A section survived. Three-quarters of B section was gone. C section was completely wiped out."
Barr, who was recently promoted to assistant superintendent at Wheeler, said out of 116 camping sites only 60 remained usable. Two bathhouses were destroyed. One large pavilion and two smaller pavilions were destroyed. Beautiful, tall pine trees were strewn throughout the campground.
"From my house, you can see forever," he said. "You can see the river from my backyard, which you used to could never see. I can see all the way across the river. I miss the trees."
Barr is just thankful that the pre-Christmas period is a slow time at Wheeler.
"I know of one camper who left early because of the weather," he said. "I'm glad he did because that site he was staying at was completely leveled. If there had been many people in the campground, there would have been multiple fatalities."
Barnes, who lives only 2½ miles from Wheeler, not only had heavy equipment experience, he also served with the Rogersville Police Department at that time.
Barnes ended up in an even more harrowing situation a few days after helping with the aftermath of the tornado.
Heavy downpours had caused creeks in north Alabama to swell rapidly. Barnes, who is trained in swift-water and high-angle rescue, had finished his shift with the Rogersville PD at 5 p.m. when a call came in about a car swept into a creek. That incident resulted in a fatality.
Then a second call came in about another car in the same creek not far away from the first incident.
"That girl's mother went looking for her and drove off in the same creek, not knowing she was there," Barnes said. "The first car was completely submerged. The second one, the front was stuck in the ground and the rear end was hung in a tree. The woman had managed to crawl out through the back glass."
After being unable to rescue the woman, area enforcement officers called for the swift-water rescue team of which Barnes was a member.
Barnes got the Florence Fire Department to aid in the rescue with a rubber boat and a heavy fire truck that could be used as an anchor point in the swift water.
Barnes and another first responder got into the rubber boat and it was slowly released into the creek by rope.
"Once we got the boat over to the car, I knew her," Barnes said of the trapped woman. "Everybody told me she was going to fight me, but when we made eye contact, I called her out by name. She called out my name, and then I told what I wanted her to do and not fight me. I got over close enough to put a life jacket on her and latched onto her. I didn't try to drag her into the boat, but we dragged her to the opposite bank and released her to those personnel."
Unfortunately, Barnes discovered the daughter's car about 40 yards down the creek completely submerged with no hope of rescue.
After the incident, the Rogersville City Council and Mayor presented Barnes with a life-saving award that he was hesitant to accept.
"I'm not a hero," Barnes said. "I had a job to do. To me, the hero was the woman. She hung in there for almost three hours until we could get to her."
Barnes said it was a perfect example for the mantra of "Turn around, don't drown."
"It rained so hard and fast that the county didn't have enough time to get up the barricades," he said. "Lauderdale County is 71 miles wide. It just happened so fast."
Sometimes, the problems park rangers encounter are not weather related.
For example, Lake Lurleen State Park Ranger Mark Caton, who has been a first responder in one capacity or another for more than 20 years, was checking people coming into the park when one vehicle left the road and went through the grass.
"We deal with all kinds of people," Caton said. "It's like having a concert in your jurisdiction every day."
The driver of the errant vehicle exited and then jumped into the lake.
"Obviously, that's not normal behavior," Caton said. "He yelled, 'Don't try to get me out.' But I grabbed my rescue boat and headed out. I didn't get too close and tried to get him to talking. Usually, if you can get people talking, the less they think about what they want to do."
Caton found out the swimmer had been in and out of psychiatric care and had been self-medicating instead of taking his prescription medicines. Caton also found out he and his girlfriend had had a fight and she kicked him out.
"He felt like he didn't have anywhere else to go and was just going to swim until he got tired and drowned," Caton said. "I tried to build a rapport with him and tell him that drowning was not the way to go. Finally, he was getting thirsty and tired. I tossed him a cushion float and he took it. That was the first step to get him back to the side of the lake. Then I told him we had some Gatorade on the other side of the lake.
"Believe it or not, the Gatorade worked. For somebody who wasn't thinking clearly, he zoned in on Gatorade. He was close to drowning a couple of times. He swam back in and got his Gatorade, like we promised, and then we got him to a hospital."
Public-Private Partnership Conserves Red Hills Salamander Habitat in South Alabama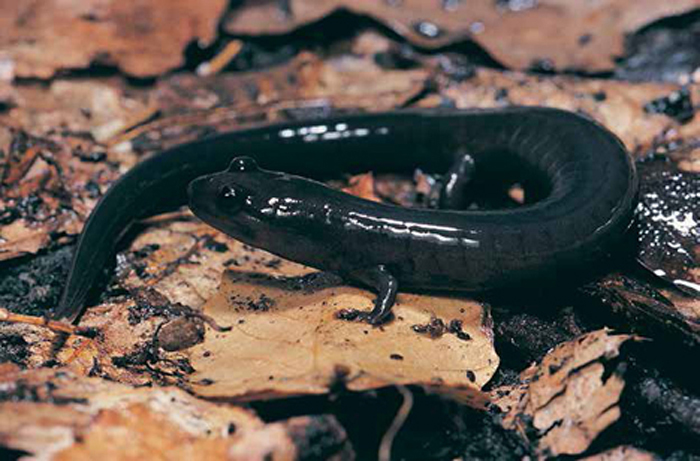 The U.S. Fish and Wildlife Service (USFWS) recently awarded the Wildlife and Freshwater Fisheries Division (WFF) of the Alabama Department of Conservation and Natural Resources (ADCNR) nearly $9 million in land conservation grants authorized by Section 6 of the Endangered Species Act to apply toward the purchase of two land tracts totaling 4,911 acres of critical Red Hills salamander (RHS) habitat in Monroe County, Alabama. The Forever Wild Land Trust will provide the remainder of the funding for the acquisitions.
The land acquisitions – known as the Red Hills Brown-Schutt Trust tract and the Red Hills Flat Creek Phase III tract – are part of a long-term conservation goal of delisting the RHS, which has been federally listed as a threatened species since 1977.

The tracts are located near the community of Franklin in Monroe County, Alabama, and join the 6,120-acre Forever Wild Red Hills Complex in the effort to increase the amount of protected RHS habitat. In addition to habitat conservation, these tracts will eventually be accessible to the public for outdoor recreation including hunting, wildlife watching, and birding.

Partners in the acquisitions include the USFWS, ADCNR, the Forever Wild Land Trust, The Nature Conservancy in Alabama, Conservation Resources, and the Brown-Schutt Trust.

"This is a great acquisition, and not just for Alabama," said Leopoldo Miranda, USFWS Southeast Regional Director. "The state's commitment to conservation means that everyone – the residents of Alabama, as well as the visitors from elsewhere, people who hunt and fish or just like to get outside – have a chance to experience nature at its finest. And, last but not least, so do the animals that benefit from these purchases."

Christopher M. Blankenship, ADCNR Commissioner, echoes Director Miranda's statement.

"I am so excited for the partnerships that have led to these very important land acquisitions," Commissioner Blankenship said. "These projects continue the work that we and our partners began several years ago to acquire enough land to conserve habitat for the long-term success of the Red Hills salamander. When state and federal governments, conservation groups, and industry work this well together, there is no limit to what can be accomplished."

The Nature Conservancy in Alabama has worked with landowners, ADCNR, and other partners in the Red Hills region for more than 10 years to conserve RHS habitat.

"We have partnered for many years with the Alabama Department of Conservation and Natural Resources, Forever Wild, and the U.S. Fish and Wildlife Service to protect the endangered Red Hills salamander in Monroe County," said Keith Tassin, Interim Director of The Nature Conservancy in Alabama. "We are very excited to see these efforts really moving the needle for the conservation of this species, and we look forward to our continued efforts to restore and protect this unique habitat."

Conservation Resources, an investment organization that offers investment opportunities in land with significant conservation and natural resource value, helped facilitate the Flat Creek Phase III acquisition.

Managing Director of Conservation Resources Kent Gilges said his organization is proud to be involved in the effort to protect habitat for endangered species and help create new areas for hunting, fishing, and outdoor recreation.

"When private companies, public agencies, and conservation organizations work together, we can conserve enough area to assure the future of Alabama's rich natural heritage," Gilges said.

Projects like these acquisitions help create a better understanding of the natural world and have the potential to benefit not only the plants and animals they protect but also the communities located near public lands.
Al Stokes is a Regional Director for Senator Doug Jones' office. He is based in Mobile, Alabama, but grew up in the community of Franklin near the Brown-Schutt and Flat Creek tracts.
"These acquisitions are very significant to the vitality and growth of conservation in the state, particularly in communities that many are unfamiliar with such as the Red Hills region of Alabama," Stokes said. "Now, through these conservation efforts, the world can learn more about the Red Hills and the Franklin community."

In addition to conserving RHS habitat, many other rare animals are potentially present or have the potential for reintroduction on the Brown-Schutt Trust and Flat Creek tracts. These species include the Bachman's sparrow, worm-eating warbler, endangered red-cockaded woodpecker, gopher tortoise, southern hognose snake, coral snake, eastern fox squirrel, as well as many aquatic species that may be present in headwater streams located on or near the newly protected land.

About the Red Hills Salamander

One of the largest lungless salamanders in the world, the RHS can grow up to 10 inches long. Its translucent purple skin helps make the RHS a strikingly beautiful animal, but you're unlikely to catch a glimpse of this creature. It spends most of its time hunkered down in a subterranean burrow, only venturing out at night to ambush small prey like crickets, spiders, and earthworms.

The known range of the RHS consists of a small strip of land in the Red Hills region of Alabama. It is found nowhere else in the world. This geographic isolation allowed the animal to evolve independently from other salamander species millions of years ago, making it the only member of its genus. Due in part to its very limited range, low reproductive rates and specific habitat requirements, the RHS is federally listed as a threatened species.

Since 2000, the RHS has been recognized as Alabama's official state amphibian thanks to a group of Fairhope Elementary School third graders who campaigned for the designation.

The RHS inhabits the forested slopes and valleys below the steep bluff of the Red Hills, which stretch across Conecuh, Covington, Crenshaw, Butler, Monroe, and Wilcox counties. The region's steep slopes are covered in mixed hardwood and provide the shade, cover, and moisture needed for the salamander to survive. Habitat fragmentation is considered one of the primary challenges to the survival of the RHS.

For more information about the RHS, visit www.outdooralabama.com/salamanders/red-hills-salamander.
Learn more about the Forever Wild Red Hills Complex at www.alabamaforeverwild.com/red-hills-complex.
The Alabama Department of Conservation and Natural Resources (ADCNR) promotes wise stewardship, management and enjoyment of Alabama's natural resources through four divisions: Marine Resources, State Parks, State Lands, and Wildlife and Freshwater Fisheries. To learn more about ADCNR, visit www.outdooralabama.com.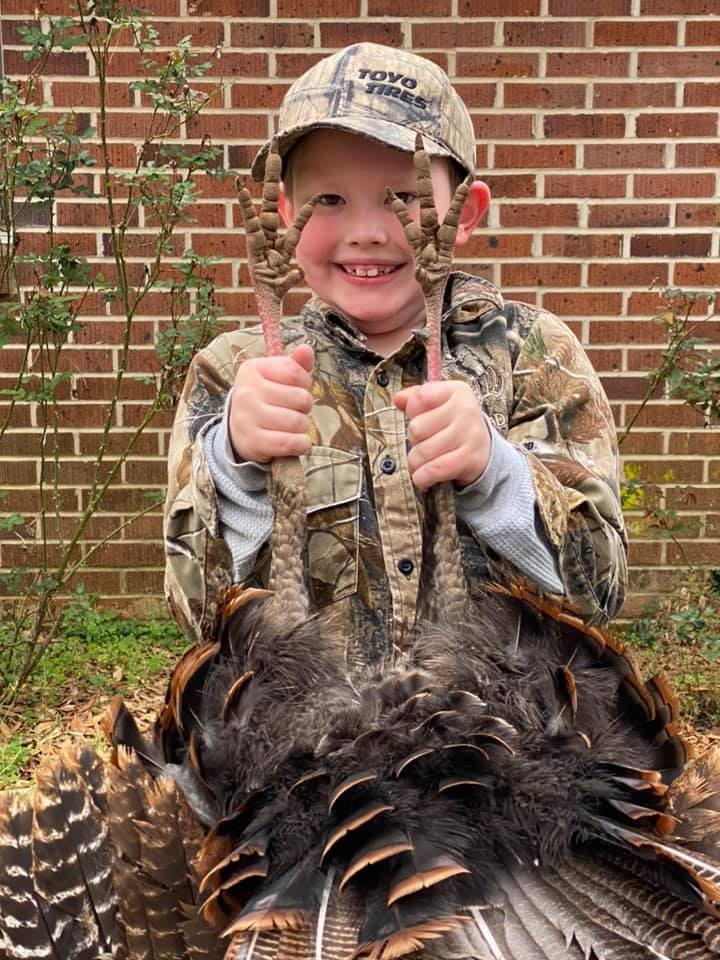 Alabama's Outdoors Provides Solutions for Social Distancing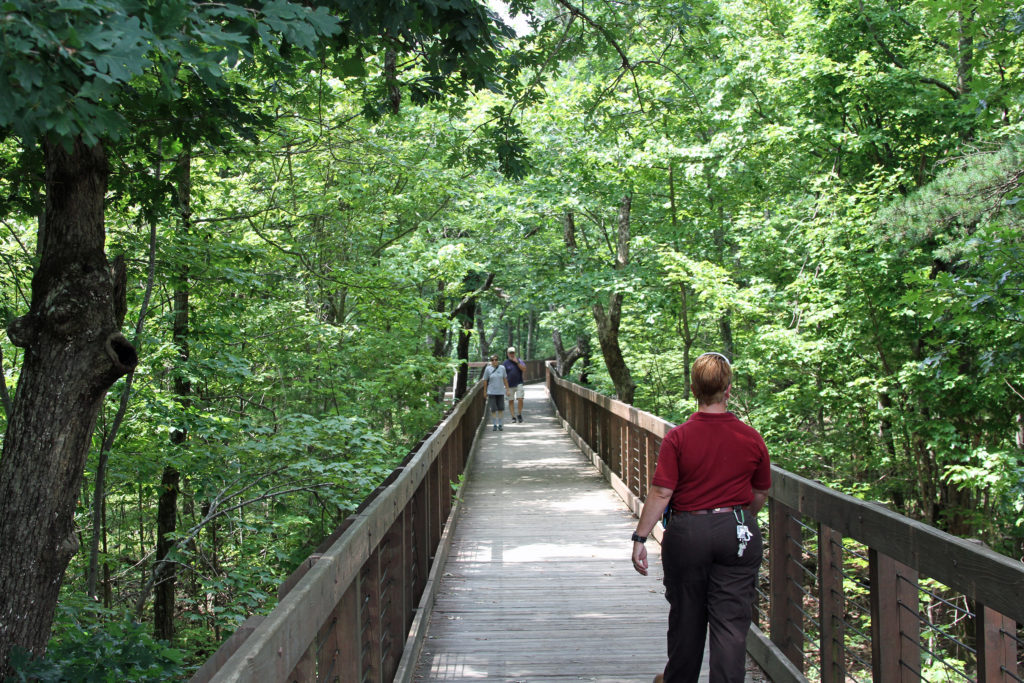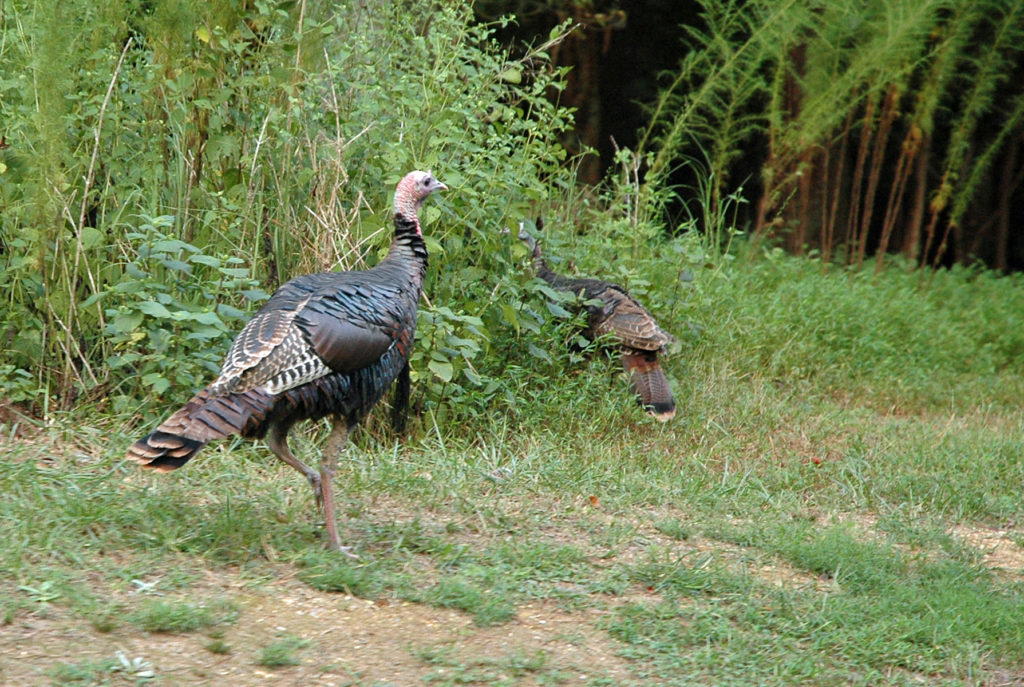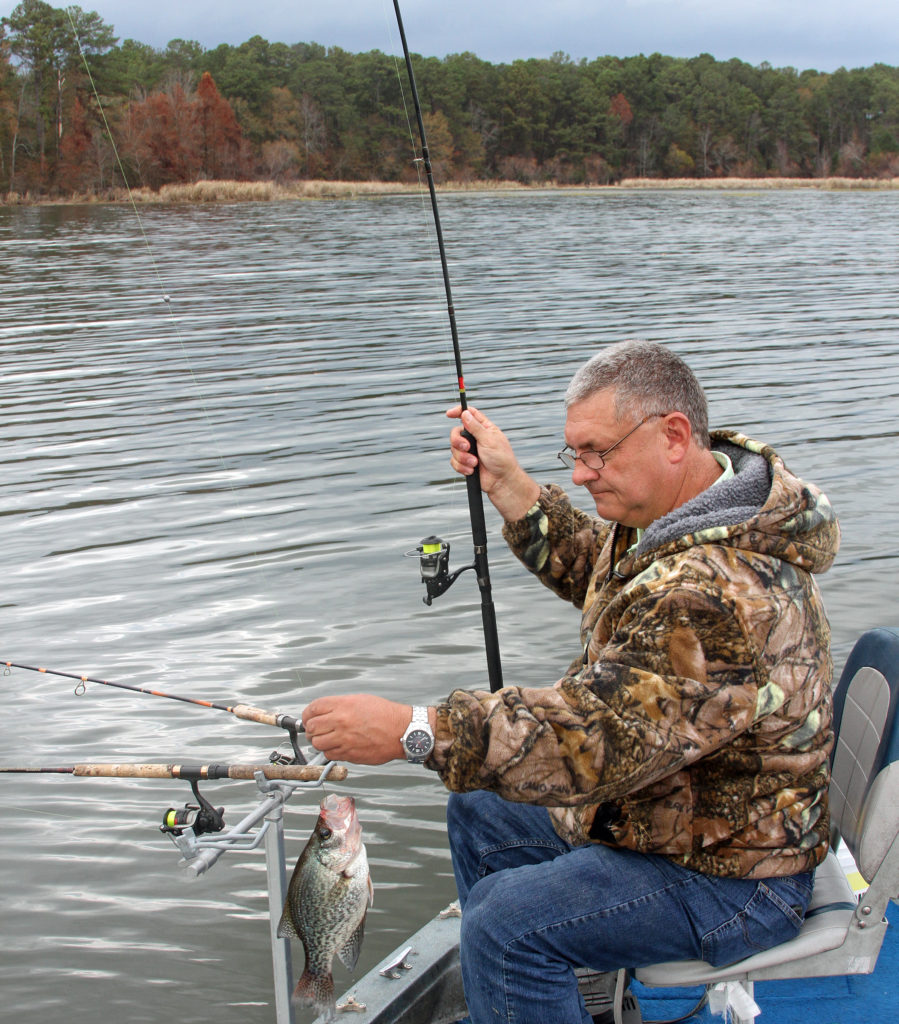 By DAVID RAINER
Alabama Department of Conservation and Natural Resources
While Governor Kay Ivey and Dr. Scott Harris, Chair of the Governor's COVID-19 Task Force, work hard alongside other state, national, and private enterprise leaders to mitigate the effects of the novel coronavirus and bring its spread to a conclusion, it is important that people maintain the social distancing and other health recommendation standards.
"We take these precautions and recommendations very seriously at the Department of Conservation and Natural Resources," said Conservation Commissioner Chris Blankenship. "We know many Alabamians want to get outdoors during the spring and enjoy some recreational opportunities that can refresh in these challenging times; just remember, we must do so safely."
Not only does our state have some of the best fishing opportunities in the nation, both freshwater and saltwater, but the spring turkey season is also about to open in most of the state.
If hunting or fishing is not a preference, consider the beautiful natural hiking trails and camping facilities available at Alabama State Parks close to where you live, not to mention the natural beauty on the Forever Wild tracts available to the public. Visit www.alapark.com and www.alabamaforeverwild.com for the many options available.
"I know with the children out of school and many parents home as well, people will want to do things together as a family," Blankenship continued. "Many will want to take the youngsters who are out of school to explore our state's great natural wonders, but please do so responsibly."
Alabama Wildlife and Freshwater Fisheries (WFF) Director Chuck Sykes said this is a perfect opportunity for those who love the outdoors to adhere to the "social distancing" guidelines.
"I fully expect Alabama hunters and fishermen to take advantage of the social distancing prescriptions by all the coronavirus experts, and I expect many of them will get outdoors, either on the water or in the woods," Sykes said. "Turkey season in most of the state comes in Saturday (March 21). Fishing is phenomenal from what I understand."
Sykes said WFF's operations will be minimally impacted by the measures instituted to limit the spread of the COVID-19 virus.
"It's going to be business as usual for us except in our offices," he said. "I don't want people to think that the game wardens are going to be sitting at home, not doing anything. Our staff basically has been practicing social distancing for years. They work by themselves for the large part. They work outside. The only thing the public will see different from Wildlife and Freshwater Fisheries is our district offices and the Montgomery offices will be closed to public walk-in traffic. But we will still have a skeleton staff to take phone calls and answer Game Check questions, which will be forwarded to officers and biologists in the field. Other than some headquarters and district office staff continuing their work from home, it's going to be business as usual providing services to the public."
Sykes took his own advice last weekend for the turkey season's special youth weekend and headed to the woods. As with most hunting experiences, some folks had good luck while others did not.
"The results were site-specific, as they are most seasons," he said. "Some youth did well; some didn't. I went this weekend with a friend and his son, and we heard a couple of turkeys gobble once or twice apiece, and that was it. I talked to some people whose turkeys gobbled good, and they had a productive hunt and killed turkeys. That's just the way it is. I was glad it wasn't raining, and it wasn't 25 degrees, like it had been for the past couple of years."
This year's regular turkey season is opening on the third Saturday of March in most areas. This opener is the latest possible opening date, and Sykes said that was done for a specific reason.
"The date was moved to give the birds more time for breeding activity before the season opens," he said. "A lot of the latest research is showing that we may be harvesting too many gobblers too early in the breeding process."
Studies have shown moving the season opener toward peak nest initiation dates allows more dominant gobblers to breed before being shot, which is even more important in already-declining populations. Peak nest initiation in Alabama averages around the second week in April.
"Postponing the opening date to the third Saturday at least gives the gobblers another few days in the woods without there being a lot of pressure," Sykes said.
With the mild winter and early spring, the breeding cycle may be a bit earlier, especially the gobblers' role of strutting and gobbling. But, the amount of daylight and receptive hens ultimately dictate when breeding takes place.
"I think they're well on their way," he said. "I think moving the season later was a positive move. I think it's good that we haven't had any cold weather in a few weeks to give the turkeys a chance to do their thing before we get after them real hard.
"As far as tactics for opening weekend, again, it depends on where you are. The turkey we were fooling with on youth weekend had a sack full of hens with him. He didn't care what I did. I called up two hens that popped up out of the bottom. They gave a peek, turned around and went back. Another hen did that a few minutes later. They were staying with him. They were doing what turkeys do. We were just not in the right place to get in their way.
"Now if you can find a lonely 2-year-old, you can beat two rocks together, and he'll come running."
Sykes said turkey hunters who participate in the Avid Turkey Hunter Survey program or who read the annual Full Fans and Sharp Spurs report at www.outdooralabama.com/turkey-hunting-alabama/turkey-research will understand the Division's assessment of the turkey population in the state.
"In that survey and publication, you'll see two categories of recruitment," he said. "One is looking at poults (young of the year) per hens and the other is hens with poults. Those are two different topics. Studies are showing that perhaps the reason we're seeing the number of hens with no poults is not because of predation but due to the fact that those hens did not get bred because the dominant gobblers were taken out of the population too soon.
"If hunters are interested in participating in the Avid Turkey Hunter Survey and assisting our wildlife biologists in the collection of this data, they should click the link on the www.outdooralabama.com website for more information. We certainly appreciate all those who have contributed thus far and hope to see more sign up for this opportunity to assist in the management of this great bird."
For those who have hunted turkeys for a long time in Alabama, the late start shouldn't be a burden, according to Sykes.
"When I was a kid, the turkey season always started on March 20th," he said. "It was moved to the 15th for not necessarily biological reasons, so this should not be that big of a shock to hunters who grew up in Alabama. It shouldn't be that big a deal."
Sykes said about the only thing this virus might affect for turkey hunting is hunters' ability to gather at the country store to exchange lies.
"Everybody is so social-media-oriented now, I think we'll still be able to keep up with what's going on," he said.
As with hunting success, Sykes said it depends on the source when it comes to the discussion of the status of turkey populations in the South.
"Some people I know think the turkey decline is 100% real, and I know others who swear numbers are at 'historic highs'," he said. "Personally, I think they're down."
Sykes said he hunted turkeys as much as possible last year and bagged two birds in Alabama.
"That was a gracious plenty," he said. "Now I called up a bunch of birds for others, so that did not impede my ability to go hunting, have a good time and have fun, and enjoy being outdoors."
Sykes said he wants people to do the same thing, but they need to understand that the WFF staff is going to be right there with them.
"Our staff didn't get two weeks of vacation," he said. "They're still going to be working. We want people to have their licenses because they're going to encounter our staff.
"Our WMAs (wildlife management areas) are open. Our public shooting ranges are open. Our public lakes are open. Get out there and have fun. Take advantage of this time to be outside, but please abide by the recommendations to slow the spread of the virus."
Alabama State Parks Naturalists to Provide Virtual Programming
For all those nature lovers who are unable to visit one of the beautiful Alabama State Parks due to the COVID-19 precautionary measures, the State Park Naturalists will bring the parks to you via modern technology.
During the effort to prevent the spread of the virus, the Alabama State Parks Naturalists want to help alleviate stress and anxiety and add some fun to those that may not be able to visit one of our 21 Alabama State Parks.
State Parks Naturalists will host Virtual Naturalist programming via our Facebook pages at five parks – Oak Mountain, Lake Guntersville, Gulf, DeSoto and Cheaha.
These virtual programs will be an assortment of Live Facebook videos, short videos, photos, park stories, pictures, and maybe a challenge or two. Go to the Facebook pages for the five individual parks and look for the State Parks Naturalists' content.
The State Parks Naturalists have also created a survey link to determine what type of content best suits the viewers. Go to https://alabamadnr.az1.qualtrics.com/jfe/form/SV_9BRdZYm3kzGvBzf to participate in the survey.
Of course, if you have one of Alabama's wonderful State Parks nearby, we encourage visitors to take part in the many self-guided activities that provide social distancing, including camping, fishing, hiking, birding, biking and more.
Please visit www.alapark.com for more information on the opportunities to explore our natural wonders as well as the precautions taken by Alabama State Parks to minimize the exposure for park visitors.
The Alabama Department of Conservation and Natural Resources promotes wise stewardship, management and enjoyment of Alabama's natural resources through four divisions: Marine Resources, State Lands, State Parks, and Wildlife and Freshwater Fisheries. To learn more about ADCNR, visit www.outdooralabama.com.
Hunters Encouraged to Participate in Avid Turkey Hunter Survey
Do you spend 10 or more days each spring turkey hunting in Alabama? If so, your observations in the field can provide valuable information toward the conservation and management of eastern wild turkey.
The Alabama Wildlife and Freshwater Fisheries Division (WFF) is asking turkey hunters who hunt for at least 10 days during turkey season to participate in the Avid Turkey Hunter Survey. Participants will receive a copy of the state's annual turkey report, Full Fans & Sharp Spurs, and will be automatically entered to win a new shotgun donated by the Alabama Chapter of the National Wild Turkey Federation (NWTF). To be eligible for the NWTF shotgun drawing, survey participants must provide their season hunting information by May 10, 2020.
"This survey offers hunters a unique opportunity to contribute directly to the conservation and management of wild turkeys in Alabama," said Steven Mitchell, leader of the WFF Alabama Turkey Project. "The more hunters who participate, the better. The more days spent hunting, the more useful the information will be."
Participation in the Avid Turkey Hunter Survey provides WFF biologists with valuable information on statewide and regional trends in gobbling activity, hunter effort, harvest rates, age structure and sex ratios. This knowledge ultimately helps WFF make management decisions that link the interests of sportsmen with the wise use of the state's turkey resource.
To participate in the Avid Turkey Hunter Survey, contact WFF at (334) 242-3469. WFF staff will provide hunters with information about how to complete the survey. Hunters may also contact Steven Mitchell by email at Steven.Mitchell@dcnr.alabama.gov for more information about the survey.
Hunters who participated in last year's survey and do not receive instructions for the 2020 spring season should contact WFF via the phone number or email listed above. For information about Alabama's spring turkey hunting season, visit www.outdooralabama.com/wild-turkey.
Hunters are also reminded that all turkey harvests must be reported through Alabama's Game Check system. The data collected through Game Check is used by WFF biologists to better understand harvest trends and set seasons and bag limits.
Turkey harvests can be reported online at www.outdooralabama.com or through the Outdoor AL mobile app. The mobile app is available from the Apple and Android app stores or www.outdooralabama.com/contact-us/mobile-apps.
The Alabama Department of Conservation and Natural Resources (ADCNR) promotes wise stewardship, management and enjoyment of Alabama's natural resources through four divisions: Marine Resources, State Parks, State Lands, and Wildlife and Freshwater Fisheries. To learn more about ADCNR, visit www.outdooralabama.com.
Conservation Department Updates Operations During COVID-19 Pandemic
Most outdoor facilities remain open for recreation
In response to the COVID-19 pandemic, the Alabama Department of Conservation and Natural Resources (ADCNR) is making the following temporary changes to its business operations for the safety of our employees and the general public. The changes are in effect until April 6, 2020.
Alabama State Parks and associated facilities remain open with the exception of cave tours at Rickwood and Cathedral Caverns state parks. Some dining operations will be modified to limit close contact of guests. Park visitors are encouraged to follow all current hand washing and social distancing guidelines. For updates, please follow Alabama State Parks on social media. A social media directory is available at www.alapark.com/social-media-directory.
State Public Fishing Lakes remain open.
ADCNR shooting and archery ranges remain open.
ADCNR Wildlife Management Areas and Special Opportunity Areas remain open.
ADCNR's state and district offices are closed to the public with the exception of the Marine Resources Division offices in Gulf Shores and Dauphin Island. Those offices will be open for commercial license sales only on Monday through Friday, from 8 a.m. to 4 p.m.
ADCNR Law Enforcement Offices are closed to the public, but remain staffed to answer questions by phone. Contact information is available at www.outdooralabama.com. To report hunting or fishing violations, please call (800) 272-GAME.
Conservation Enforcement Officers will continue to patrol state land and waterways and render aid to the public.
Forever Wild tracts remain open for hiking, horseback riding, mountain biking, paddling, and hunting — as permitted.
5 Rivers Delta Resources Center facilities are closed, but the grounds remain open to the public during regular business hours for trail use and kayak launching.
Hunting and fishing licenses are still available online at www.outdooralabama.com, through the Outdoor AL mobile app, or at various license agents located throughout the state.
Due to the evolving nature of the pandemic, ADCNR recommends calling individual state parks and other facilities if you have questions about reservations or operational hours. Contact information can be found at www.outdooralabama.com.
ADCNR apologizes for any inconvenience during this time and we thank you for your cooperation.
The Alabama Department of Conservation and Natural Resources promotes wise stewardship, management and enjoyment of Alabama's natural resources through four divisions: Marine Resources, State Lands, State Parks, and Wildlife and Freshwater Fisheries. To learn more about ADCNR, visit www.outdooralabama.com
James Spann Special Online Weather Program for Kids
Yo moms and dads with kids at home (that would normally be at school)… I will be doing an online, live weather program Thursday morning at 10 a.m. CT. it is fun, interactive, and best for kids grades 1-5, but older kids (and adults) should enjoy it as well. Learn more about the science of meteorology, how we forecast weather, severe thunderstorms, hurricanes, tornadoes, and snow storms. You will learn and have a few laughs, and we all could use that now. So, get it on your calendar… this Thursday at 10a CT. It will be streamed live here on this Facebook page. Be sure it is the James Spann page with the blue check (verified), https://www.facebook.com/jamesspann
National Weather Service Birmingham Basic Storm Spotter Free Online Class
Join the National Weather Service Birmingham Basic Storm Spotter Free Online Class Thurs., March 19 at 1-3 p.m. Visit Join.me, select the green, select the green 'join meeting' button, and enter code 726-373-081.
Stay at Home Beekeeping Series
The Alabama Cooperative Extension proposes that members of beekeeping clubs attend 'remote' meetings from the comfort of their own home using a computer or mobile device. Each free event will allow participants to learn about timely beekeeping information and to contribute to discussions.Sessions include: March 19: Minimizing Swarming with Phillip Carter; April 2: Ten Mistakes Beginners Make with Lonnie Funderburg; April 7: Coping with Pesticide Sprays with Jack Rowe. Register at http://www.aces.edu/go/1196 or watch live at: https://www.facebook.com/LawrenceCountyextension/
Eastern Indigo Snake and Wildlife Festival Canceled
To ensure the health and wellness of the public as Alabama fights aggressively to prevent the spread of coronavirus COVID-19, the Eastern Indigo Snake and Wildlife Festival at the Conecuh National Forest Open Pond Recreation Area scheduled for May 1, 2020 has been canceled.
The Alabama Division of Wildlife and Freshwater Fisheries (WFF), which partners with the U.S. Fish and Wildlife Service, U.S. Forestry Service and Auburn University to hold the event, said the festival will be rescheduled for the spring of 2021.
The Alabama Department of Conservation and Natural Resources promotes wise stewardship, management and enjoyment of Alabama's natural resources through four divisions: Marine Resources, State Lands, State Parks, and Wildlife and Freshwater Fisheries. To learn more about ADCNR, visit www.outdooralabama.com.
Conservation Advisory Board Considers Deer Zones, Turkey Reporting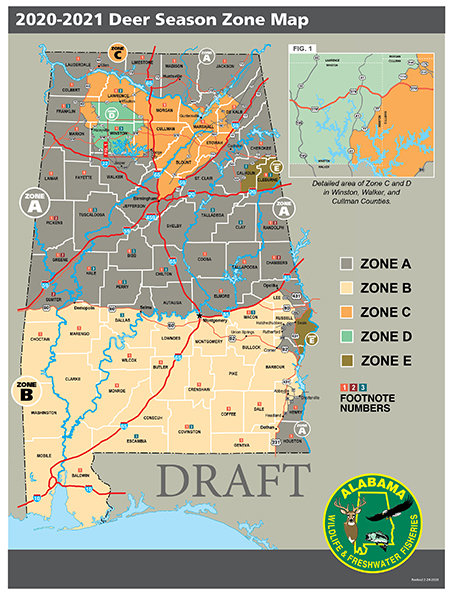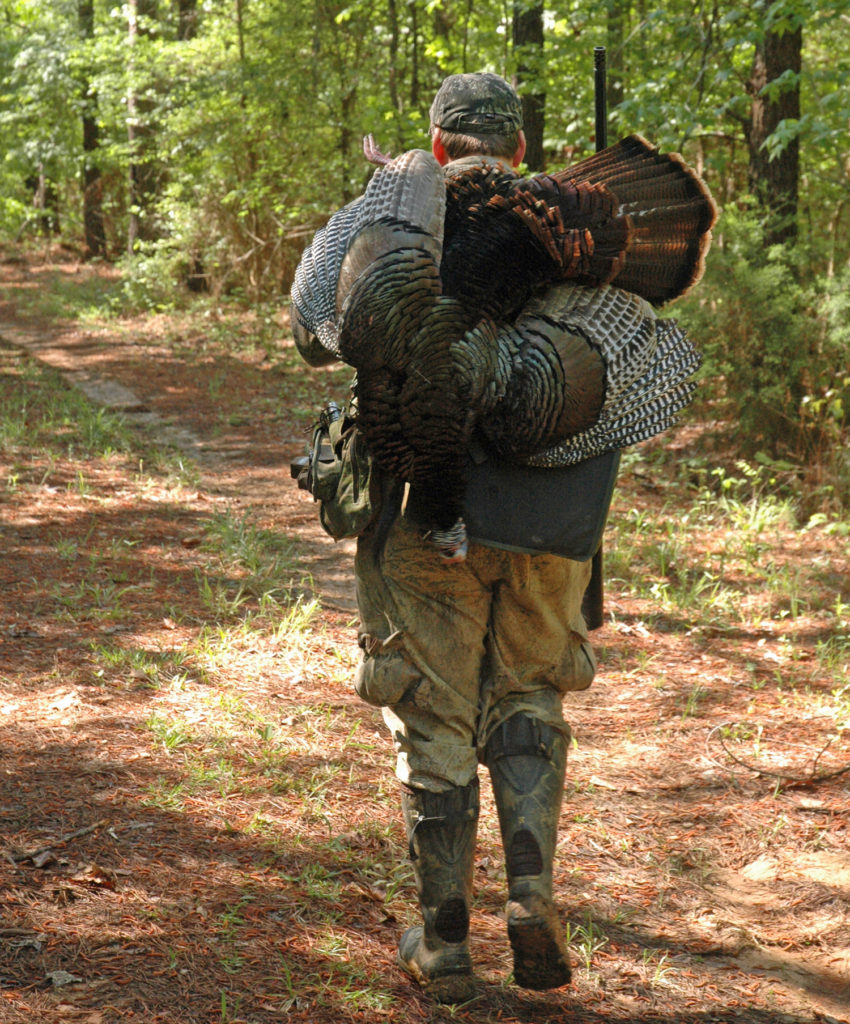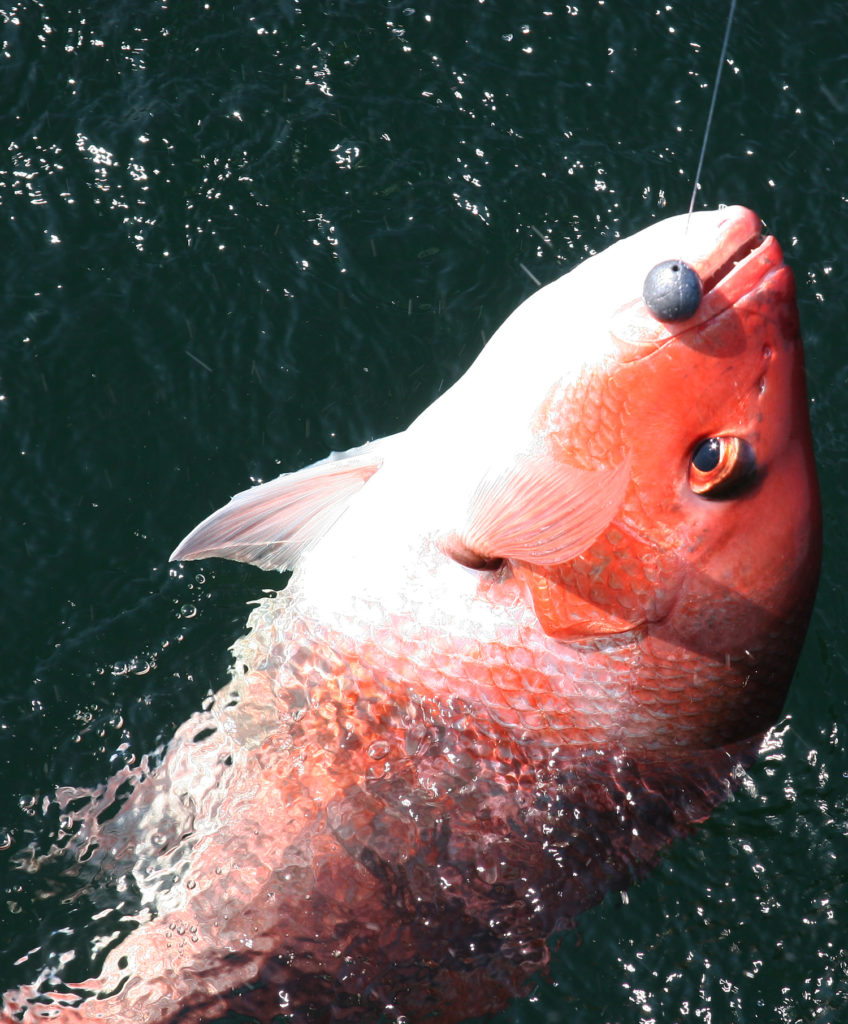 By David Rainer, Alabama Department of Conservation and Natural Resources
The first Alabama Conservation Advisory Board meeting of 2020 resulted in a wealth of good news and one disappointing statistic.
The good news included a 35-day, state-managed red snapper season, a productive oyster season, an increase in the number of hunting licenses sold for the 2019-2020 season and a significant reduction in the number of dog deer hunting complaints.
The one disappointment was highlighted in a dramatic way by Alabama Wildlife and Freshwater Fisheries (WFF) Director Chuck Sykes, who started his presentation with a slide that announced the closing of turkey season based on the lack of compliance of Alabama turkey hunters with the mandatory Game Check reporting system.
Of course, Sykes' slide was a facetious effort to get the attention of the Board and everyone in attendance at the Alabama Department of Agriculture and Industries building in Montgomery.
"We have advertised (Game Check) in newspapers, magazines, TV, radio, our (Hunting and Fishing) Digest," Sykes said. "We have begged and pleaded for people to actually report their harvests. We're kind of at the end of our rope. We don't really know the next step to increase participation."
With tongue-not-so-firmly-planted-in-cheek, Sykes began, "For 2020-2021, we're just going to close turkey season in the hopes that people will understand how important Game Check is. We had less than 11,000 turkeys reported last year. I don't believe anybody on this Board believes that was the number harvested.
"If our turkey numbers are actually that low, we're in a mess. Now we don't think they're that low, but this is the hunter harvest information we have to go on. We're just picking with this slide, but I wanted to get everybody's attention."
Sykes transitioned to deer hunting and the proposed changes to the deer season zones in northwest, northeast and southeast Alabama. Sykes said the early rutting activities that have been confirmed by wildlife biologists in Zone D (see map) and Zone E prompted the Division to change season dates to accommodate hunting during peak deer activity. The proposal before the Board has those two zones with the gun deer season opening on November 7, 2020 and ending January 27, 2021. The season dates in the other zones would be similar to last year's.
"This is not additional time to hunt," Sykes said. "The hunters in those areas have asked for the earlier slot because of the rut."
Sykes was also thankful to report that Alabama still has no chronic wasting disease (CWD) infections reported. WFF conducted statewide CWD seminars last year to keep the public informed on the issues and also tested more than 1,500 deer for CWD.
Sykes had more good news regarding hunting licenses sold. More than 151,000 people purchased all-game hunting licenses for the 2019-2020 season, an increase of about 4,000 over the previous season.
WFF also sold more than 158,000 baiting privilege licenses, which did not surprise Sykes.
"But this isn't the full story," Sykes said. "Yes, we sold more licenses, and the bait privilege license brought in another couple of million dollars. Unfortunately, that's where a lot of people let it go.
"This was the first year in the past four that we have not had to cut the budget for Wildlife and Freshwater Fisheries because of budget shortfalls. So, we're not flush with cash because of the bait privilege license. We were just able to meet the budget."
The license numbers also showed that more than 27,000 people purchased a bait privilege license but did not purchase a hunting license.
"Those are exempted hunters who are over 65 or under 16 or hunt on their own land," Sykes said. "For the first time in Alabama, we can now count them as licensed hunters because of the bait privilege license. This should increase our federal apportionment."
One area of concern expressed by Sykes was the failure of deer hunters to follow hunting safety guidelines. He cited the vast majority of hunting mishaps continue to be treestand accidents.
"The majority of hunters who fall out of treestands who are killed or injured have been hunting forever," he said. "They haven't taken a hunter education course because they are grandfathered in, and they get complacent. The majority of the firearms accidents are the same, and most are self-inflicted.
"The thing about treestand accidents is that about 95 percent of them are completely preventable. If they will just use a safety harness and safety line and be connected from the time your feet leave the ground until you're back on the ground, 95 percent or better of our treestand accidents would be eliminated."
Alabama Conservation Commissioner Chris Blankenship shared an experience that showed the importance of hunting in Alabama.
"I was in Sumter County during the Martin Luther King weekend and shot a deer on that Sunday afternoon," Commissioner Blankenship said. "I went to take it to the processor in the middle of nowhere in Sumter County. They had people out on the road directing traffic so that people could get in to drop their deer off. They had one-ways signs in the yard. There must have been 20 people in line either dropping off a deer or picking up their deer meat. People were steadily coming in the whole time I was there.
"I took a couple of pictures just to show people who don't understand what a value hunting and fishing are to our economy. I hope you (the audience) tell people how important hunting and fishing are in our state, not only to the economy but for the quality of life in Alabama."
Alabama Marine Resources Division (MRD) Director Scott Bannon announced a 35-day red snapper season that will start May 22, the Friday of Memorial Day Weekend, earlier than the traditional starting date of June 1. The season will for the first time include a four-day weekend for snapper fishing, which will be Friday through Monday.
The regional management of red snapper for the five Gulf states was recently signed by the Secretary of Commerce, thanks to effective state management during the two years under an Exempted Fishing Permit (EFP) issued by NOAA.
One of the reasons that rule was approved is the reporting data derived from Alabama's mandatory Red Snapper Reporting System, otherwise known as Snapper Check.
"Last year, we had the best reporting rate in the history of Snapper Check," Bannon said. "That's pretty good, but our goal is still 100 percent. But it did help us to manage the snapper season. Last year the weather got us on a couple of weekends and reduced the effort. We were able to add days on Labor Day Weekend and one weekend in October. That shows that the State of Alabama can be very responsible in managing that fishery. Alabama has three percent of the coastline, but we get 26.2 percent of the red snapper. That's a pretty good deal."
Depending on the catch rate monitored through Snapper Check, the red snapper season is anticipated to last for 35 days and is scheduled to close on Sunday, July 19, 2020. The season was set based on Alabama's share of the federal quota, which was set at 1,122,622 pounds.
The season dates only apply to anglers fishing from recreational vessels and state-licensed Alabama commercial party boats that do not hold federal for-hire fishing permits. Anglers fishing from federally permitted for-hire vessels have a separate season that will be announced at a later date by NOAA Fisheries.
"We have added Mondays to our traditional weekend season in response to many requests from anglers who wanted more weekday access," Commissioner Blankenship said. "I am also pleased that the season will begin with the Memorial Day holiday weekend. The passage of the Regional Management Amendment by the Gulf of Mexico Fisheries Management Council, Amendment 50, earlier this year gives Alabama the ability to manage the red snapper season for the maximum benefit and access for our anglers. I am looking forward to a great season."
Bannon said the comeback of oyster production was significant news after five years of little harvest. He said MRD had set a goal of 7,000 sacks to be harvested, but harvesters located an area that had not been surveyed by MRD staff that contained legal-size oysters. The area allowed oystercatchers to take a total of 11,258 sacks, about 1 million pounds of product. That harvest was more than that of the last five years combined.
"We feel like we're turning a corner," Bannon said. "I'm optimistic that the next season will be even better."
In Alabama State Parks news, Commissioner Blankenship said an online reservation system will be rolled out in April for some parks, with full implementation of the system by October 2020.
"I think this will make it a lot easier for people to camp or stay at the lodges and cabins at our state parks," he said. "I'm also happy to report that over the next month or so we will have high-speed internet at all of our state parks.
"The Lodge at Gulf State Park, where we had our last Conservation Advisory Board meeting, has had a very productive year. All of the parks had a good financially. It has allowed us to put some of those profits back into the other parks to take care of some much-needed, long-term maintenance and capital improvements."
Commissioner Blankenship also reminded Alabama citizens that it is imperative to participate in the federal Census, which will start in March.
"Some of the rural areas of our state have traditionally been undercounted," he said. "If that happens this year, it may cost us one of our (U.S.) representatives in Congress as well as several million dollars that comes to the state through federal programs.
"Please take the Census seriously."
WFF in Spotlight, Behind Scenes at Bassmaster Classic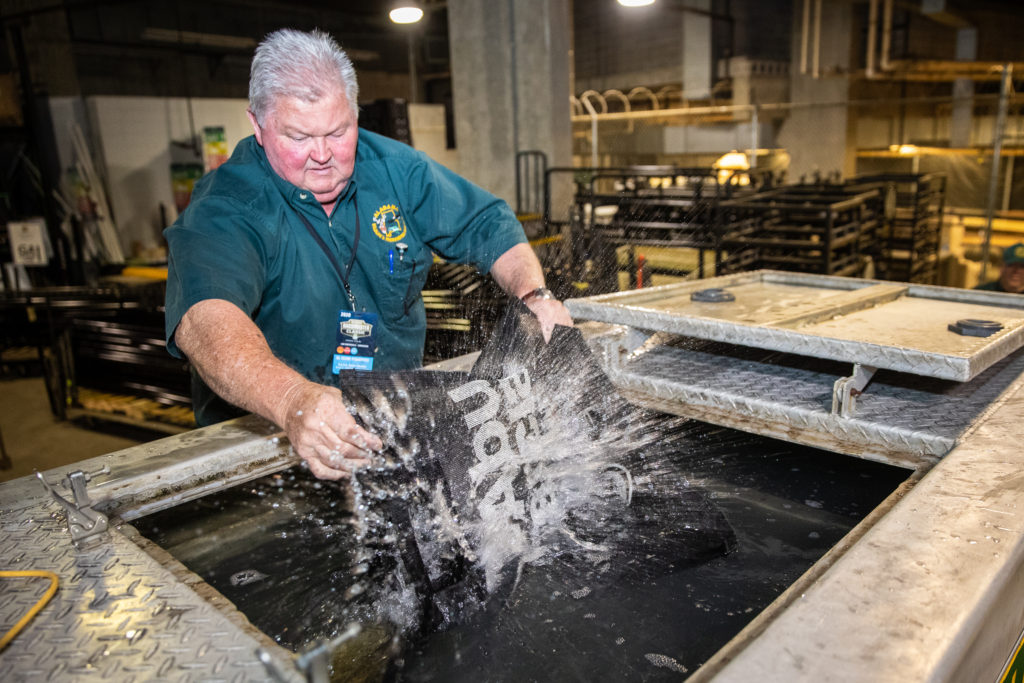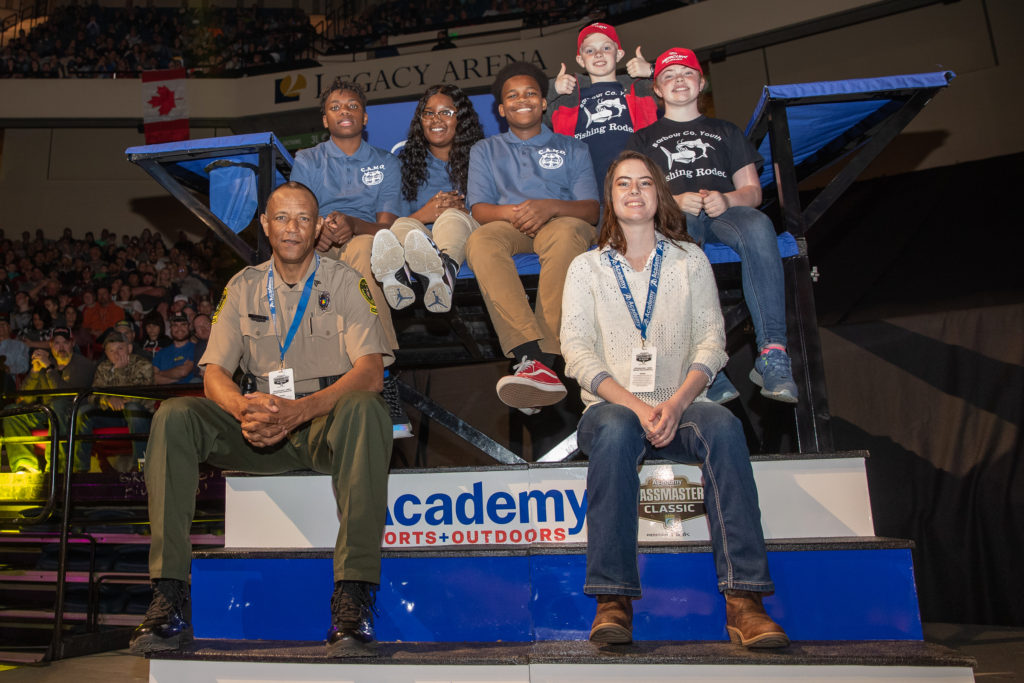 By David Rainer, Alabama Department of Conservation and Natural Resources
The Alabama Wildlife and Freshwater Fisheries (WFF) Division was both enjoying the spotlight and working behind the curtains during last week's 50th Bassmaster Classic weigh-in at the Birmingham-Jefferson Civic Center (BJCC).
The Classic, with Academy Sports + Outdoors as its title sponsor, pitted the world's best bass anglers on one of the nation's top bass impoundments – Lake Guntersville in northeast Alabama.
After an opening round with an impressive 29-plus pounds of largemouth bass, Hank Cherry of North Carolina cruised to a wire-to-wire victory to win the top prize of $300,000.
During Saturday's weigh-in ceremonies at BJCC's Legacy Arena, one of WFF's conservation enforcement officers, Sergeant Bill Freeman, was spotlighted in an oversized Academy chair as the honored first responder.
A veteran of the U.S. Army, Freeman transitioned recently from full-time patrol officer to head of WFF outreach. He was recognized by Academy for the following reasons:
"He consistently goes above and beyond his required duties and provided quality enforcement of game and fish regulations and is an asset to public safety to the residents of Bullock County, Alabama, and the surrounding areas. In 2019, Freeman received a promotion to sergeant for his exemplary service to the people of Alabama. In his new role as sergeant, Freeman's duties were expanded to lead the effort to recruit youth, college and high school students into hunting and fishing. Sergeant Freeman's methods and success in recruiting college and high school students across Alabama have garnered nationwide attention. His efforts have highlighted the Department as the leader in minority recruitment and retention by the Southeastern Association of Fish and Wildlife Agencies for the past two years."
A feature of the award was a $500 shopping spree at the Academy store in Hoover, where Freeman and two colleagues loaded up on fishing equipment to be used in the WFF outreach programs.
Freeman was able to share the oversized chair and spotlight with several youth that participate in his outreach programs. One group of youngsters were from Bullock County and the KAMO (Kids and Mentors Outdoors) program. A few of the kids were from the Barbour County Youth Hunt and Blue Springs Fishing Derby, which are held in cooperation with the Barbour County Lions Club. Other events on Freeman's schedule include a large hunter education class at Auburn University with the Wildlife Society, the Bullock County Fishing Derby and Outdoor Alabama Experience events at Oak Mountain State Park and Lake Lurleen State Park.
"The kids absolutely loved it," Freeman said. "It's been all over Facebook. That was a great experience. I really appreciated being recognized for our Department (Conservation and Natural Resources). Anything I can do for the kids is just a great experience. They really had a ball.
"It's just nice to know people support what we do."
While Freeman and his youth were in the spotlight, a crew from WFF's hatchery operations was steadily working backstage to ensure the bass weighed in each day at the Classic received the best care possible in order to return the fish to Lake Guntersville, the Classic site, and Lay Lake, where the high school and college tournaments were held.
After Bassmaster Tournament Director Trip Weldon weighed the fish, he handed a basket through a trap door in the stage floor to a runner, who hurriedly transported the fish to large holding tanks on WFF vehicles.
WFF Hatchery Supervisor Brian Rinehard, who oversees all three hatcheries in the state (Eastaboga, Marion and Carbon Hill), teamed up with Gene Gilliland, B.A.S.S. Conservation Director, to determine how many tanker trucks would be needed during the Classic to transport the bass from the arena. The fish eventually ended up in either Lake Guntersville or Lay Lake after a visit to the Eastaboga hatchery in Calhoun County.
"Gene gave me an estimate of how big and how many fish they expected to be weighed in each day of the Classic," Rinehard said. "We made sure we had trucks to easily handle that capacity."
The trucks from the different hatcheries went to Eastaboga and were filled with spring water and a specific amount of salt to ease the stress on the fish. The tanks are equipped with oxygen diffusers to keep the water at the desired saturation level. The trucks then travel to BJCC, where they are staged to receive the weighed fish.
Classic anglers transported the fish from Lake Guntersville to Legacy Arena in the livewells of the tournament boats. The fish were placed in bags before being brought onstage to be weighed. After weighing, the fish were quickly placed in the WFF hatchery tanks until the weigh-in was completed.
"We keep up with how many pounds of bass are on the truck at one time," Rinehard said Saturday. "When we reach a certain limit, we switch to another truck. We can safely handle fish on two pounds per gallon of water. For one of our 600-gallon tanks, we could hold as many as 1,200 pounds of fish. The first day's total was 600 pounds of fish. We were prepared to handle a lot more fish if needed."
Once each weigh-in was over, the hatchery truck headed to the Eastaboga Hatchery.
"When we get the fish to Eastaboga, we temper the fish. We transition them from the temperature of the tank to the spring water at the hatchery," Rinehard said. "We had the temperature of the tanks cooled to match the temperature at Lake Guntersville. When we got back to the hatchery, we had to raise the temperature.
"We have 1,500-gallon raceways with spring water and oxygen to slowly raise the temperature. You don't want to shock the fish with a temperature change. It causes too much stress, so we raise it slowly. Then we watch their swimming habits. When you confine bass, they start jumping, trying to get out, so we have covers on the holding tanks so they won't be disturbed. We keep them as quiet as we can to calm them down."
The bass, both from Lake Guntersville and Lay Lake, were held at Eastaboga until Monday morning, when the WFF hatchery trucks were filled with water and loaded with a certain amount of bass to be transported back to the lake of origin.
"The fish won't all go to one boat ramp," Rinehard said. "We will transport the fish to different state boat ramps around the lakes. We will spread the fish out as best we can."
Rinehard said holding the Classic and other large tournaments in the early spring makes it a lot easier for fisheries managers to return healthy fish to the lakes compared to tournaments held during the heat of the summer.
"Heat puts a lot of stress on the fish," he said. "You can handle a lot more fish and heavier fish when the water is cold, and Guntersville is world-renowned for its large fish, especially in the springtime.
"Livewells on bass boats are a lot better than they used to be. But handling the fish still causes stress. When we get them in our tanks, we limit the stress by giving them a lot more space, and we're running oxygen."
As it turns out, the effort to care for the fish was well worth it. Rinehard said 520 bass that weighed 1,662 pounds from the Classic were successfully returned to Lake Guntersville on Monday. Another 88 bass were returned to Lay Lake. Only five fish did not survive.
"We did everything we could to keep the mortality rate as low as possible," he said.
Turkey Season Opens Saturday, March 21, in Most Alabama Counties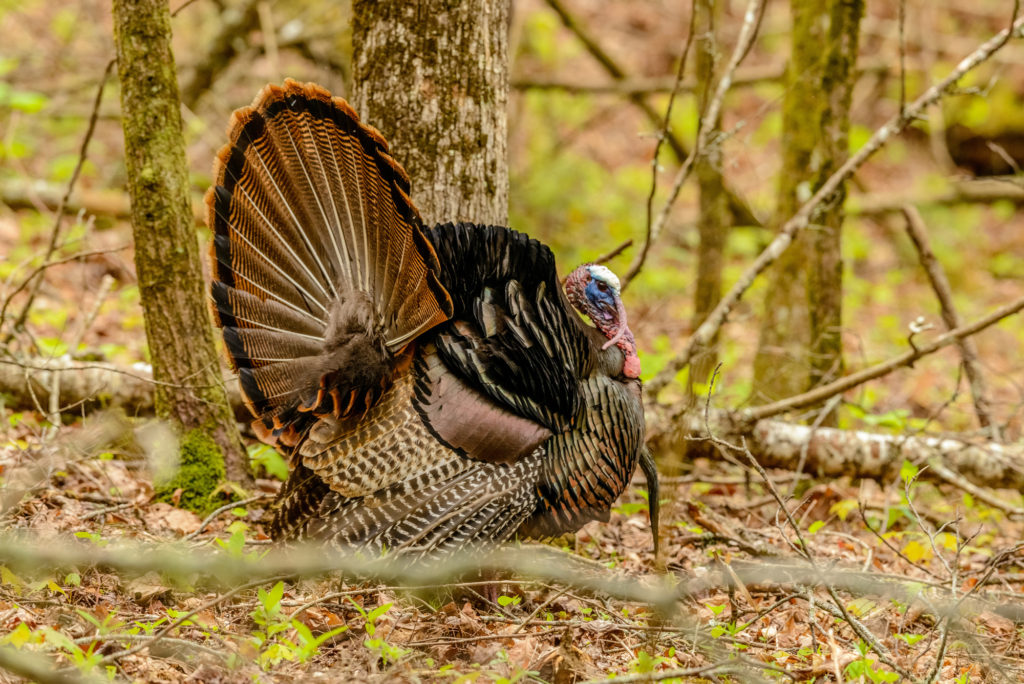 By Brittney Kimber
The numbers prove it. Alabama 4-H is helping members become healthy, caring and responsible young people in their homes and communities. With current enrollment at 161,937 with 3,346 clubs, the impact of 4-H is felt continually across the state.
"It is through the hard work of our agents and volunteers in the field that we can achieve great results each year," said Molly Gregg, assistant director of Alabama 4-H.
Dedicated staff and volunteers provide supportive relationships to young people. These relationships empower them to feel valued, useful to their communities through service and action and culturally competent to work and live within a diverse community. Alabama 4-H sets boundaries and expectations through constructive use of time when youth are creating, learning and exploring the possibilities of a future with optimism and purpose.
Enrollment Snapshot
4-H is in every Alabama county. It delivers in-school, after-school and enrichment programming in 742 schools, which is 50 percent of all Alabama schools. High school students make up 19,882 of 4-H participants.
Participants also come from all areas of the state.
6,114 reside on farms.
77,469 reside in towns with a population less than 10,000.
42,259 reside in towns with a population of 10,000 to 50,000.
14,259 reside in suburbs/cities.
21,112 reside in urban areas.
In addition, the 8,935 volunteers of Alabama 4-H contribute 165,700 service hours to programs, valued at $4.2 million.
The Bottom Line
"4-H'ers are four times more likely to give back to their communities and two times more likely to make healthier choices and participate in STEM (science, technology, engineering and math)," Gregg said. "With your help, 4-H will continue to empower thousands of young people and strengthen hundreds of communities across Alabama."
Alabama 4-H is part of the Alabama Cooperative Extension System and uses regional Extension agents as well as community volunteers, corporate partners, alumni and parents to deliver youth development programs.
Contact your county Extension office to learn about local opportunities, or visit www.alabama4h.com for more information.
Forestry Field Day in Sumter County
On Wed., March 18, 2020, consulting forester Larry Gibson will host a field visit in Sumter County to talk to area landowners about how to generate or enhance income from woodland property. Gibson's presentation, "Managing Timberland for Income and Wildlife," will cover forest management topics such as thinning pine plantations, understory burning, invasive plant control, and hardwood reforestation. Forest landowners interested in income from their property to help offset the costs of land ownership are invited to attend. Attendees will meet at M&M Market in Emelle at 9:30 a.m. and will caravan to the private property no later than 10:00 a.m. for the tour and presentation. Afterward, attendees are invited for a Dutch-treat lunch at M&M Market. If you'd like to attend, please RSVP to jnelson@afoa.org, or call (205) 624-2225 or (334) 524-1920(cell). This forestry field visit is sponsored by the Bradley/Murphy Forestry & Natural Resources Extension Trust. The trust was established in 1992 by an initial gift from forestry consultant Harry Murphy. Its mission is to encourage, promote, and develop through education and the free market system the stewardship of forest and related natural resources in the private sector. The Alabama Forest Owners' Association (AFOA) is a non-profit, self-supporting association, dedicated to providing management and ownership assistance to current and future owners of forested land. Forests cover 71 percent of Alabama, producing clean water, clean air, diverse wildlife habitat, and raw materials for thousands of jobs. Most forestland in Alabama is privately owned by individuals and families.
4-H Growing Alabama's Future
100 Alabama Miles Challenge Kicks Off March 14
Hunters Reminded that Harvest Reporting is Mandatory
Spring turkey season will open March 21 and close May 3, 2020, for most Alabama counties. The season will be delayed for research purposes on the following Wildlife Management Areas: Barbour, J.D. Martin-Skyline, Hollins, Oakmulgee, Lowndes, Choccolocco, and Perdido River. The delayed season will run March 28 to May 3.
Special youth turkey hunts are scheduled for Saturday and Sunday the week prior to the opening of spring season. For more information about Alabama's spring turkey season, including a hunting zone map, visit www.outdooralabama.com/turkey-season.
Hunters are also reminded that all turkey harvests must be reported through Alabama's Game Check system. The data collected through Game Check is used by Alabama Division of Wildlife and Freshwater Fisheries (WFF) biologists to better understand harvest trends and set seasons and bag limits.
"It is very important that hunters understand how harvest reporting has the potential to affect turkey management decisions," said Chuck Sykes, WFF Director. "Turkey harvests have been consistently underreported. If that trend continues it could alter season dates and bag limits. We strongly encourage hunters to report their turkey harvests during this year's spring and fall seasons."
Turkey harvests can be reported online at www.outdooralabama.com or through the Outdoor AL mobile app. The mobile app is available from the Apple and Android app stores or www.outdooralabama.com/contact-us/mobile-apps.
The Alabama Department of Conservation and Natural Resources promotes wise stewardship, management and enjoyment of Alabama's natural resources through four divisions: Marine Resources, State Lands, State Parks, and Wildlife and Freshwater Fisheries. To learn more about ADCNR, visit www.outdooralabama.com.
100 Alabama Miles Challenge Kicks Off March 14
A program encouraging Alabamians to reach 100 miles of physical activity during 2020 kicks off March 14. Known as the 100 Alabama Miles Challenge, and sponsored by The University of Alabama Center for Economic Development and its partners, the program urges activity, exploration and connecting with others. Participants can walk, run, hike, bike, swim, paddle, ride, or roll to their 100 mile goal, and while they can participate at home, in their neighborhood, or at their favorite gym, the program encourages them to also visit Alabama's parks, nature preserves, and rivers with friends and family. Since the program's launch in 2018, participants have logged over 100,000 miles. The March 14 kickoff starts at with a 9 a.m. event at Birmingham's Railroad Park where 100 Alabama Miles Ambassadors will share stories about active living and their favorite Alabama places to explore. Attendees will receive free T-shirts and decals and participate in a one-mile walk as a symbolic "first mile" of the Challenge for 2020. Similar kick-off events will later be held in other cities statewide. Organizers invite the public to register for the 100 Alabama Miles Challenge at 100alabamamiles.org, where they will earn electronic badges for milestones reached and places visited while logging their miles. The website's visitors can find statewide recreational trails, track progress individually and by teams, and obtain safety and wellness information. Participants can take the challenge with friends and family and create teams and compete with others. Participants are encouraged to share photos and experiences on social media using the hashtag #100ALMiles. Partnering with UA's Center for Economic Development in developing and sustaining this program are: the Alabama Trails Foundation, Blue Cross and Blue Shield of Alabama, Lakeshore Foundation, Governor's Commission on Physical Fitness and Sports, Jefferson County Department of Health, AARP, Alabama Department of Public Health, and the Alabama Obesity Task Force. These partners designed the 100 Alabama Miles program to support public health and to enhance economic development through recreational tourism
Cover Crops Play Vital Role in Soil Conservation
By Katie Nichols
AUBURN UNIVERSITY, Ala.—Heavy bouts of rainfall and strong storms created the perfect scenario for Alabama producers to talk about the many benefits of planting cover crops during the winter season.
Audrey Gamble, an Alabama Cooperative Extension System soil scientist, said the weather throughout winter months in Alabama has allowed for thought-provoking conversations surrounding use of cover crops and off-season land management plans.
"I've started many meetings during the past few months by saying 'It's a great day to talk about cover crops,'" Gamble said.
While there are many producers who deem cover crops worth the work, there may be just as many who have not made the decision to incorporate a winter cover in their crop rotation.
The most recent Census of Agriculture shows an uptick in the use of cover crops in the state. In fact, numbers show a 15 percent increase in Alabama acres utilizing cover crops. Acreage in 2017 was up to 229,097 in comparison to the 199,215 acres reportedly planted in cover in the 2012 ag census.
Gamble said many producers are utilizing cover crops for a variety of reasons.
"There are so many producers who are seeing on-farm benefits after incorporating a winter cover," she said. "However, there are still those who are trying to justify the time, money and effort that go along with adding an additional crop to the rotation."
Gamble said she asks producers who are considering a cover incorporation what they would like to achieve by adding a rotation.
"Like with any business plan, it is important to identify needs—whether it is erosion control, weed suppression, soil moisture storage or increased organic matter. It is important to begin with a goal in mind," Gamble said.
From there she begins work with farmers to develop a customized plan that is well-suited to their environment and their operation.
There are plenty of options for producers looking to incorporate a cover crop. Gamble said some of the most commonly recommended winter covers include:
Small grains. These crops are commonly planted when producers need to add biomass to the soil, which is necessary for weed suppression and soil moisture storage. Cereal rye is a common recommendation because of its adaptability to a range of climates and soil types.
Legumes. Legume crops provide supplemental nitrogen to cash crops. Crimson clover, hairy vetch and Austrian winter pea are commonly-planted legumes in Alabama.
Brassicas. Brassica crops, such as Daikon radishes or turnips, can help scavenge for nutrients deep in the soil profile.
Mixtures. Mixtures are ideal for producers who have multiple goals. For example, a mixture of rye, brassicas and legumes can be planted when producers are trying to achieve ground cover early, as well as later on. Legumes add an additional growth later in the season.
Gamble said mixtures, specifically, allow for fuller coverage throughout the growing season.
"Most producers prefer to stick with small grains, but there is a growing interest in cover crop mixtures, as well as the benefits provided by a mixture," she said.
Cover Crop Adoption and Options
Gamble said the increase in adoption is encouraging and facilitating the use of cover crops in full-scale operations.
"Money and time are two things that are difficult for producers to allocate to cover crop adoption," Gamble said. "It can be difficult to make time for planting cover crops in the middle of cash crop harvest. However, I see many producers choose to make this a priority once they see the benefits cover crops can have on their farm."
Gamble said she also points out the different ways for sowing cover crop seed. Producers can drill it in with a no-till drill, spread seed via broadcast or through aerial application.
"Be sure that there is good soil moisture when you fly on a cover crop," Gamble said. "Small grains and brassicas tend to get a better stand with aerial seeding than legumes."
Future of Cover Crops in Alabama
She also emphasized the important role government assistance can play during the cover crop selection process.
"Interest in cover crops is really growing," Gamble said. "I like to share both grower assistance information, as well as additional learning materials."
Southern Cover Crops Council has developed a plethora of reading material and other information to help farmers make informed decisions.
Alabama Healthy Soils is a resource that includes both regional and state-specific guidelines for incorporating cover crops on-farm.
NRCS provides financial assistance to producers to incorporate cover crops through programs like EQIP and CSP. Contact your local NRCS office for additional information.
More Information
More information on cover crops and an implementation plan are available by visiting www.aces.edu. Gamble said she is also available for consultations to help producers manage their land and cover crop needs.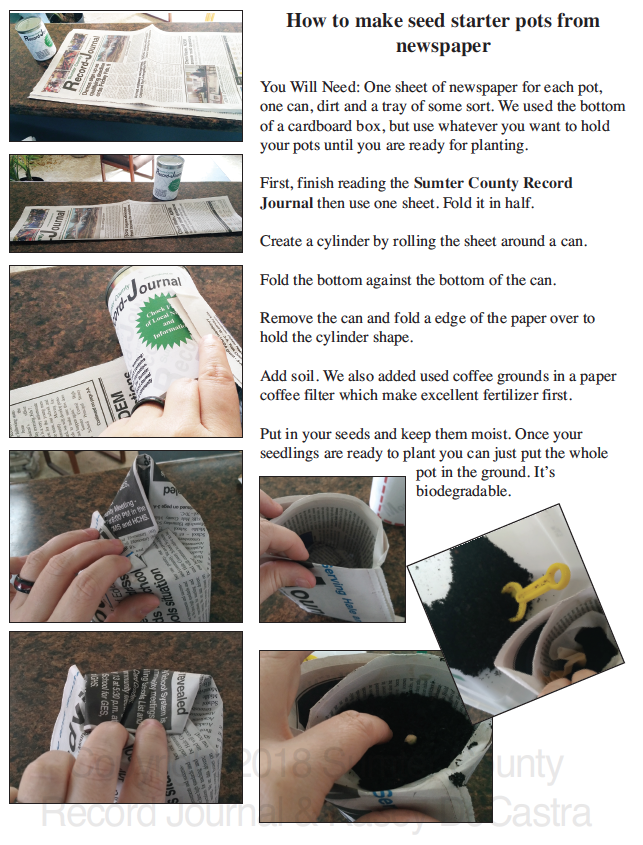 MRD Hatchery Spawning Flounder for First Time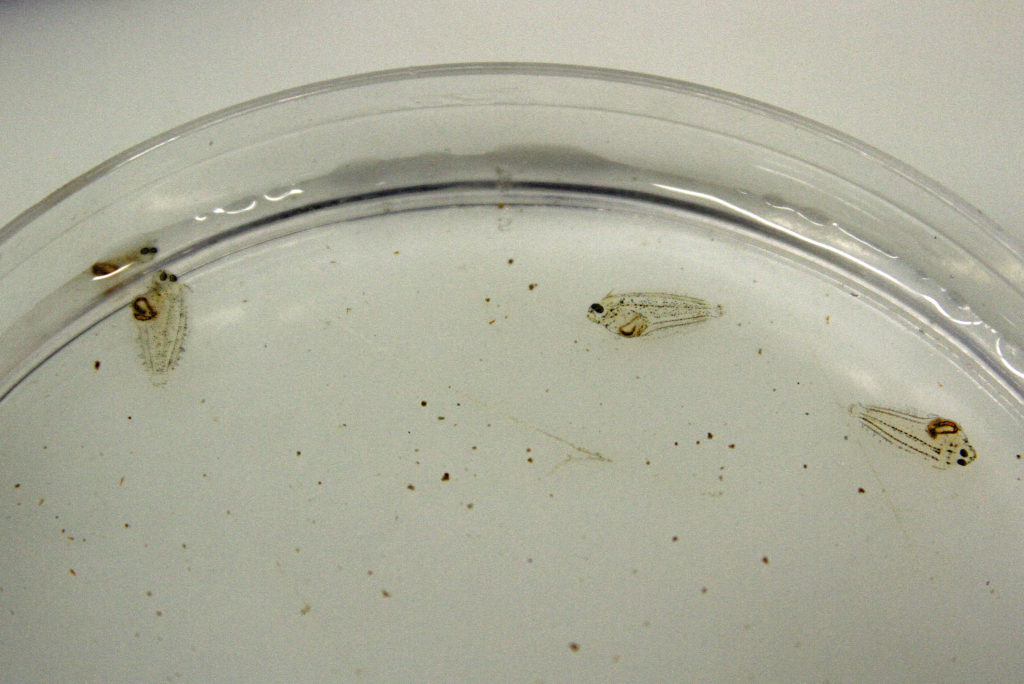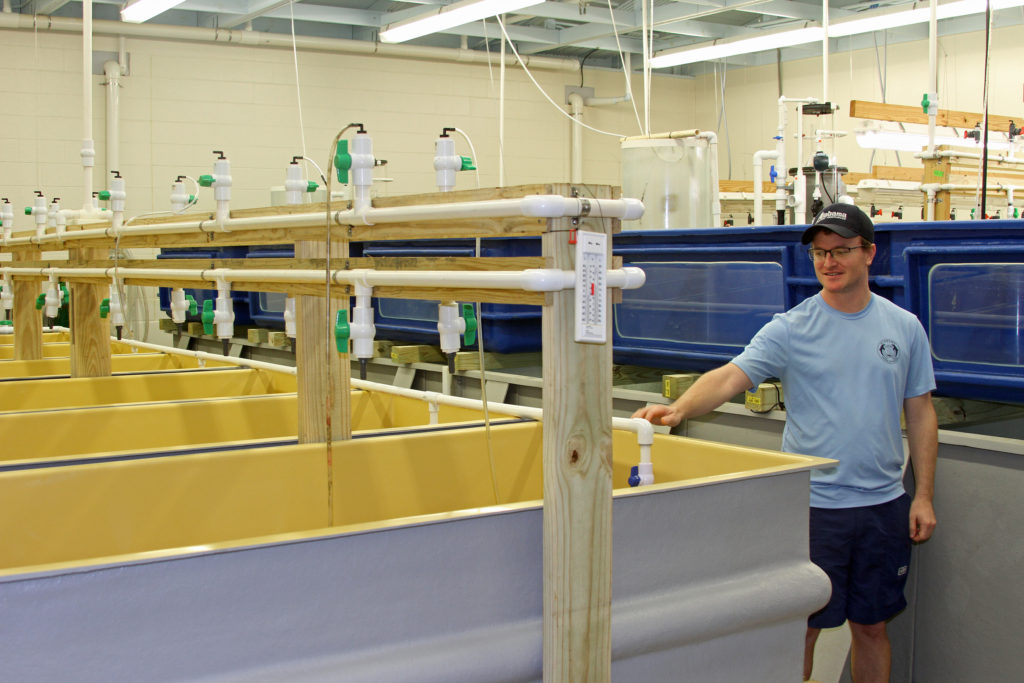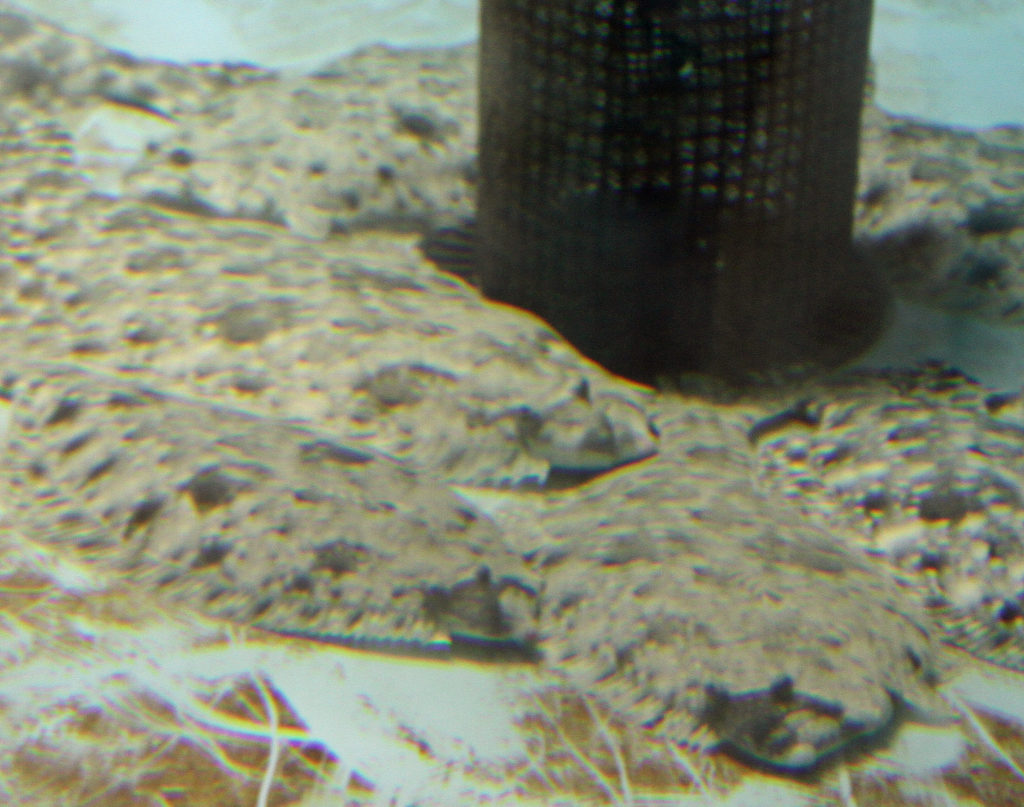 By David Rainer, Alabama Department of Conservation and Natural Resources
Anyone who has fished the beautiful waters of the Alabama Gulf Coast in the past decade knows that one of the premier inshore species, southern flounder, has been scarce.
A well-documented decline in the southern flounder fishery started about 2008 and, unfortunately, the population hasn't rebounded. Marine scientists don't have any definitive reasons for the decline.
The Alabama Marine Resources Division (MRD) changed regulations this year to decrease the recreational bag limit to five flounder per day per angler, implement a commercial trip limit to 40 per person or vessel and increase the size limit to 14 inches total length. Harvest was closed to both recreational and commercial anglers for the whole month of November to protect the flounder that were migrating through the bays, heading for their winter spawning grounds.
However, that is not the only action MRD has taken to mitigate the downturn in the flounder population. MRD headed into uncharted territory for Alabama this past year with an effort to add to the wild population with southern flounder fingerlings raised at the Claude Peteet Mariculture Center in Gulf Shores. A critical step in any spawning program is collection of broodstock – the adult fish.
Max Westendorf, Hatchery Manager at Claude Peteet, said MRD has been collecting broodstock from two main sources – the ACFA (Alabama Coastal Fishing Association) tournaments and the Saltwater Finaddicts Fishing Tournament.
"They have live flounder categories in their tournaments, and we show up with our trailer to collect these fish," Westendorf said. "We also have a couple of other anglers who bring us fish one or two at a time."
MRD collected about 40 fish from the Saltwater Finaddicts tournament and gets 20 to 30 fish from each ACFA tournament for broodstock.
"We bring the flounder back to the Claude Peteet facility, and we quarantine them for three to four weeks to make sure they're not bringing in any parasites or bacteria," Westendorf said. "Once we treat them and quarantine them, we introduce them into our breeding populations."
Currently, MRD has three tanks dedicated to flounder breeding. Flounder are winter spawners; spawning occurs in December, January and into February each year.
"This is our first year of spawning flounder, so we're still working out some of the kinks," Westendorf said. "We're learning the process and idiosyncrasies of flounder. They are a lot more difficult to spawn than other species we have cultured. When we have redfish or Florida pompano and bring them in, it only takes a week or two to get them to eat dead shrimp and cut fish. A flounder takes several weeks longer for them to transition to that type of feeding. One of the hardest parts was getting that initial batch of flounder to start the program. Once you have some fish start eating, the other fish around them start eating as well. It took us a while to get an established population that was eating and comfortable in the tanks and into their conditioning cycle.
"This was the first year we've had fish that we were able to spawn. We put them in a nine-month conditioning cycle whereby we recreated the natural cycle in the wild by manipulating the tanks' water temperature and lighting. We give them spring, summer, and fall conditions, and then we spawn them in the winter season."
Hatchery staff know when the flounder get ready to spawn when the females become swollen with eggs, indicating they are "ripe." The females are given a hormone injection to develop the eggs even further so they easily express them.
"We segregate the males and females and put them to sleep for a second," Westendorf said. "Then we gently squeeze on their abdominal area and the eggs and milt (the fluid containing semen released by males) will start free-flowing out of their bodies. We combine the eggs and milt in a tube, add saltwater to activate the fertilization process, and the eggs fertilize in about one to two minutes."
Hatchery staff then separate the good (fertilized) eggs from the bad (unfertilized) eggs. The good eggs float in full-strength saltwater, and the bad eggs will sink to the bottom of the container. The good eggs go into specially made incubators to hatch out. The water temperatures in the incubators are kept at about 17 to 18 degrees Celsius (62.5-64.5 degrees Fahrenheit).
"Each tank will hold about 175,000 eggs," Westendorf said. "Because of the cold water temperature, their metabolism is a little slower so their development and growth is slower than other species we have raised at Claude Peteet. With red drum and pompano, they'll hatch out in 36 to 48 hours. Flounder take about 72 hours to hatch."
When hatched, the larval fish feed on a yolk sack until they form eyes and a working mouth to start feeding. Once they start feeding, the fish are moved into tanks with a much lower density of fish, transitioning from 1,000 fish to about 15 fish per liter of water.
Because of the colder temperatures, flounder don't develop scales as quickly as the other fish raised at the hatchery. They just float around lazily and eat.
The feeding process starts with marine rotifers, a zooplankton, that are near microscopic in size. The next menu item as the fish grow is brine shrimp. Next comes commercially available, pelletized fish feed.
"When we start feeding them rotifers, we add finely-ground meal to start training them to recognize an artificial food source," Westendorf said. "We condition them by putting the artificial food in first and then put the live feed in, so they recognize this crumble food that's not moving is fed out at the time as something that is moving. That way they associate the crumble feed as food."
During the first 3-4 weeks after hatching, the flounder go through a metamorphosis where they transition from swimming upright to lying flat on the bottom of the tank, and their right eye moves to the left side of the head.
Westerndorf said he estimates about 10,000 larval fish are in the mariculture center right now. He expects it will take about 60 days for the fish to reach 1-1.5 inches.
"My goal for this first year is to get one up to a 2-inch fish," he said. "That will prove that we have successfully closed the cycle, and we can increase that significantly next year. If we can get between 1,000 and 5,000 fish out of the hatchery this year, I think that would be a significant accomplishment for our first year. We have compiled a large amount of information with good documentation, and we know that we will approach it differently next year."
Once the process is working efficiently, Westerndorf said a reasonable goal is to release about 20,000 flounder into the wild next year and grow the stocking program to about 60,000 in a few years.
"We set our goal at 60,000 fish to be released each year," he said. "A recent assessment estimated about 400,000 6-inch wild recruits were produced in Mobile Bay and local waters when the flounder population was larger. We don't want to skew the genetics of the wild population by releasing too many fish. We want to support the stock, but we don't want to overwhelm the stock with hatchery-raised fish."
Westendorf said the hatchery is working to expand the number of brood tanks available for the southern flounder project by transitioning tanks used in a previous red snapper program. CCA Alabama provided funds to refurbish the red snapper tanks.
"Flounder are just so different from anything else we've done," he said. "We've got to provide colder water temperatures. We're using data and insights from flounder programs in the Carolinas and Texas, but we have to adapt the process to the environmental conditions here on the Alabama Gulf Coast. It's a learning process, but we're pretty excited about what we have learned so far.
"We'll get there. This will be a successful program in time."
Alabama's First Sandhill Season in 103 Years Deemed Success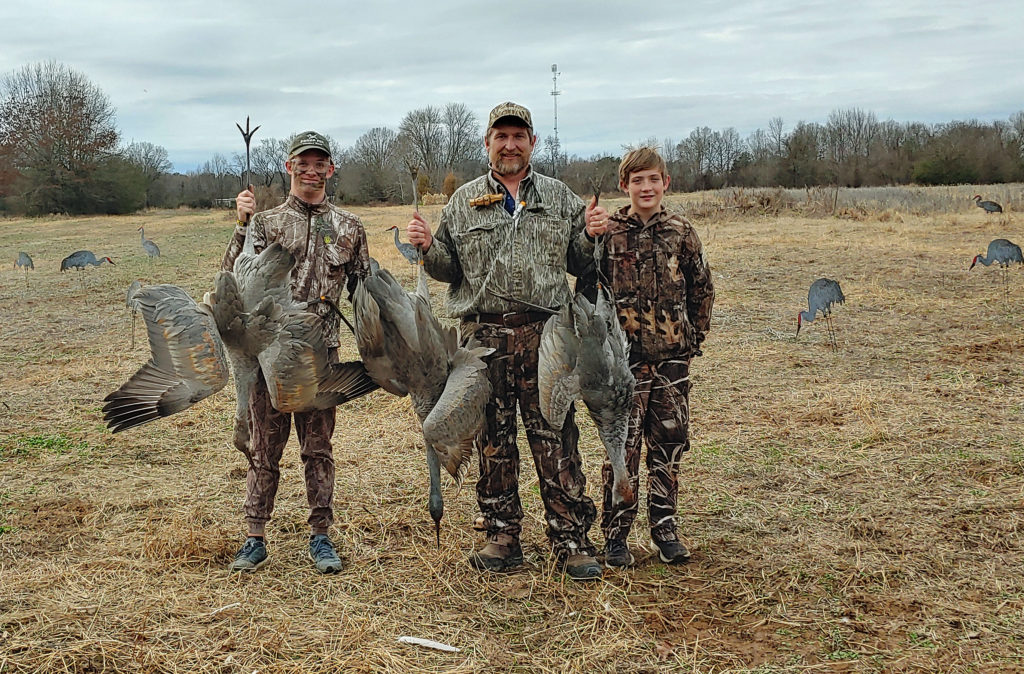 By David Rainer, Alabama Department of Conservation and Natural Resources
Another warm winter left Alabama's duck hunters frustrated, but those who were lucky enough to score permits for the first sandhill crane season in the state in 103 years were elated.
Although not all of the 400 crane permit holders were able to harvest one of the large birds, those who did raved about the new hunting opportunity.
Jason Russell of Gadsden, Alabama, and his 17-year-old son, Grayson, both drew permits, which allowed a harvest of three birds each.
The first order of business was to secure a place to hunt sandhills in the hunting zone in north Alabama. Fortunately, a friend from Birmingham had connections with a landowner near the Wheeler National Wildlife Refuge, and they were granted permission to hunt.
"We were excited to get an opportunity to hunt the sandhills," said Russell, an avid duck hunter and award-winning decoy carver. "We'd seen them around for years. We really didn't know the reality of what it would take to kill one.
"Once we were drawn, we thought we'd give it a shot. We bought decoys and got ready. What was interesting this year, everywhere I went, I saw cranes. I saw them near my house. At Weiss Lake, we saw cranes. At Guntersville, we saw cranes. Everywhere we went, we at least saw cranes flying."
On the morning of the first hunt, the Russells saw several cranes in the field they planned to hunt and saw several more in the air. After setting up their decoys, both full-body and silhouettes, they settled into their blinds.
"Within 20 minutes we had a group of birds fly 15 yards over our decoys," Jason said. "We ended up letting them go because we were so awestruck that our setup actually worked. We were kind of surprised.
"Another 20-30 minutes went by and groups of two and three came by. On our first hunt, three of us had permits, and we killed six birds on an afternoon hunt that lasted maybe two or three hours. We were pretty excited that you could actually decoy them. After duck and goose hunting for 30 years, this gives hunting a new twist and a new excitement."
The Russells had planned to hunt cranes just like they would geese in an open field with layout blinds. They soon discovered natural vegetation helped them hide much better.
"There was some scrub brush sticking up," Jason said. "I thought, well, let's at least be comfortable. There was enough brush to where we could get hidden. We put our full-bodies out at 20 yards, hid our faces and kept our heads down. We were shooting decoying birds at 15 to 20 yards."
The hunters left that area undisturbed for three weeks before attempting a second hunt. They were even more awestruck when they arrived at the hunting land. Jason needed two birds to fill his tags, while Grayson only needed one.
"When we got there, there must have been between 200 and 300 sandhills in the field," Jason said. "After we got set up, three birds came in and I doubled up."
With only one tag left, the cranes seemed hesitant to decoy. The Russells soon figured out that trying to mix crane hunting and goose hunting might not work very well.
"We had put out full-body goose decoys to try to kill a few geese while we were there," Jason said. "It was interesting that the cranes seemed to be skirting our decoys. We decided either we were going to have to move or do something different. We made the decision to pull all the goose decoys. By the time we pulled the last goose decoy and got back in the blind, we had a pair of sandhills at 15 yards. My son rolled his out, and we were done. It could have been coincidence that we pulled the goose decoys and we killed one, but I feel like they flared off of the full-body goose decoys.
"We were just catching the cranes traveling from one field to another. I guess they decided to drop into our decoys to see what was going on."
Before the hunt, Russell was afraid that it might be possible to mistake a protected whooping crane for a sandhill crane. That turned out to be an unrealized worry.
"One of my fears was being able to identify the birds if we were in low light," he said. "Sometimes when you get the sun wrong, you can't see color that well. I thought we were going to have to be really careful to look out for whooping cranes. But that was not a problem. The whooping cranes stood out like a sore thumb. We made sure there was no shooting at all when those were in the area.
"And we never shot into big groups of sandhills. We never shot into groups of more than four birds. I felt like we didn't educate them for the most part. If people will be smart and shoot the birds in the decoys or really close, then it will be a good thing for years to come."
Jason said it was "awesome" that he and Grayson both got permits in the first year of the new sandhill season.
"To get to shoot our sandhills together was special," Jason said. "On our first hunt, we shot into a group of three birds and each of us got one. It was real exciting to get to have that moment of father-son hunting. It was just a neat, awesome experience that we will never be able to share again in waterfowling."
Jason took his youngest son, 13-year-old Jonathan, on the second hunt to share the experience although Jonathan wasn't able to hunt.
"I just wanted him to see it," Jason said. "I was excited for him to get to watch and hear the sounds of how loud those birds really are. It was amazing. He carried one of the birds out of the field. It was a big, mature bird and he cradled that thing all the way out of the field."
The excitement wasn't over for the Russells when they prepared the crane for the dinner table.
"Cooking them was phenomenal," Jason said. "We cooked some one night and took a little to a church group. One of the guys who doesn't eat wild game said it was the best meal he's eaten in his life. It was very flavorful. I thought it would be more like a duck, but it wasn't.
"We enjoy eating duck, but I could eat way more sandhills. It was just so tender. I've always heard sandhills were the ribeye of the sky. Now I believe it. When you put it in your mouth, it tasted like steak. It was tender and juicy. Oh my gosh, it was so good."
Seth Maddox, the Alabama Wildlife and Freshwater Fisheries Division Migratory Game Bird Coordinator, said the duck season was indeed disappointing, but he was enthusiastic about the first sandhill season.
The final results of the sandhill season won't be available for a couple more weeks to allow permit holders to complete their post-season surveys.
Maddox said he expects the final numbers to be in line with other states with sandhill seasons.
"From the hunters we've talked to, it seems to be a pretty successful sandhill season," Maddox said. "We're expecting a harvest rate of about 30 percent, which will be a little more than 300 birds."
Maddox said the warm winter not only caused diminished duck numbers in Alabama but also affected the sandhill population.
"Sandhill numbers were a little below normal for the birds we typically over-winter here in Alabama," he said. "Our 5-year average is 15,000 birds. This year, we estimated the population at 12,000, which made for a little tougher conditions for hunters. The birds tended to concentrate in areas closer to the refuges."
Maddox said the sandhill season is the first of four as an experimental season under U.S. Fish and Wildlife Service regulations. He said the number of permits (400) and tags (1,200) will be the same next year.
Alabama's sandhill harvest rate is similar to that of Tennessee and Kentucky, which surprises Maddox a bit.
"Our season was probably a little better than I expected," he said. "Our hunters had never done it before. They had to find people willing to give them access to hunting land. Hunters got to make new friends. I think it was a very successful season."
Eastern Indigo Snake and Wildlife Festival Will Be Held May 1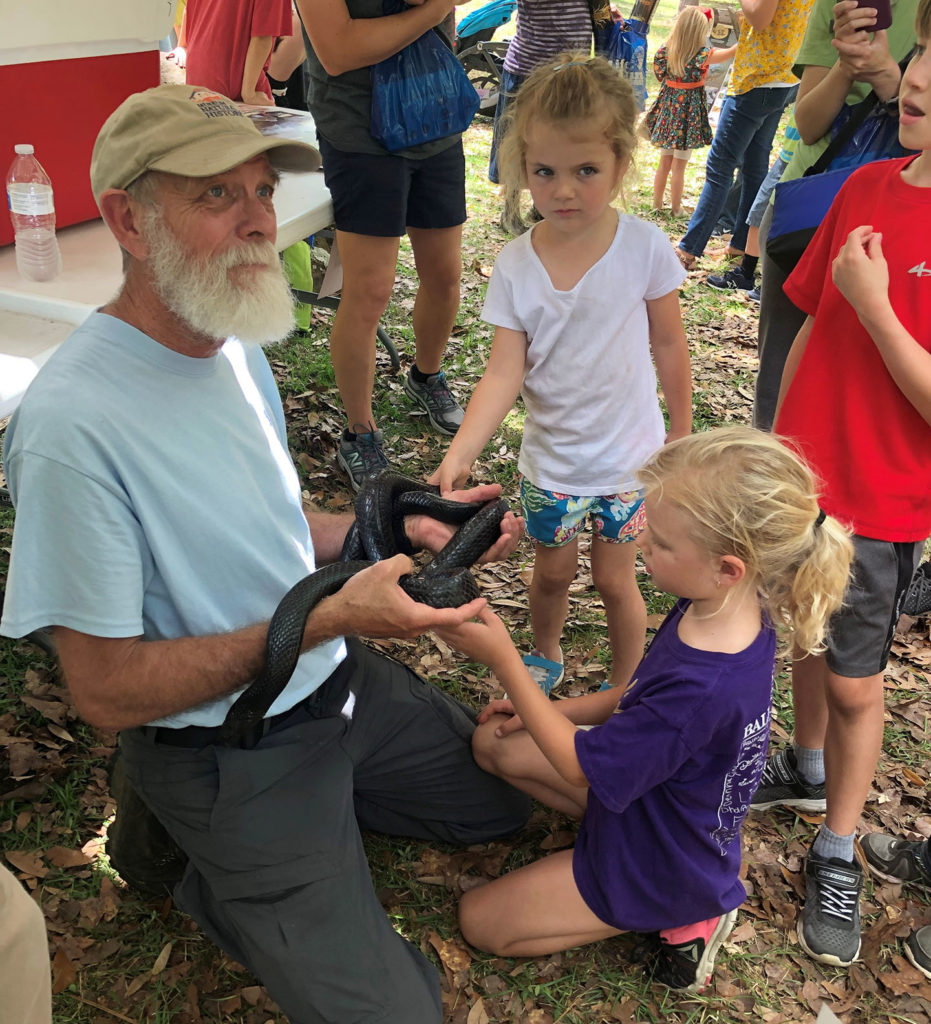 The Alabama Division of Wildlife and Freshwater Fisheries (WFF), in partnership with the U.S. Fish and Wildlife Service (USFWS), the U.S. Forest Service, and Auburn University, will host the 3rd annual Eastern Indigo Snake and Wildlife Festival at the Conecuh National Forest Open Pond Recreation Area on May 1, 2020, from 9 a.m. to 4 p.m.
The festival celebrates the Eastern indigo snake, the longest nonvenomous, native snake species in North America. In addition to learning about the Eastern indigo, attendees will learn about the longleaf pine ecosystem including the gopher tortoise and the hundreds of other species that use its burrows. Attendees will also have the opportunity to interact with live animals as well as biologists and foresters from various state, federal, and private organizations. Families, school groups, and visitors are welcome.
School groups must sign up with the Covington County Extension Office at (334) 222-1125. Sign up is on a first come, first served basis. For more information about the Open Pond Recreation Area, visit https://www.fs.usda.gov/recarea/alabama/recarea/?recid=30113. For additional information about the festival, contact WFF Habitat and Species Conservation Coordinator Traci Wood at (334) 398-3726.
ABOUT THE EASTERN INDIGO SNAKE
The Eastern indigo snake is a threatened and protected species throughout its range along the Gulf Coast of the U.S. Decades ago, the species disappeared from Alabama in step with the loss of its natural habitat – longleaf pine forests.
In recent years, Eastern indigos have been released in the Conecuh National Forest in south Alabama with the goal of creating a viable population and addressing the USFWS recovery plan for the species. The first known, wild Eastern indigo snake was recently discovered at Conecuh National Forest. If the Eastern indigo snake reestablishes a viable population in Alabama, a piece of the state's natural history will be restored.
The most notable features of the Eastern indigo snake are the iridescent, blue-black color of its head and body, and a reddish-orange color on the throat, cheeks, and chin. It is the longest snake in North America, reaching lengths of up to 8 ½ feet. Being at the top of its food chain, indigos rule the forest. Compared to other snakes, the Eastern indigo's diet consists of some surprising items including venomous snakes like the copperhead and rattlesnake. A healthy population of Eastern indigos in a longleaf pine forest is an indication of an ecologically balanced forest.
To learn more about the Eastern indigo snake in Alabama, visit www.outdooralabama.com.
The Alabama Department of Conservation and Natural Resources promotes wise stewardship, management and enjoyment of Alabama's natural resources through four divisions: Marine Resources, State Lands, State Parks, and Wildlife and Freshwater Fisheries. To learn more about ADCNR, visit www.outdooralabama.com.

Young Luverne Hunter Wins 8th Annual Big Buck Photo Contest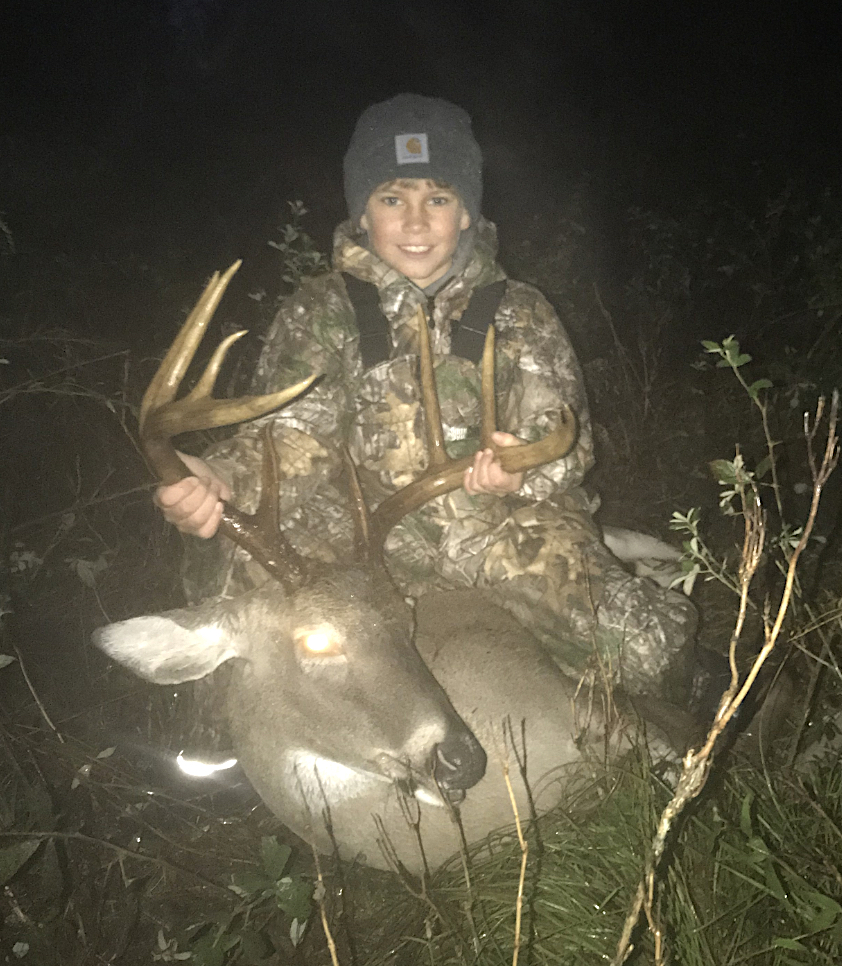 The eighth annual Alabama Black Belt Adventures Association Big Buck Photo Contest drew more than 9,100 votes this year, with Porter Beasley of Luverne emerging as the winner. The 9-year-old outdoorsman won a CVA .50 caliber Optima Muzzleloader with a KonusPro Scope and gun case, valued at $535, by receiving the most votes in the online contest.
"We are always happy to highlight the memories made while hunting in the Black Belt," said Pam Swanner, director of the Alabama Black Belt Adventures Association. "We love seeing families share these experiences here in the Black Belt.
"Our contest this year had entries from 20 of the 23 Black Belt counties with a wide range of hunters sharing their photos – youngsters and adults, men, women and children. We enjoy bringing these contests to our followers to promote ethical hunting and fishing in the Black Belt and celebrate all our region has to offer."
Porter is a fourth grader at Luverne School and his 10-point buck was taken on the Friday afternoon of the special youth hunt in November just outside of his hometown. The buck had a rough gross score of 141, according to his dad and hunting partner, Mylan Beasley.
"Porter has taken several deer," his dad said, "but this one is his best. He has really taken notice of how special his deer was, and it has led him to pass on several quality deer this year. He hunts as much as possible and is in the woods around our house daily. He has beaten a path to the ponds on our place, as well."
The hunt that produced the winning photo was over a 3-acre food plot. Beasley said several doe and young bucks came to the plot, but Porter wanted to wait to see what would happen later since it was his first hunt of the year. "As the shadows disappeared and the deer really started coming in, I looked over Porter's right side and noticed a rack moving through the woods. I got his attention and he positioned his rifle into the shooting window. When the buck exited the timber and stood in the plot, maybe 30 yards away, he was already in Porter's sights. Before I could tell him to take a deep breath and make a good shot, Porter's rifle cracked, and the buck kicked with both back legs and dug his way back into the timber."
The Beasley men found the buck within minutes and the youngster called his uncle, mom and grandmother to let them know pictures of a big buck were coming.
Porter said he's "thrilled to win the contest and looking forward to hunting with a muzzleloader."
This year's contest drew 53 entries and Porter's photo attracted 3,011 votes. To be eligible, the deer must have been taken in the Black Belt during the 2019-2020 season and uploaded to the website. To see all the entries, visit AlabamaBlackBeltAdventures.org/bigbuckcontest.
The Alabama Black Belt Adventures Association promotes and encourages ethical hunting and fishing practices. Our Big Buck Photo Contest was created to further educate the public on the abundance of natural resources found in Alabama's Black Belt region.
The Black Belt includes the following counties: Barbour, Bullock, Butler, Choctaw, Clarke, Conecuh, Crenshaw, Dallas, Greene, Hale, Lee, Lowndes, Macon, Marengo, Monroe, Montgomery, Perry, Pickens, Pike, Russell, Sumter, Tuscaloosa and Wilcox.
The Alabama Black Belt Adventures Association is committed to promoting and enhancing outdoor recreation and tourism opportunities in the Black Belt in a manner that provides economic and ecological benefits to the region and its citizens. For information, go to www.alabamablackbeltadventures.org.
Soil Sampling: Important Part of Spring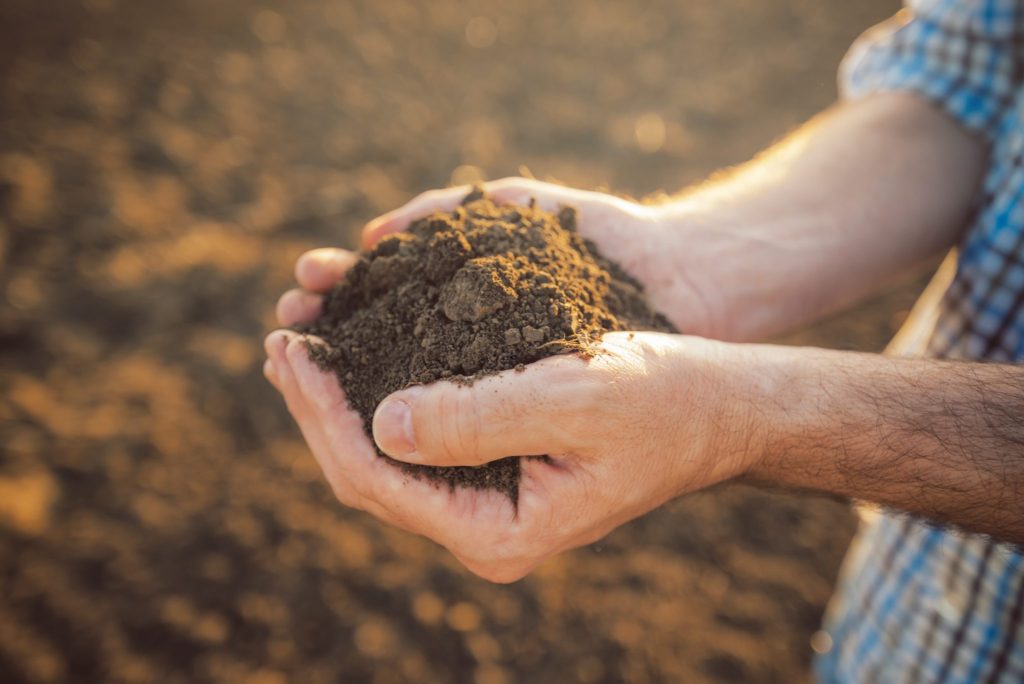 Show off a green thumb and ensure growing conditions are right by collecting soil for soil samples prior to planting. The Auburn University Soil Testing Laboratory offers this service to help growers make informed decisions about soil nutrients and soil composition on the farm or in the back yard. By supplying recommendations to help growers maintain plants and create a more sustainable growing environment, soil testing can help get spring gardens off on the right foot.
Importance of Soil Testing
"Soil is the basis for most of what we do as gardeners and without healthy soil, you cannot grow healthy plants," said Taylor Reeder, an Alabama Extension home grounds, gardens and pests agent.
It is important to grow plants in the right environment. Adequate soil nutrients, in addition to the correct soil type, will help gardeners create and maintain a growing environment where plants can thrive.
Preparing Soil Samples
To begin the soil testing process, pick up a soil sample kit from the local Extension office. It will include a form explaining how to properly collect a soil sample.
"It is best to send soil samples that are dry," Reeder said. "Laying the soil out on newspaper to dry before sending it off is suggested."
Collect soil from the garden site or flower bed. According to Reeder, it is important to dig deep enough into the soil to collect an adequate sample. This could range from 2 to 8 inches deep, depending on the types of plants or seeds growers choose to plant in a given area. It is also important to include only soil in the sample. Make sure to remove as much plant and debris as possible.
Soil Test Results
Soil tests determine the pH and nutrient content of soil. This is beneficial as different plants often thrive in different pH ranges and require different nutrient concentrations. It is also advantageous to know soil nutrient levels, including calcium, magnesium, phosphorous and potassium. These levels will help growers make informed decisions regarding fertilizer types and frequency.
Growers can also do an analysis to test levels of micronutrients such as zinc in the soil. This analysis will include liming suggestions.
"Add lime to your soil in order to raise its pH if it is too acidic for what you are intending to grow," said Reeder.
Sending the Soil Sample
Soil samples should be sent to the Auburn University Soil Testing Laboratory. The form available at local Extension offices with the sample box will include the sample mailing address. Each sample costs $7, with an added cost to perform a micronutrient analysis. Note: results are available by mail or electronically.
For more information, visit www.aces.edu. Read more about soil sampling at https://www.aces.edu/blog/topics/crop-production/routine-soil-analysis/
Picking the Best Blackberry Varieties
Interested in planting blackberries? Choosing the best blackberry varieties for the backyard garden will require a little homework. Because there are so many blackberry varieties, gardeners should spend a bit of time researching which cultivated variety, or cultivar, of blackberry is best for a specific location. Chip East, an Alabama Extension commercial horticulture regional agent, offers some tips on selecting cultivars and proper planting conditions.
Blackberry Cultivars
Blackberries cultivars come in three major types—erect, semi-erect or trailing. Semi-erect and trailing cultivars require a trellis. In contrast, erect blackberry types stand independently, but planting on a trellis in home gardens minimizes wind damage to the canes.
Next growers must choose between plants with thorns or those without.
"Thorny plants offer an aggressive growth habit and more disease resistance, and therefore can be very productive," said East.
Popular thorny, erect blackberry cultivars include 'Chickasaw,' 'Choctaw,' 'Kiowa' and 'Shawnee.' Popular erect cultivars without thorns include 'Apache,' 'Arapaho,' 'Natchez,' 'Navajo' and 'Ouachita.'
East said there can be significant differences in the fruit size and overall production between different cultivars. It may depend on the use of the berry as to what cultivar to choose.
Planting Conditions
Plant blackberries in late winter or spring of the year. While early spring planting is best, do not plant until the soil is dry enough to work. Prepare the planting area with the same care as for a vegetable seedbed.
Blackberries need planting areas with good drainage and full sunlight.
Blackberries grow and produce satisfactorily on a wide range of soil types, from sandy to heavy clay loams, provided that the drainage is good. Good soils for blackberry production are deep sandy loams that are moderately fertile, high in organic matter, easily worked and well drained.
Consider the possibility of winter injury when selecting planting locations. Blackberry plants often begin blooming before frost danger passes.
"Planting on slopes, or on the tops of slopes, allows cold air to drain away from the plants," said East.
Blackberries planted on a southern slope are likely to bloom earlier than those on northern slopes. If possible, avoid planting blackberries in low-lying areas. Because air settles in low areas, blackberries planted there would be most affected by cold injury during bloom.
"While a grower might be able to do something if they confronted with this problem, freezing temperatures during bloom are always a concern," said East.
More Information
For more information on blackberry cultivars, visit https://www.aces.edu/blog/topics/crop-production/blackberry-cultivars/
Hog and goat shows are the most fun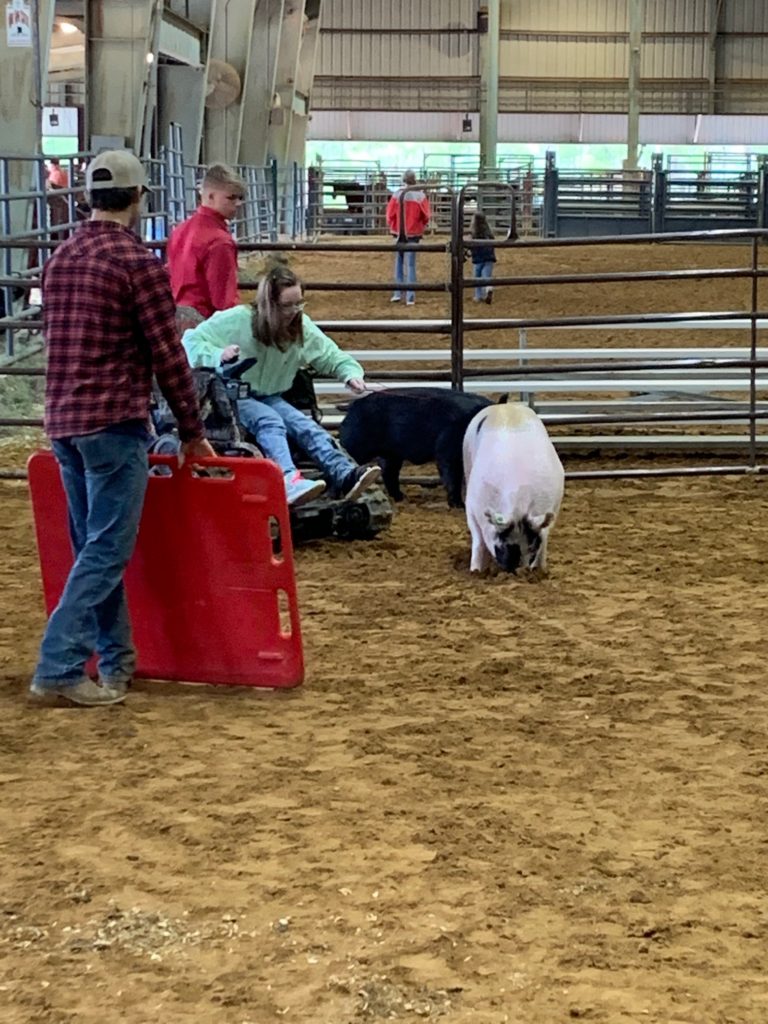 Lauderdale 4-H Club's annual livestock show in Lauderdale, Miss. First, we (Claire and Wayne Smith) saw our youngest granddaughter, Laci, lead her goat Dixie to become grand champion. Next, our Kalee led her pig Margeret, (I really think Margaret is a hog weighing in at 240 pounds,) to be grand champion. Submitted by By Claire Smith of Livingston Lines
First Wild Eastern Indigo Snake Found in Alabama in 60 Years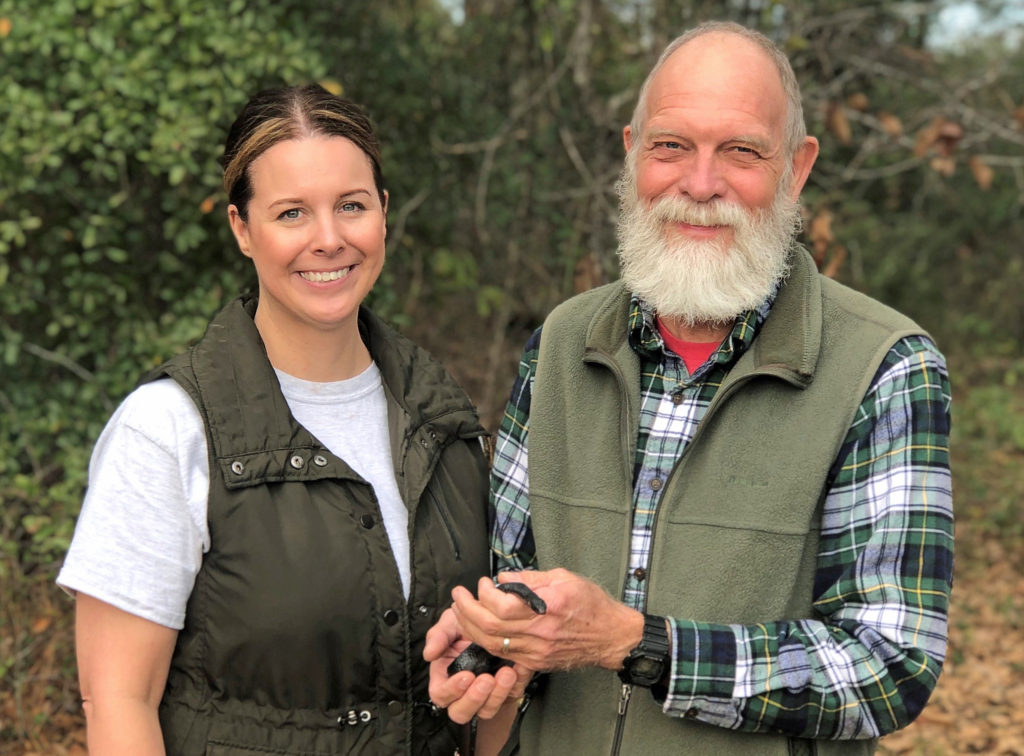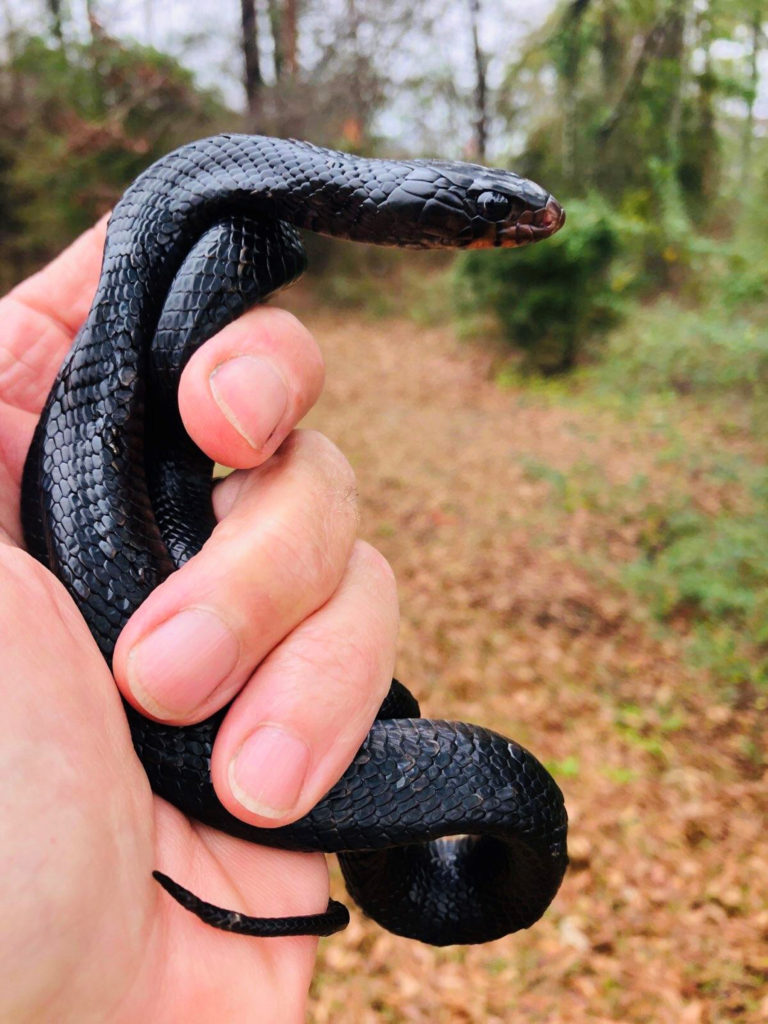 By David Rainer, Alabama Department of Conservation and Natural Resources
Traci Wood admitted holding the snake almost made her come unglued. No, she wasn't afraid of the snake she was holding. It was the magnitude of the moment.
Wood, the Habitat and Species Conservation Coordinator with the Alabama Wildlife and Freshwater Fisheries (WFF) Division, had in her hands the first wild Eastern indigo snake documented in Alabama in more than 60 years.
"I'm not embarrassed to say that I was shaking when I held that animal," Wood said. "This is a monumental benchmark in conservation for Alabama and the southeast region for this species.
"It's a big deal, extremely big. It's big for recovery efforts of a federally listed threatened species. It's the first documentation of a wild snake in more than 60 years in Alabama. It's proof that what we are doing through reintroduction is working and that captive snakes are acting like wild snakes after they are released."
Chris Blankenship, Commissioner of the Alabama Department of Conservation and Natural Resources echoed the importance of the achievement.
"I am thrilled that we have documented wild reproduction of the Eastern indigo," Commissioner Blankenship said. "It is great for the species, but I am also really happy for Traci and the staff who have worked for years to make this happen. They truly have a passion for their work, and I am so thankful for them."
Technicians from the Auburn School of Forestry and Wildlife Sciences and the Auburn Museum of Natural History were out looking for documentation of indigo snakes as part of the long-term program to re-establish viable populations of Eastern indigos in their native habitat, mainly in longleaf pine forests in central and south Alabama.
"We try to document how long they are living, how far they are moving and how they're doing healthwise," Wood said. "The technicians were out and came across the snake as part of the monitoring effort. It was really no different than the monitoring we do for the released snakes. We're out there assessing and trying to document their survival.
"There's always the hope that we will find documentation of reproduction, and it finally happened."
Wood said the technicians knew immediately what they had discovered when the snake was picked up.
"They knew because it was a hatchling-size snake," she said. "It measured 2 feet in length, which is much smaller than the snakes we release from OCIC (Orianne Center for Indigo Conservation). It had no PIT (passive integrated transponder) tag or any indication we use in monitoring to indicate it was a released snake. Those released snakes are 5 feet in length or longer. They estimated the juvenile indigo at about 7 months old. It probably hatched in July or August."
The Eastern indigo project started in 2006, and the program was able to start releasing captive-raised indigos in 2010 with 17 adult snakes released into the Conecuh National Forest. The goal is to release a total of 300 snakes to improve the chances of establishing a viable population. The project team has released 170 snakes to date. Wood said the decision-making and planning for indigo recovery through reintroductions started with late Auburn University professor Dr. Dan Speake in the 1970s and 1980s.
"It's been a long process with a lot of sweat," Wood said. "We have faced some criticism along the way. Then, when what you have hoped for happens, it's extremely rewarding and overwhelming."
During the early days of the indigo project, the released snakes were propagated from indigos that had been captured in the wild in Georgia. Partners in this project include Auburn Museum of Natural History, Auburn School of Forestry and Wildlife Sciences, U.S. Forest Service, U.S. Fish and Wildlife Service, Zoo Tampa, Zoo Atlanta, the Georgia Department of Natural Resources and the U.S. Army's Fort Stewart, as well as the OCIC at the Central Florida Zoo, where the captive indigo breeding and health care are handled.
"We're kind of at the halfway mark in the reintroduction," Wood said. "It's very exciting to see verification of reproduction at this stage of the project.
"It's a huge testimony to the State Wildlife Grants program and working toward the recovery of a federally listed species. It is considered an experimental population. We were conducting research and making decisions that had never been done before with this species. It was a lot of groundbreaking work. Florida now has a reintroduction program, and a lot of their work is based on what we've done at Conecuh and lessons learned at Conecuh. Besides aquatic species, there isn't another example of species recovery of a federally listed species through reintroductions."
Wood said the lessons included that a learning curve is a given with a project of this magnitude and that 2-year-old snakes have a better chance of survival in the wild because they are less susceptible to predators.
"We also learned the target for the number of individuals to be released," she said. "That is 30 individuals per year. We've learned that we had to establish a monitoring program that didn't exist before. We learned it takes intense monitoring on the ground."
One of the tools the monitoring team borrowed from the hunting community is the game camera. The game cameras have been stationed to monitor activity at gopher tortoise burrows, which are utilized by a number of animals, including indigos.
"We had to learn that a snake is not going to trigger motion sensitivity on the game cameras," Wood said. "We set the cameras to capture a photo at intervals of 30 to 60 seconds to make sure we capture all the activity. That's something we've recently started, and so far it's proven to be very helpful. We've captured pictures of several indigos at burrows.
"The cameras are showing location, where they're hanging out, how they're using burrows and the fact adult snakes are surviving. We estimate that 60 to 80 percent of the snakes that we reintroduce will survive. That's not bad at all after they've been in captivity for two years."
Wood said it is not possible right now to estimate the total number of Eastern indigo snakes that are in the Conecuh habitat.
"These recaptures and verification of reproduction is data that will be useful in the future so that someday we may be able to predict how many individuals may be in the wild," she said.
Wood said Eastern indigos were extirpated from the state and hadn't been seen since the 1950s. Considered an apex predator, the snake plays an important role in the longleaf pine ecosystem. Eastern indigo snakes are the longest snakes native to the U.S. at more than 8 feet long. They prey on a variety of small mammals, amphibians, lizards and numerous species of venomous snakes, including the copperhead. Indigos are known to range far and wide during the warmer months and then seek refuge in the gopher tortoise burrows during the winter.
WFF's State Wildlife Action Plan identifies 366 species that are in the category of greatest conservation need, according to Wood.
"Alabama is one of the most diverse states in the nation in terms of amphibians and reptiles," she said. "Conecuh National Forest is the most biologically rich public land in the country."
Wood is still having a little trouble grasping what happened recently at Conecuh National Forest.
"Physically holding a wild species that hasn't been documented in Alabama in more than 60 years gives us high hopes for what we may see when we reach our goal of 300 snakes released," she said.
Early Bird: America's beloved Purple Martins return to Alabama
In a sure sign that spring is not far behind, the first Purple Martins of the year have been spotted in Alabama.
The birds were seen on January 16 in the southern Alabama city of Enterprise by a Purple Martin enthusiast – one of many people throughout the eastern and central United States who track and report on the birds' annual migration on behalf of the Purple Martin Conservation Association.
"The first Purple Martin arrivals of the season are always an exciting event," said Joe Siegrist, President of the Purple Martin Conservation Association. "Tracking the migration is not only fun, it also provides us with valuable information that helps inform our research and strengthen our efforts to make sure we're doing everything possible to sustain the population of these amazing birds."
North America's largest species of swallow, Purple Martins winter in the rainforests of Brazil before making up to a 7000-mile migration north into the eastern United States and Canada.
The annual migration is a testament to the martins' resilience as well as the unwavering dedication of thousands of 'martin landlords' who maintain multi-compartment nest 'condos' that are essential for the birds' survival. Once widespread in rural America, this species, that eats billions of flying insects annually, has been disappearing at an alarming rate, experiencing a loss of one-third of its population over the last 50 years.
"The decline seems to be the combination of a few factors: nesting habitat loss, competing invasive species, decreasing prey availability, and climate change," said Siegrist. "Over the majority of the Purple Martins' range, they are unable to nest naturally any longer. Human-provided nest boxes are the only thing keeping the species alive east of the Rocky Mountains."
Siegrist says the very survival of the species is due in large part to scores of dedicated conservationists who invest their time, money and hearts into maintaining housing for the martins.
"The landlords provide critical shelter for the martins," Siegrist said. "In return, they are rewarded with a family-like bond with the birds who return to the same colony year after year like clockwork."
To follow along with the Purple Martins' migration and learn more about how you can help conserve this treasured bird, visit www.purplemartin.org. In addition, people interested in learning more about how to attract and care for Purple Martins can receive a free booklet by contacting the Purple Martin Conservation Association by emailing info@purplemartin.org or calling 814-833-7656.
State Public Fishing Lakes Reopen in February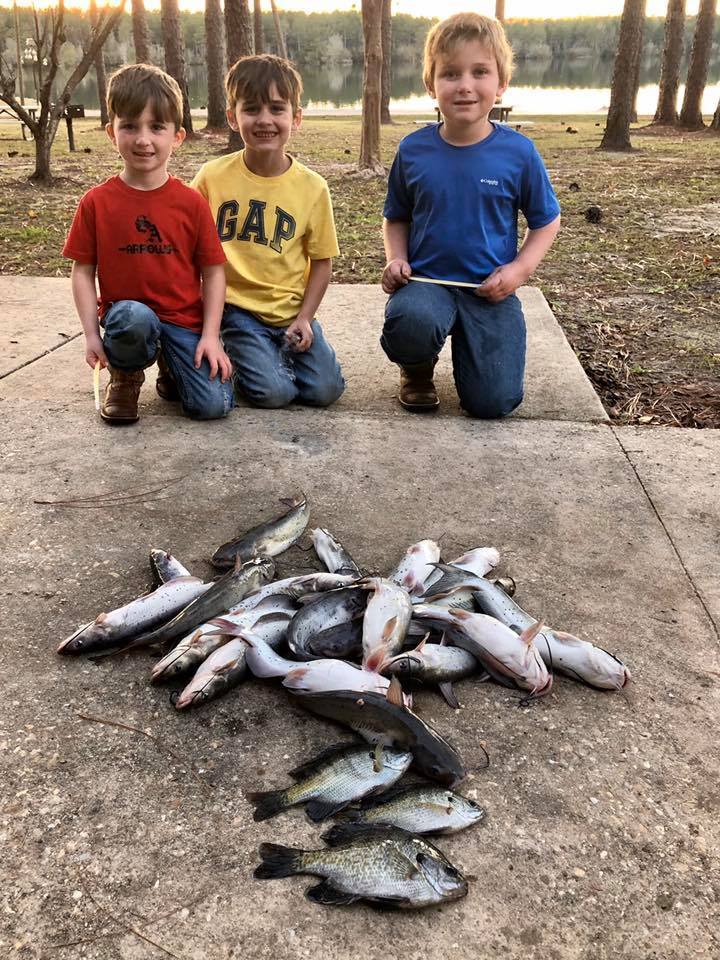 February 1 marks the beginning of fishing season for 22 of Alabama's 23 State-owned Public Fishing Lakes. Located throughout the state, these lakes are noted for their quality fishing for bream, largemouth bass, channel catfish, and crappie (in most lakes). Because these smaller lakes warm more quickly than larger bodies of water, early spring fishing can be excellent.
Washington County Public Fishing Lake remains closed while restocking efforts are underway.
Fishing is an affordable and easily accessible recreational opportunity for all Alabamians. Each State Public Fishing Lake offers boats for rent ($5) and launching of private fishing boats ($3). A daily permit and state fishing license are required to fish in the lakes. Anglers may fish from the pier, bank, rental boat or personal boat.
"Alabama's public fishing lakes are a great family fishing destination," said Jonathan Brown, Public Fishing Lake Biologist for the Alabama Division of Wildlife and Freshwater Fisheries (WFF). "Not only do the lakes offer great fishing, they have concession buildings with snacks, drinks, restrooms, and personnel who can provide fishing advice."
The WFF Fisheries Section carefully stocks and manages the lakes for optimum fishing. The lakes are also fertilized to maximize fish production and fishing piers allow anglers easy access to deeper water.
In addition to traditional freshwater game species such as largemouth bass and crappie, WFF also stocks rainbow trout in both Madison and Walker county lakes during winter.
No General Fund money is used to operate Alabama's State Public Fishing Lakes. Anglers pay for the management of the lakes through license fees, excise taxes on certain outdoors equipment, and daily fishing permits.
Anglers can call their district fisheries office for specific information about the types of fish and average sizes caught at each lake. Contact information: District 1 in Tanner, Ala., 256-353-2634; District 2 in Eastaboga, Ala., 256-831-6860; District 3 in Northport, Ala., 205-339-5716; District 4 in Enterprise, Ala. 334-347-9467; District 5 in Spanish Fort, Ala., 251-626-5153.
Before traveling to a State Public Fishing Lake, anglers should call ahead to determine the operational schedule. A complete list of state lakes and contact information can be found in the fishing section of the Alabama Department of Conservation and Natural Resources website, www.outdooralabama.com.
The Alabama Department of Conservation and Natural Resources (ADCNR) promotes wise stewardship, management and enjoyment of Alabama's natural resources through four divisions: Marine Resources, State Parks, State Lands, and Wildlife and Freshwater Fisheries. To learn more about ADCNR, visit www.outdooralabama.com.
Special Waterfowl Hunting Day on February 8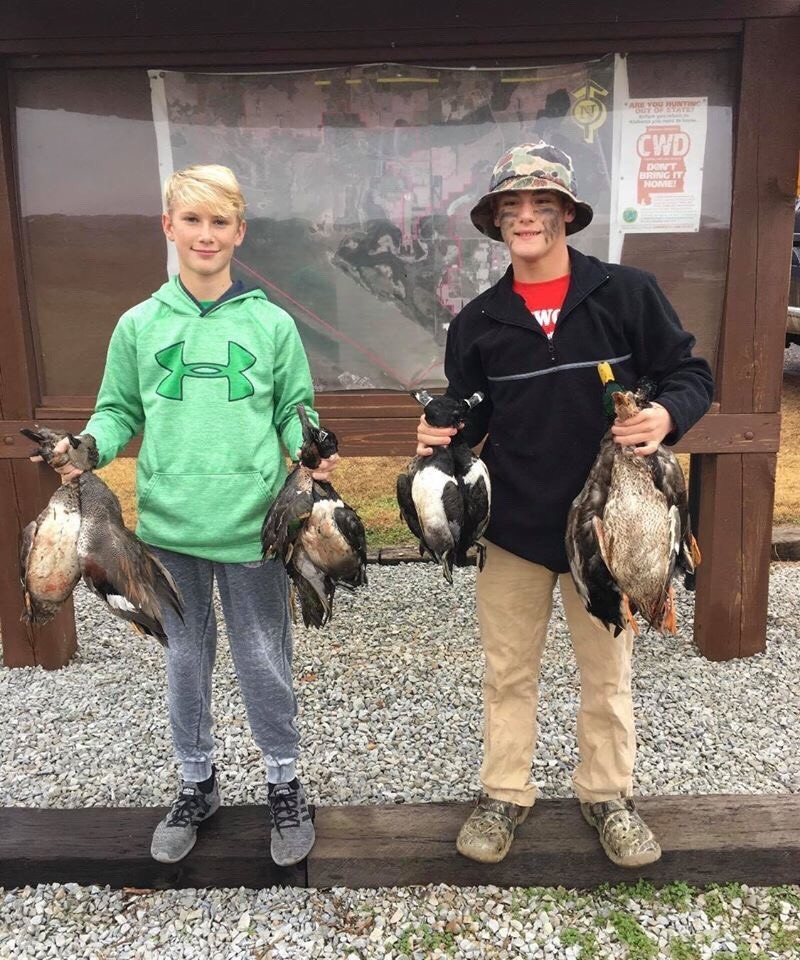 The Alabama Division of Wildlife and Freshwater Fisheries (WFF) has designated Saturday, February 8, 2020, as the second of the 2019-20 hunting season's Special Youth, Veteran and Active Military Personnel Waterfowl Hunting Days. The first of the two special waterfowl hunting days took place November 23, 2019.
On February 8, youth under age 16 who are accompanied by a licensed adult hunter, military personnel on active duty and veterans (as defined in section 101 of U.S. Code: Title 38) may hunt for waterfowl statewide. Regular waterfowl season shooting hours, bag limits, legal arms and ammunitions apply to the special days. Hunting area rules and regulations also apply.
To participate in the hunt, youth must be accompanied by a licensed adult supervisor. Only one firearm will be allowed per youth and only the youth hunters will be permitted to utilize the firearm for hunting unless the adult meets the requirements of a veteran or active duty military personnel. The adult supervisor must remain within arm's length of the youth at all times and may accompany up to two youth participants during the hunt. The adult is also expected to review the rules of firearm safety and hunter ethics with each youth and ensure they are followed.
Youth is defined as an individual age 15 years and younger. Adult is defined as an individual age 21 years and older, or as the parent of the youth. The adult must have a state hunting license, state and federal waterfowl stamp and a free Harvest Information Program registration. Veterans and active duty military personnel must be in possession of a valid proof of service such as a military ID, Veterans Administration ID, veteran ID, veteran validation on their driver's license or a copy of their DD Form 214. Possession of the mandatory hunting licenses and stamps is also required.
For more information about the Special Youth, Veteran and Active Military Personnel Waterfowl Hunting Days, contact WFF Migratory Gamebird Coordinator Seth Maddox at Seth.Maddox@dcnr.alabama.gov or 334-242-3469, or visit www.outdooralabama.com/waterfowl.
The Alabama Department of Conservation and Natural Resources promotes wise stewardship, management and enjoyment of Alabama's natural resources through four divisions: Marine Resources, State Lands, State Parks, and Wildlife and Freshwater Fisheries. To learn more about ADCNR, visit www.outdooralabama.com.
Dwindling Loggerhead Shrike Numbers Concern Researchers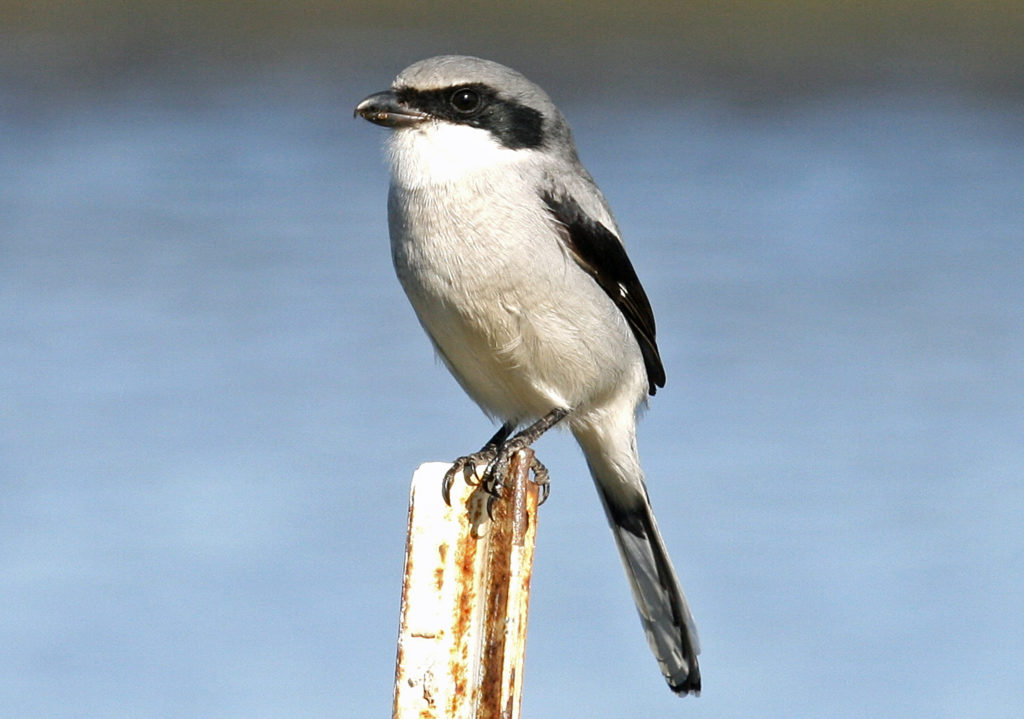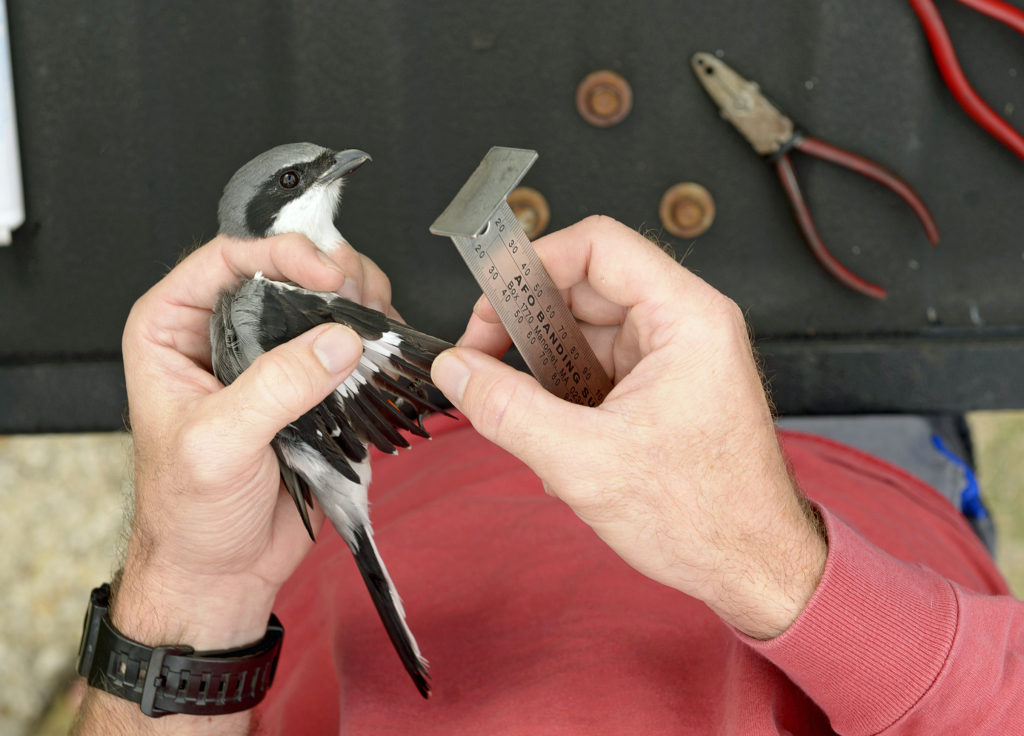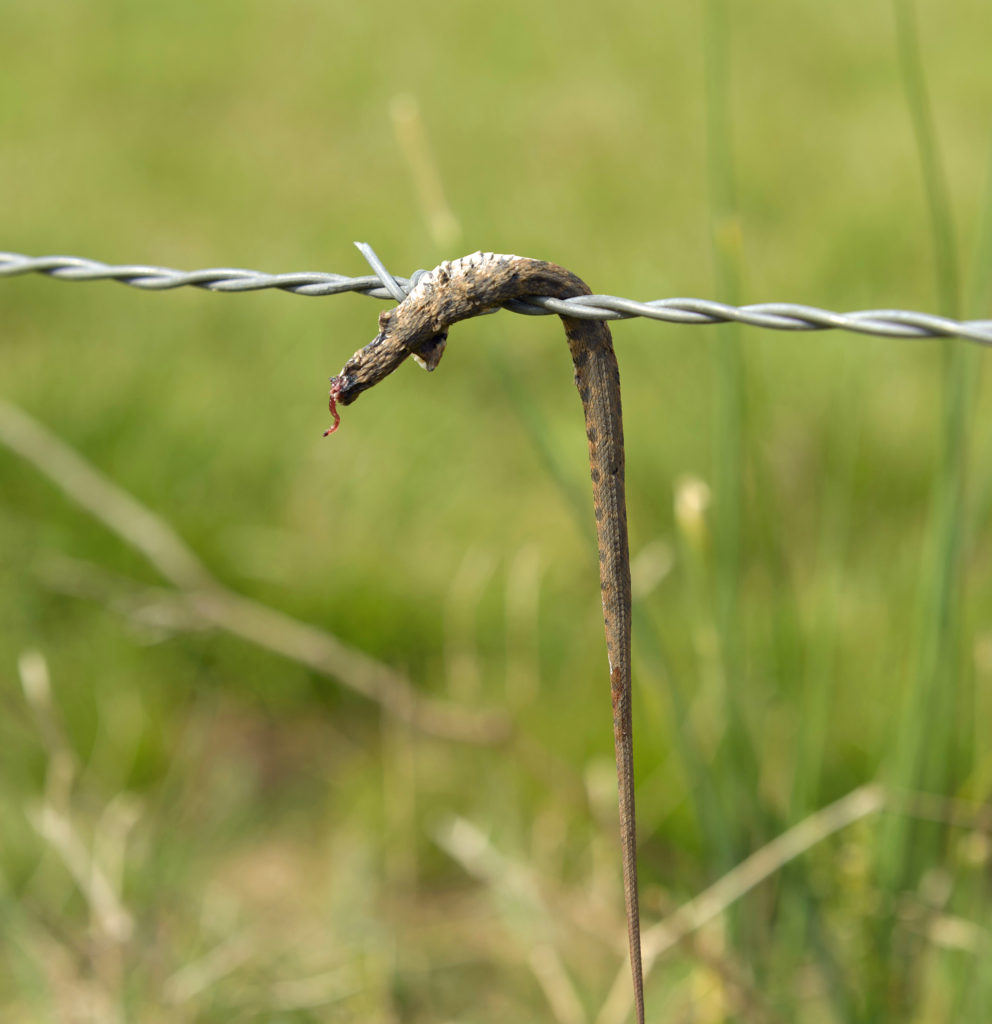 By David Rainer, Alabama Department of Conservation and Natural Resources
Appearing like a miniature version of a mockingbird, the loggerhead shrike looks like any other songbird until you find evidence of the shrike's lethal side.
"Some people call them butcher birds or French mockingbirds," said Eric Soehren, biologist and manager of the Alabama State Lands' Wehle Land Conservation Center in southeast Alabama. "They may look similar to a mockingbird, but they are very different in many ways. The shrike is a predatory songbird. They prey on a variety of small animals and can even kill birds heavier than they are. Many times, you'll see their larders, which is where they have skewered their prey on a thorn or barbed wire. That's where the butcher bird name comes from. It's a songbird, but it's an efficient killing machine."
Although common in the mid-20th century, the loggerhead shrike has become a species of greatest conservation need because of declining numbers throughout its range. Soehren said the bird has a very wide distribution across the continent, but numbers in latitudes north of a Missouri-Kentucky-Virginia line have plummeted. Where it used to be a common species, the birds are now only found in small and isolated populations.
Fortunately in the South, sizable numbers of these birds still remain, despite not being as numerous in places like Alabama and Mississippi.
In response to that decline, the Loggerhead Shrike Working Group (www.loggerheadshrike.org) was formed by researchers in Canada and the United States, made up of specialists who have studied the shrike as well as personnel from the non-game sections of state conservation agencies.
"One of their primary tasks is shrike conservation, monitoring trends, habitat management on conservation lands on a state-by-state basis," Soehren said. "Places like Indiana, West Virginia and Virginia have contributed to this for quite some time. However, states in the Southeast have not been a part of this until more recently."
Soehren said the group's goal is to identify the problems affecting the shrike and why the species is declining. He said it's likely a combination of impacts, like habitat alteration, pesticides and nest predation.
"The group is trying to use modern science on a comprehensive scale to identify these needs," he said. "One of the biologists in Virginia reached out to us in Alabama and asked if we would participate in the group, first because we have a lot of shrikes, relatively speaking, and because they didn't have a lot of representation in the Southeast."
To further involve Alabama, the technical working group asked that the annual meeting be held in the state. That meeting was held last spring at the Birmingham Zoo. The Alabama Department of Conservation and Natural Resources was represented by Soehren, along with Carrie Threadgill and Mercedes Bartkovich from Alabama Wildlife and Freshwater Fisheries' Non-Game Wildlife Section.
"One of the fundamental things of monitoring wildlife is to mark individuals, whether by banding, ear-tagging or radio collars in animals like deer," Soehren said. "The idea is to see what happens to that individual animal during a course of time – their movements, their habitat use, longevity and survivorship. This has been going on all over the state.
"One of the things we're looking at is the movements of the species. They are short-distance migrants. Birds that breed in the northern limits of their distribution range migrate south in the winter. A lot of the birds that come into north Alabama in the fall and winter are northern birds."
Soehren said several state agencies have made a significant effort to band as many shrikes as possible. While the members of the working group are actively monitoring, the group also depends on the public to help with the effort.
"The idea is if you see a banded bird, report it," he said.
A banding scheme with different color combinations was devised to provide re-sighting opportunities for researchers and casual observers. Birds banded in each state are assigned unique colored bands, making it easy to determine where the bird originated. A master list of color combinations for bands is compiled and managed by the group for identification.
"If a bird is sighted with color bands, there is a master list that can be used to say, 'Oh, this bird was spotted in Alabama but banded in Virginia," said Soehren, who said the master list is reserved for the researchers.
Another aspect of the banding is being able to identify individual birds during the breeding cycle, like a paired male and female.
"A lot of the loss is likely happening at the nest," Soehren said. "Pairs are nesting, raising young, but one of the critical aspects is that recruitment is falling below critical mass. It looks like a lot of the birds are not surviving through the first year. They may fledge, but they're just not surviving.
"To better understand what's going on, the birds are banded and monitored through the entire nesting process. It's kind of a laborious effort, but if you have a good eye for finding nests, it will help us monitor these nests through the duration from nest building to fledging, and watching what the fledglings do afterwards."
The working group is also collecting feathers and blood samples for genetics work to study the complexity of shrike populations across the continent.
"Understanding what population is where and how populations are mixing has conservation merit and bearing," Soehren said. "If a population is found to be genetically unique, it deserves more immediate protection efforts than the populations that are more widespread and common."
The working group is also developing models for locality and habitat use that will provide information on the areas more likely to harbor shrikes so state agencies can prioritize conservation efforts.
"We're at the beginning stages of better understanding shrikes in Alabama," Soehren said. "We're kind of limited by the number of people who can work with this species. The public can go out and identify these birds. What's really been nice is eBird (ebird.org), which has been a wonderful tool. People provide sightings at specific locations. That provides a snapshot of distribution, not only in Alabama, but around the continent."
Soehren already knows that shrike populations have significantly declined in north Alabama, compared to the numbers seen in the 1960s and 1970s.
"Something is going on in the Tennessee Valley region compared to the rest of the state," Soehren said. "Places like the Black Belt region and along the Gulf Coast still have sizeable numbers of shrikes."
Despite limited resources, members of Alabama's shrike group go out and opportunistically capture shrikes under agency permits.
"We've taken the approach that we're going to band birds where there are a lot of birds present," Soehren said. "We're going to band in areas where people can re-sight these birds and report them. We've talked to birders about adopting areas to monitor banded shrikes. A lot of times, they already know where paired birds nest. If the birds are banded, these birders can be our eyes and share that information with us because we do not have the staffing resources to monitor consistently. We have to rely on others to help us with that information."
One of the hotspots for shrike activity is Dauphin Island, the barrier island south of Mobile. Dauphin Island has a dedicated birding community, and the island has numerous bird sanctuaries. Lakepoint State Park near Eufaula is also another location with a significant shrike population.
"Birds banded at Dauphin Island are a good example of the public helping with the monitoring," Soehren said. "There are about four or five nesting pairs on the island, so there are quite a few shrikes down there."
Soehren was on the island for an Alabama Ornithological Society meeting and took the opportunity to bring his trapping gear.
"I was able to capture and band two birds really quickly," he said. "We banded them in October. Since that time, we've had two separate birders report them to the Bird-Banding Lab (www.reportband.gov), which is what you're supposed to do when you see a banded bird."
Although Audubon's Christmas Bird Count has recently been completed, Soehren said anyone can help give the agencies a picture of the local bird populations during the winter.
"The Christmas Bird Count provides overall population information and reveals changes in distribution and abundance over time," Soehren said. "Many species have declined significantly, some meriting listing on the Alabama State Wildlife Action Plan (SWAP). But there are also examples of increases. The North American waterfowl populations have increased over 50% since 1970 due to a lot of the management efforts throughout their range. Revenues derived from the sale of duck stamps and hunting licenses have been reinvested in land conservation. We have bigger bag limits and longer seasons as a result.
"What's great about the Christmas Bird Count is it's open to anybody and everybody interested in birds. It's not just for experienced birders. Everybody can get involved. If you're a retiree just watching feeders, it all goes into the big pot of information. It helps us at the Alabama Department of Conservation and Natural Resource s in our effort with non-game species."
Visit www.audubon.org/conservation/science/christmas-bird-count for information on how you can participate next winter.
Stop Committing Crape Murder
AUBURN UNIVERSITY, Ala. – This time of year, too many crape myrtles are slaughtered. Homeowners go wild pruning these trees, possibly damaging and stunting their growth and beauty.
Crape myrtles are a popular choice because of the bright bloom colors of red, white, pink or purple. Pruning crape myrtles correctly is essential for these qualities to flourish in the tree.
Sadly, the wrong pruning techniques happen most often with crape myrtle trees. That is why many have called this practice crape murder. Gardeners often do not know how to properly prune their crape myrtles and end up doing what everyone else in the neighborhood does.
Crape myrtles come in all different sizes ranging from four to 40 feet. Dani Carroll, an Alabama Extension home grounds regional agent, said a common mistake gardeners make is planting large crape myrtles in flower beds.
"People don't realize that crape myrtles are trees, not shrubs," Carroll said, "They must be planted and pruned according to their size."
Knowing and executing the correct pruning technique helps make trees and shrubs healthier and more productive.
"Always prune with a purpose," Carroll said. "Never prune just because it is the right time of year."
Pruning should only be done if the tree is in need of reshaping, if branches are rubbing against each other, creating wounds or if parts of the tree are dead or diseased. The right time of year to prune crap myrtles is in late winter. However, if the tree has dead or diseased wood, the limbs can be pruned at any time of year.
Carroll offers the following tips for pruning this winter.
• Use hand pruners for pruning limbs less than 1 inch in diameter
• Use lopping pruners for pruning limbs up to 2 inches in diameter
• A pruning saw is the best tool for pruning any branches more than 2 inches in diameter.
There is still hope for stopping crape murder. Now is the time to correct past hurts on crape myrtle trees and prune them to enhance what they have to offer.
Have a gardening question? Call the Master Gardener helpline. To reach the help line, dial 1-877-252-GROW (4769). For more information, visit www.aces.edu or contact your county Extension home grounds agent.
By Ann Chambliss
WFF's Rut Map Gives Hunters Useful Planning Tool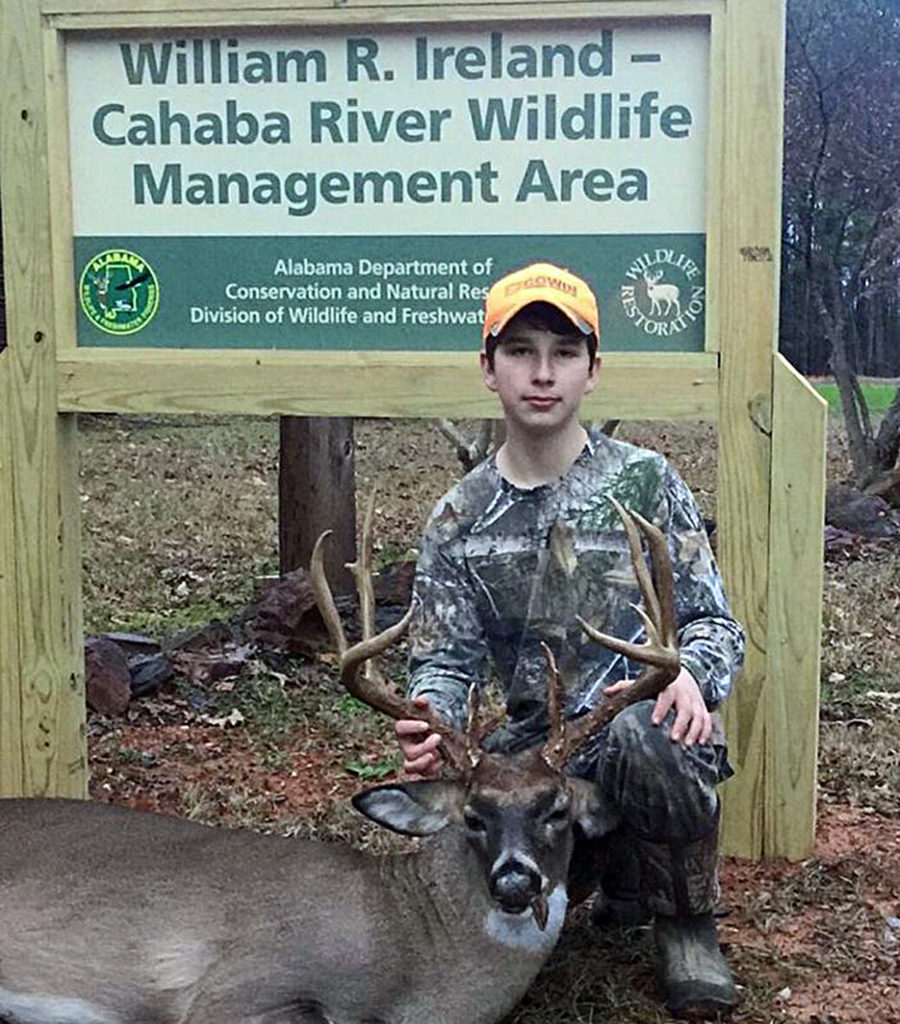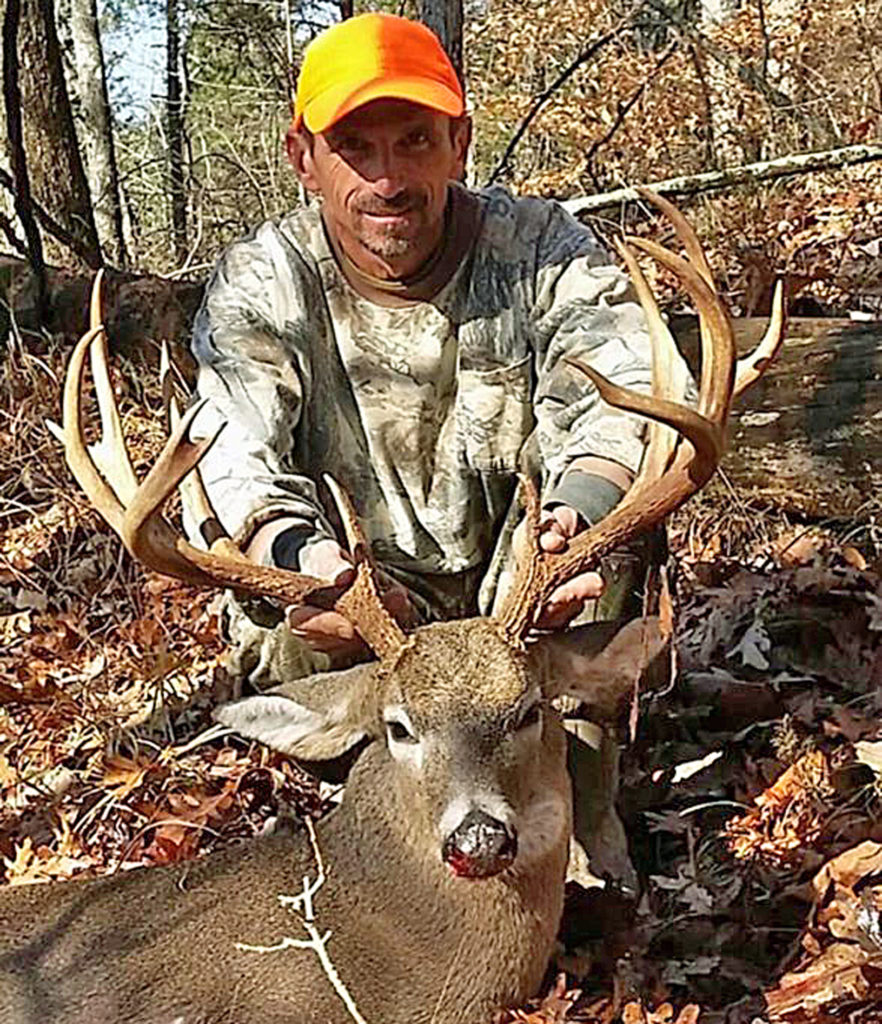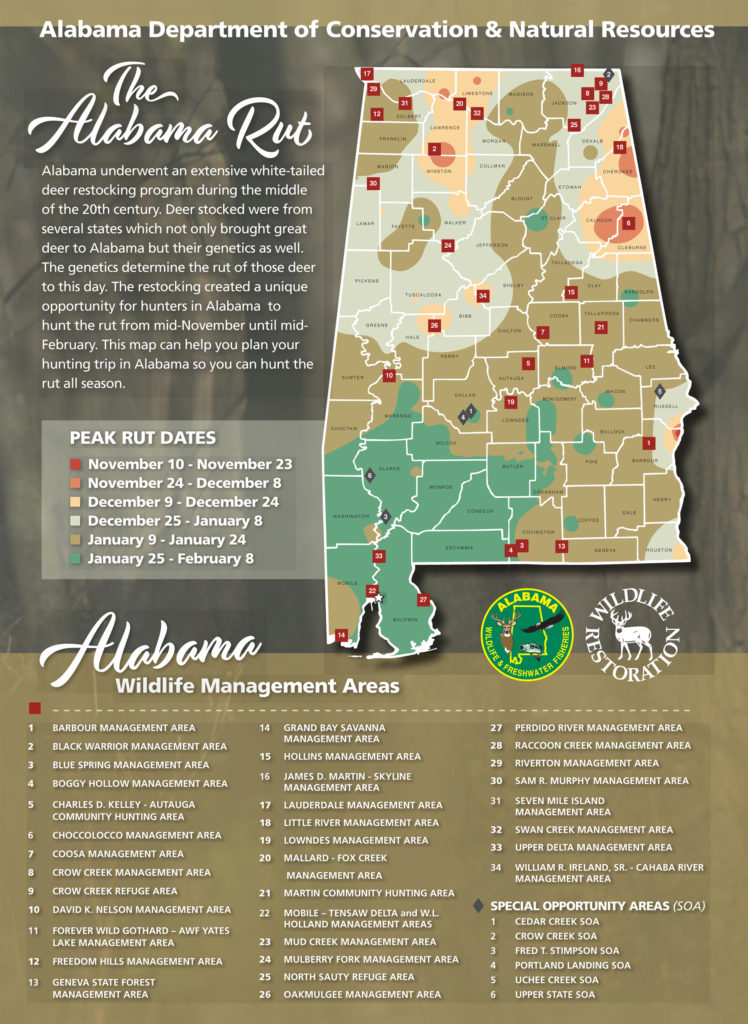 By David Rainer, Alabama Department of Conservation and Natural Resources
Depending on where they pursue white-tailed deer, hunters in Alabama may be experiencing a wide range of deer breeding activity from pre-rut, and peak rut to post-rut.
Studies by wildlife professionals indicate that rutting activity is most closely associated with the heritage of the deer in a particular area. The diversity of breeding activity, known as the rut, is a result of stocking efforts early in the 20th century, when deer populations in Alabama were in dire straits. Overharvest and a lack of game management had isolated deer to pockets around the state, mainly in southwest Alabama.
Restocking efforts included trapping and relocating deer from southwest Alabama, mainly from the Clarke County area, as well as bringing in deer from other parts of the United States. Deer were transported from Arkansas, Georgia, Michigan, North Carolina, Ohio, Texas and Wisconsin.
For the most part, the transplanted deer maintained their native rutting activity, which means Alabama hunters can hunt the rut in one part of the state or another for most of deer season.
The Alabama Wildlife and Freshwater Fisheries (WFF) Division has developed a resource that provides a quick guide for expected rutting activity in your particular area. The Alabama Deer Rut Map, available at www.outdooralabama.com/sites/default/files/Hunting/Deer%20Hunting/2019%20Alabama%20WFF%20Deer%20Rut%20Map.pdf provides a user-friendly way to find the timetable for rutting activity around the state.
WFF Director Chuck Sykes said the rut map was produced by WFF staff under the direction of Deer Program Coordinator Chris Cook and Assistant Wildlife Chief Amy Silvano.
"The map is based on historic stocking information, the herd health assessment we do in the spring and our fetal collections," Sykes said. "Basically, you can look at that map, and, unlike most other states, we have multiple ruts based on our historic stocking.
"If you go hunt in Illinois, every deer in the state will be rutting the first 10 days to two weeks of November, depending on where you are in the state and the gene source of that herd. In Alabama, you can hunt the rut in November, December, January and February."
Sykes said that provides Alabama hunters a unique opportunity to hunt the rut for most of deer season if they follow the map and are willing to travel to different parts of the state. Although hunters may have their own definition of the rut, whether it's building scrapes or bucks chasing does, Sykes said the map is based on fetal studies that pinpoint when the does were actually bred.
"That map corresponds with a ton of public hunting land," he said. "Some of the WMAs (wildlife management areas) have bonus bucks where it doesn't count against your state three-buck limit. Some of the WMAs that have that early rut will actually have a couple of days of gun season before regular gun season comes in. There's a lot of opportunity for someone.
"Honestly, you can use that map to plot your hunting for next year. You can look at the map and see when the rut is expected at the Oakmulgee and Choccolocco WMAs or Bankhead National Forest, and you can plan you some time off to hunt those WMAs during that time period. You don't have to all your time off during January. You can take some in November, some in December and a little more in January, and you can hunt three different peak ruts."
I received an email recently from a hunter who, after looking the rut map, wondered if he could have deer on his hunting property with different genetic backgrounds. The answer is yes.
Sykes has a perfect example of one location where deer rutted at different times on the same piece of property. Before he became WFF Director, Sykes managed a hunting plantation in Lee County on the Georgia border.
"On one piece of the property, the deer had come over from Georgia and rutted the first week of December," he said. "Across the road on the other side of the property, it was the traditional, late-rut Alabama deer. So you could hunt the peak rut on that one 5,000-acre piece of property multiple times. You had the rut the first week of December. Then the does that didn't get bred during that first cycle came back in during the first 10 days of January. Then the Alabama deer kicked in about the 15th to 20th of January. Even before the February extension, we could actually hunt three different phases of the rut on that one piece of property."
Social media has once again this season been filled with photos of huge bucks that have been taken across the state, several from some of the more popular WMAs.
Sykes said most likely those big deer were taken in areas other than food plots.
"From my personal experience, we had a bumper acorn crop," Sykes said of his hunting land in west central Alabama. "Until last week when the (Tombigbee) river came up, the deer weren't using the food plots much. They were staying in the woods because they had plenty to eat. From what I understand, it was hit or miss throughout the state. In the areas with really good acorn crops, the people who went in the woods to hunt killed some really good deer."
Sykes said he wouldn't be surprised if the deer activity shifted toward the wildlife openings in the next few weeks.
"We've had so much water lately, and the acorns are being thinned out, so I think the activity around the food plots will kick in a little stronger," he said. "But I'm excited about that tremendous acorn crop. The turkeys ought to be fat as pigs come springtime because they had plenty of acorns to fatten up on. And the wood ducks too. In fact, I took Syd (his dog) and killed a limit of wood ducks on a water oak flat that was under water. It was full of acorns and full of ducks."
Thankfully, very little news has developed on chronic wasting disease (CWD) in deer so far this season. CWD-positive deer have been confirmed in Mississippi and Tennessee, but Alabama is making every effort to keep the disease out of the state through strict enforcement of the ban on the importation of deer carcasses.
Alabama hunters still have the opportunity to have their harvested deer sampled at locations around the state. WFF has set up freezers in strategic locations to accept the samples. Visit https://www.outdooralabama.com/cwd-sampling for a list of freezer locations.
The instructions to have the animal tested are:
To prepare the sample for drop off at one of the self-service locations, hunters must first remove the deer's head leaving 4-6 inches of neck attached.
Once the head is removed, place it in the provided plastic bag and tie it closed. For bucks, antlers can be removed at the base of each antler or by removing the skull plate before bagging the head.
Complete all sections of the Biological Sample Tag and attach it to the bag with a zip tie.
Remove and retain the bottom receipt portion of the Biological Sample Tag before placing the bagged head in the freezer.
Hunters will receive the results of the samples within three to four weeks.
25th Annual Beekeeping Symposium Set for Feb. 1
A lot of people are buzzing about the 25th Annual Beekeeping Symposium. At this year's symposium, beekeepers with all levels of expertise have the chance to expand their knowledge. The symposium is Saturday, Feb. 1 from 8 a.m. until 4:30 p.m. at the Clanton Conference and Performing Arts Center in Clanton, Alabama. There is a fee to attend the workshop until Jan. 18. After this, registration will be at the door only and will increase. To complete early registration, visit the Alabama Extension Store online or print and complete the mail in registration form. The printed form should be mailed to: Lindsey Tramel, ACES, 107 Comer Hall, Auburn University, Alabama 36849-5635.
The symposium will feature many speakers, including two keynote speakers, Meghan Milbrath and Jennifer Tsuruda. Milbrath is a Michigan State Extension academic specialist and will discuss anatomical adaptions of honeybees. She will also provide up-to-date information on swarm biology and management. Tsuruda is a University of Tennessee Extension apiculturist and will speak on using photography to improve inspection, the basics of honey bee nutrition and responsible beekeeping. Throughout the day other Extension specialists, graduate students, assistant professors, beekeepers and more will present a variety of information on producing, running and managing a bee operation. For more information on the 25thAnnual Beekeeping Symposium, contact Lindsey Tramel at lat0025@auburn.edu, visit the Alabama Beekeepers Association website.The symposium also includes a program for beginning beekeepers to learn how to successfully start a bee operation. Members of the Alabama Beekeepers Association and master beekeepers will present information to help beginning beekeepers best develop their skills and their operations: What Should I Expect During My First Year?– Scott Lucas; What Tools Do I Need?– Allyson Andrews; What Equipment Do I Need?– Damon Wallace; How Long Do Bees Live?– Troy Latham; What Is Making My Bees Sick?– Keith Fletcher; What Mistakes Will I Make?– Kate Pugh.
Game warden offers one time immunity deal Protected bald eagle feathers taken; if caught, pay $100,000 fine, go to jail
By Tommy McGraw
Publisher
A person or persons who took parts from a dead bald eagle in Livingston could face jail time and a $100,000 fine.
Game Warden Jeff Shaw reported that a foot and several tail feathers were taken from a carcass of an American bald eagle sometime after the bird was killed in the city limits of Livingston Thursday, Dec. 12.
The bird was accidentally struck by a vehicle on Alabama Highway 28, east of Livingston, near the Bluffport Road exit. Another driver reported the dead bird lying beside the highway to the Livingston Police Department. Livingston PD called Shaw, and Shaw said before he arrived to take possession of the federally protected bird carcass someone had taken a foot and several feathers from the bird.
The white-headed mature bald eagle is a federally protected bird, and those removing parts or killing a bird can face up to a $250,000 fine. Shaw said each part removed can fetch as low as $5,000 per offense. Shaw said the person who has the parts can pay up to $5,000 per feather and be jailed for a first-time offense.
Shaw estimated that the person or persons who removed the foot and eight or nine feathers face a "ticking time bomb."
"There are only three feathers left, and a mature bald eagle can grow up to twelve long tail feathers. He may have lost some, but not eight or nine feathers. The foot was cut off with a sharp object, and he [eagle] did not lose it in the accident," Shaw said.
Shaw said the bird was at least five years old because the eagle species "does not grow their white head feathers until they are that old."
Shaw said the eagle was huge and had a wingspan that covered the back of his state-issued Alabama Conservation truck bed.
"This is a ticking time bomb waiting to go off," Shaw said of the impending possibility that the person who has the parts in his possession will be turned in or that they may be stopped for some other offense and will be arrested for having the eagle body parts.
"I want to offer a one time deal so the person(s), if they are not aware of the severity of having the eagle foot and feathers in their possession, to turn them in anonymously and not be arrested."
Conservation Officer Shaw said the Alabama Department of Conservation works with the U.S. Fish and Wildlife Service who in turn operates the National Eagle Repository as a clearinghouse for eagles and eagle parts to provide Native Americans with eagle feathers for religious use.
"If someone knows who has the feathers and foot, I urge you to call the Livingston Police at 205-652-9525 or Alabama Game Watch's phone number at 1-800-272-4263. I also urge the person or persons who took the parts to turn them into the Record-Journal newspaper anonymously or the Livingston Police Department.
"The alternative is, if the person is caught, they will be arrested, and it will be very expensive to pay for all the fines."
Shaw said the bird had no broken wings, leg, or any other indication it was even struck by a vehicle, "unless it was hit in the head," Shaw added.
Shaw said the eagle was apparently feeding on a deer carcass on the side of the roadway and it is believed a driver accidentally struck and killed the eagle and left the scene not knowing what type of bird they struck. Whoever took the eagle parts came along after the initial accident and removed the foot and feathers, Shaw surmised.
Livingston Police Chief Roger Tolliver confirmed Shaw's assesment of the events.
Tolliver said he was working in the area when the initial call came in. "The person who reported it to me met me at the scene, and we looked at the bird but didn't move it. I only saw the one leg and thought the second one was under the bird and just not visible. The foot and feathers must have been taken sometime before the person reported the dead bird to LPD.
"The man said he saw the bird feeding on the deer on Tuesday and saw it almost get hit then by a pickup traveling in front of him. The man told me, 'I said to myself, 'somebody is going to hit that eagle sooner or later.' And, sure enough they did," said Chief Tolliver.
Bald eagles are no longer considered endangered, but they are protected under the Bald Eagle and Golden Eagle Protection Act.
"When I was growing up there were no bald eagles in Alabama," said Shaw. "Today, however, they are seen almost in every county. I am hoping the person or persons who cut the leg off the bird and took the feathers are just not aware of the major consequences they could face. That is why I am offering them this one time deal."
The bald eagle, the United States national bird, is the most recognizable raptor in the United States. Decades ago, the bald eagle was endangered due to DDT, a dangerous pesticide that contaminated fish, the bird's main food source. The Endangered Species Act and the banning of DDT are the two main reasons this species has made a remarkable recovery and can now be spotted frequently in Alabama skies.
Fines and the law
Anyone who possesses an eagle feather or another part, and doesn't meet the requirements, could face fines up to $100,000 and a year in prison. A second offense is upgraded from a misdemeanor to a felony and carries a maximum penalty of two years in prison and a $250,000 fine.
Possession of Eagle
Feathers and Parts by
Native Americans
According to the U.S Fish and Wildlife Service, eagles are directly protected under two federal laws, the Bald and Golden Eagle Protection Act and the Migratory Bird Treaty Act. These laws generally prohibit the possession, use, and sale of eagle feathers and parts as well as a number of other activities.
Such restrictions help ensure the future viability of eagles in the wild. The U.S. Fish and Wildlife Service, however, has long recognized the religious and cultural significance of eagles to Native Americans and works to accommodate these special needs. The Service operates the National Eagle Repository as a clearinghouse for eagles and eagle parts to provide Native Americans with eagle feathers for religious use. The Repository collects dead eagles salvaged by Federal and State agencies, zoos, and other organizations. Enrolled members of federally recognized tribes (as established under the Federally Recognized Tribal List Act of 1994, 25 U.S.C. Section 479a, 108 Stat. 4791) may obtain a permit from the Service authorizing them to receive and possess eagle feathers and parts from the Repository.
Permit applications must include certification of tribal enrollment from the Bureau of Indian Affairs. Because demand is high, waiting periods exist. Native Americans may also legally possess eagle feathers and parts acquired through certain other means. Such items include any owned before eagles were first protected by Federal law (1940 for bald eagles, and 1962 for golden eagles) and feathers and parts passed down within a family or received as gifts from other Native Americans. Native Americans may wear feathers legally in their possession or make them into religious or cultural items for their own or tribal use.
They may transfer feathers to tribal craftsmen to be fashioned into such objects; no money may be received for the feathers, but craftsmen may be compensated for their work. Native Americans may give feathers or other eagle items as gifts to other Native Americans and may hand them down within their families. They may not, however, give them to non-Native Americans. No person — including Native Americans — may kill or capture eagles without a permit from the Service. Nor may anyone buy, sell, barter, trade, import, or export eagle feathers or items made from them. These prohibitions cover all feathers and parts, including those that "pre-date" Federal protections and others that are legally possessed. (Native Americans, however, can obtain permits to travel overseas with eagle items for religious use.) Service law enforcement efforts focus on the illegal take and commercial exploitation of eagles by anyone attempting to profit at the expense of these birds. Service officers who encounter individuals with noncommercial quantities of eagle feathers that are being used as personal or religious items will generally take no action if the individuals possess a valid Service permit or reasonably demonstrate that they are enrolled members of a federally recognized tribe. The production of a certificate of enrollment card would be one way for individuals to easily document their tribal affiliation, but this is not a legal requirement. An individual's possession of such a card would, of course, tend to facilitate the resolution of any questions about the legality of his or her ownership and personal use of eagle feathers.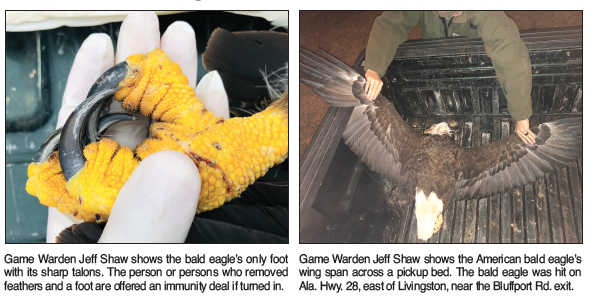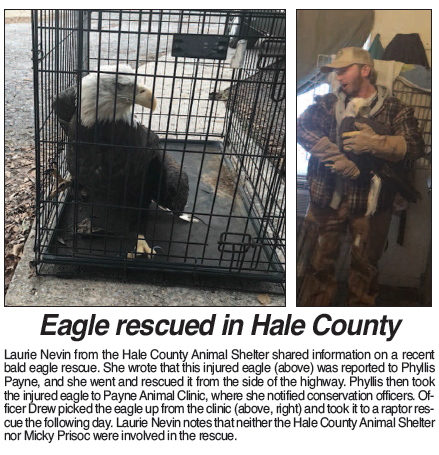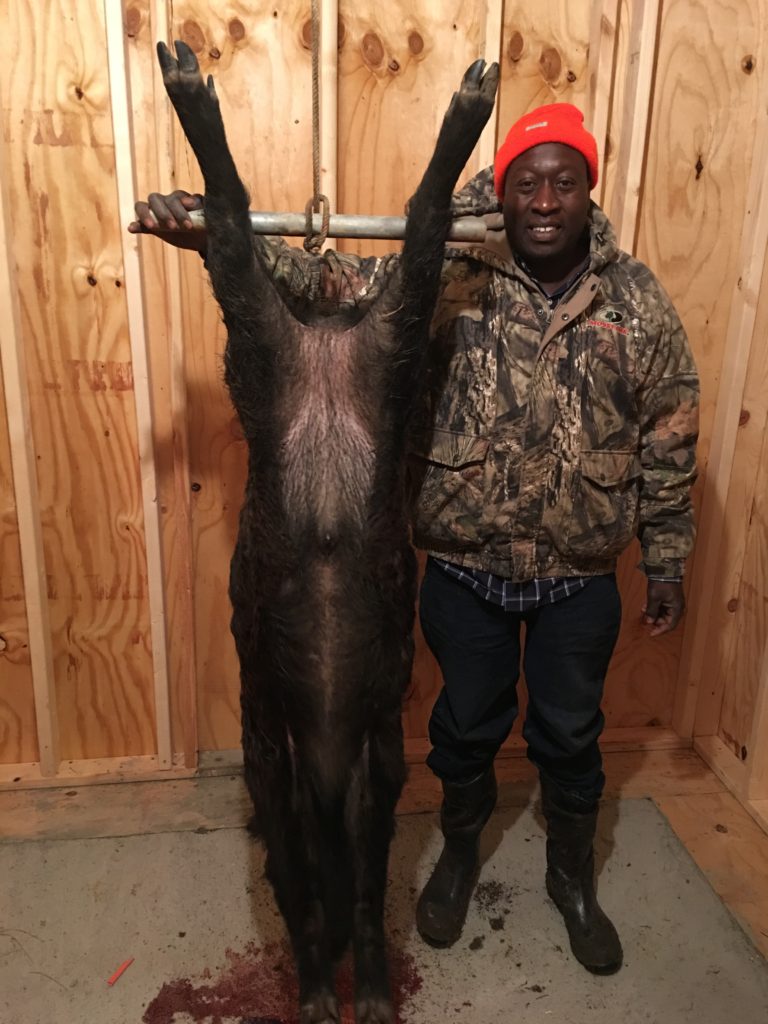 75 million-year-old sea turtle fossil discovery is a new genus and species that sheds light on the evolution of its modern relatives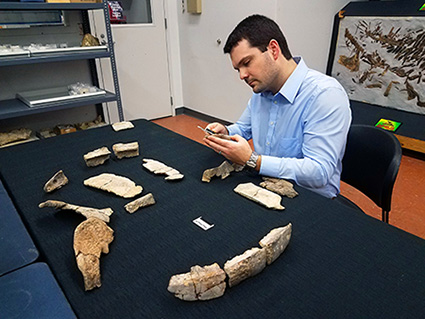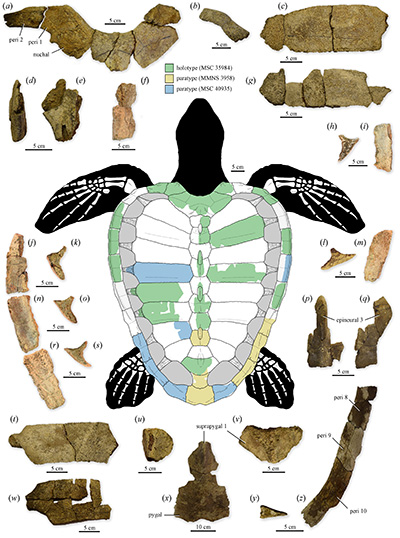 Paleontologists in Alabama have announced the discovery of a new genus and species of fossil sea turtle that may fill an important gap in the evolution of sea turtles.
Scientists named the animal Asmodochelys parhami for Asmodeus, a deity that, according to Islamic lore, was entombed in stone at the bottom of the sea, and 'parhami' in honor of James F. Parham, former curator of Paleontology at the Alabama Museum of Natural History, for his many contributions to Alabama paleontology.
According to the study, Asmodochelys parhami swam the oceans approximately 75 million years ago and may have been one of the most recent common ancestors of modern sea turtles.
"The origin story of sea turtles is one of the great unsolved mysteries in evolutionary biology," said Drew Gentry, a College of Arts and Sciences Ph.D. candidate at the University of Alabama at Birmingham and lead author of the study. "There is a great deal of evidence indicating that turtles may have evolved to live in the ocean several times over the past 150 million years. The trick is determining which of those species are actually the direct ancestors of the species we see today."
MORE: Grad student uncovers Alabama fossils likely from oldest ancestor of modern sea turtles
To determine how A. parhami is related to present-day sea turtles, scientists performed a phylogenetic analysis. It is a method that compares the features of many different species of turtle to figure out how closely or distantly related those species may be. The analysis results in a phylogenetic tree, or genealogy, of sea turtles.
According to the results of the study, A. parhami is one of the youngest species to fall just outside of the group containing every species of modern sea turtle. This makes A. parhami of particular interest in the study of the sea turtle origins.
"Although it's tempting to say 'problem solved' when we recover such a well resolved tree, this is only one hypothesis in a long line of suggested sea turtle genealogies," Gentry said. "Right now, there are several distinct trees proposed by different groups of scientists that are the front-runners in the race to solve sea turtle evolution, each with its own unique arrangement of fossil and modern species. Determining which tree most accurately represents the evolutionary history of these animals can be challenging, to say the least."
In an effort to test the accuracy of each tree, Gentry and his colleagues examined which of the currently proposed sea turtle genealogies most accurately fits the fossil record. That is to say, if the genealogy indicates that a certain species evolved first, does that species actually show up first in the fossil record?
MORE: New species of ancient sea turtle unearthed in Alabama
Drew Gentry's scholarly pursuit, which led to the discovery of a new genus and species of fossil sea turtle, is an example of the growth and diversity of UAB's research efforts through scholarship, a key component of Forging the Future."
Surprisingly, Gentry discovered that, although his proposed genealogy matched up relatively well with the fossil record, it was not the best fit. "Actually, a phylogeny proposed more than a decade ago matched nearly perfectly with the fossil record," Gentry said. "The problem with that analysis was that it didn't include nearly as many species as subsequent analyses, which may have influenced the results."
Despite scientists around the world working on the problem of sea turtle evolution for more than a century, Gentry thinks there is still much to be learned.
"New methods for testing how fossil species are related to modern species are constantly being developed. Also, discoveries of new fossils have the potential to radically change our understanding of how certain features and species evolved in the history of life on our planet," Gentry said. "Our study is just another piece of evidence in an ongoing mystery that shows no sign of being solved any time soon."
The study, titled "Asmodochelys parhami, a new fossil sea turtle from the Campanian Demopolis Chalk and the stratigraphic congruence of competing marine turtle phylogenies," was published in the open access journal Royal Society Open Science.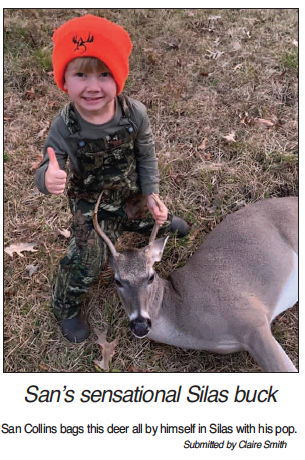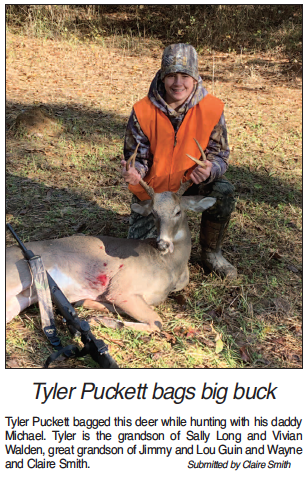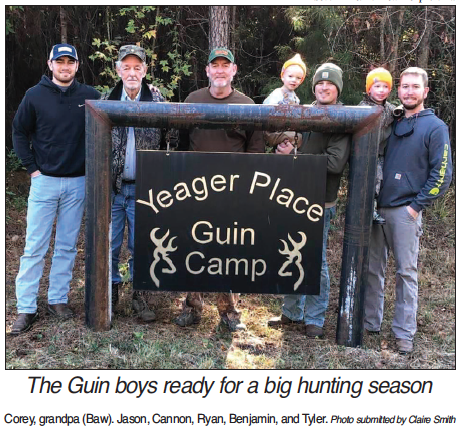 ADCNR Named Agency of Year at Sportsmen's Caucus Summit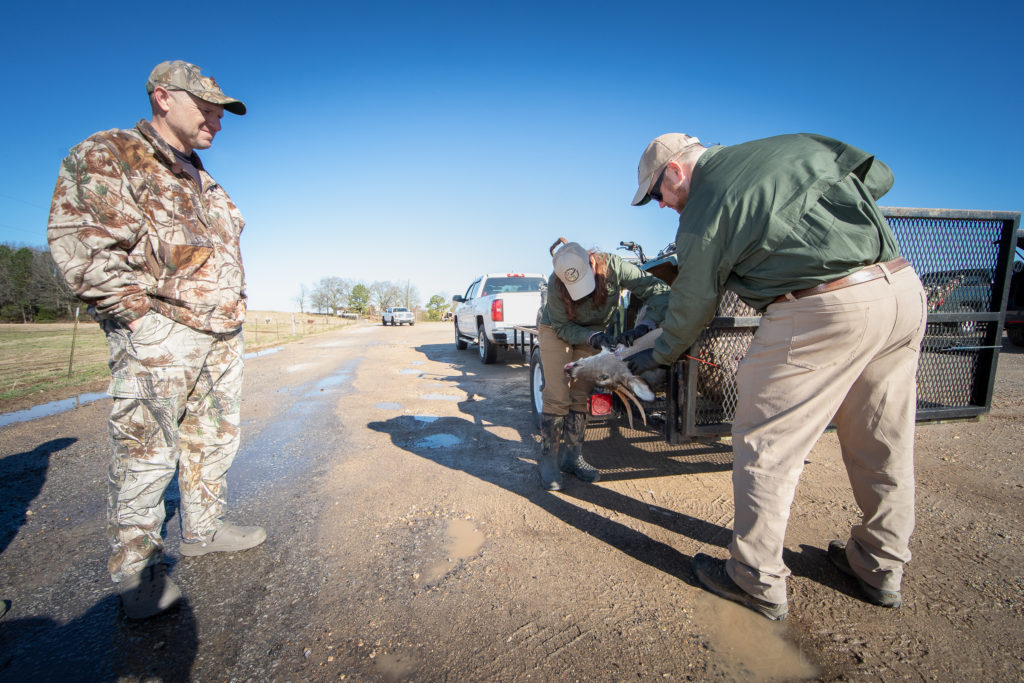 By David Rainer, Alabama Department of Conservation and Natural Resources
The Alabama Department of Conservation and Natural Resources recently received special recognition by the Congressional Sportsmen's Foundation with the presentation of the State Agency of the Year Award at the 16th Annual National Assembly of Sportsmen's Caucuses (NASC) Sportsman-Legislator Summit in Greensboro, Georgia.
"The Congressional Sportsmen's Foundation (CSF) is honored to recognize the Alabama Department of Conservation and Natural Resources (DCNR) as the State Agency of the Year," said Jeff Crane, CSF President. "The DCNR has been a consistent supporter of CSF, NASC, and the Alabama Legislative Sportsmen's Caucus and, through this support, the Caucus in Alabama has grown tremendously to become a strong and effective voice for sportsmen and women.
"CSF thanks Commissioner Chris Blankenship, Deputy Commissioner Ed Poolos, and Wildlife and Freshwater Fisheries Director Chuck Sykes for their continued support and steadfast dedication to Alabama's vast natural resources."
Hosted by the CSF, this year's Summit brought together 50 legislators and leaders from state fish and wildlife agencies to discuss the theme "Partners Advancing America's Conservation Movement: NASC, Fish & Wildlife Agencies, Industry and NGOs." Topics discussed included promoting hunting and fishing, boating access, chronic wasting disease (CWD), the spread of invasive Asian carp and a variety of other issues affecting sportsmen and women.
"This is the largest gathering of pro-sportsmen legislators who come together to discuss issues that are of great importance to our hunting and angling traditions," Crane said. "The 16th Annual NASC Summit was successful in that it brought together our bipartisan caucus leaders and members, fish and wildlife agency leaders, NGO (non-governmental organizations) representatives, and leading industry partners to focus on how to advance opportunities for sportsmen and women and to ensure sound, science-driven conservation policies are enacted."
DCNR Commissioner Chris Blankenship said he was elated that the Department was awarded the CSF's State Agency of the Year.
"We were very happy that we were recognized for multiple initiatives by the Department," Commissioner Blankenship said. "The Foundation noted several reasons for the recognition, starting with Marine Resources Division Director Scott Bannon and all the work that has been done with red snapper. Alabama has been the leader in securing the state management of red snapper. The work we did in Congress helped inform the legislators on the issues on the Gulf Coast with the short seasons. We were able to work with the congressional delegations in Washington to implement the exempted fishing program (EFP) for the past two years and then win approval of management for the long-term."
The EFP was in effect for the 2018 and 2019 red snapper seasons. Each of the Gulf states was given a snapper allocation, and each state managed its allocation.
Alabama's quota was slightly more than a million pounds of red snapper in each of the two years of the EFP. The timely data from the mandatory Alabama Snapper Check program allowed Marine Resources to manage to the quota each year.
This year the Gulf of Mexico Fishery Management Council passed regional management of red snapper. That amendment is awaiting the signature of the Secretary of Commerce and will go into effect for 2020 and beyond.
"The Foundation also recognized the work that Wildlife and Freshwater Fisheries (WFF) Director Chuck Sykes is doing with Senator (Doug) Jones (D-Alabama) and Senator (Cindy) Hyde-Smith (R-Mississippi) concerning funding for CWD research as well as the work Chuck is doing as the president of SEAFWA (Southeastern Association of Fish and Wildlife Agencies) on a myriad of hunting and fishing initiatives," Commissioner Blankenship said. "We have also worked with Senator (Richard) Shelby (R-Alabama) and, to a lesser extent, Senator (Lamar) Alexander (R-Tennessee) and Senator (Mitch) McConnell (R-Kentucky) on Asian carp issues. We want to reduce Asian carp populations in Tennessee and Kentucky rivers and keep them contained in the rivers upstream that flow into Alabama."
WFF's Sykes said a great deal of the recognition from the CSF was due to Alabama's willingness to meet and discuss the issues that are facing the nation's sportsmen and women.
"The Department has allowed me to come to the CSF's Summits to share a variety of programs we are doing," said Sykes, who also serves on the executive committee of the Association of Fish and Wildlife Agencies. "I've spoken at three of the last four events. The hunting and fishing days that the Department has promoted were mentioned as well as our CWD response plan and major educational campaign.
"The Foundation said they appreciated the time I had taken to come and participate in roundtable discussions with legislators around the country on important issues, from funding to our R3 efforts."
The R3 effort stands for recruitment, retention and reactivation. Those R3 activities try to recruit new participants or increase participation rates of current or lapsed outdoor enthusiasts.
Sykes also said the Foundation recognized the contributions of the WFF's Special Opportunity Area (SOA) and adult mentored hunting programs, programs in the Alabama Black Belt and the promotion of the Alabama Legislative Sportsmen's Caucus Day annually to help educate legislators on outdoors issues and improve Caucus participation and increase Caucus membership.
"Our legislators were happy to see the Department recognized," Sykes said.
Commissioner Blankenship said the State Lands Division, under Director Patti McCurdy, contributed through its efforts to expand public boating access in Alabama. McCurdy has worked with the staffs in D.C. to continue to promote recreational access funding in Coastal Alabama. Through several funding sources, improvements to boating and angling access are planned for Bayou La Batre, Dauphin Island, the Intracoastal Waterway in Baldwin County, and the Middleton Causeway site on Battleship Parkway at the north end of Mobile Bay, Foley and Daphne.
Commissioner Blankenship also cited the work of Bee Frederick, who was the CSF's representative in Alabama until recently, for holding annual events in Montgomery to promote the Alabama Legislative Sportsmen's Caucus.
"Bee was very helpful in getting the legislators more involved in hunting and fishing issues and helping us provide the scientific and management information to make informed decisions," Commissioner Blankenship said. "The Caucus' legislative agenda has been very helpful for the Department and people who hunt and fish in Alabama.
"The award highlights the work we do in Washington and in Montgomery with the Alabama Legislature. I think those relationships we built in Washington and here at the State House are very valuable when issues come up that affect sportsmen and women. We can pick up the phone and discuss the issues with the legislators or their staff. I think we have built a great amount of trust that we will provide them with balanced information so they can make good decisions."
Other than naming the Alabama DCNR as State Agency of the Year, the CSF handed out several other awards at the Georgia Summit.
The Friends of NASC Award went to Shimano American Corp. and Pheasants Forever/Quail Forever.
NASC Heritage Awards were presented to Rep. David Wilson (CT), Sen. Mike Bell (TN), Sen. Mark Allen (OK), and Rep. Casey Snider (UT).
During the Summit, CSF announced the signing of a partnership with Birmingham-based B.A.S.S. to further conservation efforts. Safari Club International (SCI) was also recognized for its long-standing financial support of NASC and the annual summit.
Founded in 1989, the Congressional Sportsmen's Foundation was formed to work with Congress, governors, and state legislatures to protect and advance hunting, angling, recreational shooting and trapping.
Holiday Decorating With Nature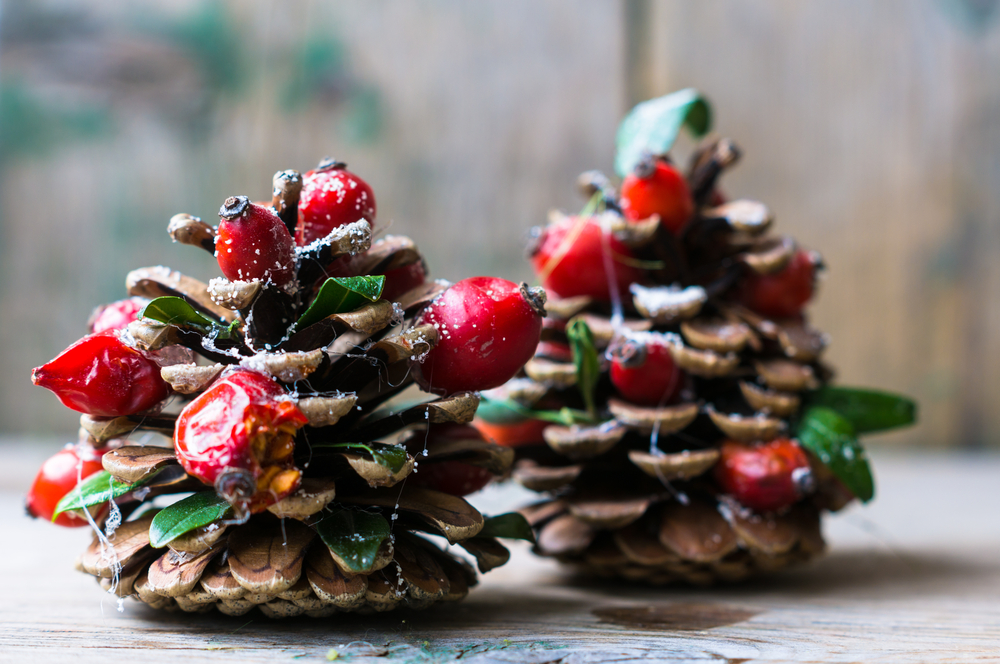 AUBURN UNIVERSITY, Ala. – Nature can provide some of the best materials for decorating. Fall is an especially wonderful time to find materials outside to decorate a home for the holiday seasons. Many items such as trees, shrubs, plants and fruits are great materials to build show-stopping decorations.
Materials
"Evergreen tree and shrub species make excellent decorations for fall and can withstand the elements," said Lucy Edwards, an Alabama Extension home grounds, gardens and pests regional agent. "These evergreen species include ivy, Leyland Cypress, pine and viburnum."
Other outdoor materials to consider using include:
acorns and pecans
pine cones
holly and nandina berries
hydrangea blossoms
cotton bolls
lotus and magnolia seed pods
pyracantha
reindeer moss
rose hips
Holiday Decorating With Nature
According to Edwards, it is best to gather materials in the cool of the morning. This is when materials are at their freshest. She recommends using sharp pruning tools when collecting live greenery.
"Distribute cuts evenly around the plant to preserve the natural form," she said. "When possible, make pruning cuts inside the canopy so the cut is hidden."
Keep in mind, when gathering and crafting materials, you are working with nature. It is possible to track insects or animals into the house when brining in outdoor materials. Assembling materials and working outdoors is an easy way to prevent this from occurring.
Craft Ideas
Edwards offers some simple craft ideas using nature to jump start your decorating this holiday season.
"People often make kissing balls as an alternative to mistletoe sprigs." Edwards said. "These are generally made of short sprigs of boxwood or other greenery and then hung where you would traditionally find mistletoe."
If you want to create a hanging decoration with natural materials, all you need is a potato, wire and cut greenery. Using the potato as a base, fasten a piece of wire for hanging and insert sprigs of greenery until the potato is completely covered. The potato will keep the cut greenery fresh. Once finished inserting the sprigs, decorate with ribbons, berries, mistletoe etc. to help complete the look.
Another craft option is creating a nature wreath. First, collect items such as a grapevine wreath, acorns, twigs, pine cones, lichens and any other desired materials. Place these items around the wreath and hot glue them onto it. Again, adding ribbons and other materials will complete the overall look.
If you are looking to be a little more creative, creating nature owls is a great starting place. Edwards said begin by collecting pine bark, acorns, twigs and seeds.
"Gently chip the bark into the shape of an owl, and then glue two acorn caps to the bark to create the owl's eyes," Edwards said. "Glue a seed under the eyes for the owl's beak then glue the owl to a leaf branch for display."
Selecting the Prefect Christmas Tree
Whether you are purchasing your Christmas tree from a "cut your own" tree farm or vendors with pre-cut trees you have several species to choose from. Common Christmas tree species grown in the South available at farms are Leyland cypress, Virginia pine, Arizona cypress, Eastern red cedar and white pine. Species found at vendors with pre-cut trees often include Fraser fir, Douglas fir and blue spruce. Knowing ahead of time how the tree will be decorated can help decide what species to select. If people know they have heavy ornaments, they need a species with stiff branches. Certain species have stiffer branches than others. The Arizona cypress, eastern red cedar, blue spruce, Fraser fir and Virginia pine all have stiffer branches and are good options for heavy decorations. When buying a tree. The best time to buy a tree depends if the tree is pre-cut or freshly cut. Before purchasing or cutting down a tree, people need to measure the height and width of the room for the tree. This gives people a good idea of how much space their home has for a tree. People can expect most trees to last a maximum of three weeks after cutting after that; the tree's needles begin to shed and they lose their fragrance. If purchasing a fresh cut tree or cutting one yourself, it is easier to estimate how long it will last but if you are buying a precut tree the timing can be difficult because it is hard to know exactly when the tree was cut. For precut trees, I suggest shaking the tree and running your hand down the branches. If the tree is fresh very few green needles should come off. Also, when purchasing or cutting a tree you need to make sure the trunk is reasonably straight and that there is only one trunk. Trees with dual or split trunks can be difficult to put in a stand. Once people bring their perfect tree home, they must cut the stump again and place it in the stand with water. People should continue to check the water levels daily. A fresh cut ensures the tree can take up water. Fresh cut trees will absorb a great deal of water in the first few days after cutting. Make sure there is always water in the stand. This prolongs the fragrance and keeps the needles from shedding. Happy tree shopping!
Please contact your County Extension Office if you have any questions.
Alabama's Fears Fuels Fire for Dutch Oven Revival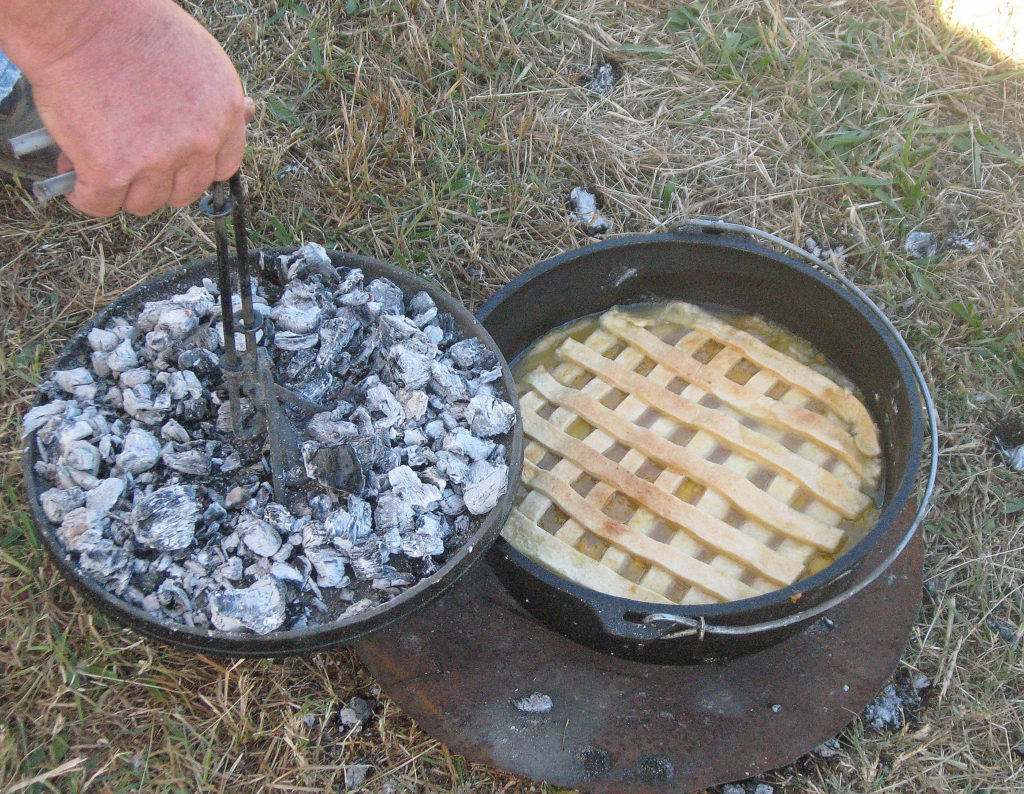 By DAVID RAINER
Alabama Department of Conservation and Natural Resources
Now that the weather has finally cooled, the outdoors takes on a whole new appeal for many in Alabama. Hunting and camping are likely on the agenda, and being able to feed a delicious meal to a group of hunters or campers can often hinge on your upbringing.

If you're like J. Wayne Fears, who calls Tater Knob in Jackson County, Alabama, home, it means breaking out the cast iron, just as his ancestors did while trapping and living off the land in north Alabama.
What Fears finds interesting is that a new generation is discovering the benefits of cast iron.
"Millennials are discovering the advantages of cooking on cast iron," said Fears, a certified wildlife biologist and prolific outdoor writer. "My grandma knew that. Lodge (Manufacturing in Tennessee) had to build another foundry because of the popularity of both the cast iron skillet and the cast iron dutch oven."

When it comes to cast iron dutch ovens, two different models are available for distinctly different purposes. The flat-bottom dutch oven is made to be used on conventional stovetops, while the dutch oven with legs is designed for outdoor cooking at campfires with coals from the fire or charcoal briquets.
"For camping, you need a dutch oven with three legs and a recessed lid," said Fears, who held a seminar recently at the Southeastern Outdoor Press Association annual conference. "The legs keep the bottom of the dutch oven off the coals, so you don't burn everything. It has a recessed lid so you can put coals on top to use it for baking."
Fears honed his dutch oven expertise during numerous years of overseeing hunting operations all over North America, including the western U.S., Canada and Alaska.

"Especially in our remote camps, we depended on dutch ovens to do a heck of a lot of our cooking," he said.
If you're planning a hunting or camping trip, or just cooking on an outdoor campfire, Fears recommends certain cast iron cookware to achieve a delicious meal. If you expect to draw a crowd when the smell of the cooking spreads, Fears recommends a No. 12 dutch oven. The No. 12 is the diameter in inches of the pot. Fears said you might need more than one, possibly in different sizes.

"It depends on what you're cooking, whether it's a stew and a pan of biscuits. You're going to need one for each," he said. "For the stew, I'd recommend a No. 12, and a No. 10 dutch oven so you can cook some cathead biscuits.
"If you're going to make a cobbler, you're going to need another No. 10. You can cook all three, and all of your meal will come out at the same time."
Fears also recommends that you don't look for the cheapest dutch oven you can find.

"I want to stress to get a quality dutch oven," he said. "There are so many dutch ovens made overseas that are pitted or they'll shatter if you drop them. If you get good quality cast iron, it can be a lifetime investment. In fact, a lot of my dutch ovens are in their third generation."
Fears doesn't discount the value of cooking with coals from the campfire if you're in remote locations. However, if you can take a sack of charcoal briquets with you, your meals will likely be more palatable.
"Charcoal is just better as far as consistency and heat control," he said. "Most people who cook with dutch ovens can go either way. With a little practice and good hardwood coals from the campfire, you can cook just as good as you can with charcoal. But most people who are just camping will use charcoal briquets because it's a lot easier to fool with and the temperature is more consistent on top and on bottom."

Contrary to what you may have seen in western or pioneer movies and TV shows, veteran dutch oven cooks have more heat on top than on bottom.
"You want to use twice as many coals on the lid as on the bottom," Fears said. "You're cooking down more than you're cooking up. Most people, when they first start, they want to stick a dutch oven right in the middle of the campfire and put a few coals on top. Generally, they'll burn everything on bottom, and it'll still be rare on top. That's why you have the lipped cover so the briquets won't roll off of the top."

Fears admits to making a "world of mistakes" while learning the fine art of dutch oven cooking and says adjustments have to be made depending on conditions.
"You may have a recipe that says cook at 350 degrees for 45 minutes," he said. "Well, 45 minutes in a dutch oven in Ely, Minnesota, is different than 45 minutes in Montgomery, Alabama. The wind, humidity and outside temperature have effects. You have to learn to see how the conditions affect the cooking.

"You've got to be patient and, every now and then, take a peek at what's going on in the dutch oven so you can learn what you're doing. And I rotate the lid about a quarter-turn every 15 minutes so that if you have any hotspots, you're moving them around."
Fears also said not to skimp on the amount of charcoal you light when you start cooking.
"Always have plenty of coals," he said. "If it's cold, like it is now up on Tater Knob this time of year, you need to have more coals waiting when the first ones are burned up."

Fears also recommends a pair of heavy-duty gloves because just about everything you touch will be hot. He also recommends lid lifters that are capable of lifting a dutch oven filled with venison stew that might weigh 40 pounds.
"A coat hanger is not going to quite get the job done," he said.
Fears has also learned that one of the best ways to use a dutch oven is to use it as just that, an oven. He takes a wire rack and places it in the bottom of the cast iron and uses a heavy-duty aluminum pan that fits on top of the wire rack to cook the food.

"The food doesn't come in contact with the cast iron, and it saves you a ton of time for cleanup," he said. "Having said that, the easiest way to get started with a dutch oven is to go to the supermarket and get a peach cobbler mix and two cans of peaches. Follow the instructions on the box and cook several cobblers in your dutch oven. You can learn more cooking cobblers than you can anything else.
"Once you have mastered peach cobbler, move up to stew or chili. Then when you get that mastered, you might want to make sourdough cathead biscuits. It's not difficult. You just have to get out and actually do it. Anything you can cook in your oven at home, you can cook in a dutch oven. But I burned a lot before I figured it out."

Fears' "Lodge Book of Dutch Oven Cooking" is about to be translated into a fourth language. It's filled with cooking tips and recipes.
"The book is selling really well in Japan right now," Fears said. "They're cooking a lot of rice dishes, and it's easy to burn rice if you're not careful."
Of course, when the meal is done, it's time for cleanup. One cardinal rule prevails when cleaning cast iron.

"Never use soap," Fears said. "You can get these pot scrubbers that look like chain mail that work really well. If your cobbler spills over, pour hot water in it and hit it with that chain mail scrubber."
For those looking for Christmas gifts, other than his book, Fears recommends a wire rack, heavy aluminum pan, chain mail scrubber, whisk broom for removing ashes from the lid, a small fireplace shovel to move coals around and a quality lid lifter.

"And wear some good boots or shoes," Fears said. "No sandals or flip flops. If you do, you're going to have some interesting scars on your toes."
Alabama Receives USDA Funding To Control Feral Swine
Feral swine control projects in Alabama will receive $3.7 million to address the threat wild hogs pose to agriculture, ecosystems, and human and animal health, the U.S. Department of Agriculture (USDA) announced Nov. 21.

Nationally, USDA will award 10 states more than $16.7 million. Projects are part of the Feral Swine Eradication and Control Pilot Program (FSCP) — a joint effort between USDA's Natural Resources Conservation Service (NRCS) and Animal and Plant Health Inspection Service (APHIS).
Alabama Farmers Federation President Jimmy Parnell applauded the announcement.

"We are very pleased to see additional resources being allocated to combat agricultural damage caused by feral swine," said Parnell, who leads the state's largest farm organization. "Increased federal funding for control efforts has been a priority for the Federation and this, in addition to increased funding through the annual appropriations process, will go a long way to support our farmers as they manage feral swine."

Alabama pilot projects, which last three years, include select watersheds in Baldwin, Escambia, Geneva, Henry, Houston and Sumter counties.
Federation Wildlife Division Director William Green thanked USDA's Fish and Wildlife Service for helping secure funding for Alabama, citing millions of dollars in damage caused by the hogs, which reproduce quickly. Studies show two mature hogs can reproduce to yield 30 hogs in as little as 8 months. Feral swine have been sighted in all 67 counties in Alabama.
"Feral hogs damage forests, cattle range, and fruit and vegetable operations, as well as row crop acreage," Green said. "No aspect of agriculture is exempt from feral swine destruction."

NRCS and APHIS are working with the Alabama Soil and Water Conservation Committee on three projects to notably reduce environmental and economic damage from wild pig rooting. They damage ecosystems and compete with native wildlife for habitat and food. Additionally, wild hogs degrade water quality and pose a serious disease threat to livestock and humans.

"Feral swine are the cause of significant damage to crops and grazing lands, while also impacting the health of our natural resources," said NRCS State Conservationist Ben Malone. "By collaborating with our partners nationally and here in Alabama, our hope is to control this invasive species — improving operations for farmers while also protecting our natural resources for the future."

Other pilot project states include Arkansas, Florida, Georgia, Louisiana, Mississippi, North Carolina, Oklahoma, South Carolina and Texas.
The 2018 Farm Bill provides $75 million for the FSCP over the life of the farm bill.
Hunters Can Bag More Than a Buck in Black Belt Adventures Photo Contest
The eighth annual Alabama Black Belt Adventures Association Big Buck Photo Contest is now under way with a muzzleloader, scope and gun case awaiting the winner. The contest will be open until the close of deer season on Feb.10, 2020.
"We are excited to sponsor this contest again this year," said Pam Swanner, director of the Alabama Black Belt Adventures Association. "We're always happy to encourage people to share their experiences and great memories formed in the Black Belt and this contest always attracts photos from conservation-minded hunters young and old."
This year's prize, a CVA .50 caliber Optima Muzzleloader with KonusPro Scope and gun case, is valued at $535.
Photos must be uploaded to AlabamaBlackBeltAdventures.org/bigbuckphotocontest and the deer must be one taken this season in Alabama's 23-county Black Belt region. The winner will be determined by the number of votes received, also at the ALBBAA contest web page. You can vote once per day, per entry, per email address.
"Our contests were created to further educate the public on the abundance of natural resources found in Alabama's Black Belt region," Swanner said. "ALBBAA promotes and encourages ethical hunting and fishing practices."
The Black Belt includes the following counties: Barbour, Bullock, Butler, Choctaw, Clarke, Conecuh, Crenshaw, Dallas, Greene, Hale, Lee, Lowndes, Macon, Marengo, Monroe, Montgomery, Perry, Pickens, Pike, Russell, Sumter, Tuscaloosa and Wilcox.
The Alabama Black Belt Adventures Association is committed to promoting and enhancing outdoor recreation and tourism opportunities in the Black Belt in a manner that provides economic and ecological benefits to the region and its citizens. For information, go to www.alabamablackbeltadventures.org.