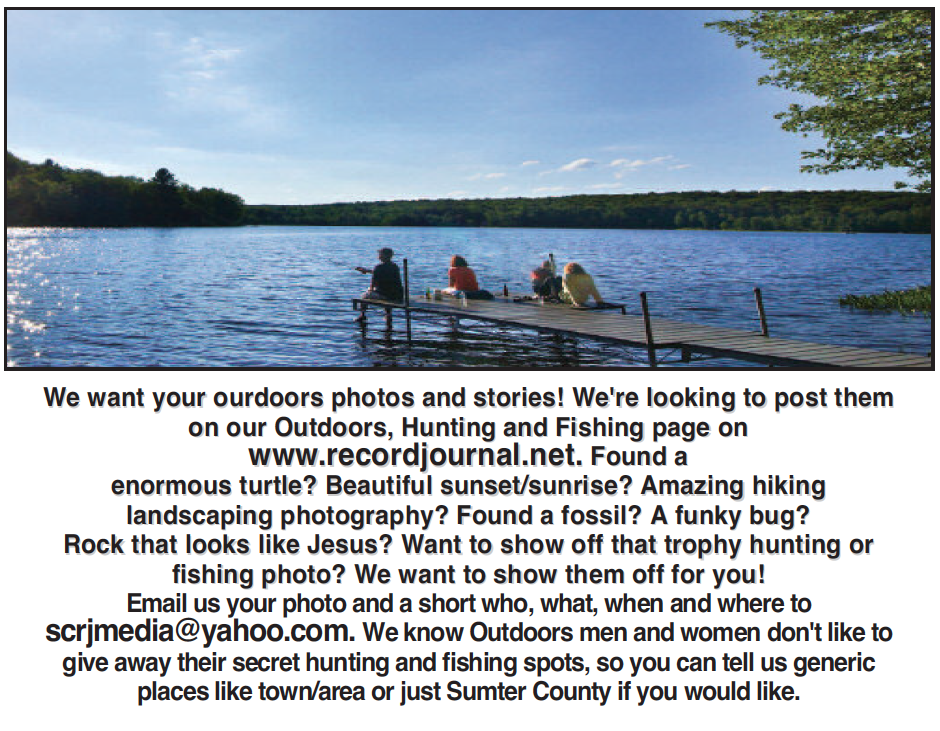 ADCNR Named Agency of Year at Sportsmen's Caucus Summit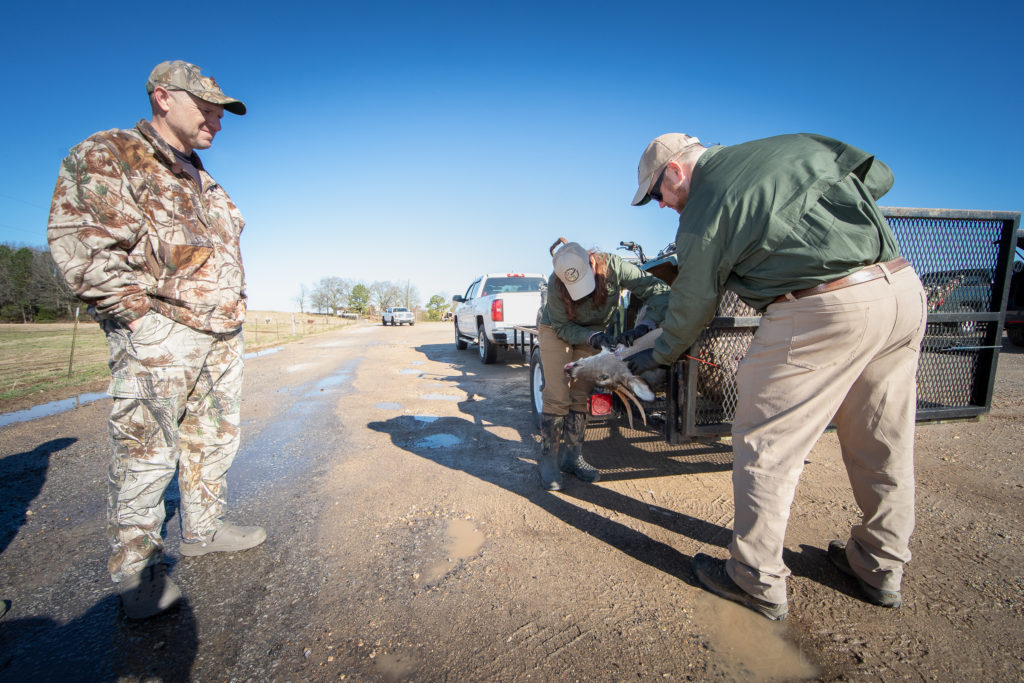 By David Rainer, Alabama Department of Conservation and Natural Resources
The Alabama Department of Conservation and Natural Resources recently received special recognition by the Congressional Sportsmen's Foundation with the presentation of the State Agency of the Year Award at the 16th Annual National Assembly of Sportsmen's Caucuses (NASC) Sportsman-Legislator Summit in Greensboro, Georgia.
"The Congressional Sportsmen's Foundation (CSF) is honored to recognize the Alabama Department of Conservation and Natural Resources (DCNR) as the State Agency of the Year," said Jeff Crane, CSF President. "The DCNR has been a consistent supporter of CSF, NASC, and the Alabama Legislative Sportsmen's Caucus and, through this support, the Caucus in Alabama has grown tremendously to become a strong and effective voice for sportsmen and women.
"CSF thanks Commissioner Chris Blankenship, Deputy Commissioner Ed Poolos, and Wildlife and Freshwater Fisheries Director Chuck Sykes for their continued support and steadfast dedication to Alabama's vast natural resources."
Hosted by the CSF, this year's Summit brought together 50 legislators and leaders from state fish and wildlife agencies to discuss the theme "Partners Advancing America's Conservation Movement: NASC, Fish & Wildlife Agencies, Industry and NGOs." Topics discussed included promoting hunting and fishing, boating access, chronic wasting disease (CWD), the spread of invasive Asian carp and a variety of other issues affecting sportsmen and women.
"This is the largest gathering of pro-sportsmen legislators who come together to discuss issues that are of great importance to our hunting and angling traditions," Crane said. "The 16th Annual NASC Summit was successful in that it brought together our bipartisan caucus leaders and members, fish and wildlife agency leaders, NGO (non-governmental organizations) representatives, and leading industry partners to focus on how to advance opportunities for sportsmen and women and to ensure sound, science-driven conservation policies are enacted."
DCNR Commissioner Chris Blankenship said he was elated that the Department was awarded the CSF's State Agency of the Year.
"We were very happy that we were recognized for multiple initiatives by the Department," Commissioner Blankenship said. "The Foundation noted several reasons for the recognition, starting with Marine Resources Division Director Scott Bannon and all the work that has been done with red snapper. Alabama has been the leader in securing the state management of red snapper. The work we did in Congress helped inform the legislators on the issues on the Gulf Coast with the short seasons. We were able to work with the congressional delegations in Washington to implement the exempted fishing program (EFP) for the past two years and then win approval of management for the long-term."
The EFP was in effect for the 2018 and 2019 red snapper seasons. Each of the Gulf states was given a snapper allocation, and each state managed its allocation.
Alabama's quota was slightly more than a million pounds of red snapper in each of the two years of the EFP. The timely data from the mandatory Alabama Snapper Check program allowed Marine Resources to manage to the quota each year.
This year the Gulf of Mexico Fishery Management Council passed regional management of red snapper. That amendment is awaiting the signature of the Secretary of Commerce and will go into effect for 2020 and beyond.
"The Foundation also recognized the work that Wildlife and Freshwater Fisheries (WFF) Director Chuck Sykes is doing with Senator (Doug) Jones (D-Alabama) and Senator (Cindy) Hyde-Smith (R-Mississippi) concerning funding for CWD research as well as the work Chuck is doing as the president of SEAFWA (Southeastern Association of Fish and Wildlife Agencies) on a myriad of hunting and fishing initiatives," Commissioner Blankenship said. "We have also worked with Senator (Richard) Shelby (R-Alabama) and, to a lesser extent, Senator (Lamar) Alexander (R-Tennessee) and Senator (Mitch) McConnell (R-Kentucky) on Asian carp issues. We want to reduce Asian carp populations in Tennessee and Kentucky rivers and keep them contained in the rivers upstream that flow into Alabama."
WFF's Sykes said a great deal of the recognition from the CSF was due to Alabama's willingness to meet and discuss the issues that are facing the nation's sportsmen and women.
"The Department has allowed me to come to the CSF's Summits to share a variety of programs we are doing," said Sykes, who also serves on the executive committee of the Association of Fish and Wildlife Agencies. "I've spoken at three of the last four events. The hunting and fishing days that the Department has promoted were mentioned as well as our CWD response plan and major educational campaign.
"The Foundation said they appreciated the time I had taken to come and participate in roundtable discussions with legislators around the country on important issues, from funding to our R3 efforts."
The R3 effort stands for recruitment, retention and reactivation. Those R3 activities try to recruit new participants or increase participation rates of current or lapsed outdoor enthusiasts.
Sykes also said the Foundation recognized the contributions of the WFF's Special Opportunity Area (SOA) and adult mentored hunting programs, programs in the Alabama Black Belt and the promotion of the Alabama Legislative Sportsmen's Caucus Day annually to help educate legislators on outdoors issues and improve Caucus participation and increase Caucus membership.
"Our legislators were happy to see the Department recognized," Sykes said.
Commissioner Blankenship said the State Lands Division, under Director Patti McCurdy, contributed through its efforts to expand public boating access in Alabama. McCurdy has worked with the staffs in D.C. to continue to promote recreational access funding in Coastal Alabama. Through several funding sources, improvements to boating and angling access are planned for Bayou La Batre, Dauphin Island, the Intracoastal Waterway in Baldwin County, and the Middleton Causeway site on Battleship Parkway at the north end of Mobile Bay, Foley and Daphne.
Commissioner Blankenship also cited the work of Bee Frederick, who was the CSF's representative in Alabama until recently, for holding annual events in Montgomery to promote the Alabama Legislative Sportsmen's Caucus.
"Bee was very helpful in getting the legislators more involved in hunting and fishing issues and helping us provide the scientific and management information to make informed decisions," Commissioner Blankenship said. "The Caucus' legislative agenda has been very helpful for the Department and people who hunt and fish in Alabama.
"The award highlights the work we do in Washington and in Montgomery with the Alabama Legislature. I think those relationships we built in Washington and here at the State House are very valuable when issues come up that affect sportsmen and women. We can pick up the phone and discuss the issues with the legislators or their staff. I think we have built a great amount of trust that we will provide them with balanced information so they can make good decisions."
Other than naming the Alabama DCNR as State Agency of the Year, the CSF handed out several other awards at the Georgia Summit.
The Friends of NASC Award went to Shimano American Corp. and Pheasants Forever/Quail Forever.
NASC Heritage Awards were presented to Rep. David Wilson (CT), Sen. Mike Bell (TN), Sen. Mark Allen (OK), and Rep. Casey Snider (UT).
During the Summit, CSF announced the signing of a partnership with Birmingham-based B.A.S.S. to further conservation efforts. Safari Club International (SCI) was also recognized for its long-standing financial support of NASC and the annual summit.
Founded in 1989, the Congressional Sportsmen's Foundation was formed to work with Congress, governors, and state legislatures to protect and advance hunting, angling, recreational shooting and trapping.
Holiday Decorating With Nature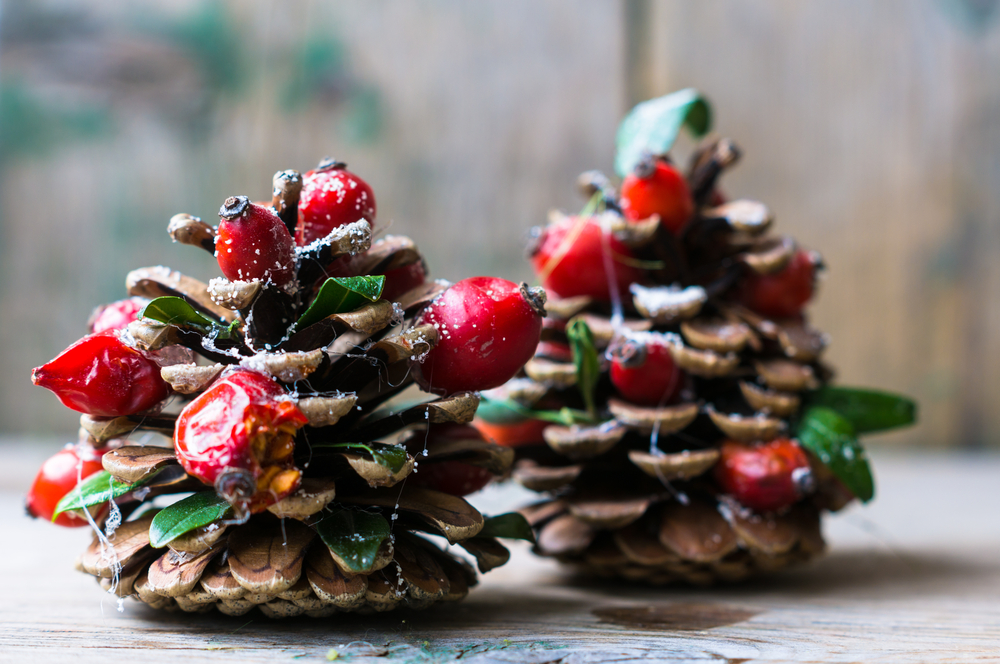 AUBURN UNIVERSITY, Ala. – Nature can provide some of the best materials for decorating. Fall is an especially wonderful time to find materials outside to decorate a home for the holiday seasons. Many items such as trees, shrubs, plants and fruits are great materials to build show-stopping decorations.
Materials
"Evergreen tree and shrub species make excellent decorations for fall and can withstand the elements," said Lucy Edwards, an Alabama Extension home grounds, gardens and pests regional agent. "These evergreen species include ivy, Leyland Cypress, pine and viburnum."
Other outdoor materials to consider using include:
acorns and pecans
pine cones
holly and nandina berries
hydrangea blossoms
cotton bolls
lotus and magnolia seed pods
pyracantha
reindeer moss
rose hips
Holiday Decorating With Nature
According to Edwards, it is best to gather materials in the cool of the morning. This is when materials are at their freshest. She recommends using sharp pruning tools when collecting live greenery.
"Distribute cuts evenly around the plant to preserve the natural form," she said. "When possible, make pruning cuts inside the canopy so the cut is hidden."
Keep in mind, when gathering and crafting materials, you are working with nature. It is possible to track insects or animals into the house when brining in outdoor materials. Assembling materials and working outdoors is an easy way to prevent this from occurring.
Craft Ideas
Edwards offers some simple craft ideas using nature to jump start your decorating this holiday season.
"People often make kissing balls as an alternative to mistletoe sprigs." Edwards said. "These are generally made of short sprigs of boxwood or other greenery and then hung where you would traditionally find mistletoe."
If you want to create a hanging decoration with natural materials, all you need is a potato, wire and cut greenery. Using the potato as a base, fasten a piece of wire for hanging and insert sprigs of greenery until the potato is completely covered. The potato will keep the cut greenery fresh. Once finished inserting the sprigs, decorate with ribbons, berries, mistletoe etc. to help complete the look.
Another craft option is creating a nature wreath. First, collect items such as a grapevine wreath, acorns, twigs, pine cones, lichens and any other desired materials. Place these items around the wreath and hot glue them onto it. Again, adding ribbons and other materials will complete the overall look.
If you are looking to be a little more creative, creating nature owls is a great starting place. Edwards said begin by collecting pine bark, acorns, twigs and seeds.
"Gently chip the bark into the shape of an owl, and then glue two acorn caps to the bark to create the owl's eyes," Edwards said. "Glue a seed under the eyes for the owl's beak then glue the owl to a leaf branch for display."
Selecting the Prefect Christmas Tree
Whether you are purchasing your Christmas tree from a "cut your own" tree farm or vendors with pre-cut trees you have several species to choose from. Common Christmas tree species grown in the South available at farms are Leyland cypress, Virginia pine, Arizona cypress, Eastern red cedar and white pine. Species found at vendors with pre-cut trees often include Fraser fir, Douglas fir and blue spruce. Knowing ahead of time how the tree will be decorated can help decide what species to select. If people know they have heavy ornaments, they need a species with stiff branches. Certain species have stiffer branches than others. The Arizona cypress, eastern red cedar, blue spruce, Fraser fir and Virginia pine all have stiffer branches and are good options for heavy decorations. When buying a tree. The best time to buy a tree depends if the tree is pre-cut or freshly cut. Before purchasing or cutting down a tree, people need to measure the height and width of the room for the tree. This gives people a good idea of how much space their home has for a tree. People can expect most trees to last a maximum of three weeks after cutting after that; the tree's needles begin to shed and they lose their fragrance. If purchasing a fresh cut tree or cutting one yourself, it is easier to estimate how long it will last but if you are buying a precut tree the timing can be difficult because it is hard to know exactly when the tree was cut. For precut trees, I suggest shaking the tree and running your hand down the branches. If the tree is fresh very few green needles should come off. Also, when purchasing or cutting a tree you need to make sure the trunk is reasonably straight and that there is only one trunk. Trees with dual or split trunks can be difficult to put in a stand. Once people bring their perfect tree home, they must cut the stump again and place it in the stand with water. People should continue to check the water levels daily. A fresh cut ensures the tree can take up water. Fresh cut trees will absorb a great deal of water in the first few days after cutting. Make sure there is always water in the stand. This prolongs the fragrance and keeps the needles from shedding. Happy tree shopping!
Please contact your County Extension Office if you have any questions.
Alabama's Fears Fuels Fire for Dutch Oven Revival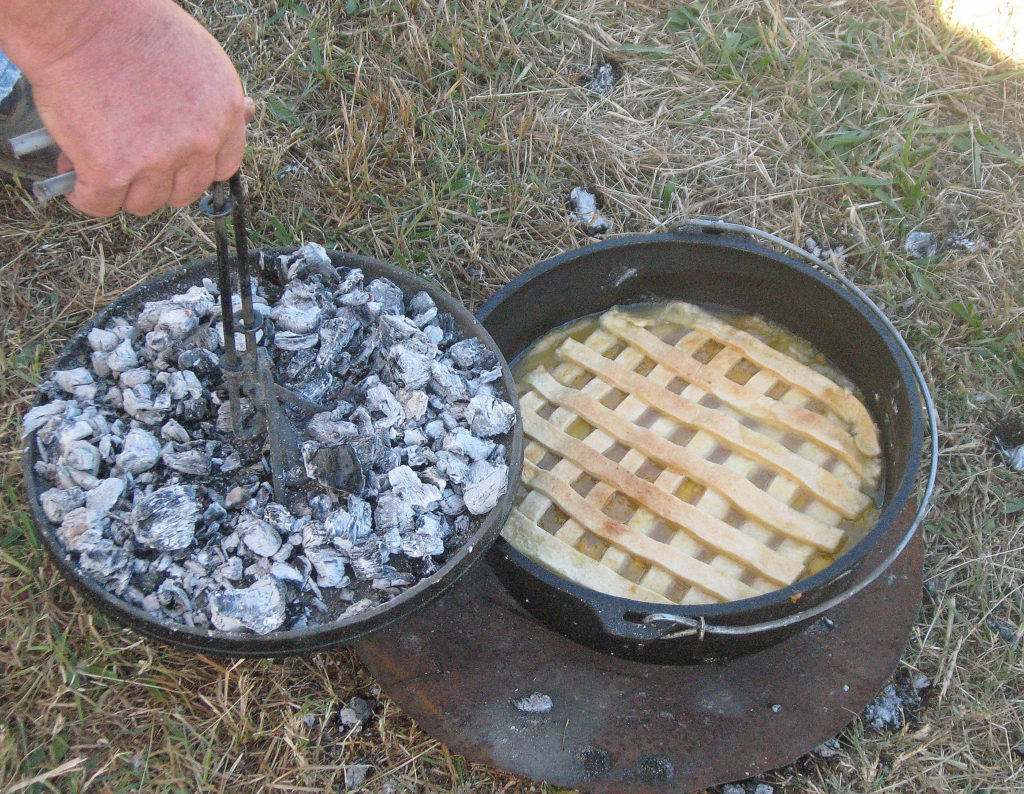 By DAVID RAINER
Alabama Department of Conservation and Natural Resources
Now that the weather has finally cooled, the outdoors takes on a whole new appeal for many in Alabama. Hunting and camping are likely on the agenda, and being able to feed a delicious meal to a group of hunters or campers can often hinge on your upbringing.

If you're like J. Wayne Fears, who calls Tater Knob in Jackson County, Alabama, home, it means breaking out the cast iron, just as his ancestors did while trapping and living off the land in north Alabama.
What Fears finds interesting is that a new generation is discovering the benefits of cast iron.
"Millennials are discovering the advantages of cooking on cast iron," said Fears, a certified wildlife biologist and prolific outdoor writer. "My grandma knew that. Lodge (Manufacturing in Tennessee) had to build another foundry because of the popularity of both the cast iron skillet and the cast iron dutch oven."

When it comes to cast iron dutch ovens, two different models are available for distinctly different purposes. The flat-bottom dutch oven is made to be used on conventional stovetops, while the dutch oven with legs is designed for outdoor cooking at campfires with coals from the fire or charcoal briquets.
"For camping, you need a dutch oven with three legs and a recessed lid," said Fears, who held a seminar recently at the Southeastern Outdoor Press Association annual conference. "The legs keep the bottom of the dutch oven off the coals, so you don't burn everything. It has a recessed lid so you can put coals on top to use it for baking."
Fears honed his dutch oven expertise during numerous years of overseeing hunting operations all over North America, including the western U.S., Canada and Alaska.

"Especially in our remote camps, we depended on dutch ovens to do a heck of a lot of our cooking," he said.
If you're planning a hunting or camping trip, or just cooking on an outdoor campfire, Fears recommends certain cast iron cookware to achieve a delicious meal. If you expect to draw a crowd when the smell of the cooking spreads, Fears recommends a No. 12 dutch oven. The No. 12 is the diameter in inches of the pot. Fears said you might need more than one, possibly in different sizes.

"It depends on what you're cooking, whether it's a stew and a pan of biscuits. You're going to need one for each," he said. "For the stew, I'd recommend a No. 12, and a No. 10 dutch oven so you can cook some cathead biscuits.
"If you're going to make a cobbler, you're going to need another No. 10. You can cook all three, and all of your meal will come out at the same time."
Fears also recommends that you don't look for the cheapest dutch oven you can find.

"I want to stress to get a quality dutch oven," he said. "There are so many dutch ovens made overseas that are pitted or they'll shatter if you drop them. If you get good quality cast iron, it can be a lifetime investment. In fact, a lot of my dutch ovens are in their third generation."
Fears doesn't discount the value of cooking with coals from the campfire if you're in remote locations. However, if you can take a sack of charcoal briquets with you, your meals will likely be more palatable.
"Charcoal is just better as far as consistency and heat control," he said. "Most people who cook with dutch ovens can go either way. With a little practice and good hardwood coals from the campfire, you can cook just as good as you can with charcoal. But most people who are just camping will use charcoal briquets because it's a lot easier to fool with and the temperature is more consistent on top and on bottom."

Contrary to what you may have seen in western or pioneer movies and TV shows, veteran dutch oven cooks have more heat on top than on bottom.
"You want to use twice as many coals on the lid as on the bottom," Fears said. "You're cooking down more than you're cooking up. Most people, when they first start, they want to stick a dutch oven right in the middle of the campfire and put a few coals on top. Generally, they'll burn everything on bottom, and it'll still be rare on top. That's why you have the lipped cover so the briquets won't roll off of the top."

Fears admits to making a "world of mistakes" while learning the fine art of dutch oven cooking and says adjustments have to be made depending on conditions.
"You may have a recipe that says cook at 350 degrees for 45 minutes," he said. "Well, 45 minutes in a dutch oven in Ely, Minnesota, is different than 45 minutes in Montgomery, Alabama. The wind, humidity and outside temperature have effects. You have to learn to see how the conditions affect the cooking.

"You've got to be patient and, every now and then, take a peek at what's going on in the dutch oven so you can learn what you're doing. And I rotate the lid about a quarter-turn every 15 minutes so that if you have any hotspots, you're moving them around."
Fears also said not to skimp on the amount of charcoal you light when you start cooking.
"Always have plenty of coals," he said. "If it's cold, like it is now up on Tater Knob this time of year, you need to have more coals waiting when the first ones are burned up."

Fears also recommends a pair of heavy-duty gloves because just about everything you touch will be hot. He also recommends lid lifters that are capable of lifting a dutch oven filled with venison stew that might weigh 40 pounds.
"A coat hanger is not going to quite get the job done," he said.
Fears has also learned that one of the best ways to use a dutch oven is to use it as just that, an oven. He takes a wire rack and places it in the bottom of the cast iron and uses a heavy-duty aluminum pan that fits on top of the wire rack to cook the food.

"The food doesn't come in contact with the cast iron, and it saves you a ton of time for cleanup," he said. "Having said that, the easiest way to get started with a dutch oven is to go to the supermarket and get a peach cobbler mix and two cans of peaches. Follow the instructions on the box and cook several cobblers in your dutch oven. You can learn more cooking cobblers than you can anything else.
"Once you have mastered peach cobbler, move up to stew or chili. Then when you get that mastered, you might want to make sourdough cathead biscuits. It's not difficult. You just have to get out and actually do it. Anything you can cook in your oven at home, you can cook in a dutch oven. But I burned a lot before I figured it out."

Fears' "Lodge Book of Dutch Oven Cooking" is about to be translated into a fourth language. It's filled with cooking tips and recipes.
"The book is selling really well in Japan right now," Fears said. "They're cooking a lot of rice dishes, and it's easy to burn rice if you're not careful."
Of course, when the meal is done, it's time for cleanup. One cardinal rule prevails when cleaning cast iron.

"Never use soap," Fears said. "You can get these pot scrubbers that look like chain mail that work really well. If your cobbler spills over, pour hot water in it and hit it with that chain mail scrubber."
For those looking for Christmas gifts, other than his book, Fears recommends a wire rack, heavy aluminum pan, chain mail scrubber, whisk broom for removing ashes from the lid, a small fireplace shovel to move coals around and a quality lid lifter.

"And wear some good boots or shoes," Fears said. "No sandals or flip flops. If you do, you're going to have some interesting scars on your toes."
Alabama Receives USDA Funding To Control Feral Swine
Feral swine control projects in Alabama will receive $3.7 million to address the threat wild hogs pose to agriculture, ecosystems, and human and animal health, the U.S. Department of Agriculture (USDA) announced Nov. 21.

Nationally, USDA will award 10 states more than $16.7 million. Projects are part of the Feral Swine Eradication and Control Pilot Program (FSCP) — a joint effort between USDA's Natural Resources Conservation Service (NRCS) and Animal and Plant Health Inspection Service (APHIS).
Alabama Farmers Federation President Jimmy Parnell applauded the announcement.

"We are very pleased to see additional resources being allocated to combat agricultural damage caused by feral swine," said Parnell, who leads the state's largest farm organization. "Increased federal funding for control efforts has been a priority for the Federation and this, in addition to increased funding through the annual appropriations process, will go a long way to support our farmers as they manage feral swine."

Alabama pilot projects, which last three years, include select watersheds in Baldwin, Escambia, Geneva, Henry, Houston and Sumter counties.
Federation Wildlife Division Director William Green thanked USDA's Fish and Wildlife Service for helping secure funding for Alabama, citing millions of dollars in damage caused by the hogs, which reproduce quickly. Studies show two mature hogs can reproduce to yield 30 hogs in as little as 8 months. Feral swine have been sighted in all 67 counties in Alabama.
"Feral hogs damage forests, cattle range, and fruit and vegetable operations, as well as row crop acreage," Green said. "No aspect of agriculture is exempt from feral swine destruction."

NRCS and APHIS are working with the Alabama Soil and Water Conservation Committee on three projects to notably reduce environmental and economic damage from wild pig rooting. They damage ecosystems and compete with native wildlife for habitat and food. Additionally, wild hogs degrade water quality and pose a serious disease threat to livestock and humans.

"Feral swine are the cause of significant damage to crops and grazing lands, while also impacting the health of our natural resources," said NRCS State Conservationist Ben Malone. "By collaborating with our partners nationally and here in Alabama, our hope is to control this invasive species — improving operations for farmers while also protecting our natural resources for the future."

Other pilot project states include Arkansas, Florida, Georgia, Louisiana, Mississippi, North Carolina, Oklahoma, South Carolina and Texas.
The 2018 Farm Bill provides $75 million for the FSCP over the life of the farm bill.
Hunters Can Bag More Than a Buck in Black Belt Adventures Photo Contest
The eighth annual Alabama Black Belt Adventures Association Big Buck Photo Contest is now under way with a muzzleloader, scope and gun case awaiting the winner. The contest will be open until the close of deer season on Feb.10, 2020.
"We are excited to sponsor this contest again this year," said Pam Swanner, director of the Alabama Black Belt Adventures Association. "We're always happy to encourage people to share their experiences and great memories formed in the Black Belt and this contest always attracts photos from conservation-minded hunters young and old."
This year's prize, a CVA .50 caliber Optima Muzzleloader with KonusPro Scope and gun case, is valued at $535.
Photos must be uploaded to AlabamaBlackBeltAdventures.org/bigbuckphotocontest and the deer must be one taken this season in Alabama's 23-county Black Belt region. The winner will be determined by the number of votes received, also at the ALBBAA contest web page. You can vote once per day, per entry, per email address.
"Our contests were created to further educate the public on the abundance of natural resources found in Alabama's Black Belt region," Swanner said. "ALBBAA promotes and encourages ethical hunting and fishing practices."
The Black Belt includes the following counties: Barbour, Bullock, Butler, Choctaw, Clarke, Conecuh, Crenshaw, Dallas, Greene, Hale, Lee, Lowndes, Macon, Marengo, Monroe, Montgomery, Perry, Pickens, Pike, Russell, Sumter, Tuscaloosa and Wilcox.
The Alabama Black Belt Adventures Association is committed to promoting and enhancing outdoor recreation and tourism opportunities in the Black Belt in a manner that provides economic and ecological benefits to the region and its citizens. For information, go to www.alabamablackbeltadventures.org.
Special waterfowl hunting days announced for youth, veterans and active military personnel
The Alabama Division of Wildlife and Freshwater Fisheries (WFF) has designated Saturday, November 23, 2019, as one of the 2019-2020 hunting season's Special Youth, Veteran and Active Military Personnel Waterfowl Hunting Days. The second of the two special waterfowl hunting days is scheduled for February 8, 2020.
On those days, youth under age 16 who are accompanied by a licensed adult hunter, military personnel on active duty and veterans (as defined in section 101 of U.S. Code: Title 38) may hunt for waterfowl statewide. Regular waterfowl season shooting hours, bag limits, legal arms and ammunitions apply to the special days. Hunting area rules and regulations also apply.
The special waterfowl days were previously reserved for youth hunters. Veterans and active duty military personnel can also hunt waterfowl on these special days outside of the regular season thanks to the recent passage of the federal John D. Dingell, Jr., Conservation, Management and Recreation Act.
To participate in the hunt, youth must be accompanied by a licensed adult supervisor. Only one firearm will be allowed per youth and only the youth hunters will be permitted to utilize the firearm for hunting unless the adult meets the requirements of a veteran or active duty military personnel. The adult supervisor must remain within arm's length of the youth at all times and may accompany up to two youth participants during the hunt. The adult is also expected to review the rules of firearm safety and hunter ethics with each youth and ensure they are followed.
Youth is defined as an individual age 15 years and younger. Adult is defined as an individual age 21 years and older, or as the parent of the youth. The adult must have a state hunting license, state and federal waterfowl stamp and a free Harvest Information Program registration. Veterans and active duty military personnel must be in possession of a valid proof of service such as a military ID, Veterans Administration ID, veteran ID, veteran validation on their driver's license or a copy of their DD Form 214. Possession of the mandatory hunting licenses and stamps is also required.
For more information about the Special Youth, Veteran and Active Military Personnel Waterfowl Hunting Days, contact WFF Migratory Gamebird Coordinator Seth Maddox at Seth.Maddox@dcnr.alabama.gov or 334-242-3469, or visit www.outdooralabama.com/waterfowl.
The Alabama Department of Conservation and Natural Resources promotes wise stewardship, management and enjoyment of Alabama's natural resources through four divisions: Marine Resources, State Lands, State Parks, and Wildlife and Freshwater Fisheries. To learn more about ADCNR, visit www.outdooralabama.com.
Prepare Your Lawn for the Fall and Winter Months
Cold weather and frosts mark the end of the growing season and the start of fall and winter. Now is a great time to prepare your lawn for the fall and winter months. It is time to get back outside and start clean-ups, preparations and plantings for the spring.

"Here are some actions you can take to prepare your lawn for the fall and winter months," said Rudy Pacumbaba, an Alabama Extension horticulture specialist.

Remove Finished and Dead Plants
Overwintering plant litter can harbor pests and diseases. Tilling under pest and disease free litter is an option. Be sure to replenish your compost pile with pest and disease free plant litter. Always remove diseased litter to promote good sanitation and to prevent future pest problems.

Build a Compost
Nature also works during winter. A finished compost can be used as a soil amendment. Litter from a finished garden is ideal to replenish the compost pile. Remember the three Rs: reduce, reuse and recycle.

Cut the Grass
Cut warm season lawns to a height of 1-2 inches and cool season lawns to a height of 3-4 inches. If you are in an area that receives snow and cold, cutting the grass too short may damage roots and cause sections to die out. If the grass is left too long, blades could mat under snow and develop mold disease that can causes bare spots in the spring.

Fertilize Lawns and Control Weeds
Apply a winter fertilizer to cool season lawns to encourage thicker root growth. Warm-season lawns go dormant and turn to amber shades after frost. Warm-season lawns really don't benefit from applying fertilizers in the fall.
Fall and winter is the best time to get a head start on controlling lawn weeds. Apply a granular pre-emergent weed control in the fall and late winter. A pre-emergent will control fall, winter and early spring weeds. It will also greatly reduce or eliminate the amount of weeds in your lawn during the growing season.

Drain Irrigation Systems
Turn off your automated sprinkler and irrigation system and properly drain. Blow out the systems to avoid damage from freezing and thawing temperatures. Call the company that installed your system if you're unsure how to do this. Drain and coil hoses for winter storage. Remove hose nozzles, sprayers and wands. Store these items in a non-freezing spot such as a garage or basement. Cover and insulate outside hose bibs.

Add Mulch to Landscapes
Adding mulch helps to manage soil moisture. Mulch can also help to manage soil temperature and to add organic material to the soil profile as well. Adding a good layer of mulch around dormant perennials can prevent potential winter damage during very cold months. It is recommended to provide a minimum of 3 inches of mulch in and around your planting beds.

Prune Perennials
Winter is the best time to prune plants and flowering beds. Shrubs and trees require periodic pruning to remove diseased or dead material, to help control and direct growth, and to prevent potential hazards. Ornamental grasses are best pruned during the spring.
Divide and plant perennial bulbs. Late fall and winter is the best time to divide and plant. If it blooms on "new" wood, prune it in winter and spring. If it blooms on "old" wood, prune it in summer and fall. It's essential that you prune after flowering.

More Information
More information about caring for your lawn this winter can be found in the Extension publication Winter Maintenance for Lawns and Landscapes. For further information, visit www.aces.edu or contact your county Extension office.