Serving Sumter County and West Alabama for over a century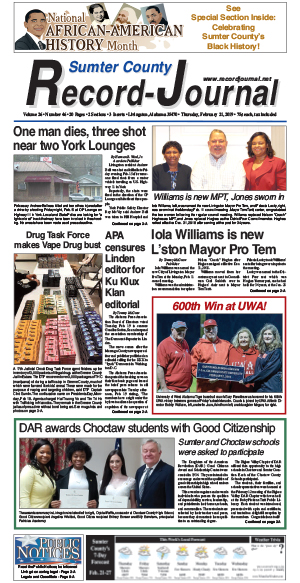 One man dies, three shot near two York Lounges
Williams is new MPT, Jones sworn in
Drug Task Force makes Vape Drug bust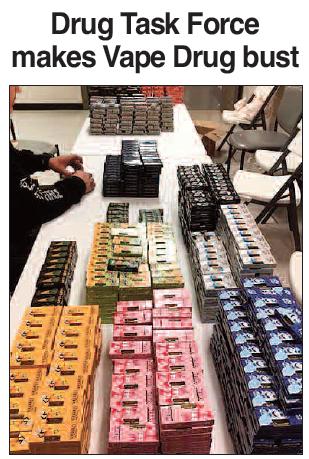 Iola Williams is new L'ston Mayor Pro Tem
APA censures Linden editor for Ku Klux Klan editorial
600th Win at UWA!
DAR awards Choctaw students with Good Citizenship
Sumter and Choctaw schools were asked to participate
Sumter County Commissioner Ben Walker, who served 32 years as Commissioner, was honored during a retirement celebration held in his honor Monday, Jan. 28 on the Campus of the University of West Alabama. At least 15 former and current County Commissioners attended the event along with Mayors, City, County and State officials as many are pictured above. Please visit www.recordjournal to view more pictures of the event and read article about Commissioner Ben Walker and his accomplishments in the Black History Edition this month. Pictured above left to right is Sumter Commissioner Pat Ezell, UWA President and former Marengo Commissioner Ken Tucker, former Sumter County Commissioner Ronnie Beard, Perry County Commissioner Albert Turner, retired Sumter County Commissioner Aubrey, Sumter Commissioner Tommie Armistead, Sumter Commissioner Ricky Walker, Mrs. Mary Walker, wife, former Sumter Commissioner Robert Smith, retired Commissioner Ben Walker, Sumter Commission Chairman Marcus Campbell, former Commissioner Chris Spencer, Livingston Mayor Thomas Tartt, State Representative A.J. McCampbell, and Sumter Commission Vice Chairperson Drucilla Jackson. Photos by Herman Ward, Jr., SCRJ Assoc. Publisher
Holiday Deadlines: Jan. 24th edition deadline is Fri., Jan. 18. We will be closed for the Dr. Rev. MLK, Jr. holiday.
Deadlines are Mondays at noon except for Holidays and Wedding/Engagement announcements. Wedding/Engagement announcements are due Fridays before by noon.