Serving Sumter County and West Alabama for over a century
Sumter County Record Journal will be closed Jan. 21 in honor of Dr. Rev. MLK, Jr. Day. Deadline for Jan. 24th edition is Fri., Jan. 18.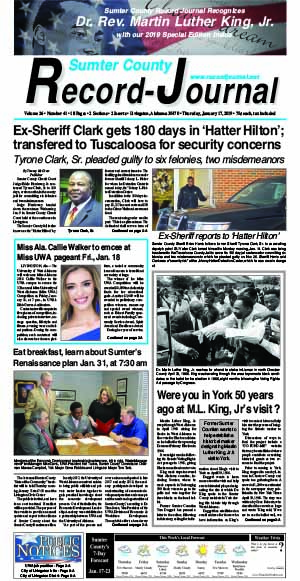 Ex-Sheriff Clark gets 180 days in 'Hatter Hilton'; transfered to Tuscaloosa for security concerns
Tyrone Clark, Sr. pleaded guilty to six felonies, two misdemeanors
Miss Ala. Callie Walker to emcee at Miss UWA pageant Fri., Jan. 18
Were you in York 50 years ago at M.L. King, Jr's visit?
Eat breakfast, learn about Sumter's Renaissance plan Jan. 31, at 7:30 am
Holiday Deadlines: Jan. 24th edition deadline is Fri., Jan. 18. We will be closed for the Dr. Rev. MLK, Jr. holiday.
Deadlines are Mondays at noon except for Holidays and Wedding/Engagement announcements. Wedding/Engagement announcements are due Fridays before by noon.