Classified and Legal Rates are 30 cents per word for the first week of publication and 25 cents per word for each additional week. A minimum charge of $6.00 for 20 words or less is set for every classified and legal advertisement. Display advertising is accepted at display ad rates. Email: scrjmedia@yahoo.com. DEADLINE is Mondays at Noon. Holidays excluded. Late Cancelations will be charged as a regular run. There is a $25 dollar charge if we have to type a legal over 100 words. Legals are also ran at https://www.alabamapublicnotices.com at no extra charge.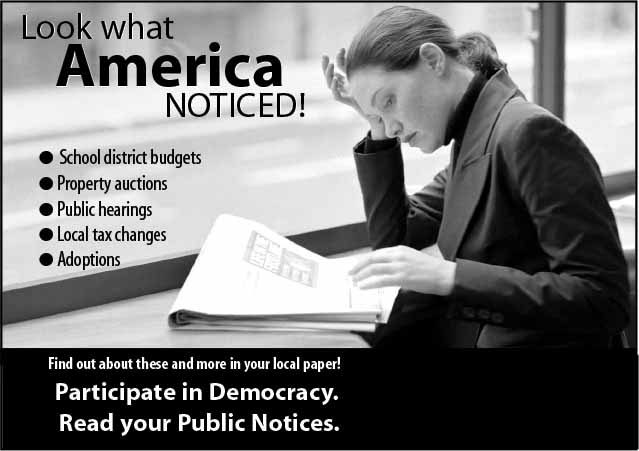 PUBLIC HOUSING 2018 CAPITAL FUND GRANT
AND FIVE YEAR ACTION PLAN
Section 511 of the Quality housing and Work Responsibility Act of 1998 (QHWRA) created the Public Housing Agency 2018 Capital Fund Grant and 5-Year Action Plan. In accordance with the Act, the Board of Commissioners of Livingston Housing Authority invites the Public to comment on the Livingston Housing Authority's 2018 Capital Fund Grant and Five Year Action Plan.
The 2018 Capital Fund Grant and Five Year CFP Action Plan is available for review at the Livingston Housing Authority office at 100 Northside Village Livingston, Alabama between the hours of 9:00 a.m. and 4:00 p.m. Tuesday-Friday. In addition, a Public Hearing will be held on Tuesday, October 2, 2018 at 2:00 p.m. to discuss and accept comments. The hearing is open to all interested parties.
Livingston Housing Authority
James W. Smith
Executive Director
IN THE PROBATE COURT OF SUMTER COUNTY, ALABAMA
IN THE MATTER OF THE ESTATE OF CAROLYN COOK, Deceased.
CASE NO. 2018-27
NOTICE TO CREDITORS
Letters of Administration having been granted to DeeAnn Truelove, Esq. on August 6, 2018, by the Honorable Willie Pearl Rice, Probate Judge of Sumter County, Alabama, notice is hereby given that all persons having claims against said Estate are hereby required to present same within the time allowed by law or the same will be barred.
DeeAnn Truelove, Esq.
Administrator of the Estate of Carolyn Cook, deceased
R. Brian Smith
Attorney for the Estate
120 Franklin Street
Post Office Box 219
Livingston, Alabama 35470
205-652-7007 (office)
205-652-7070 (fax)
3tc/8-16-8-30
PROBATE COURT OF SUMTER COUNTY ALABAMA
STATE OF ALABAMA
COUNTY OF SUMTER
CASE NUMBER 2017-44
IN THE MATTER OF THE ADMINISTRATION OF ESTATE OF VELMA JUANITA RADCLIFF
NOTICE TO CREDITORS
LETTERS OF ADMINISTRATION of said deceased having been granted to the undersigned on the 9th day of August, 2018, by the Honorable Willie Pearl Rice, Judge of Probate of Sumter County, Alabama, notice is hereby given that all persons having claims against said estate are hereby required to present the same within time allowed by law or the same will be barred.
Henry Marvin Radcliff, Administrator of the Estate of Velma Juanita Radcliff
3tc/8-16-8-30
IN THE MATTER OF THE LAST WILL AND TESTAMENT OF FANNIE MAE PICKENS DRUMMOND, Deceased.
IN THE PROBATE COURT OF SUMTER COUNTY, ALABAMA CASE NO.: 2018-26
Letters Testamentary of the Estate of Fannie Mae Pickens Drunmond, deceased, having been duly granted to Jerry Drunmond on the 11th day of June, 2018, by the Honorable Willie Pearl Rice, Judge of the Probate Court of Sumter County, Alabama, notice is hereby given that all persons having claims against said estate are hereby required to present the same within the time allowed by law or the same will be barred.
DeeAnn Truelove, Attorney for Jerry Drunmond, Executor
3tc/8-16-8-30
YORK HOUSING
AUTHORITY
Request for Proposals
York Housing Authority of the City of York, AL will receive bids for Pest Control services pertaining to multi-family residential properties. The deadline for bids is the close of business 4:30 p.m. Thursday, September 6, 2018. To request instructions governing the proposal to be submitted and general qualifications which must be met in order for you/the firm to be eligible for consideration please contact the housing authority by email at york1802@bellsouth.net, by phone 205-392-5071 or by mail: P.O. Box 9, York, AL 36925 Attn: Renee Pringle, Executive Director
3tc/8-16-8-23
MORTGAGE
FORECLOSURE SALE
Default having being made in the payment of the indebtedness secured by that certain mortgage dated April 7, 2006 executed by Robert L. Fluker, husband and Christine Gibbs Fluker, wife, in favor of Jim Walter Homes, Inc., said Mortgage being recorded May 1, 2006, in Book 292, Page 95; having been corrected by Corrective Mortgage recorded in Book 292, Page 95 in the Office of the Judge of Probate of Sumter County, Alabama; having been assigned to The Bank of New York Mellon, as Indenture Trustee, for Mid-State Capital Corporation 2006-1 Trust by instrument recorded in Book 326, Page 127 in the Office of the Judge of Probate of Sumter County, Alabama. Said default continues and notice is hereby given that the undersigned, The Bank of New York Mellon, as Indenture Trustee, for Mid-State Capital Corporation 2006-1 Trust, by Ditech Financial LLC, as servicer with delegated authority, under and by virtue of the power of sale contained in said mortgage, will sell at public outcry to the highest bidder for cash at the main entrance to the County Courthouse, Sumter County, Alabama on 10/02/2018, during the legal hours of sale, the following described real estate situated in Sumter County, Alabama, to-wit:
Commence at the intersection of the east right-of-way margin of Old Cuba Road with the south right-of-way margin of Morning Star-McGowan School Road, said intersection being point of commencement; thence run North 89 degrees 41 minutes 17 seconds East along the said south right-of-way margin of Morning Star-McGowan School Road for a distance of 371.32 feet to an iron rod, said iron rod being point of beginning; thence run South 01 degrees 01 minutes 47 seconds West for a distance of 210.00 feet to an iron rod; thence continue South 01 degrees 01 minutes 47 seconds West for a distance of 210.00 feet to an iron rod; thence run North 89 degrees 41 minutes 17 seconds East for a distance of 210.00 feet to an iron rod; thence run North 01 degrees 01 minutes 47 seconds East for a distance of 210.00 feet to an iron rod; thence continue North 01 degrees 01 minutes 47 seconds East for a distance of 210.00 feet to an iron rod on the said south right-of-way margin; thence run South 89 degrees 41 minutes 17 seconds West along the said south right-of-way margin for a distance of 210.00 feet to the point of beginning. Said parcel of land lying in the North half of Section 34, Township 18 North, Range 4 West, Sumter County, Alabama, and containing 2.02 acres more or less.
For informational purposes only, the property address is: 3891 Dove 2, Cuba, AL 36907. Any property address provided is not part of the legal description of the property sold herein and in the event of any discrepancy, the legal description referenced herein shall control.
THIS PROPERTY WILL BE SOLD ON AN "AS-IS, WHERE-IS" BASIS, SUBJECT TO ANY EASEMENTS, ENCUMBRANCES, AND EXCEPTIONS REFLECTED IN THE MORTGAGE AND THOSE CONTAINED IN THE RECORDS OF THE OFFICE OF THE JUDGE OF PROBATE OF THE COUNTY WHERE THE ABOVE-DESCRIBED PROPERTY IS SITUATED. THIS PROPERTY WILL BE SOLD WITHOUT WARRANTY OR RECOURSE, EXPRESS OR IMPLIED AS TO TITLE, USE AND/OR ENJOYMENT AND WILL BE SOLD SUBJECT TO THE RIGHT OF REDEMPTION OF ALL PARTIES ENTITLED THERETO.
Alabama law gives some persons who have an interest in property the right to redeem the property under certain circumstances. Programs may also exist that help persons avoid or delay the foreclosure process. An attorney should be consulted to help you understand these rights and programs as a part of the foreclosure process.
This sale is made for the purpose of paying the indebtedness secured by mortgage as well as the expenses of foreclosure, including a reasonable attorney's fees and other purposes set out in said mortgage.
The Bank of New York Mellon, as Indenture Trustee, for Mid-State Capital Corporation 2006-1 Trust, by Ditech Financial LLC, as servicer with delegated authority
Paul K. Lavelle, Esq.
Attorney for Mortgagee
Spina, & Lavelle, P.C.
One Perimeter Park South-Suite 400 N
Birmingham, Alabama 35243
(205) 298-1800
3tc/8-16-8-30
YORK HOUSING
AUTHORITY
Request for Proposals
The York Housing Authority is soliciting request for proposals (RFPs) from qualified firms to conduct a Physical Needs Assessment of Public Housing properties of the York Housing Authority. The deadline for bids is by the close of business 4:30 p.m. Thursday, September 6, 2018.To request instructions governing the proposal to be submitted and general qualifications which must be met in order for you/the firm to be eligible for consideration please contact the housing authority by email at york1802@bellsouth.net, by phone 205-392-5071 or by mail: P.O. Box 9, York, AL 36925 Attn: Renee Pringle, Executive Director.
3tc/8-16-8-23
YORK HOUSING
AUTHORITY
Request for Proposals
The intent of the RFP is to solicit proposals for Housing Quality Standards (UPCS), Quality Control (QC), and Uniform Physical Condition Standards (UPCS) Inspection services for the York Housing Authority. The deadline for bids is by the close of business (4:30 p.m.) Thursday, September 6, 2018. To request instructions governing the proposal to be submitted and general qualifications which must be met in order for you/the firm to be eligible for consideration please contact the housing authority by email at york1802@bellsouth.net, by phone 205-392-5071 or by mail: P.O. Box 9, York, AL 36925 Attn: Renee Pringle, Executive Director.
3tc/8-16-8-23
MORTGAGE
FORECLOSURE SALE
Default having been made in the payment of the indebtedness secured by that certain mortgage executed by Ollin Gholston, Jr., a married man, to Regions Bank on the 29th day of June, 2007, said mortgage being recorded in the Office of the Judge of Probate of Sumter County, Alabama in Mortgage Book 298, Page 721 and corrected by Scrivener's Affidavit recorded in AFF Book 5 Page 509.
The undersigned Regions Bank, as Mortgagee, under and by virtue of the power of sale contained in said mortgage, will sell at public outcry to the highest bidder for cash, in front of the Main entrance of the Court House at Livingston, Sumter County, Alabama, on the 13th day of September, 2018, during the legal hours of sale, the following real estate, situated in Sumter County, Alabama, to-wit:
The property referred to herein below is situated in the County of Sumter, State of Alabama, and is described as follows:
Begin at the SE corner of Lot No. 13 in Block 22, according to the official map of the Town of York, Alabama, as compiled by Robert L. Totten, Inc.; thence run in a Westerly direction along the North side of Third Avenue a distance of 98 feet; thence run in a Northerly direction 140 feet parallel with the East boundary line of said Lot No. 13 to the South boundary line of Lot No. 12 (Key Lot); thence run in an Easterly direction 98 feet to the NE corner of said Lot No. 13 and West boundary line of Lot No. 1 (J.D. Hardy Lot); thence run in a Southerly direction 140 feet along the West boundary line of said Lot No. 1 and East boundary of Lot no. 13 to said point of beginning.
It being the intent and purpose of this deed to convey 98 feet off the East side of said Lot No. 13 in Block No. 22.
Alabama law gives some persons who have an interest in property the right to redeem the property under certain circumstances. Programs may also exist that help persons avoid or delay the foreclosure process. An Attorney should be consulted to help you understand these rights and programs as a part of the foreclosure process.
This sale is made for the purpose of paying the indebtedness secured by said mortgage, as well as the expenses of foreclosure.
REGIONS BANK
Mortgagee
W. L. LONGSHORE, III REGIONS BANK
Attorney for Mortgagee
LONGSHORE, BUCK & LONGSHORE, P.C.
The Longshore Building
2009 Second Avenue North
Birmingham, Alabama 35203-3703
Phone: 205-252-7661
3tc/8-16-8-30
NOTICE OF PUBLIC
HEARING PUBLIC HOUSING 2018 CAPITAL FUND GRANT AND FIVE YEAR ACTION PLAN
Section 511 of the Quality housing and Work Responsibility Act of 1998 (QHWRA) created the Public Housing Agency 2018 Capital Fund Grant and 5-Year Action Plan. In accordance with the Act, the Board of Commissioners and the Advisory board of the York Housing Authority invites the Public to comment on the York Housing Authority's 2018 Capital Fund Grant and Five Year Action Plan. The 2018 Capital Fund Grant and Five Year CFP Action Plan is available for review at the York Housing Authority office at 209 East, 5th Avenue, York, Alabama between the hours of 9:00 a.m. and 4:00 p.m. Tuesday-Friday. In addition, a Public Hearing will be held on Friday, August 17, 2018 at 3:00 p.m. to discuss and accept comments. The hearing is open to all interested parties.
York Housing Authority
J. Renee Ward-Pringle
Executive Director
3tc/8-2-8-16
YORK HOUSING AUTHORITY
Request for Proposals
York Housing Authority hereby requests proposals from qualified Certified Public Accounting firms to conduct an annual audit for York Housing Authority. The deadline for bids is by the close of business 4:30 p.m. Monday, August 27, 2018. To request instructions governing the proposal to be submitted and general qualifications which must be met in order for you/the firm to be eligible for consideration please contact the housing authority by email at york1802@bellsouth.net, by phone 205-392-5071 or by mail: P.O. Box 9, York, Alabama 36925, Attn: Renee Pringle, Executive Director
3tc/8-2-8-16
YORK HOUSING
AUTHORITY
Request for Proposals
The York Housing Authority is soliciting request for proposals (RFPs) from qualified firms to provide professional services in the preparation of an update of Resident Utility Allowances for our Public Housing and Section 8 Program. The deadline for bids is by the close of business 4:30 p.m. Monday, August 27, 2018. To request instructions governing the proposal to be submitted and general qualifications which must be met in order for you/the firm to be eligible for consideration please contact the housing authority by email at york1802@bellsouth.net, by phone 205-392-5071 or by mail: P.O. Box 9, York, AL 36925 Attn: Renee Pringle, Executive Director.
3tc/8-2-8-16
YORK HOUSING
AUTHORITY
Request for Proposals
York Housing Authority of the City of York, AL will receive bids for architectural services pertaining to multi-family residential properties. The deadline for bids is by the close of business 4:30 p.m. Monday, August 27, 2018. To request instructions governing the proposal to be submitted and general qualifications which must be met in order for you/the firm to be eligible for consideration please contact the housing authority by email at york1802@bellsouth.net, by phone 205-392-5071 or by mail: P.O. Box 9, York, AL 36925 Attn: Renee Pringle, Executive Director.
3tc/8-2-8-16
YORK HOUSING
AUTHORITY
Request for Proposals
The intent of the RFP is to solicit proposals for Fee Accountant Services for the York Housing Authority. The deadline for bids is by the close of business 4:30 p.m. Monday, August 27, 2018. To request instructions governing the proposal to be submitted and general qualifications which must be met in order for you/the firm to be eligible for consideration please contact the housing authority by email at york1802@bellsouth.net, by phone 205-392-5071 or by mail: P.O. Box 9, York, AL 36925 Attn: Renee Pringle, Executive Director.
3tc/8-2-8-16
IN THE PROBATE COURT OF SUMTER COUNTY,
ALABAMA
CASE NO.: 2018-29
ST ATE OF ALABAMA
COUNTY OF SUMTER
IN THE MATTER OF THE PROBATE OF THE LAST WILL AND TESTAMENT OF LULA LEE MAYE, DECEASED
NOTICE TO CREDITORS
LETTERS TEST AMENT ARY of said deceased having been granted to the undersigned on the 26th day of July 2018 by the Honorable Willie Pearl Rice, Judge of Probate of Sumter County, Alabama, notice is hereby given that all persons having claims against said estate are hereby required to present the same within time allowed by law or the same will be barred.
Elfreda Maye Toler,
Executrix
3tc/8-2-8-16