We want your critter, hunting and fishing photos! We're looking to post them on our new Outdoors, Hunting and Fishing page on www.recordjournal.net. 
Found a enormous turtle? A funky bug? Want to show off that fish, deer, turkey, rabbit or squirrel? Nice photos of sunsets, sun rises, stars, hikes? We want to show them off for you!
Email us your photo and a short who, what, when and where to scrjmedia@yahoo.com. We know Outdoors men and women don't like to give away their secret hunting and fishing spots, so you can tell us generic places like town/area if you would like. PLEASE DO NOT SEND THEM TO FACEBOOK. We delete those emails/messages automatically, because of the high volume of spam we get everyday.
Surprise! Lily
Lycoris radiata, or more commonly known in Alabama as the Red Surprise Lilly, Red Spider Lily or British Soldier, (Madoline Thurn once told me a relative liked to call them "Naked Ladies" after I asked what they were when I first came to Livingston in 2007) actually comes from Japan and came over as a garden flower in 1854. The flowers bloom after the first heavy rain in late September through mid October. In Japan the Red Spider Lily signals the arrival of fall. Many Buddhist will use it to celebrate the arrival of fall with a ceremony at the tomb of one of their ancestors. They plant them on graves as a tribute to the dead. People believe that since the Red Spider Lily is mostly associated with death that one should never give a bouquet of these flowers. By Kasey DeCastra, Sumter County Record Journal and Moundville Times Community News Editor
National Hunting and Fishing Day to be celebrated nationwide on September 23
Alabama businesses, parks, lakes and others offering discounts in recognition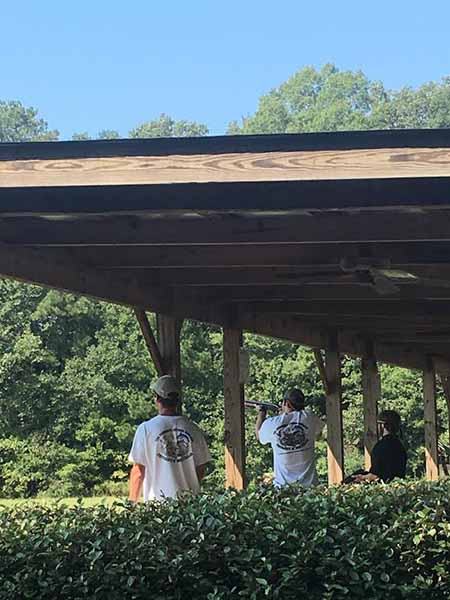 The Alabama Black Belt Adventures Association, the Alabama Department of Conservation and Natural Resources, the Alabama Wildlife Federation, Congressional Sportsmen's Foundation and others came together to promote National Hunting and Fishing Day, which will be observed this year on Saturday, September 23. They also announced that a number of Alabama businesses, lakes and parks (both public and private), shooting ranges and others are offering discounts or waiving fees this Saturday.
"In 1971 Congress established National Hunting and Fishing to be on the fourth Saturday of September", says Pam Swanner, project manager of Alabama Black Belt Adventures. "All across Alabama outdoor retailers, public lakes, shooting ranges and our state parks from the mountains to the Gulf Coast are offering discounts on products and waiving fees for various services."
National Hunting and Fishing Day has been dubbed one of the most effective grassroots campaigns ever undertaken to promote hunters, anglers and the conservation benefits they provide for all Americans who appreciate wildlife and wild places. This Saturday, organizations across the country are joining forces to encourage anyone and everyone to immerse themselves in outdoor recreation.
"We are committed to educating the next generation on the values of work ethic and conservation to lead the way in protecting our heritage for the benefits of our wildlife, lands and natural resources," says William Crawford, Outdoor Scholars Program Director at the University of Montevallo.
One of the main purposes of National Hunting and Fishing Day is to expose those who have never had the opportunity to participate in hunting or fishing activities before.
"We at the Congressional Sports Foundation are proud to support and sponsor National Hunting and Fishing Day again this year and understand the important role that hunting and angling play socially, culturally, historically and economically across the nation," says Bee Frederick, Southeastern States Director for the Congressional Sportsmen's Foundation. "We must redouble our efforts to make sure we are working together to tell our story, reduce barriers, and introduce new participants to the great outdoors."
Hunting and Fishing make up a $2.6 billion industry and Alabama ranks 7th in the nation on money spent for hunting and other recreational activities. Unfortunately, only 4% of Alabama residents have a hunting license.
"Hunting and fishing is a way of life for us here in Alabama." says Chris Blankenship, Commissioner for the Department of Conservation and Natural Resources. "There are so many people that do enjoy the outdoors, but there are plenty of opportunities for others to enjoy which is why we have days like National Hunting and Fishing Day."
Each year sportsmen and women are funding more projects that create more public access areas to be open. Through license sales and excise taxes on equipment, hunters and anglers pay for most fish and wildlife conservation programs. On average, hunters spend $1,638 every year on the sport. Portions of these funds are allocated to support conservation.
"Hunters and fisherman are the ones paying for all of this," says Chuck Sykes, Director of Wildlife at the Department of Conservation and Natural Resources. "We get no money from the state general fund. All the services that we provide come from hunters and fishermen buying licenses and the money that is spent on hunting related activities. Hunters and fishers are paving the way for everyone to enjoy these opportunities."
National Hunting and Fishing Day will be recognized across the country as a national holiday this Saturday. For a list of national and state participants, please visit: http://alabamablackbeltadventures.org/events-calendar/national-hunting-fishing-day/.
"We encourage you to get outside this Saturday," says Swanner. "It's good for your health, it's relaxing and most importantly it's a lot of fun."
Youth Hunt Dates Announced for Field Trial Area
The Alabama Department of Conservation and Natural Resources (ADCNR) announces the youth deer and duck hunt schedules at the M. Barnett Lawley Forever Wild Field Trial Area (FWFTA) in Hale County. The hunts will take place in late November 2017 through January 2018. Registration will be open September 15 through October 31, 2017. Hunters will be selected via a computerized, random drawing after registration closes.
Registration is only available to parents or adults who are at least 21 years old and have a Conservation ID (CID) number. A hunting license is not required at the time of registration. However, if selected during the random draw, you must have a valid hunting license to accept the hunt permit. If selected for a hunt, you will receive an email requesting you validate/accept the permit. Once the permit is accepted, you will receive an email with the hunt details.
To register for a hunt, visit https://publichunts.dcnr.alabama.gov/Public/AvailableHunts/12.
Youth deer hunt dates:
November 22 and 25
December 20
January 13,17, 20 and 31
Youth duck hunt dates:
November 25
December 20
January 13, 17 and 20
If you have questions about the hunt details or registration process, call Doug Deaton with the ADCNR State Lands Division at 334-242-3484, or email doug.Deaton@dcnr.alabama.gov.
To participate in the youth hunts, youth hunters must be age 15 or younger and accompanied by an adult at least 21 years old (or a parent). Adults must have a valid state hunting license and applicable duck stamp, if duck hunting. Hunters must obtain their license and duck stamp (if duck hunting) before the hunt since they will not be available on-site.
Mandatory reporting of all deer (and turkey) harvests through Alabama's Game Check system is in effect for the 2017-18 youth hunting dates at FWFTA. Hunters will have 48 hours to report their harvest through the Outdoor Alabama mobile app or online at www.outdooralabama.com.
To learn more about Alabama's Game Check system, visit www.outdooralabama.com/gamecheck.
The M. Barnett Lawley Forever Wild Field Trial Area consists of 4,300 acres in Hale County and is managed as a nature preserve and recreation area. In addition to developing a sporting dog Field Trial/Hunt Test grounds and a youth hunting program, the ADCNR State Lands Division is currently restoring the tract's native prairie grasslands and managing its numerous ponds for future public fishing.
ADCNR does not discriminate on the basis of race, color, religion, age, gender, pregnancy, national origin, genetic information, veteran status, or disability in its hiring or employment practices nor in admission to, access to, or operations of its programs, services, or activities.
The Alabama Department of Conservation and Natural Resources promotes wise stewardship, management and enjoyment of Alabama's natural resources through four divisions: Marine Resources, State Lands, State Parks, and Wildlife and Freshwater Fisheries. To learn more about ADCNR, visit www.outdooralabama.com.
Soggy Bottom Lodge Tour
Blackbelt area landowners are invited to a tour of Soggy Bottom Lodge located at 18618 Hwy 43, south of Linden, AL, in Marengo County. The tour is planned for Thursday, September 28th from 8:00 a.m. until 1:00 p.m.
Registration will begin at 8:00 a.m. and the tour will start at 9:00 a.m. Tour topics will include the lodges, deer breeding facilities, duck pond, native grasses, and recreational fish pond management. Lunch will be provided for tour participants.
There is no cost to attend this tour, however you are asked to call the Marengo County Extension Office at 334-295-5959 to register. To properly plan for lunch please call and register before the deadline of 4:30 p.m. of Monday September 25th.
Registration numbers will be capped at 50 participants so mark your calendar now for Thursday, September 28th and plan to attend this informative landowner tour.

Baiting Deer Remains Illegal in Alabama
By David Rainer, Alabama Department of Conservation and Natural Resources
Contrary to what your buddies at the hunting camp have said or what you've read on social media, it is still illegal to bait deer in Alabama.
Similar to previous years, the so-called "corn" bill that was introduced in the Alabama Legislature this year did not become law. Yes, the bill passed the House of Representatives, but that's as far as it went.
"A lot of folks still think it's going to be legal to hunt over corn this year," said Chuck Sykes, Director of the Alabama Wildlife and Freshwater Fisheries (WFF) Division. "There was a buzz around Facebook and on social media that the House passed the baiting bill.
"But it takes confirmation by the Alabama Senate and then the signature of the governor to become law. So it missed two of the three, and it takes all three. There are a lot of folks who are going to be disappointed on opening day."
However, that doesn't mean Alabama landowners and hunters can't proceed with their supplemental feeding plans for wildlife.
"Feeding is fine as long as you stay within the area definition," Sykes said.
The area definition was refined several years ago to give hunters and landowners a better understanding of what is deemed supplemental feeding and what constitutes baiting.
The regulation states: "As it applies to the hunting of deer and feral swine, there shall be a rebuttable presumption that any bait or feed . . . located beyond 100 yards from the hunter and not within the line of sight of the hunter is not a lure, attraction or enticement to, on or over the area which the hunter is attempting to kill or take the deer or feral swine. This regulation does not apply to public land. Out of line of sight means obscured from view by natural vegetation or naturally occurring terrain features."
"Out of sight doesn't mean putting up a piece a piece of tin in the edge of the food plot where you can't see the feeder," Sykes said. "Nor does it mean throwing corn in tall grass. That's not the essence of the regulation. It has to be natural vegetation or natural terrain."
Unfortunately, the regulation clarification has not affected the number of tickets that are written annually for baiting.
"Some people are still putting out corn 50 yards from their stand in the wide open," Sykes said. "They're just basically ignoring the regulation."
Another "huge" misconception that Sykes has encountered during interaction with the public at deer shows and other public events is WFF's ability to change the baiting regulations. He said baiting made up 99 percent of the questions WFF fielded at the public events.
"People are coming up to me and asking when we are going to change the baiting laws," he said. "Well, we can't. That's a legislative matter. The members of the Legislature are the ones who have the power to change the law. We can't do anything about it.
"The Alabama law says you cannot hunt deer in the area of bait. The only thing we could do at the Alabama Department of Conservation and Natural Resources was define what that area was. That area is within 100 yards and/or line of sight. If you're outside of 100 yards, and the feed is out of sight because of natural vegetation or terrain, you're okay. That's as far as the Department could take it with a regulation."
As he did last year, Sykes is touring the state to give hunters and landowners updates on the mandatory Game Check system that is used to report the harvest of white-tailed deer and turkeys.
Another misconception is this year's seminars are repeats of last year's. Sykes, who has held six seminars so far this year, said a great deal of new information is included in this year's seminars.
"Participation in the seminars is about half what it was last year," he said. "People think it's the same seminar they heard last year, and it's not. We're going over the Game Check results from last year, and some of the tweaks we're making to the system and additional programs we're offering this year, so it's not the same seminar."
Those at this year's seminars who used Game Check last year reported it was an easy process and didn't have any complaints, Sykes said.
According to the analysis of data, Sykes said about 35 percent of deer hunters reported their harvest through Game Check, while about 40 percent of turkey hunters used Game Check. According to Game Check data, 45,561 bucks and 36,867 does were taken, while 9,174 turkeys were harvested. With other information factored in, the total estimate of deer harvested was 130,000 bucks and 105,000 does. Turkey harvest was estimated at 23,000.
"Deer numbers were down a little, but we're attributing that to the drought," Sykes said. "It's not that it negatively impacted the deer herd, but it negatively impacted people's deer hunting."
One of the tweaks WFF made for this year's Game Check adds another definition in the possibilities for deer harvest. Previously, the options were antlered or unantlered.
"We have had quite a few questions on what to do with button bucks," Sykes said. "Now, we've added another option. Under antlerless deer, you get another option as to whether it was male or female. That will give hunters the answer of how to report button bucks, and it's also going to give us some good information.
"If we find out that 60 percent of the antlerless harvest turns out to be button bucks, that's something the public needs to know. That's something we need to know. We may need to adjust some things, because we don't need to be hitting that age class of bucks that hard."
Another Game Check tweak will add more options to the type of land hunted, whether private or public. If public land is clicked, a drop-down box will give options on which public land was hunted, based on the county.
"This helps us drill down to see where people are utilizing public land," Sykes said.
Additional information will be needed to report turkey harvests as well. Now Game Check will ask for beard length and spur length.
"This will help us determine the age class of turkeys being harvested," Sykes said.
Deer season dates are basically unchanged from last year with the exception of calendar dates. Bag limits remain the same at three bucks per season. One of those three bucks must have at least four points (1 inch or longer) on one side. Barbour County has a special antler restriction in force in that each buck of the three-buck limit must have at least three points on one side.
A special WMA (Wildlife Management Area) Bonus Buck Program will be in effect this season on specific public land – Lauderdale WMA, William R. Ireland-Cahaba WMA, Lowndes WMA, Barbour WMA, Geneva State Forest WMA and Perdido River WMA.
On those specific WMAs, hunters will have the opportunity to harvest an additional buck on the specific Bonus Buck day. This additional buck will not count against the three-buck limit. To qualify, hunters must obtain a daily permit from the check station at the participating WMA on the Bonus Buck day. Following the harvest, the hunter must bring the animal to the check station for WMA personnel to collect data from the buck and validate the animal. Only WMA personnel can validate the bonus bucks.
The other big addition for the upcoming seasons is the advent of Special Opportunity Areas (SOAs) that offer a different experience for public-land hunters. The new SOAs available are the 6,500-acre Cedar Creek SOA in Dallas County, the 4,500-acre Uchee Creek SOA in Russell County and the 400-acre Crow Creek SOA in Jackson County. The Fred T. Stimpson SOA, a 5,400-acre tract in Clarke County that had been open for youth hunts and limited adult archery deer hunts has transitioned to this hunting mode to assist in reducing deer densities on the area.
Visit https://publichunts.dcnr.alabama.gov/Public/AvailableHunts to register for the limited draw hunts. The computer-controlled, random drawing will occur on October 3.
"The SOA hunts are going to be a big deal," Sykes said. "Everybody I've talked to thinks it's outstanding. Of course, we're not going to make everybody happy, but this is a unique opportunity for folks."
Black Warrior Among 19 Alabama Electric Cooperatives
Sending Crews to Help Restore Power in Florida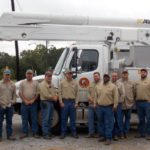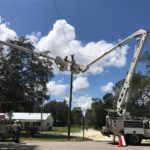 DEMOPOLIS, Ala., Sept. 13, 2017 – Black Warrior Electric Membership Corporation is among 19 Alabama rural electric cooperatives sending crews to Florida this week to help fellow electric cooperatives in that state restore power in the wake of Hurricane Irma. In all, a total of 210 linemen from Alabama cooperatives were dispatched to assist in Florida, where the hurricane left more than 75 percent of the state without electricity.
Confronting the aftermath of high winds and heavy rain, mutual aid linemen from more than 25 states are working at co-ops in Florida, Georgia and South Carolina, according to the Alabama Rural Electric Association. In some spots, full restoration could take weeks, officials warned.
"Alabama's cooperatives are always willing to help our fellow cooperatives when there is a need," said Fred Braswell, president and CEO of the AREA, which represents Alabama's 22 electric cooperatives.
Black Warrior EMC General Manager Daryl Jones said crews from Black Warrior left Tuesday headed for Florida.
"As usual, we had every field employee volunteer to assist our fellow cooperatives," Jones said. "Additional BWEMC crews will be swapped out later if needed. This allows us to maintain reliability for our own members while helping others in need." The mutual aid among cooperatives is a nationwide network that provides assistance when disaster strikes.
Terry Barr, president of the Black Warrior Electric Board of Trustees, said cooperation among electric utilities in responding to widespread power outages is critical and benefits members of Black Warrior.
"Our crews are always prepared for when bad weather hits, but hurricanes and tropical storms are a special challenge," Barr said. "Getting the lights back on quickly often requires additional manpower beyond what the local cooperative can provide on its own. So we are happy to assist other cooperatives when they need help, knowing they will be ready to help us when we need it."
Alabama's rural electric cooperatives deliver power to more than 1 million people, or a quarter of the state's population, and they maintain more than 71,000 miles of power lines. Black Warrior Electric Membership Corporation serves about 26,000 customers in 12 counties in west central Alabama. For information, go to www.blackwarrioremc.com.
Take precautions to prevent the spread of mosquitoes after storms, flooding
A potential problem exists with mosquitoes during the recovery phase after Tropical Storm Irma and the threat of flooding in the state. The Alabama Department of Public Health continues to advise caution to those who are entering flooded areas. Mosquitoes are one of the problems to be remembered, as they can carry serious diseases such as West Nile virus.
Residents of flooded areas should be particularly careful to reduce their exposure to mosquito bites. Many kinds of mosquitoes are most active during the late evening, night and early morning. If possible, outside activities should be limited during these times. However, keep in mind that the mosquitoes that carry Zika are active during the day, so even thoughthere has been no known spread of Zika by mosquitoes in Alabama, prevention techniques to reduce exposure to mosquitoes should be followed anytime when going outdoors.
According to the Centers for Disease Control and Prevention, the best way to prevent mosquito-borne diseases is to avoid mosquito bites by following these recommendations.
• Use EPA-registered insect repellents containing DEET, picaridin, oil of lemon eucalyptus, or IR3535 when going outdoors. Follow label instructions carefully when using any insect repellent. Repellents should not be used on infants less than 2 months old.
• Wear loose fitting, long sleeves and long pants.
• Install or repair screens on windows and doors. Use air conditioning, if available.
• Empty standing water from items outside homes such as flowerpots, buckets, old tires, children's pools.
• Clean clogged gutters and clear drainage ditches and pipes of debris.
Mosquito bites can be treated with topical agents such as calamine lotions. Cortisone creams and oral antihistamines are available as over-the-counter medications that can reduce itching. Bites to children should be watched for secondary infections that need to be treated by a physician.
The primary signs of mosquito-borne disease in people are a high fever and headaches severe enough to require medical attention. Other less common signs in addition to fever and headaches include confusion, neck pain and stiffness, and seizures.
For more information please visit the ADPH Web site at www.alabamapublichealth.gov.
Hurricane Irma drains parts of Mobile Bay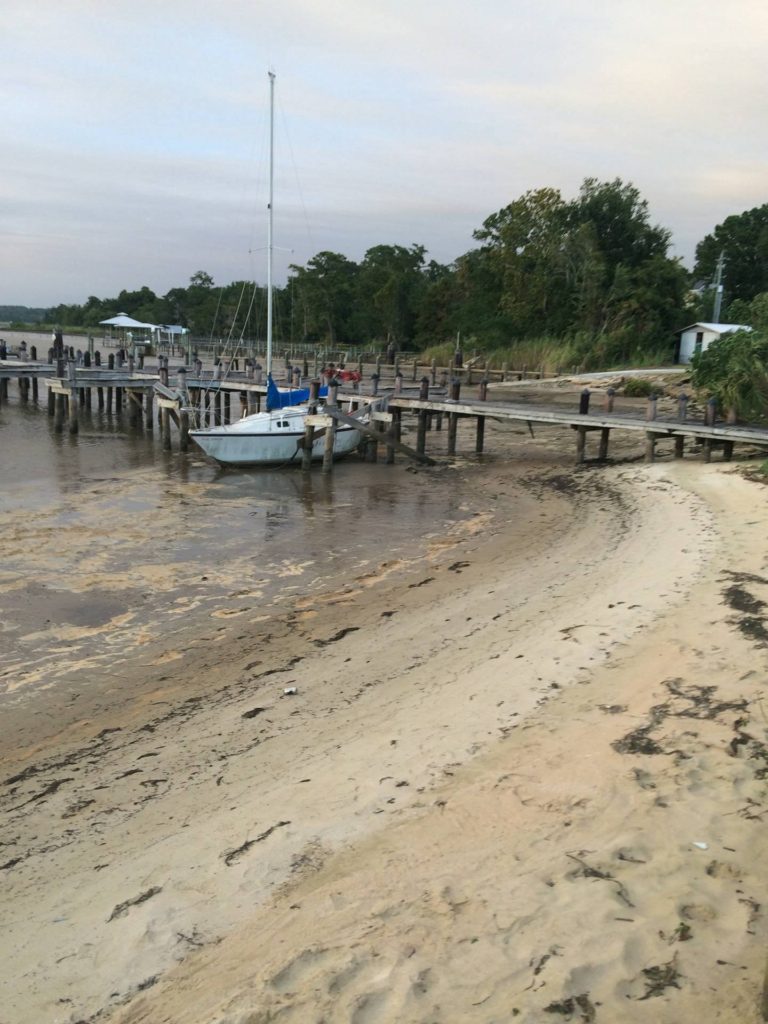 A photo similar to this one posted on facebook by ABC 33/40 Meteorologist James Spann showing Mobile Bay appearing dry in places went viral over the weekend. This led some to believe that Hurricane Irma was somehow sucking water out of the bay and others to accuse Spann sharing a faked photo. This "real" photo was taken by a friend of the SCRJ, William "Billy" Harrall and shared for readers to see at Lake Forest Marina in Daphne. Spann went on to say that "this happens on shallow parts of bays and is not that unusual." And that's certainly true for Mobile Bay, which has expansive shallows in its northern reaches, near the Bayway and Causeway. A sustained north wind – be it from a hurricane or the regular winter pattern – will expose extensive flats in those areas, especially at low tide. Photo by William "Billy" Harrall
Alabama Power sends team, equipment to aid in Hurricane Harvey power restoration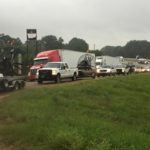 A team of specially trained Alabama Power personnel left at dawn today for Texas with a convoy of boats and special equipment to help Houston-based CenterPoint Energy restore power in the devastated city.
The team of 20 employees are taking with them two airboats, two Marsh Master track vehicles and jon boats. The employees will coordinate with local CenterPoint Energy crews in the Houston area who are working to repair damage to the grid caused by Hurricane Harvey.
The equipment comes from Alabama Power's Transmission and Environmental Affairs organizations, which also are supplying the trained personnel. The team and equipment, which are from the Birmingham and Mobile areas, are expected to arrive in the Houston area on Friday.
"We are glad that we can help assist CenterPoint Energy and the people of Houston who are suffering from this disaster," said Pam Boyd, Power Delivery Services general manager.
"Our thoughts and prayers are with the people of Houston and everyone along the Gulf Coast where Harvey has had such a terrible impact," said Markell Heilbron, Environmental Affairs general manager.
Harvey dumped record-setting amounts of water on the east Texas Gulf Coast, topping 50 inches in some places. The storm is now producing heavy rains in Louisiana, Mississippi and south Alabama, but in the Houston area, major rivers are still rising and more precipitation is expected this weekend.
This morning, CenterPoint Energy reported it has restored power to more than 713,000 customers since Harvey first began to affect its service territory on Friday. While the vast majority of the company's customers who can take service have had power restored, flooding and wet conditions have hampered recovery in some areas. The Alabama Power team and equipment will help CenterPoint crews speed repairs in still-flooded, wet or marshy areas.
The Southern Company Charitable Foundation has pledged $100,000 to the American Red Cross to aid in Harvey relief efforts. Southern Company also has established a donation matching program for employees and retirees. Alabama Power is a subsidiary of Atlanta-based Southern Company.
Learn more about Alabama Power at www.alabamapower.com.
Trail Rider's annual fishing derby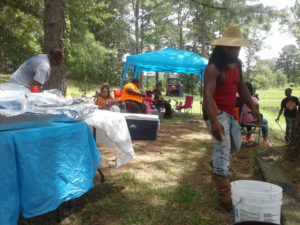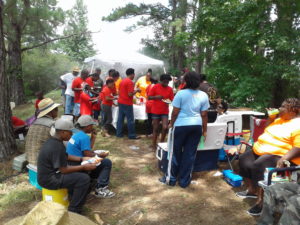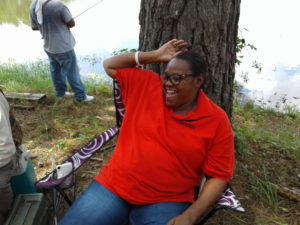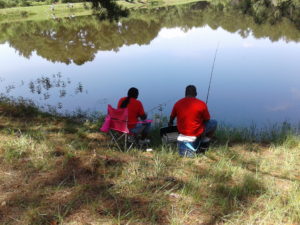 Southwest Alabama and Southeast Mississippi Trail Rider's Association held their 6th annual Fishing Derby on Aug. 19 at the Federation of Southern Cooperatives along with the Federation's 50th anniversary. More than 50 people participated in the fishing derby. Trophies were awarded for the most fish, smallest fish, biggest fish, most excited, first time fishing and best sportsmanship. Winners for the most fish were Mike Jackson and Rodrick Epps (adult), Shemara Washington and Robert Smith (youth). Diann Ware (adult), Nicholas Jones and Jaylen Hale (youth) received awards for the smallest fish. Biggest fish winners were Jadarvion Green (youth) and Jimmy Newell (adult). AJ Hale (youth) brought home the trophy for most excited. Jeremiah Campbell and Zykirea Long received awards for first time fishing and Tommy Epps, Jr., received the best sportsmanship award. Submitted by Dorothy Burrell
B.A.S.S., Alabama Power To Award Scholarships To Technical College Students
B.A.S.S. and Alabama Power are partnering to award two $5,000 scholarships this year for students currently attending, or planning to attend, a technical school in the state of Alabama. The applicant must be a member of a B.A.S.S. High School Club or the B.A.S.S. Nation, a worldwide network of affiliated B.A.S.S. clubs whose members are active in conservation initiatives and youth programs.
The award can be used to cover tuition, textbooks or living expenses. Applications can be found on Bassmaster.com/nation-application. An official academic transcript, a letter of introduction and two letters of recommendation are required to apply. The deadline to apply is Friday, Sept. 15.
Recipients will be notified by Sept. 29 and will be featured on Bassmaster.com. For more information, contact B.A.S.S. College and High School Manager Hank Weldon at hweldon@bassmaster.com.
License Purchase Method Modified for Some Military Personnel and Those with AL Non-Driver ID Cards
Non-resident military personnel stationed in Alabama and those with Alabama non-driver identification cards will see changes this year in the process of purchasing Alabama recreational hunting and fishing licenses.
The changes became effective August 21, 2017. Non-resident military personnel stationed in Alabama must apply for a hunting and/or fishing license at their local probate office, license commissioner, Marine Resources Division office, or Wildlife and Freshwater Fisheries Division headquarters in Montgomery, Ala.
A valid U.S. driver's license, military ID card, and a copy of military orders assigning them to Alabama for 30 or more days will be required when applying. This also applies to spouses and dependents. Those with Alabama non-driver identification cards must also apply for a hunting and/or fishing license at their local probate office, Marine Resources Division office, or Wildlife and Freshwater Fisheries Division headquarters in Montgomery, Ala. Two additional proofs of residency are required when applying.
These changes were made to ensure the correct license types are being sold to applicants. It is a violation of Alabama law to willfully or knowingly make a false statement when purchasing an Alabama resident hunting or fishing license.
Hunters and anglers make conservation efforts in Alabama possible through the purchase of hunting and fishing licenses. Fish stocking, wildlife management, public hunting land, and marine fisheries management are just a few of the programs funded in part though license sales.
More information about the types of licenses available, hunting rules and regulations, and how to purchase a license can be found at www.outdooralabama.com/alabama-license-information.
The Alabama Department of Conservation and Natural Resources promotes wise stewardship, management and enjoyment of Alabama's natural resources through four divisions: Marine Resources, State Lands, State Parks, and Wildlife and Freshwater Fisheries. To learn more about ADCNR, visit www.outdooralabama.com.
How to get rid of fire ants
Alabama Cooperative Extension System (ACES) specialists recommend a two-step method to deter fire ants from invading your property. The first step is to look for a product that is called broadcast bait. A bait product consists of a chemical dissolved into a food source. These baits are spread evenly over the entire infested area. Ants will pick up the bait and take it back to the nest, where they eventually find their way to the queen. The colony will be destroyed once the queen is killed. The second preventive step is to use individual mound treatments throughout the summer. These products come in the form of dusts, drenches, baits, or granules, and should always be applied according to label directions. Mounds should be treated mid-day in cold months and early in the morning during summer months. Over applying mound treatment products, however, can result in the colony relocating to another area on the property. If using a drench product, it is recommended to mix up two gallons of chemical to apply to the mound. The selection of products you can safely use in vegetable gardens is very limited. Fire ants can be a nuisance for the whole family, but with a little work they are easily kept away. For additional information contact your Hale County Extension Office.
Ben Guin Got One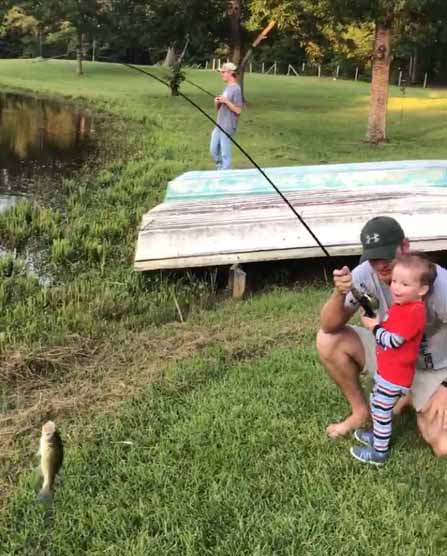 Benjamin Guin with his first fish, with uncle Ryan . "I got one, I got one!" Submitted by Livingston Lines Columnist Claire Smith
Hog control is one of the top issues for Sumter County and West Alabama – ADCNR's Matt Brock explains what to do
By Kasey DeCastra, SCRJ & MVT Community News Editor
As Ward News columnists June and Jean Stephenson havebeen reporting for the last few weeks, wild hogs are a problem out here in Sumter County. Matt Brock Alabama Department of Conservation and Natural Resources gave a presentation on wild Hog Control at the annual Area III Association of Conservation Districts meeting in Jasper at Beville State Community College July 19.
They are not native to North America. Brought by the Spanish explorers as a mobile form of food back in the 1600's, the fast repopulating, omnivors have wrecked havic ever since. They displace major game such as deer and turkey. And are known to destroy the habitat of our native amphibians and reptiles by rooting, wallowing and tree rubbing around swamps and water ways.
They damage livestock, farming land, forests. Hogs can live up to 21 years, mature in 6-8 months, reproduce twice a year with 4-10 piglets. They are former domestic pigs and Eurasian wild boar that are a range of colors. They can spread disease to both animals and people. If you have shot one hunting, protect yourself when butchering the meat with rubber gloves, gogles and try not to breath the gases of the animal. Be sure to cook the meat fully as well.
The two most effective ways of dealing with the animals are hunting and trapping. You will need a permit to hunt wild hogs and should contact local Conservation Enforcement Officer or local Wildlife and Freshwater Fisheries District office for more information regarding this permit according to http://www.outdooralabama.com/feral-hogs. To download a free .pdf on how to take care of hogs visit https://store.aces.edu/ItemDetail.aspx?ReturnTo=0&ProductID=14291 Printed copies may also be ordered through Mississippi State University Extension Service and Alabama Cooperative Extension System.
Mississippi State University Extension Service: Contact your county Extension office.
Alabama Cooperative Extension System: Call (334) 844-1592 or e-mail publications@aces.edu
Not Fake Fish News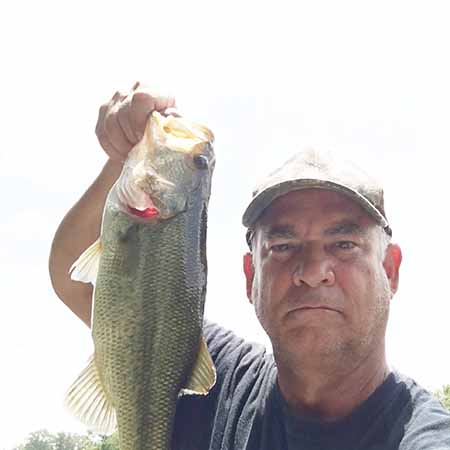 Sumter County Record Journal Publisher, Tommy McGraw went on secret assignment to the Black Warrior River near Akron recently to investigate whether the recent high water levels from the many rain storms effected the bass biting. The publisher/fisherman found some fresh water off the main channel and landed about 15 to 20 bass in the middle of a hot summer day, some in the two to three pound category like the one pictured. McGraw affirmed that this was "Real News" and not the "Fake Fish News" some fisherman occasionally spin. Photo by Tommy McGraw
Loitering Rhinobeetle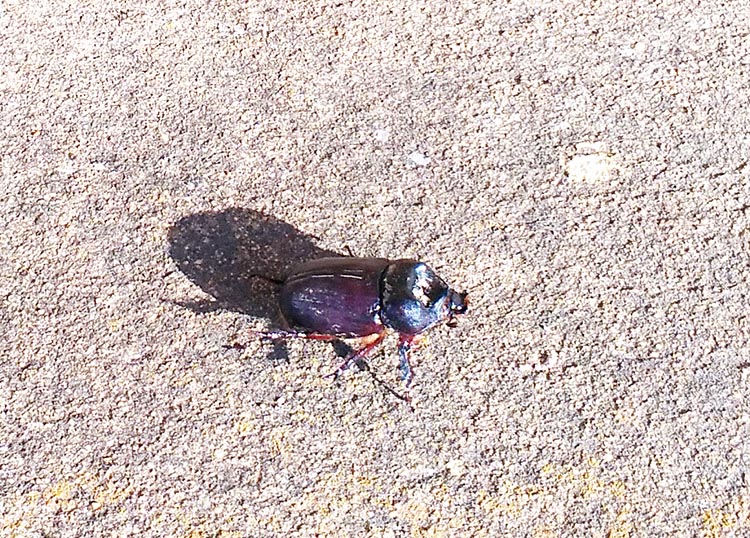 Easily recognizable by the horn on it's head, which is used to keep other males from the females, these beetles are mostly active at night and mostly found in Eastern wooded areas of Alabama, although we found this one on the sidewalk outside of Moundville Times. They like to eat tree roots and are most active at night. By Kasey DeCastra, MVT & SCRJ Community News Editor
AL Gopher Tortoise Conservation Project
If you see a gopher tortoise, we'd like you to report it online through iNatural. Sign up online or download the app today.https://www.inaturalist.org/projects/al-gopher-tortoise-conservation-project
Eastern Box Turtle turns up for a visit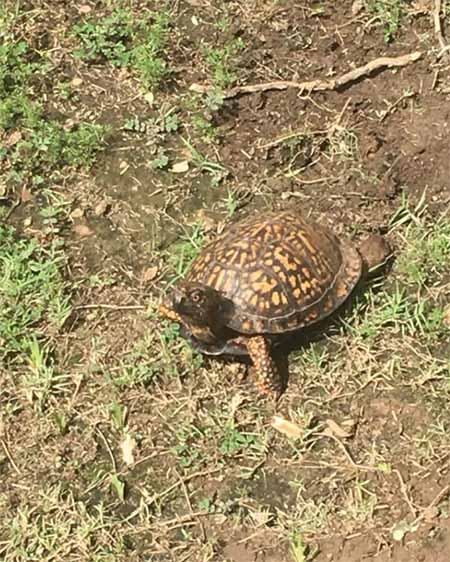 Ben Noppenberger found a friend wandering through his yard Saturday between storms. The eastern box turtle (Terrapene carolina carolina) is a subspecies within a group of hinge-shelled turtles, normally called box turtles. It's native to the eastern part of the United States, found as far north as Maine and West as Texas. The box turtle is largely terrestrial (they like to walk from one pond or stream to another), but are slow crawlers, extremely long lived, slow to mature, and have relatively few offspring per year. Males have red irises and females have brown. Story by By Kasey DeCastra, MVT & SCRJ Community News Editor and Photo by Ben Noppenberger
Rose… Jelly?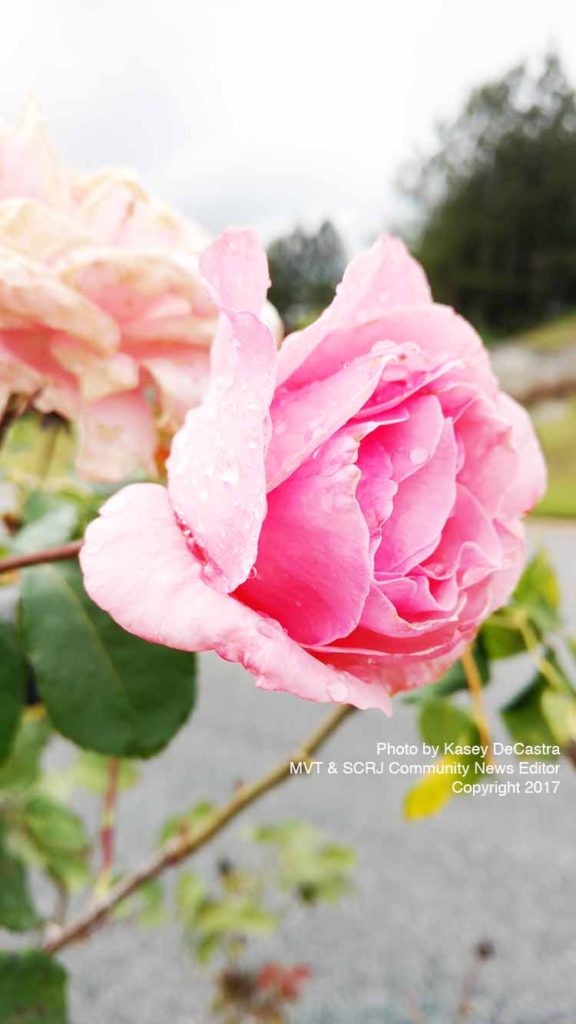 Roses have more uses than just a ornamental flower in the garden. Rose hips can be made into jam, jelly, marmalade, and soup or are brewed for tea, or filtered for syrup. Rose hips are also used to produce rose hip seed oil, which is used in skin products and some makeup products and of course perfume. They have been used in medicine for stomach issues. (See http://pfaf.org/user/ Plant.aspx?LatinName=Rosa+c hinensis) By Kasey DeCastra, MVT & SCRJ Community News Editor
Musical Moundville Times Visitor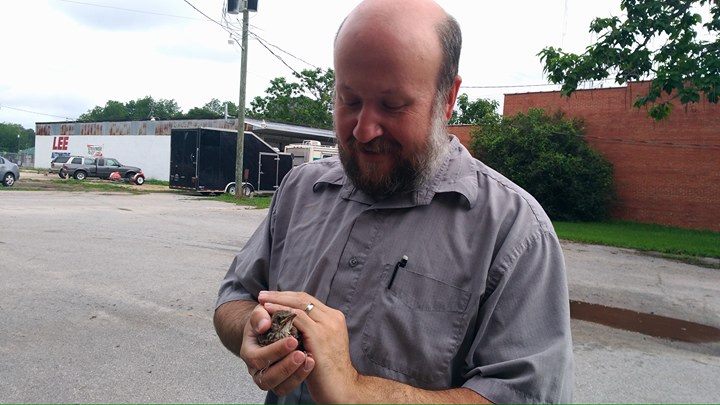 We had a musical visitor hop on into our sister paper's office, the Moundville Times office June 5th. Our lead editor, Travis Vaughn, gently helped him back outside to his home in our Tulip tree outside the office. Our best guess is he wanted to read some news on the fly. We looked him up and he is a Sedge Wren. Learn more at http://www.outdooralabama.com/sedge-wren By Kasey DeCastra, MVT & SCRJ Community News Editor
Color of a Rose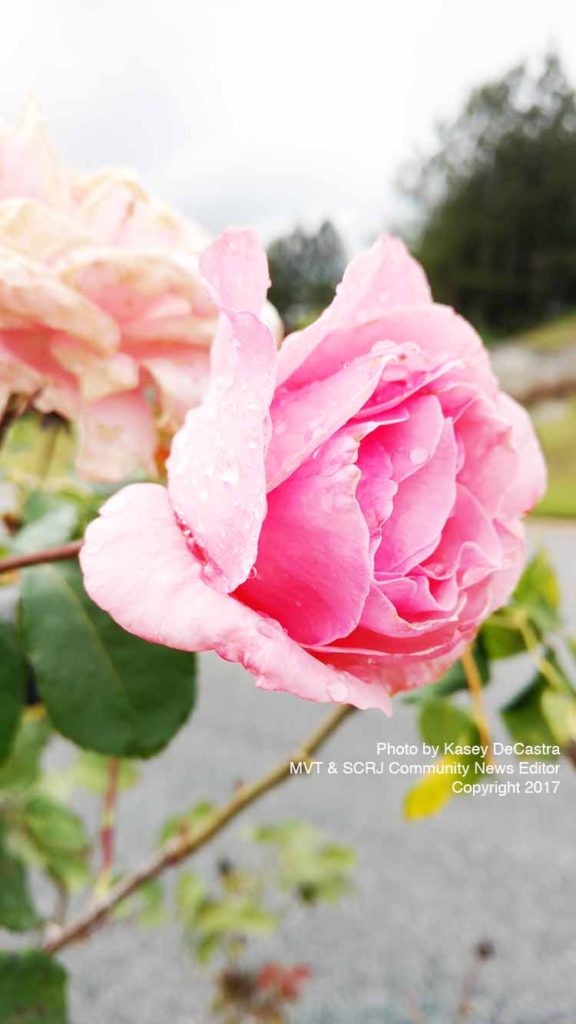 Roses are native to North America, Europe, Asia and North Africa. There are over a hundred pecies and thousands of cultivars (assemblage of plants selected for desirable characteristics that are maintained during propagation. Roses have acquired cultural significance in many societies. You may have heard a red rose is for true love, a yellow for friendship, or a pink for sweetness. Check out http:// www.passiongrowers.com/web/ ot/colors.asp to learn more about rose color meanings. By Kasey DeCastra, MVT & SCRJ Community News Editor
Magnolia's are very useful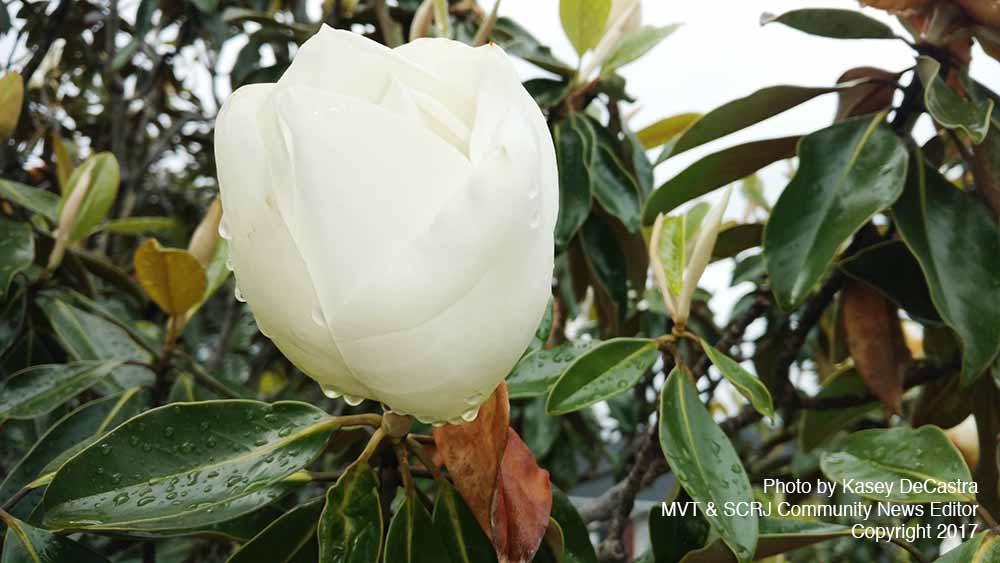 Magnolia bark has been used to treat menstrual cramps, abdominal pain, abdominal bloating and gas, nausea, and indigestion. It is also an ingredient in formulas used for treating coughs and asthma. Learn more about Magnolia uses at http://www.herbwisdom.com/ herb-magnolia.html. By Kasey DeCastra, MVT & SCRJ Community News Editor
Carp to the rescue! Say what?!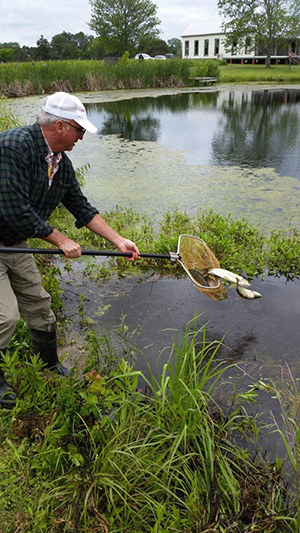 These grass crap are going to help rehabilitate the UWA duck pond. A small number of these fish have been stocked on campus to eat away at the invasive and overwhelming filamentous algae, Alligator weed and pond weed instead of using chemicals harmful to the creatures who make it their home. Learn more about the Black Belt Museum at https://www.facebook.com/blackbeltmuseum/
Eighteenth Annual Progressive Agriculture Safety Day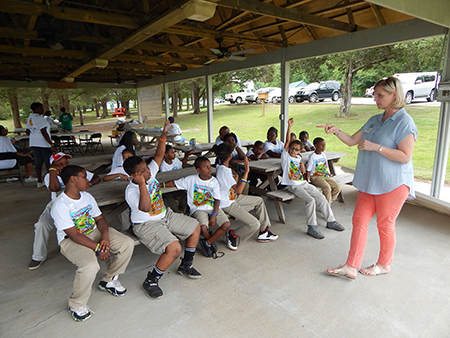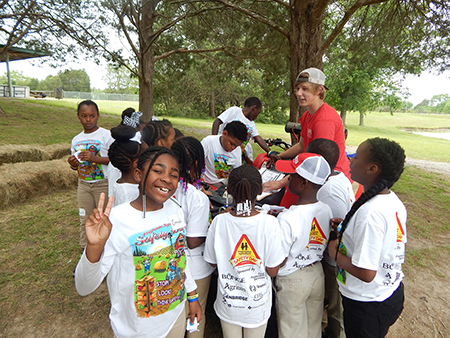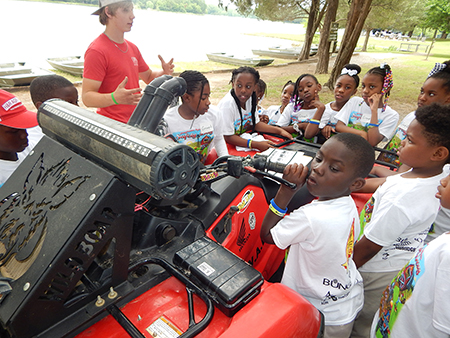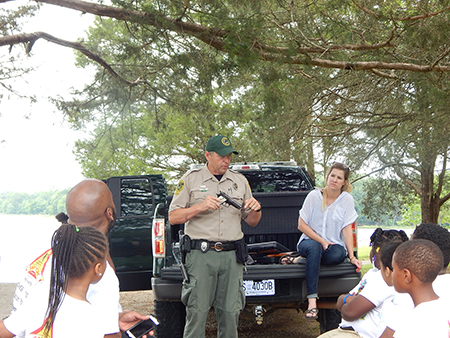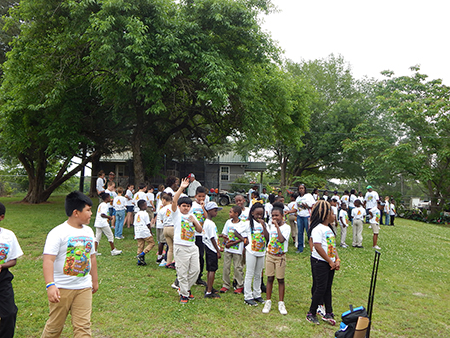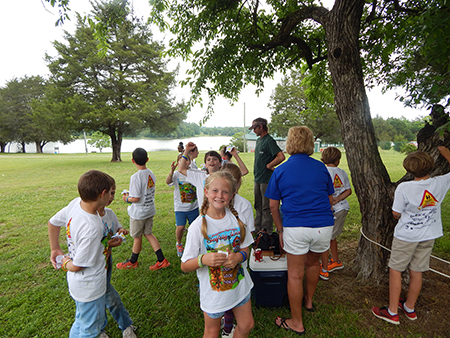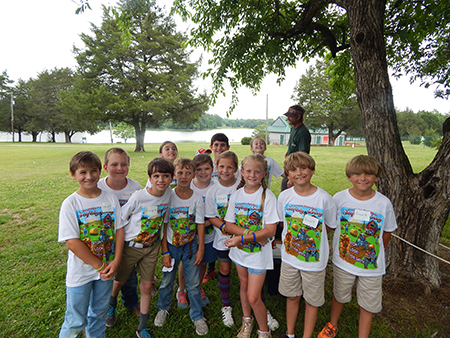 On May 11, 2017, the Eighteenth Annual Progressive Agriculture Safety Day was held at Lake LU on the University of West Alabama campus for all third graders in the county from public schools and private schools. Students rotated thorough eight, twenty-minute stations throughout the day. A large group demonstration was held at the end of the day with a power-take-off (PTO) demonstration instructed by Sid Nelson. Stations were set up to teach about all different types of safety. Instructors from different parts of the West Alabama area came to help teach on safety. The following stations and the instructor for each station is listed below: 1) Disability Awareness, David Perry, Alabama Cooperative Extension Systems; 2) Fire Safety, Livingston Fire Department; 3) Be Safe Bullying, Leigh Akins, Alabama Cooperative Extension Systems; 4) Zane Thrash, ATV Safety; 5) Firearm Safety, Jeff Shaw, Alabama Department of Conservation and Natural Resources; 6) Healthy Lifestyles, Erin Reznicek, Alabama Cooperative Extension Systems; 7) Underground Utilities, McKay Levers, Alabama One Call; and 8) Tractor Safety, Donny Sanders, H&R Agri-Power. We would like to thank these people for taking time out of their busy schedules to help make this event a success. We would also like to thank the University of West Alabama, Sumter County Farmers Federation, State Farm Insurance, First South Farm Credit, and Alabama Ag Credit for their contributions to the safety day. A very special thanks to the volunteers who helped on this day. Without them, the safety day would not have been possible. For more information on this program, please call Mandee Carrier at (205) 652-5105. Photos by SCRJ Reporter Thomas Ausborn
Magnolia, our sweet smelling southern staple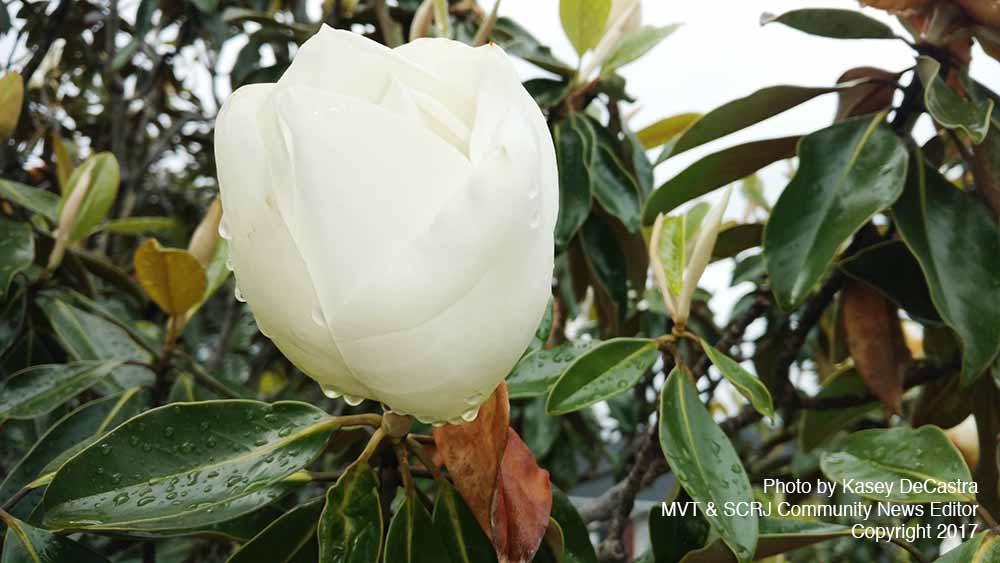 Magnolia's were one of the very first trees to evolve a flower. The petals still resemble the tree's leaves. It's theprized this was to encourage bees to pollintate the trees. According to "Convergent evolution and adaptive radiation of beetle-pollinated angiosperms" by Bernhardt, P. "Fossilised specimens of M. acuminata have been found dating to 20 million years ago, and of plants identifiably belonging to the Magnoliaceae date to 95 million years ago." It's the state flower of Mississippi and Lousiana. Alabama's state flowers are the camelia and oak-leaf hydrangea (state wild flower). They come in both evergreen version and deciduous with a wide range of colors: white, pink, red, purple, or yellow. By Kasey DeCastra, MVT & SCRJ Community News Editor
When and where you least expect it…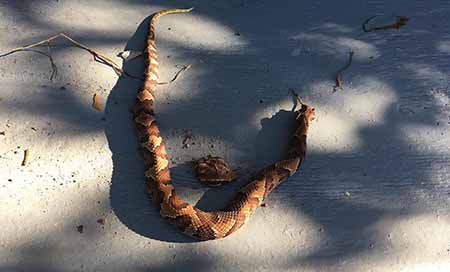 Tiffany Vaughn escaped a snake bite Sunday afternoon in her front yard on Market Street in Moundville and dispatched the juvenile copperhead. She wrote, "It attacked me when I almost stepped on him. Thank God it was a small one and not full grown. Thank God I had long pants on because he struck my pant leg. Y'all be careful in your yards. We get complacent and forget that they are here with us.†Photo by Tiffany Vaughn
Cobbler Incoming!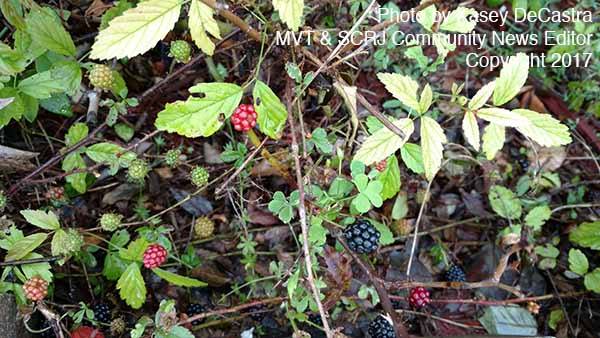 Wild black berries are in season now. Blackberries are one of the two state fruits for Alabama. The other is the peach. (By Kasey DeCastra, MVT & SCRJ Community News Editor)
String Beaning Us Along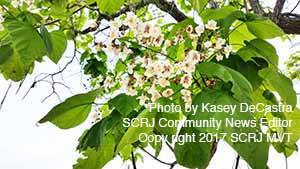 Wondering what kind of tree this is? It's a Catalpa. A deciduous tree that produces long string pods in late summer (also a sap that will eat the paint off your car if you park it under it.) It's nick names are "String Bean Tree," the "Indian Been Tree," and "Cigar Tree." This one lives beside at our sister paper the Moundville Times in Moundville in Hale County and is in full bloom. (By Kasey DeCastra, MVT & SCRJ Community News Editor)
Big Boss Gobbler taken in "Hale"
 Sumter County Record Journal Publisher Tommy McGraw had to go through "Hale" to get this boss gobbler Saturday, April 8 deep in the Hale County woods. The 22 pound bird sported an 11.5 inch paint brush of a beard and had one inch long spurs. The bird and a companion marched within gun range at 6:50 a.m. The two birds came in after McGraw stirred the two gobblers with his irresistible cackling and yelps. The 35 yard shot was made with a "Quick Draw McGraw†move as the birds circled behind the hunter as they came in to greet their invisible mate. Photo by Jane McGraw
A useful southern plant, Kudzu
By Kasey DeCastra, Sumter County Record Journal & Moundville Times Editor
Hale and Tuscaloosa Counties are extremely beautiful during the summer. One thing we see creeping over our fences and covering entire fields as most of the south is, is kudzu. Kudzu first came over to the United States in the 1800's. It was originally a garden plant used for decoration. During the Great Depression of the 1930s, the Soil Conservation Service promoted kudzu for erosion control. Hundreds of young men were given work planting kudzu through the Civilian Conservation Corps.
Farmers were paid as much as eight dollars an acre as incentive to plant fields of the vines in the 1940s. The problem is that it grows too well! The climate of the south is perfect for kudzu. The vines grow as much as a foot per day during summer months. Under ideal conditions kudzu vines can grow sixty feet each year. While they help prevent erosion, the vines can also destroy valuable forests by preventing trees from getting sunlight. The USDA finally declared kudzu to be a weed in 1972. The vines pull down telephone poles, choke crops and cover rural railroad tracks causing problems for trains. However animals, including humans, can eat kudzu! It can be used like spinach, fried like potato chips and made into tea. Make sure that the kudzu you gathered is not sprayed with chemical control agents that may be harmful to humans.
Pick tender kudzu leaves in spring and early summer. Young leaves at the end of the vines may be collected at any time. Make sure it is kudzu that you have picked. It has a three leaf arrangement, but so does poison ivy and poison oak.
Kudzu Fried Chicken Dredge chicken breast strips in kudzu powder; dip in lightly beaten egg, and dredge in dry Italian seasoned bread crumbs. Deep-fry in hot oil (350) for 3 to 5 minutes or until golden brown. Drain on paper towels. Serve immediately.
Kudzu root powder, also called kuzu, and capsules are available at most health food stores.
Kudzu Quiche (4-6 servings) 1 cup heavy cream 3 eggs, beaten 1 cup chopped, young, tender kudzu leaves and stems 1/2 teaspoon salt ground pepper to taste 1 cup grated mozzarella cheese 1 nine-inch unbaked pie shell Preheat oven to 350 degrees. Mix cream, eggs, kudzu, salt, pepper, and cheese. Place in pie shell. Bake for 35 to 45 minutes.
Kudzu is great for basket making and I have even seen it made into bird houses by local artists. The vine can be made into soap and candles. It has been used for clothing and rope. It is a good feed for animals and can be made into pulp for cardboard and particle board. Also it's a great cover plant for unsightly parts of the yard. What ever you chose to use it for one thing you can be sure of, we are not lacking in kudzu.