By Tommy McGraw
Publisher
Rexo, a tan and black German Shepherd K-9, has joined the Seventeenth Judicial Drug Taskforce to aid in making Sumter County a safer place.
The K-9 is the sixth addition to the Drug Task Force K-9 units and is courtesy of the McElroy family in Cuba and McElroy Trucking Company.
Seventeenth Judicial Commander Clint Sumlin said of the $15,000 gift to the unit, "We are very thankful and appreciative of the McElroys to provide this necessary tool that we can use in getting drugs and criminals off the streets in Sumter, Marengo and Greene Counties.
"The McElroy family has always been willing to help out any way they could, and this will give us the necessary tools to help make Sumter a safer place to live and work and will make it safer for our agents as well."
Sumlin recalled an earlier request he had made of Mr. Buddy McElroy. "Mr. Buddy was willing to assist us in purchasing a K-9 before he passed away, but another source of revenue supplied the need before Mr. Buddy could help us then." Sumlin said the McElroy sons Jay and Shawn and their families have picked up the mantle of their father and "have helped us in a big way again."
Jay McElroy said of the donation, "We were happy to support the Drug Task Force with money to purchase the canine. Our families and employees live in this region, and we need to do whatever we can to make it safe for them and their children. We are strong believers in supporting our local law enforcement; they work very hard and risk their lives to keep all citizens safe."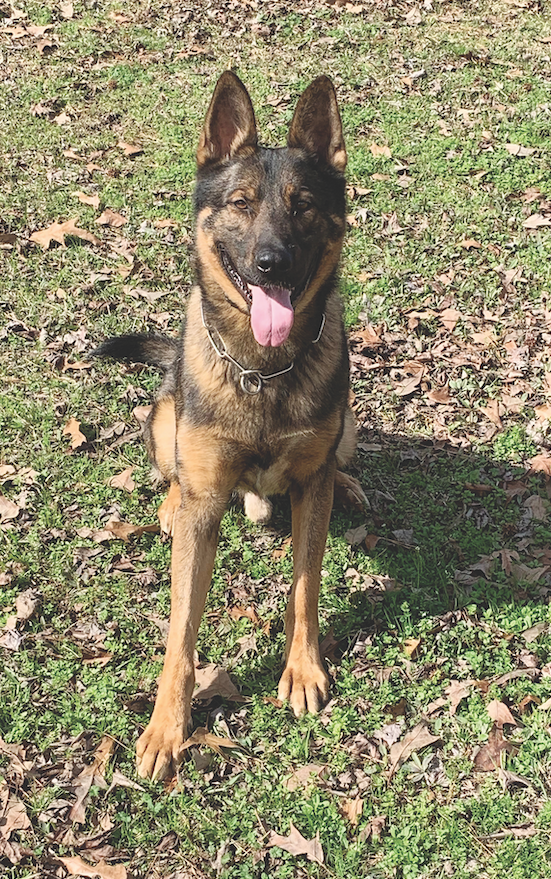 DTF Agent Ken Delaney will be Rexo's new handler, and the pair will aid and assist the Drug Task Force and all other law enforcement agencies located in Sumter, Greene and Marengo Counties.
Rexo is a two and half-year-old German Shepherd breed from the Czech Republic. The 90-pound canine was trained in Northport at the Alabama Canine Law Enforcement Officer's Training Center, [ACLEOTC] by trainer Rick Farley.
The dog and handler go through an eight to 12-week training session. Sumlin said after the initial session, the training is not over. The K-9 unit has to recertify each year at the Northport facility to keep the handler and canine on cue for the latest in detection methods and safety issues.
Rexo is a special dog in that he is a dual-purpose dog. Rexo can apprehend a suspect but is also a scent specialty dog who can use his scent detection ability to track evidence or individual suspects.
Sumlin explains, "This is our third dual K-9 unit. We have two dogs that are single-purpose including one located at the University of West Alabama. That dog, Miley, is trained to sniff for bombs and narcotics. The Drug Task Force's second single purposed K-9 is a drug detection dog only."
The ACLEOTC in Northport is not only a center to train Alabama law enforcement K-9s, but Farley and his team have trained dogs for well over 1,500 police departments in almost every state in the U.S. and 28 foreign countries.
Commander Sumlin said of Farley and the facility, "They are the best. Don't get me wrong; there are other good training facilities, but this location in Northport is advantageous to us in two ways. We get the best-trained dogs that are out ,there and they are right in our back yard."
Sumlin explained that the handler has to spend several training sessions with the dog and travel is a whole lot more convenient when "it's just here in Tuscaloosa County, a county over from us in Demopolis and not out in Texas or several states over."
Sumlin said the officer's safety is a priority and the dog just adds so much more protection to the officer in the field.
Commander Sumlin said, "This gift the McElroys have generously donated to us, not only will it make it safer for our officers, but the suspected criminals, as well."
Sumlin gave an example of a couple of incidents where another one of their K-9s was about to be unleashed into a dwelling where a criminal suspect was hidden inside. "We announced we were unleashing the dog if the suspect did not immediately come out of the house. The suspect came running outside saying, 'Please don't send in the dog.' The dog's snarling teeth he showed to the suspect will keep him up at night," Sumlin added.
District Attorney Greg Griggers realized in 2011 that a special unit was needed to combat illegal drugs in the 17th Judicial District. The Drug Task Force was formed by DA Griggers, who is the Seventeenth Judicial District Attorney, who serves Sumter, Greene and Marengo Counties.