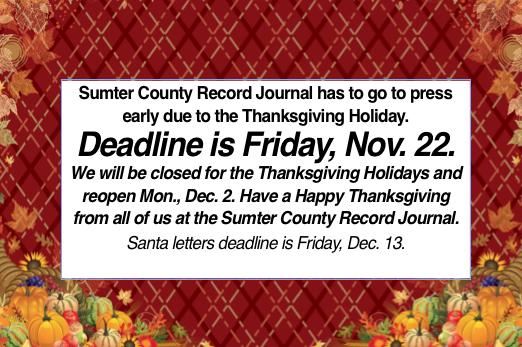 Hill Hospital Pre-Thanksgiving Luncheon
Hill Hospital of Sumter County will host a Pre-Thanksgiving luncheon Thurs., Nov. 21, at 11 a.m.-1 p.m. The community is invited to get a free delicious meal.
Beat Auburn Beat Hunger
The annual Beat Auburn Beat Hunger food drive kicks off Tuesday, Oct. 1, at UA. The drive will run through Nov. 20; results will be announced Nov. 21. Kickoff events will run from 10 a.m. to 2 p.m. Tuesday at the Ferguson Center. Big Al will arrive at noon, and activities include an inflatable basketball toss. In addition, student volunteers will meet at 10 a.m. Tuesday at City Hall with Tuscaloosa officials to kick off the campaign. The drive collects food donations for the West Alabama Food Bank. Watch for an upcoming news release, or, for more information, contact Richard LeComte in UA communications at Richard.lecomte@ua.edu or 205-394-3040.
Thanksgiving, Christmas Present Different Causes For Crashes
Causes of traffic crashes differ between the Thanksgiving and Christmas holiday seasons, but both periods are deadly, according to a UA study of state traffic records. Crashes caused by drivers under the influence of drugs or alcohol are more prevalent around Christmas and New Year's, while crashes around Thanksgiving are concentrated around rush hours. Watch for a news release with more details. Dr. David Brown, a researcher with UA's Center for Advanced Public Safety, is available by phone only at 334-514-7230. Rhonda Stricklin, associate director of CAPS, is available for in-person interviews beginning Thursday. She can be reached at 205-348-0991 or rhonda.stricklin@ua.edu. For assistance, contact Adam Jones in UA communications at 205-348-4328 or adam.jones@ua.edu.
Operation Christmas Child's National Collection Week
This month, sites will be among 5,000 U.S. drop-off locations collecting shoebox gifts for children overseas during Operation Christmas Child's National Collection Week, Nov. 18-25. Sumter County families, churches and groups are busy transforming empty shoeboxes into fun gifts filled with toys, school supplies and hygiene items. Livingston pick up is Livingston First Baptist Church, 103 Lafayette St., Livingston: Mon-Sun., 9 a.m. – 4 p.m. & Mon., Nov. 25: 9-11 a.m. The Samaritan's Purse project partners with local churches across the globe to deliver these tangible expressions of God's love to children affected by war, disease, disaster, poverty and famine. For many of these children, it will be the first gift they have ever received. For more information on how to participate in Operation Christmas Child, call 770-777-9342, or visit samaritanspurse.org/occ. Participants can donate $9 per shoebox gift online through "Follow Your Box" and receive a tracking label to discover its destination. Those who prefer the convenience of online shopping can browse samaritanspurse.org/buildonline to select gifts matched to a child's specific age and gender, then finish packing the virtual shoebox by adding a photo and personal note of encouragement. Operation Christmas Child is a project of Samaritan's Purse, an international Christian relief and evangelism organization headed by Franklin Graham. The mission of Operation Christmas Child is to demonstrate God's love in a tangible way to children in need around the world and, together with the local church worldwide, to share the Good News of Jesus Christ. Since 1993, Operation Christmas Child has collected and delivered more than 168 million gift-filled shoeboxes to children in more than 160 countries and territories.
Holiday Food Safety
FDA gives simple steps to help ensure that harmful bacteria won't be a guest at your festivities.
How to Cook a Whole Chicken or Turkey
USDA Food Safety 15 Sec -The only way to know food has been cooked to a safe internal temperature is to use a food thermometer.
Three Ways to Avoid a Trip to the ER This Thanksgiving
Emergency Physicians Offer Tips for a Safe Holiday
Thanksgiving should be a time for family, friends and plenty of delicious food, not for preventable trips to the emergency room. These suggestions from the nation's emergency physicians could help you avoid an unexpected trip to the emergency room this holiday season.
"This Thanksgiving, a few simple steps to avoid preventable injury or illness can go a long way toward making sure you safely enjoy the holiday," said Paul Kivela, MD, FACEP, president of the American College of Emergency Physicians (ACEP). "It is important to take the time to enjoy this special time of year. But, if the need arises, emergency physicians treat patients 24-hours a day, even on holidays, and we will be there for you."
Follow food safety guidelines. For many people, the most important part of Thanksgiving is a big meal surrounded by friends and loved ones. Mishandling raw meat or other ingredients could transmit harmful bacteria or lead to some very unpleasant stomach pains.
Wash your hands thoroughly when handling uncooked meat and keep it separate from other foods. Be sure to sanitize any surface that touches raw food. The Centers for Disease Control and Prevention (CDC) recommends that oven temperatures should be no lower than 325 degrees.
If you have allergies and you did not cook the meal yourself, remember to ask about the ingredients and how food was prepared. And, don't forget to refrigerate all leftovers within 2 hours. Pace yourself when a big meal is involved, whether you are preparing, eating or cleaning up afterward. If your gathering includes alcoholic beverages, drink in moderation. And of course, do not drink and drive.
Take your time to avoid common injuries. It can be hard not to get caught up in the holiday hustle. Careful planning for meal preparation can help you make sure there is plenty of time to get the job done. Be careful, knife injuries from slicing food are some of the most common Thanksgiving mishaps. Many accidents occur when carving or cutting too quickly.
Accidents or fires can be caused by trying to do too many things at once, exposure to hot liquid or oil splashes. Lifting heavy pots or plates? Bend at the knees and avoid back injuries. Deep frying a turkey can be especially dangerous, especially for novice cooks. Never attempt to deep fry a frozen turkey, it should be completely thawed out first. And, frying a turkey should be done a safe distance away from any flammable structure.
Exercise safely, don't overdo it. Participating in a traditional Thanksgiving sporting event? If a "Turkey Bowl" or other athletic activity is part of your celebration remember to stretch first and avoid overexertion. Avoid weather-related issues such as hypothermia or frostbite by dressing appropriately for the weather outside. The ER will likely see a spate of holiday-related sprains, muscle tears or other injuries. Especially for those who may not exercise regularly, one way to decrease the likelihood of injury is to play touch football rather than tackle.
Thanksgiving can also be a challenge for those coping with mental health issues. Whether it comes from the pressure to entertain, financial strain, family tension or other issues, stress runs high this time of year. It is important to recognize and treat the symptoms of anxiety, depression or other mental health disorders with professional help as needed. Better self-care can ward off things that may send you to the ER like panic attacks, complications from alcohol abuse or other emergencies.
"Distractions, multi-tasking and poor decisions make Thanksgiving one of the busier days in many emergency departments. If an emergency does occur, don't delay a trip to the ER, putting off care might seem convenient at the time but poses serious health risks," said Dr. Kivela.
ACEP is the national medical specialty society representing emergency medicine. ACEP is committed to advancing emergency care through continuing education, research and public education. Headquartered in Dallas, Texas, ACEP has 53 chapters representing each state, as well as Puerto Rico and the District of Columbia. A Government Services Chapter represents emergency physicians employed by military branches and other government agencies.