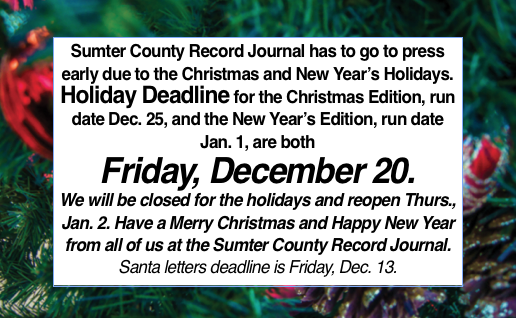 Angie's Stockings
(Grocery and Dinner Gift Certificates for Christmas)
Angie's Stockings will be given to Senior Citizens (65 years of age and older) and "Low-Income Families" in the Sumter County Area. The Families must be a household of 2 or more with at least one child under 18 years of age and a total annual household income of $15,000.00 or less. Each Stocking will contain a Gift Certificate valued at $25 or $50 from Cash Savers in Livingston, Larkin's Restaurant & Deli in York, or Dollar General. You may register for Angies's Stockings at Larkin's Restaurant & Deli, 1104 4th Ave. E. in York, Cash Savers in Livingston, Alabama or Dollar General in York, until Dec. 20. No purchases are necessary to register for Angie's Stockings. The winners will be randomly drawn from all entries at 2 p.m. on Dec. 21 at Larkin's. You do not have to be present to win, but only one stocking will be given to each winner. This program is sponsored by Angie's Caring Hearts Foundation, Inc. a 501(c)(3) Charity.
VFW Christmas Dinner
Greetings Fellow Veterans: VFW Post 5377 will not be having our normal business meeting on Dec. 10. We are instead going to have our annual VFW Christmas dinner at the Simple Delicious Resturant, off of Hwy. 80 West, inside the Walmart Parking lot, at 6 p.m. We are asking everyone to call in their menu request to myself, no later than Dec. 6 at 334-327-2491 and I will give you the prices. Just a reminder that this is a dutch treat event. We will not be conducting any business, so just come out for fun, laughter, and a great meal, with our post members and their guests.
UWA Christmas Tree Lighting Dec. 3 at in the columned front of Webb Hall, front of UWA Campus at 6 p.m.
Ruby Pickens Tartt Public Library Christmas Wrapping Fundraiser
Do you need help wrapping gifts for the holiday? The RPT library is wrapping gifts to raise money for 2020 programs Dec. 2-20! We will provide the pretty paper and bows and you bring us your gifts and we will wrap them for a donation. For more information or if you would like to volunteer call 205-652-2349 and ask for Kelley.
UCS and UWA Campus School Care Packages for Deployed Marines
UCS would like to join the UWA Campus School in helping create care packages for deployed Marines during this Christmas Season to help them know that they are remembered and appreciated. Below is a list of suggested items. The UWA Campus School will need these items dropped off to them by December 6th. The Marines would also love any notes or cards reminding them how much we appreciate them and their service to our country. The UWA Campus School is located right around the corner from UCS at 1 Stadium Dr., Station 42, Livingston, AL 35470. Care package suggestions: high quality socks, shoe inserts, toothpaste, floss, floss pickers, lip balm, foot powder, baby wipes, pain relieving topical cream, hand sanitizer, lens cleaning wipes, reading material, ipods or thumb drives loaded with music or movies, handheld video games, decks of cards, pens and pencils, puzzle books (word search, sodoku, crosswords, etc), baseballs and gloves, board games, 3m wall hooks, gum, mints, candy (nothing that will melt), 5 hour energy drinks, sunflower seeds, snack crackers, protein bars, beef jerky/slim jims, cookies (no chocolate), small cans bean dip, canned chips, hot sauce (packets from taco bell are great), trail mix, small packets of gatorade or juices, dried fruits, raisons, etc, instant soup, cereals.
Christmas on the Square
Sunday, December 8, 2019 at 3 PM – 6 PM
It's that time again! Please come and join the Sumter Chamber for the Annual Christmas on the Square event in Livingston. It is a celebration for all of Sumter County and any who want to visit! The festival will include vendors, live music, a Merchant Tree Contest, cookies, letters to Santa, and of course SANTA himself! If you are interested in setting up as a vendor or would like more details, please contact Lindsey Truelove at sumteralchamber@gmail.com.
Christ Church Choir Will Present Advent Lessons & Carols
On Sunday, December 8, the Christ Episcopal Church Adult Choir will celebrate the beginning of the Advent season by presenting the Festival Service of Nine Lessons and Carols. The Advent season is a time for prayer and preparation for the coming of the Christ Child on Christmas Day. For 100 years this English tradition has ushered in the season, which is marked by the decoration of the church with winter greenery and the lighting of the Advent wreath.
The service will begin at 6:00 p.m. at Christ Episcopal Church in downtown Tuscaloosa and is free and open to the public. A nursery will be provided.
"Our adult choir will sing a selection of chants and anthems to introduce the season of Advent," according to Doff Procter, Christ Church Director of Music. Procter is also conductor of the St. Cecilia Singers who will join the adults on two pieces.
The program will open with the tolling of the church bell to summon the people to prayer. Then the choirs will sing a medieval chant from the nave in the back of the church. The "Matin Responsory" is from an early Roman rite, later adapted by Renaissance composer Giovanni Palestrina.
Advent carols sung by the choir are "Adam lay ybounden," a 15th century poem set to music by Boris Ord, and "Lo, he comes with clouds descending," an 18th century English melody with arrangement by David Willcocks.
Anthems are "E'en so, Lord Jesus, quickly come" with text from Revelation and music by Paul Manz; "Lift up your heads, O ye gates" from Psalm 24, music by William Mathias; "And the glory of the Lord" from Handel's Messiah, and "A Maiden Most Gentle," words by the Venerable Bede sung to a French tune arranged by Andrew Carter, with soprano soloist Julia Schwendenmann.
Members of the congregation and choir will read scripture lessons from both the Old and New Testaments about the coming of the Messiah.
Congregational hymns include the traditional "O come, O come, Emmanuel," accompanied by hand bells, "I sing the almighty power of God," "How brightly shines the Morning Star," "Come, Thou long expected Jesus" and the final hymn "Once in royal David's city," also featuring the St. Cecilia Singers and hand bells.
The Christ Church adult choir is made up of parishioners and University of Alabama faculty and students. Music director is Doff Procter, and organist is Dr. Steven Taranto. The St. Cecilia Singers include students in grades 3-7.
The Reverend David Meginniss is rector of Christ Church; the Reverend
Dr. Catherine Collier is associate rector. Following the service, a reception will be held in the atrium. Christ Episcopal Church is on the corner at 605 Lurleen B. Wallace Boulevard North, Tuscaloosa. Call 205-758-4252 for further information.
Advent, a word derived from a Latin word meaning "arrival," begins four weeks before the Festival of Christmas and ends on Christmas Eve.
In England in 1880, the Bishop of Truro, who later became Archbishop of Canterbury, created the service of Advent Lessons and Carols for use in his cathedral. This service includes carols by both the choir and the congregation, accompanied by lessons from the Bible describing the coming of the Messiah, as well as the Second Coming at the end of the present age.
Some years later in 1918, the Lessons and Carols service was adapted for the chapel by the Very Reverend Eric Milner-White, Dean of King's College-Cambridge. The service has since become a tradition of the Advent season at King's College in Cambridge, England, and is broadcast throughout the world on Christmas Eve.
Grinch and Santa at Ruby Pickens Tartt to celebrate Alabama's 200th Birthday Yes, Boys and Girls, MIRACLES DO REALLY HAPPEN! Only in Sumter County can such things occur. With Alabama celebrating its 200th anniversary, we at RPT thought we'd try to get Santa and the Grinch to partner up for the holidays. So, on Tuesday, December 17th, we're inviting you to come to Ruby Pickens Tartt Public Library to take pictures with the FRIENDLY Grinch. Time is 3:30-5:00 p.m. Looking to see you there.
Keep Your Dogs and Cats Safe From Holiday Hazards
This holiday season, while you're busy decorating, cooking, and wrapping gifts, remember to watch out for holiday temptations for your pets. FDA veterinarian Carmela Stamper tells how to keep your animals safe.
Stocking Stuffers and Pet Treats
If your dog received a stocking full of pet treats, make sure he doesn't gobble them all up at once. According to Stamper, if he eats the treats whole, or eats too many at once, he may not be able to digest them. Unchewed pet treats can get stuck in the trachea (windpipe) or gastrointestinal tract (esophagus, stomach, and intestines), particularly in small dogs.
If your dog is in obvious distress from eating too much too fast, says Stamper, contact your vet immediately. Some telltale signs are drooling, choking, or vomiting.
Take note of timing. If a bone or chew toy lodges in your dog's stomach or intestines, the symptoms might not be immediate. Hours to days later, he may vomit and have diarrhea, be less active, not want to eat, and have stomach pain. If the blockage stays there too long, your dog may become very ill. The worst-case scenario is when a hole develops at the blockage site, causing a life-threatening infection.
"When in doubt, contact your veterinarian, who may need to take x-rays or use an endoscope to see what and where the problem is," Stamper says. Your dog may even need surgery to remove blockages in the intestines.
Tinsel and Ribbons
When decorating your tree and wrapping or unwrapping gifts, keep a close eye on where you leave your leftover tinsel, string, and ribbons.
"Your cat may find these decorations irresistible because they look like easy-to-catch, sparkly, and wiggly prey," Stamper says. In fact, they can cause serious stomach and intestinal damage.
Symptoms may take a few hours or several days to appear, and include vomiting, diarrhea, lack of appetite, and decreased activity. Play it safe by keeping tinsel off the tree and collecting all ribbons and strings after gifts are opened.
Holiday Plants
If you have holiday plants such as poinsettias, holly, or mistletoe around, take care. When you display (or dispose of) these plants, your cat may decide they're good to eat, Stamper says.
Poinsettias, for example have a milky white, latex sap that can irritate your animal's mouth and stomach and may cause vomiting and diarrhea. "If your cat has snacked on poinsettia leaves, you can help him by picking up his food and water dishes for a couple of hours to let his stomach settle," Stamper advises.
The National Animal Poison Control Center (NAPCC) states that the major toxic chemicals in mistletoe are lectins and phoratoxins. These chemicals affect the heart, causing low blood pressure and slowed heart rate.
"Fortunately for your cat, severe mistletoe toxicity is uncommon and usually occurs only if your pet eats a large amount," Stamper explains. Symptoms include vomiting and diarrhea, difficulty breathing, slowed heart rate, low blood pressure, and odd behavior.
While holly isn't as harmful, you should still discourage your pets from eating the berries and leaves, Stamper says. In both dogs and cats, the plant's toxins can cause drooling, vomiting, diarrhea, loss of appetite, and decreased activity.
Table Scraps
Resist the temptation to give your pet table scraps that are high in fat, such as fat trimmed from meat or skin from your roasted turkey or chicken. "In addition to the typical gastrointestinal upset, rich, fatty foods can cause a potentially life-threatening and painful disease called pancreatitis," Stamper says. The most common symptoms of pancreatitis in dogs include vomiting, stomach pain, restlessness, shaking, diarrhea, fever, and weakness.
In cats, the symptoms are less clear and harder to notice, such as decreased appetite and weight loss.
And be careful what you put in the trash can, Stamper warns. Dogs, especially, are notorious for helping themselves to the turkey carcass or steak bones disposed of there. As with too many treats, bones can get stuck in your dog's esophagus, or trachea. Sharp pieces of bones can also injure your dog's mouth, esophagus, and stomach, and can cause severe internal injuries.
"Don't forget, once dinner is done, dispose of the leftovers and bones somewhere where your pets can't get to them," Stamper says.
Other Human Treats, Including Alcohol
As many pet owners know, chocolate can be dangerous to your dog or cat. Chocolate toxicity depends on the type and amount of chocolate your dog has eaten, his body weight, and if he's extra-sensitive to the toxic compound in chocolate called theobromine, Stamper says.
Moreover, the seemingly harmless mints common in the holiday season cause life-threatening problems for your dog if they contain xylitol, also found in food items such as candy, gum, some peanut butters, and baked goods, and personal hygiene products, such as toothpaste and mouthwash. Symptoms occur quickly after dogs eat xylitol-containing items, Stamper says. Vomiting is generally first, followed by symptoms associated with the sudden lowering of your dog's blood sugar (hypoglycemia), such as decreased activity, weakness, staggering, incoordination, collapse, and seizures. Check the package labels to see if they contain xylitol.
After eating chocolate, some pets develop more severe complications, including liver failure, bleeding disorders, and death. If you suspect your dog has eaten chocolate or xylitol-containing items, consider it an emergency and call your veterinarian immediately.
Finally, there's alcohol. Depending on how much they drink, pets that consume alcohol can develop serious problems. The most common symptoms in pets associated with the consumption of alcoholic beverages are vomiting, diarrhea, incoordination, weakness, decreased activity, difficulty breathing, and shaking. In severe cases, coma and death from respiratory failure (lungs stop functioning) can occur. "Don't accidentally leave your eggnog on the coffee table," Stamper says.
Laser toys: how to keep kids safe
The ACT Invites You to the Land of Narnia Just in Time for Christmas
Lucy Pevensie, along with her siblings Peter, Susan and Edmund, invite you to experience the enchanting land of Narnia, as The Actor's Charitable Theatre (ACT) presents The Lion, the Witch and the Wardrobe at the historic Bama Theatre in downtown Tuscaloosa, Dec. 15-18. Performances are 7:30 p.m. Friday through Monday night, and 2 p.m. on Saturday and Sunday. The Sunday 7:30 p.m. performance includes admission to a 7 p.m. pre-show discussion with Dr. Scott Reynolds, lead pastor of North River Church, on the works and writings of C. S. Lewis Tickets and information are available at www.TheACT.info or (205)393-2800. The Box Office will be open one hour prior to each show time as well.
Many kids (and parents) who have seen Luke Skywalker battle Darth Vader with a light saber think lasers are cool.
What they may not know is this: When operated unsafely, or without certain controls, the highly-concentrated light from lasers—even those in toys—can be dangerous, causing serious eye injuries and even blindness. And not just to the person using a laser, but to anyone within range of the laser beam.
The U.S. Food and Drug Administration is concerned about this potential danger to children and those around them and in 2014 issued a guidance document (PDF 60K) on the safety of children's toy laser products.
"A beam shone directly into a person's eye can injure it in an instant, especially if the laser is a powerful one," explains Dan Hewett, health promotion officer at the FDA's Center for Devices and Radiological Health.
Moreover, eye injuries caused by laser light usually don't hurt. Vision can deteriorate slowly and, therefore, may go unnoticed, for days and even weeks. Ultimately, the damage could be permanent, Hewett says.
Some examples of laser toys are:
• lasers mounted on toy guns that can be used for "aiming";
• spinning tops that project laser beams while they spin;
• hand-held lasers used during play as "light sabers"; and
• lasers intended for entertainment that create optical effects in an open room.
A laser creates a powerful, targeted beam of electromagnetic radiation that is used in many products, from music players and printers to eye-surgery tools. The FDA regulates radiation-emitting electronic products, such as lasers (including children's toy laser products), and sets radiation-safety standards that manufacturers must meet.
Toys with lasers are of particular interest to the FDA because children can be injured by these products. Because they are marketed as toys, parents and kids alike may believe they're safe to use.
For toys to be considered minimal risk, the FDA recommends that the levels of radiation and light not exceed the limits for Class 1, the lowest level in regulated products as defined by the International Electrotechnical Commission (IEC).
Lasers used for industrial and other purposes often need higher radiation levels for their intended functions. But these higher levels are not needed for children's toys—and if they are present, they can be dangerous.
Hand-held laser pointers—often used in business and higher education to help illustrate presentations—have increased in power 10-fold or more over the last decade. And while adults may buy a laser pointer for use in work, kids often play with them for amusement.
The fact that lasers can be dangerous may not be evident, particularly to the children who inappropriately use them as toys, or to the adults who supervise them.
Laser Safety: Tips to Keep in Mind
Remember that laser products are generally safe when they follow the legal limits and are used as directed. But lasers can cause harm if not used properly. The FDA recommends the following general safety tips for consumers.
• Never aim or shine a laser directly at anyone, including animals. The light energy from a laser aimed into the eye can be hazardous, perhaps even more than staring directly into the sun.
• Do not aim a laser at any vehicle, aircraft, or shiny surface. Remember that the startling effect of a bright beam of light can cause serious accidents when aimed at a driver in a car, for instance, or otherwise negatively affect someone doing another activity (such as playing sports).
• Look for an FDA-recommended IEC Class I label on children's toy lasers. The label says "Class 1 Laser Product," which would clearly communicate that the product is of low risk and not in a higher emission level laser class.
• Do not buy laser pointers for children, or allow children to use them. These products are not toys.
• Do not buy or use any laser that emits more than 5mW power, or that does not have the power printed on the labeling.
• Immediately consult a health care professional if you or a child suspects or experiences any eye injury.
Watch how fast a dry tree goes up vs. a well hydrated tree…
If your winter holiday tradition includes an artificial or real Christmas tree, you need to be aware of the fire risks. The public buys more than 28 million live Christmas trees every year.* If your tree catches on fire, the fire can spread very quickly.
When you're decorating with live trees, make sure you keep the tree hydrated. A dry Christmas tree that comes in contact with a flame can catch on fire in fewer than 10 seconds and spread fire and smoke throughout the home.
A few tips to keep your holiday decorations bright and safe:
Choose the freshest cut tree you can find. Check to see if the needles stay intact when you gently pull on a branch.
After making a fresh cut and placing the tree in a stand, immediately fill the stand's water basin and keep it filled with water until you take the tree out after the holidays. Place electrical cords and lights away from the water.
Choose holiday lights that have a testing laboratory label attached, such as UL, and throw away any frayed or damaged light strands.
Place the tree several feet away from heat registers, space heaters, and fireplaces.
If you decorate with lit candles, make sure they are at least three feet away from the tree and 12 inches away from other decorations and anything else that can burn.
Fire is everyone's fight. Learn more about holiday fire safety on the U.S. Fire Administration (USFA) website: https://www.usfa.fema.gov/prevention/outreach/holiday.html. Follow USFA on Twitter at @USfire and on Facebook at www.facebook.com/usfire.
Holiday Food Safety
FDA gives simple steps to help ensure that harmful bacteria won't be a guest at your festivities.
How to Cook a Whole Chicken or Turkey
USDA Food Safety 15 Sec -The only way to know food has been cooked to a safe internal temperature is to use a food thermometer.