<


By Kasey DeCastra, Sumter County Record Journal and Moundville Times Community News Editor
The first annual UWA Bash at the Boarder marching band competition was a success. Four local bands, Hale County High Jackson High, Thomasville High and Sweetwater High competed for trophies and honor.
"It was great," exclaimed UWA Marching Band Leader Adam Anderson! "Quite successful for the first year. We had four bands and would have liked to had more."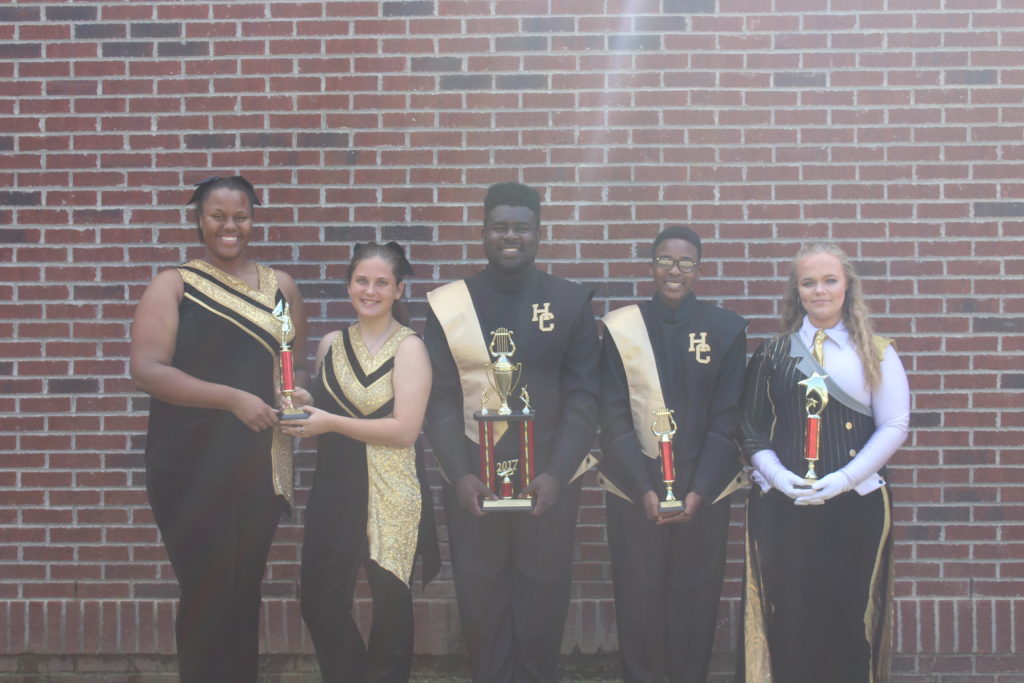 The Hale County High School marching band participated in the first University of West Alabama marching contest Bash at the Border.  The band earned superior rating in all categories and was named best band at the contest. Pictured (L-R): color guard co-captain, Candace Hilton; color guard captain, Selena Moore; band president, Chris Burton, drum line captain, Aaron Lee; drum major, Caysen Edmonds. Submitted by Mindy Pearson, HCHS Librarian
Marching band scores:
Hale County High School won best band and ranked superior in all categories.
Thomasville High School won best dance team and best majorettes.
Jackson High School won best drum major.
Sweetwater High School won best percussion and best color gaurd.
Superior is the best ranking (ones), followed by Excellent (twos), Good (threes), Fair (fours), and Poor (fives). Bands are judged on visual performance, general effect, percussion (drum line) and auxiliary (dance teams & color guard).
University of West Alabama's marching band, the "Scarlet Band from Tiger Land," can be seen at every home game in Livingston. Every year local high schools are invited to march in UWA's homecoming parade as well as preform in the pregame show. Last year over 300 performers took to the field to preform UWA's alma mater.
Look for UWA band in the Christmas on the River parade in Demopolis Sat., Dec. 2 at 11:30 a.m. and will preform UWA Band will be performing at the Community/Campus Christmas Tree Lighting in Livingston.
This year the band will be marching in two Mardi Gras parades. In the original land of Mardi Gras, Mobile, the "Scarlet Band from Tiger Land," will march in the Crew of Columbus parade and then on to New Orleans for the Crew of Endymion in the Mercedes Dome for their parade.