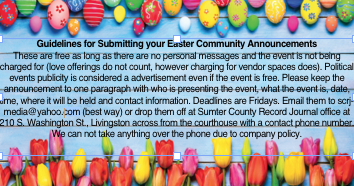 Easter Sunrise Service
Easter Sunrise Service will be held at the Livingston Community Center on Sun., April 1 at 6:30 a.m. Everyone is welcome. Casual dress and bring your lawn chair.
RPT Library Offers Springtime Fun
Hey Kids. Don't get bored during Spring Break! Come and spend time with us on Mon.- Wed., March 26-28 from 1:30 to 3 p.m. Something exciting is about to happen.
Ruby Pickens Tartt Easter
Hop on over the Ruby Pickens Public Library and visit with the Easter Bunny Tues., March 27 at 3 p.m.. While you are there, may as well get your picture taken too. Last chance to get those treats before spring break ends.
Livingston Police need help for JCP Easter Egg Hunt
Dear Esteemed and Valued Citizens, Local Businesses and Community Leaders:
Easter is a time to rejoice. The Livingston Police Department is once again putting together its
Annual Easter Egg Hunt. We are asking for help in making our 3rd Easter Egg Hunt the best ever! Our date has been set for Saturday, March 31, 2018 at 11 a.m., Jaycee Park in Livingston. We are praying that all of our caring businesses, churches, and families in our communities will support us as we celebrate the importance of this holiday. In previous years we have had as many as 200 children from ages 1-10 years old participate in our event. We need your support as an even bigger crowd is expected Please make this a memorable event by donating real and plastic eggs, Easter baskets, egg coloring, candy, and as always monetary donations are welcomed.
Please bring all donations to the Livingston Police Department located at 502 Lafayette Street, Livingston, AL or call us at 205-652-9525 for more information.
We are dedicated to providing an atmosphere for strengthening families and providing children with a unique adventure. We are forever grateful for all of your kindness.
Your Truly,
Chief Roger Tolliver
Livingston Police Dept