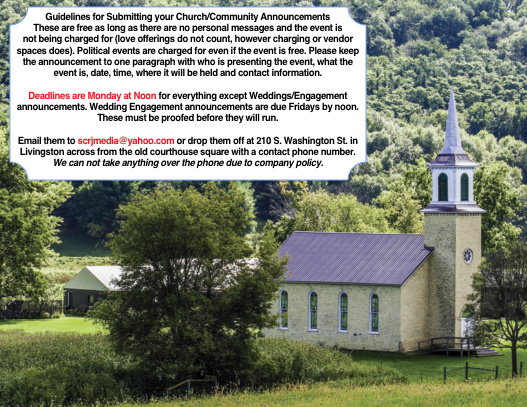 Deadlines are Mondays at Noon for everything except wedding/engagement announcements. Wedding engagement announcements deadline are Fridays by noon. Upcoming Holiday Deadlines: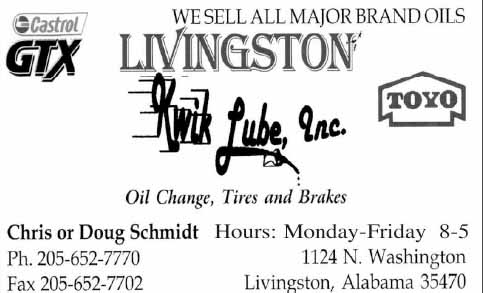 Church and Community Events
2019 Livingston Alive "Market and a Movie" Nights
This is in partnership with the Ruby Pickens Tartt Public Library and will be held again this year in the area surrounding 200 Monroe St., DHR parking lot, portion of Monroe St., and library lawn on Fridays: May 3, June 7, No July Market and a Movie-to support the City's firework event Aug. 2, Sept. 6. More details regarding movies, entertainment, and vendors will be provided closer to event time.
VFW Post 5377 Meeting
Attention all members of VFW Post 5377 and all veterans who are eligible for membership in our organization, this announcement is to inform you that our next regularly scheduled meeting will be held on April 9 starting 6 p.m, in the training room located in the basement of Bryan Whitfield Memorial Hospital in Demopolis. This month we will be electing officers to carry out this years missions and community operations. If your not already a member of the VFW and Post 5377 this would be an ideal time for you become a member in this nations oldest Veterans Organization. I guarantee you the rewards in serving our nation, community and our fellow veterans are tremendous. All veterans who have served our great nation during times of war in a foreign combat zone are eligible for membership and we are pleased to announce that our post has been steadily growing and that allows us the opportunity to do many more activities and to serve our needy veterans and their families even better. The best plan is to bring a copy of your DD Form 214 with you when you attend, and your membership fee and we can sign you up on the spot. Remember "no one does more for veterans than we do." We need you, your energy and ideas as we continue to serve this great nation, our community and our fellow Americans.
The Send Off Film Screening at CCA Popstart
Join the Coleman Center for the Arts for a free screening of #TheSendOff and #SkipDay documentary films April 5 at 7 p.m. Lucas and Bresnan's films are the second in our new screening series which will be held on Friday evenings. The series will feature the work of six Alabama or regional filmmakers in our newly renovated Pop Start facility. The screening series is open to the public and free of charge including refreshments (popcorn, bottled water). This program was made possible through funds from the Alabama State Council on the Arts.
Pesticide Applicator Training Scheduled For Agricultural Producers
Agricultural producers needing a private pesticide applicator license are invited to a pesticide training program on March 27, 2019, starting at 1:00 p.m., at the Sumter County Extension Office, located at 106 Hospital Drive in Livingston, AL. Registration is required. Please register by March 26 with the Extension office at (205) 652-9501. Space may be limited. The meeting will include pesticide training on a number of topics including label comprehension and safety. Following the training, a test will be administered to producers applying for a private pesticide applicator license. A score of 70 or better is needed to pass the test. After passing the test, a producer can apply for a license with the Alabama Department of Agriculture and Industries. The producer will need to submit a license application and pay a license fee to the Alabama Department of Agriculture and Industries. A private pesticide applicator license is for producers who produce an agricultural commodity on owned, rented, or leased property or on an employer's agricultural property. The license allows producers to purchase and apply restricted-use pesticides. A private pesticide applicator license is valid for 3 years. The first four numbers of the license number indicate the month and year the license expires: a pesticide license number 041912345 expires in April 2019. If you have any questions concerning the meeting, please contact the Sumter County Extension Office. Please register by March 26 with the Extension Office if you plan to attend. Our office number is (205) 652-9501. The Alabama Cooperative Extension System (Alabama A&M University and Auburn University) is committed to affirmative action, equal opportunity and the diversity of its workforce. We provide educational programs that serve all people regardless of race, color, national origin, age, disability, sex, gender identity, marital status, family/parental status, religion, sexual orientation, political beliefs, reprisal, or because all or a part of an individual's income is derived from any public assistance program. Everyone is welcome.
Sumterville-Hamner Community Meeting
The annual Sumterville-Hamner Community Meeting will be held at the home of Austin and Hasty Robinson on Tues., March 26 at 5:30 p.m. Come out and support your community. For more information contact Austin B. Robinson at 205-652-6406 or 205-499-6326.
Mt. Olive Missionary Youth Revival
The pastor and members of the Mt. Olive Missionary Baptist Church would like to cordially invite you to our Youth Revival beginning Mon., April 15 through Wed., April 17, 7 p.m. nightly. Pastor C. L. Franklin of Pleasant Hill Baptist Church, Yantley, will be the evangelist. Rev. Jared Gibbs is pastor.
Gaston Valley Baptist Spring Revival
We, the pastor and members of the Gaston Valley Baptist Church, Ward, invite you to our Spring Revival starting Mon., April 8 through Fri., April 12 at 7p.m. nightly. Rev. Ronnie Walk will be the guest speaker for the week. Rev. Kenneth Bell is pastor and Sis. Edna C. Brown is church clerk.
Kinterbish Usher Federation Meeting
Kinterbish Usher Federation will have our Usher meeting on March 30 at 5 p.m. at Mt. Olive Baptist Church, Cuba where Rev. Jared Gibbs is pastor. Sunday Morning worship service will be at held at Gaston Valley Baptist Church, Ward at 11:30 a.m. where Rev. Kenneth Bell is pastor. Rev. Willie Sims, pastor of Mt. Herman Baptist Church, York will be the guest speaker, along with his choir and congregation. Sis. Joann Sheffield, president, Rev. Jared Gibbs, vice president, and Sis. Sylvia Bell, secretary.
Mobile Food Pantry
Community Service Programs of West Alabama (CSP), Inc. will host mobile food pantries throughout Sumter County. The mobile food pantries are designed for food distribution to households in various areas of the county and not just one centralized location. Below is a listing of the location and date for the Cuba, Emelle, Epes, Gainesville, Geiger, Livingston, and York areas, mobile food pantry for Sumter County Wed., March 27, Jaycee Park, Hopkins St., Livingston. To enroll in this program, please contact Candace Harvey, Sumter County Coordinator, at (205) 652-1346 or visit your local CSP office at 106 Hospital Drive, Suite 103 Livingston, Alabama 35470. Please remember, you will need to present proof of income for prior month for all adults in the household, social security cards for all household members, proof that you reside in the Cuba, Emelle, Epes, Gainesville, Geiger, Livingston, and York areas (household bill in your name with current address) and picture identification. Quantities are limited to 150 households per food pantry. Only residents of the Cuba, Emelle, Epes, Gainesville, Geiger, Livingston, and York areas in which the pantry is held are able to apply.
St. Paul A. M. E. Zion Church 12th Annual Women's Conference
Join us Sat., April 6 at the Galilee Baptist Church, Panola, 9 a.m. – noon. Rev. Sylvester Turner is pastor. Many great speakers and singers will be on the program. Continental breakfast begins at 8:30 a.m.
Mt. Olive Missionary Baptist Annual Choir Day
The Pastor and members of the Mt. Olive Missionary Baptist Church would like to invite you to our annual Choir Day on Sun., April 14 at 2 p. m. Everyone is invited to attend this glorious accasion. All groups, choirs and soloists are ask to render an A and B selection. Please, register at the door; no registration by phone.
Celebrate Alabama's Bicentennial in the Canebrake!
Tour 25+ rarely-open sites over two weekends, March 23 & 24, 29&31. Don't miss the extrasin each county, Greene, Hale, Perry, Marengo, Sumter, parties, food, music, an evening tour,and wrap it all up with good ol' Sumter County barbecue in Gainesville! https://www.canebrakehomecoming.com/
Farm Business Training Workshop
Tuskegee University Cooperative Extension will be hosting free workshops designed to teach farmers how to understand and implement farm business planning principles, risk management and decision making. The workshops will be held April 6 and May 4 from 9 a.m. – 4: p.m. at the Federation of Southern Cooperative Rural Training & Research Center, Epes. Pre-registration is required and space is limited to 50 participants that must attend all three workshops. To register contact Gertrude Wall at 334-875-9343 or Hale County Extension Office at 334-624-8710.

CCA Bookmaking Workshop
Join the Coleman Center Arts, 211B Broad Street, York, for a bookmaking workshop and community celebration send-off for Curator of Education Boo Gilder March 23, 1-3 p.m. Everyday Bookmaking Workshop: This 'make & take' workshop will focus on simple books made with everyday materials. Learn introductory bookmaking techniques, such as pamphlet stitch notebooks and one-page book forms. Explore found materials and use familiar tools to decorate and accentuate your books through printmaking and collage. This event is free and open to the public. Refreshments will be served and community potluck dishes are welcome. Located at Pop Start. This is an all ages workshop but children 12 and under must be accompanied by a participating adult.

Greene County Community Choir Spring Concert
Greene County Community Choir Spring Concert Sun., March 31 at 4 p.m. at St. Matthew Baptist Church, Boligee.

Pop Start Art Apprenticeship Celebration
Join the Coleman Center for the Art and Pop Start Arts Apprentices for a presentation and celebration of final projects by talented Sumter County youth. Pop Art Apprenticeships pairs high school students with local and regional artists mentors to provide them with real world experience in creative fields and entrepreneurship March 21, 5-6 p.m. Apprentices have been working with Artist Mentors since November of 2018. At this culminating event, they will share their work in quilting, textile art, storytelling, and painting. Our talented student apprentices include D'Kaila Fulghum, Joseph Green, Quincy Horn, Craesha Johnson, Heather Poke, De'Asia Porter, and Jasmine Richardson. Students have beenmentored and supported by local and regional artists Salaam Green, Sheila Hull, Lillie Mack, and Willie Poe. Free! Refreshments provided! Special appreciation goes to the students, artists, creative and business professionals, and staff who made this program successful. Pop Start Art Apprenticeships is supported by a generous grant from the National Endowment for the Arts. For more information please contact the Coleman Center at info@colemanarts.org or (205)392-2005.
Sucarnochee Folklife Festival
The Sucarnochee Folklife Festival (SFF) celebrates fifteen years of the unique life ways of Alabama's Black Belt on Saturday, April 20, from 9 a.m. to 4 p.m. at the Sumter County Courthouse Square in downtown Livingston. The festival slogan for this year, "Sucarnochee: Year of the Pig," unites two unique traditions— the celebration of all things BBQ in Alabama's Black Belt region and the The Chinese Zodiac, based on a twelve-year cycle with each year in that cycle related to an animal sign, 2019 is the pig. The festival also includes plans to join all Alabamians in celebrating the 200th birthday of our great state, with 2019 the Year of Alabama Stories. Blue Ribbon Contests for this year include the Cornbread Cook-off, canned goods and the Gone Hog Wild BBQ Fixins' category, such as potato salad, baked beans, stuffed eggs, coleslaw and BBQ sauce. It's time for an Easter Bonnet Parade and the SFF's bonnet contest will be at 1:30 at the Bored Well on the Courthouse Square. A Blue Ribbon awaits the best frilled hand-made entry. A day of great music is in store for Festival attendees with a line-up of great local talent. Dr. Alan Brown will treat attendees to the annual Ghost Walk Tour and attendee's can enjoy Danny Buckalew's "Sucarnochee Live" stage show. The festival continues the Alabama Bicentennial celebration of the Year of Alabama Stories and the Black Belt Museum will host the University Charter School's Bicentennial School exhibit. Additionally, the special "Sucarnochee Cancer Survivor Walk," a new event at the Festival, is sponsored by Diane's Hope and honors local cancer survivors. Please contact Wanda Rew for information on the walk at wanda@sumterinsurance.com. The Festival is a community event offered to those of all ages as music, food, storytelling, art, and much more are shared throughout the day. Event sponsors include the University of West Alabama, UWA's Division of Economic Development and Outreach, Black Belt Museum, UWA Fine Arts Department, Alabama State Council on the Arts, Alabama Department of Tourism, City of Livingston, and the Black Belt Community Foundation. For more information on the Sucarnochee Folklife Festival, please call (205) 652-3828, email centerforblackbelt@uwa.edu or grobbins@uwa.edu. For more information on the Sucarnochee Folklife Festival, download Blue Ribbons Contest forms and a download a vendor form, visit the following link: http://centerforblackbelt.org/?p=3308
School EventsS
Sumter County School Announcements
APR
22 Nine Weeks Progress Reports
MAY
22 End of 2nd Semester – last day for students
23 Teacher Work Day – Inservice; 4th Nine Week Report Cards Mailed
University Charter School Announcements
APR
19 Fri Good Friday Holiday or Weather Make-up Day
MAY
27 Mon Memorial Day Holiday
30 Wed End of 4th 9 Weeks
31 Wed Teacher Work Day
Stronger Than Hate
Please join us for a community service project April 6 at 10 a.m. – 12 p.m. at the City of Livingston?Myrtlewood Cemetery. The University Charter School, local churches and community members will be sprucing up the cemeteries as an act of service to our community. We would love to have your help! Please bring lawn'garden equipment. Refreshments will be available.
2019-20 UWA Band
High school seniors the 2019-20 UWA Band still has spots to fill. Please message us, email mtignor@uwa.edu, or call the band at 205-652-5475 to learn more about us. Also, if you or someone you know is interested in trying our Color Guard, Dance Team, or Majorette line, fill out one of the links below. Color Guard: https://form.jotform.com/90076944573162; Majorette: https://form.jotform.com/90076997603164; Dance Team: https://form.jotform.com/90766733859171
Science Saturdays
The University of West Alabama's College of Natural Sciences and Mathematics invites K3 to K8 students to the next Science Saturdays on April 6, 2019 from 9:30-11:30 a.m. at Bibb Graves Hall Room 102 on the UWA campus. UWA Professor, Dr. Ashley Dumas, and Mr. Steven Meredith will present a workshop titled "Exploring Archaeology". Student will learn about archaeology through fun and hand-on activities that include: Garbology, Piecing Together the Past, and Mystery Grid. Science Saturdays activities give K-12 students early exposure to the world of science and mathematics. The sessions create excitement and enthusiasm that students need to not only learn the basics of science, but also gain the tools to further their studies in the field. The workshop is free and open to students grades three through 12. Spaces are limited. The event is free, but registration is needed. To register, visit Facebook @scienceSaturday
UCS PTA Presents 1st Annual Color Run
University Charter School PTA is holding its 1st Annual Color Run on Sat., April 27. The color run is a fun family event in which runners (and walkers) get showered with colored powder while raising money for the school. Each pre-registered runner will receive a t-shirt with their race kit. We are reaching out to parents and community members to raise money for the run by sponsoring the event. As a sponsor of the UCS Color Run, each company or family will have its name/logo printed on the 150+ shirts that will be worn in the community. Space is limited so sponsors are accepted on a first come first served basis! UCS PTA is a 501(c)3 non­profit organization and your company's contribution is tax deductible. Please contact Jess Wood at jess.wood@legacyhospice.net if you are interested in being a race sponsor. The deadline for sponsor is April 2nd. Check UCS Facebook page @universitycharterschool for more information and forms.
4-H Camp
4-H Camp June 5-7. Register by May 1. There is a registration fee and nonrefundable deposit. No exceptions. Sign up at al.4honline.com or come by the Sumter County Extension Office. Conpleted registration, copy of blue slip, insurance provider, and t-shurt size due by May 1. Checks made payable to Sumter County Extension Office. For more information call David Perry, 205-652-9501. 334-321-8240.