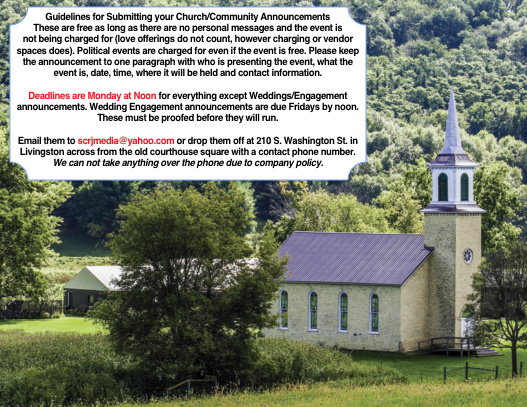 Deadlines are Mondays at Noon for everything except wedding/engagement announcements. Wedding engagement announcements deadline are Fridays by noon.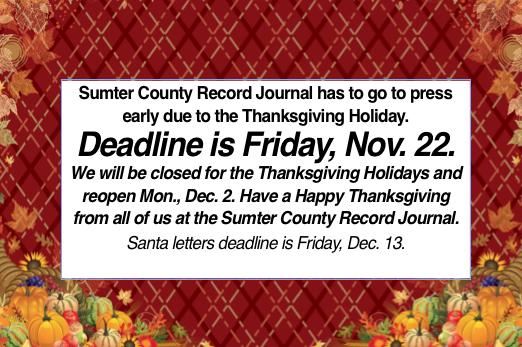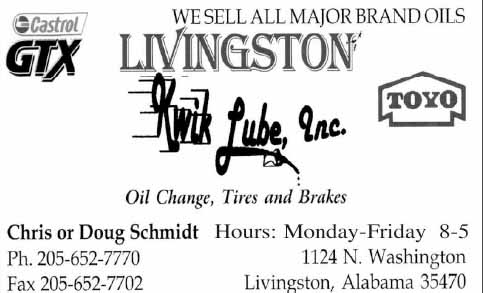 Church and Community Events
Livingston Interfaith Council Thanksgiving Service
A Community Thanksgiving Service, sponsored by the Livingston Interfaith Council, will be held on Sun., Nov. 24 at 6 p.m. at St. James' Episcopal Church. The offering will be given to the Community Services Fund which assists transients in our community and you are asked to bring canned goods which will be given to the Department of Human Resources Food Pantry. All are invited to attend as we join together to thank God for our many blessings.

Dugg Hill Primitive Baptist 13th Appreciation Celebration for Pastor and First Lady Wright
The Dugg Hill Primitive Baptist Church, Coatopa, ordially invite one and all to our 13th Appreciation Celebration on behalf of our Pastor and First Lady, Rev. John H. Wright and Sis. Dorothy Wright. Rev. David Lewis, pastor of Shady Grove P. B Church, Porterville, Miss. and St. Wisdom P. B. Church, Sweet Water, Ala., is the guest speaker accompanied by the church families. This grand occasion will be on Sun., Dec. 1, at 2:30 in the afternoon. Rev. John H. Wright, pastor and Deac. Ezekiel Ormond, deacon board chairman.

Hill Hospital Pre-Thanksgiving Luncheon
Hill Hospital of Sumter County will host a Pre-Thanksgiving luncheon Thurs., Nov. 21, at 11 a.m.-1 p.m. The community is invited to get a free delicious meal.

Bellamy Christmas Parade
The third annual Bellamy Christmas Parade is Sat., Dec. 7 beginning at noon.

Black Bluff Baptist Families and Friends Day
Everyone is invited to the Black Bluff Baptist Church on Sun., Nov. 24 at 2 p.m. We will be celebrating our annual Families and Friends Day program. Pastor Glenn Harris, Sr., and the Antioch Witness Church family of Gainesville will be special guests. Come one, come all and let's have a good time in the name of the Lord. Dr. O. L. Sealey is church pastor. Dea. Lowry Gale and Sis. Delsey Goodwin are sponsors.

Christmas on the Square
Join the Sumter Chamber for the Annual Christmas on the Square in Livingston, Sun., Dec. 8 at 3-6 p.m. It is a celebration for all of Sumter County and any who want to visit! The festival will include vendors, live music, a Merchant Tree Contest, cookies, letters to Santa, and of course Santa himself! If you are interested in setting up as a vendor or would like more details, please contact Lindsey Truelove at sumteralchamber@gmail.com

Christian Fellowship Baptist Pastor and First Lady Anniversary
Christian Fellowship Baptist, Lisman, invites you to Rev. Robert Webb and First Lady Meratha Webb's 12th Anniversary on Sun., Dec. 1 at 2 p.m. Rev. Oscar Hold, pastor of New Fellowship Baptist, Enterprise, and congregation will be our guests.
Gospel Concert Giving Thanks
Come share with us in a Gospel Concert on Sat., Dec. 14 at 4 p.m. at God united Spiritual Kingdom, 4800 Hwy. 11, Cuba. Guest groups will be Rev. Lonnie Weaver and Genesis, Min. Courtey Crispin, and others. Sponsors are Rev. Darrell and Sis. Patricia Jones. Call 205-496-4808 or 334-596-0341 for more information.
Livingston Interfaith Council Thanksgiving Service
A Community Thanksgiving Service, sponsored by the Livingston Interfaith Council, will be held on Sun., Nov. 24 at 6 p.m. at St. James' Episcopal Church. The offering will be given to the Community Services Fund which assists transients in our community and you are asked to bring canned goods which will be given to the Department of Human Resources Food Pantry. All are invited to attend as we join together to thank God for our many blessings.

New Bethel Baptist Pastor and First Lady Anniversary
New Bethel Baptist, Gainesville, invites you to Pastor Frank S. Rogers and First Lady Sis. Angela Rogers 10th Anniversary on Sun., Dec. 8 at 2 p.m. Rev. Samuel Harris, pastor of Johnson Missionary Baptist Church, Livingston, along with his church choir and congregation will be our guests.

Mobile Food Pantry
Community Service Programs of West Alabama (CSP), Inc. will host mobile food pantries throughout Sumter County. The mobile food pantries are designed for food distribution to households in various areas of the county and not just one centralized location. Below is a listing of the location and date for the mobile food pantry that will serve all Sumter County residents Wed., Dec. 4, at Jaycee Park, Hopkins St., Livingston, at 9 a.m.-11:30 p.m. To enroll in this program, please contact Candace Harvey, Sumter County Coordinator, at (205) 652-1346 or visit your local CSP office at 106 Hospital Drive, Suite 103 Livingston, Alabama 35470. Please remember, you will need to present proof of income for prior month for all adults in the household, social security cards for all household members, proof that you reside in Sumter County (household bill in your name with current address) and picture identification. Quantities are limited to 150 households per food pantry. Only residents of Sumter County are able to apply.
School Events
University Charter School Announcements
Attention 3rd through 6th grade parents: UCS' 3rd through 6th graders will be participating in a choir program with UWA's choir on Tuesday, November 19th. The agenda for the choir program is call time: 6:15 p.m., concert: 7 p.m. and refreshments: 7:45 p.m. Thurs., Nov. 14 at 2:15 p.m. at Hughes Gym Glow Blazers Glow. Pay $1 to your homeroom teacher to wear UCS Spirit geear, black, white or neon for our blackout pep rally. Glow bracelets and necklaces will be on sell for $1. UWA students and teachers are hosting a Parents' Night Out for UCS students and parents. Parents' Night Out will be on November 15th from 5:00-9:00 pm in Hughes Gym. This event is open to all UCS students, PreK through 9th grade. Registration Forms will go home next week! Join us for No Soda November, heart.org/sugar. Save the date for the next general meeting, and cookies and milk with Santa, Thurs., Dec. 5 at 5:30 p.m.
UCS and UWA Campus School Care Packages for Deployed Marines
UCS would like to join the UWA Campus School in helping create care packages for deployed Marines during this Christmas Season to help them know that they are remembered and appreciated. Below is a list of suggested items. The UWA Campus School will need these items dropped off to them by December 6th. The Marines would also love any notes or cards reminding them how much we appreciate them and their service to our country. The UWA Campus School is located right around the corner from UCS at 1 Stadium Dr., Station 42, Livingston, AL 35470. Care package suggestions: high quality socks, shoe inserts, toothpaste, floss, floss pickers, lip balm, foot powder, baby wipes, pain relieving topical cream, hand sanitizer, lens cleaning wipes, reading material, ipods or thumb drives loaded with music or movies, handheld video games, decks of cards, pens and pencils, puzzle books (word search, sodoku, crosswords, etc), baseballs and gloves, board games, 3m wall hooks, gum, mints, candy (nothing that will melt), 5 hour energy drinks, sunflower seeds, snack crackers, protein bars, beef jerky/slim jims, cookies (no chocolate), small cans bean dip, canned chips, hot sauce (packets from taco bell are great), trail mix, small packets of gatorade or juices, dried fruits, raisons, etc, instant soup, cereals.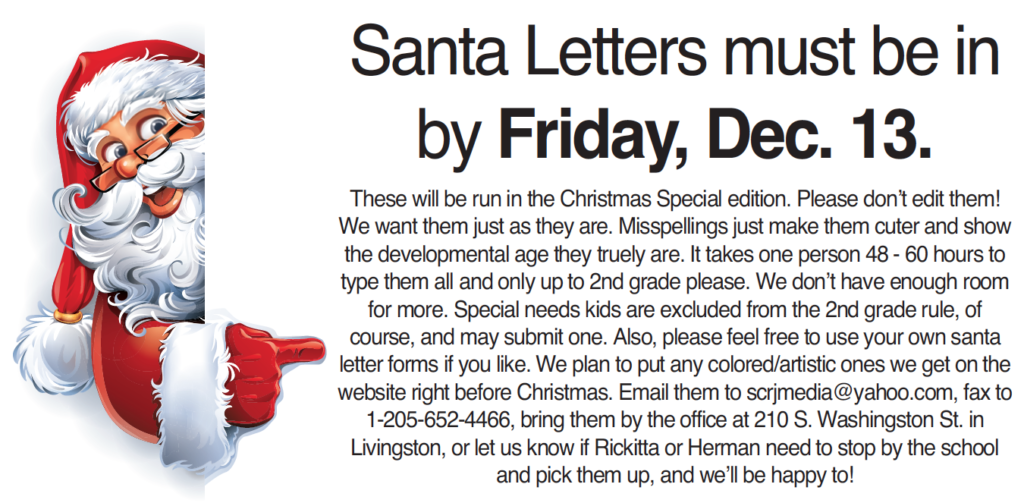 Sumter County Schools 2019-20 Calendar

Nov. 25 – Dec. 1 Thanksgivings Holiday (School Closed)
Dec. 20 – First Semester Ends
Dec. 21 – Jan. 5 Christmas Holiday and New Years
Jan. 6 Inservice (No Students)
Jan. 7 School Re-Opens for Students, 2nd Nine Weeds Report Cards
Jan. 20 Dr. Martin Luther King Jr. Holiday (School Closed)
Jan. 21 ACCESS 2.0 and Alternate ACCESS for ELLs Window Opens
Feb. 3rd Nine Weeks Progress Reports
Feb. 17 Presidents' Day/Weather Day/Inservice (No Students), 3rd Nine Weeks Progress Reports
March 2 ACAP Alternative Assessment Window Opens (2nd – 8th Grade)
March 10 11th Grade ACT With Writing Test Given and Accommodation/Support. 3rd Nine Weeks Report Cards
March 20 ACCESS 2.0 and Alternate ACCESS for ELLs Window Closes
March 21 -29 Spring Break
March 30 ACAP Summative Assessment Window Opens (2nd – 8th Grade)
April 10 Good Friday (School Closed), ACAP Alabama Alternative Ends (2nd – 8th)
April 15 ACT WorkKeys Retest Option Given—And Accommodations/Support
April 20 4th Nine Weeks Progress Reports
April 21 11th Grade ACT With Writing Make-up Given (Option 2)
May 1 ACAP Summative Assessment Window Closes (2nd – 8th Grade)
May 15 Seniors Graduate
May 20 Second Semester Ends last day for students
May 21 Report cards mailed
May 22 Inservice Teacher day no students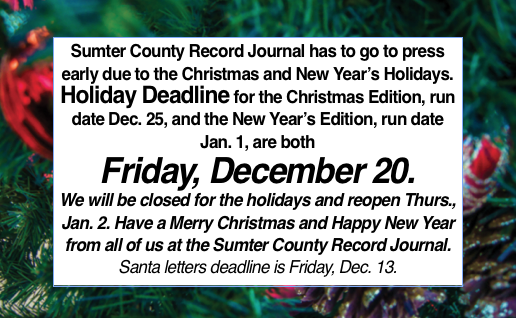 Governor Ivey Announces Alabama's Participation in the 2020 Girls Go CyberStart Challenge
Governor Kay Ivey announced that Alabama will participate in the 2020 Girls Go CyberStart Challenge. The Girls Go CyberStart Challenge is a skills-based competition designed to encourage girls to pursue cyber-based learning and career opportunities. The Girls Go CyberStart Challenge is an online game that consists of a series of challenges that places students in the role of a cyber protection agent charged with solving realistic problems and puzzles. The program is open to girls in grades nine through 12. Registration opens Dec. 2, with online gaming commencing on Jan. 13, 2020. Additional details and preregistration can be found at www.girlsgocyberstart.org. Teacher information and student practice programs are available now and can be found at https://medium.com/girls-go-cyberstart/mrsgcyberstarttips/home. To see the types of challenges the students will face, please visit https://go.joincyberstart.com.

Alabama parents and guardians: Showcase your child's smile in the 'Share Your Smile With Alabama' Photo Contest
To celebrate Children's Dental Health Month, the Alabama Department of Public Health (ADPH) Oral Health Office announces the third annual "Share Your Smile with Alabama" statewide photo contest. Two third grade students, one girl and one boy, will be selected from photo submissions as the overall winners of the campaign. The pair of third graders will be spotlighted in ADPH marketing campaigns to promote children's oral health throughout the state and will be featured in a news conference in February, Children's Dental Health Month. This month promotes the benefits of good oral health to children, their caregivers, teachers and many others. This contest is open to children living in Alabama who are either enrolled and attending third grade, or 8 to 10 years of age being homeschooled. The official rules of the photo contest and an application form can be viewed at http://www.alabamapublichealth.gov/oralhealth/index.html. Submissions must be made by a parent or legal guardian, and entries must be submitted by November 30, 2019. There is no entry fee. The ADPH Oral Health Office is dedicated to preventing dental disease for Alabama's citizens by promoting and developing quality, cost-effective community and school-based preventive, educational and early treatment programs which emphasize elimination of oral health disparities.

Applications Open for "The 7th Project" Congressional Internship Program
The 7th Project announced today the opening of the application process for the 2020 Congressional Summer Internship Program. The program gives college students who are residents of Alabama's 7th District with high academic achievement and demonstrated financial need the opportunity to participate in a four-week Congressional internship in the Washington, D.C. office of Congresswoman Terri Sewell. The 7th Project provides housing on a college campus in Washington, D.C. and a stipend for living and travel expenses. Internships in District offices are available as well. Program alumni have gone on to start careers on Capitol Hill and work with organizations such as the Southern Poverty Law Center, the NAACP, Human Rights Campaign, and Teach for America. These students are making powerful investments in their communities and across the 7th District. Interested students should visit www.The7thProject.com for more information and to apply for the 2020 Congressional Internship Program. Any undergraduate or graduate student with a 3.0 GPA or higher who is from Alabama's 7th Congressional District is eligible to apply for the Congressional Internship Program. Applications may be completed online and must be received by March 13, 2020.
SSCC Fall Art Show
Shelton State Community College's Visual Arts Department will open its Fall 2019 Student Art Exhibition on Nov. 22 in the Martin Campus Cadence Bank Art Gallery. A reception honoring the artists will be held on Thurs., Dec. 5 from 4-5:30 p.m. with a special award presentation at 4:30 p.m. Both the exhibition and the reception are free and open to the public.
NASA, UA Strengthen Relationship For Potential Work On In-Space Manufacturing
An agreement between UA and NASA will enhance inventive research assisting space exploration and strengthening education of tomorrow's aerospace workforce. UA President Stuart R. Bell and Jody Singer, director of NASA's Marshall Space Flight Center, recently signed a memorandum of understanding that builds on significant and ongoing collaborative projects in the broad area of additive manufacturing and its potential application with in-space manufacturing. In-space manufacturing includes making the materials needed for the mission using components brought from Earth or gathered from the moon or Mars. For more information, contact Adam Jones in UA communications at 205-348-4328 or adam.jones@ua.edu.
Student Veterans March To Bring Awareness To Veteran Suicides
While many UA students will drive or fly to their destinations for the Thanksgiving break, one group of student veterans will march to theirs — all the way from Tuscaloosa to Auburn. Almost 80 students and support personnel from UA's Campus Veterans Association and Auburn's Student Veterans Association will take part in Operation Iron Ruck, Nov. 27 – Nov. 30. In addition to supporting a national veteran suicide awareness campaign, each student veteran will carry 22 pounds of donations in their rucksacks for the Bill Nichols State Veterans Home in Alexander City and Three Hots and a Cot, an organization that assists homeless veterans. For more details, contact Shane Dorrill in UA communications at 205-348-8319 or shane.dorrill@ua.edu.
CDC recommends persons stop using vaping products containing THC
As the investigation continues into a national outbreak of lung disease associated with e-cigarettes and vaping products, the Centers for Disease Control and Prevention (CDC) recommends that persons stop using products containing tetrahydrocannabinol (THC). Based on data collected as of October 15, 86 percent of patients experiencing symptoms of the lung disease used THC-containing products in the three months preceding illness. While not legal in Alabama, THC-containing vaping products can be obtained from informal or illicit sources and are being frequently used in Alabama, especially by teens and young adults.
As of October 29, 1,888 confirmed and probable lung injury cases associated with use of e-cigarette, or vaping, products were reported by 49 states (all except Alaska), the District of Columbia, and the U.S. Virgin Islands. Thirty-seven deaths have been confirmed in 24 states, including one death in Alabama. The median age of patients who have died is 44 years, ranging from 17 to 75 years old.
Alabama healthcare providers have reported 9 cases of lung disease associated with e-cigarette product use, or vaping as of October 30. The 9 cases, 5 confirmed and 4 probable, are included in the national counts for the CDC.
Patients have experienced symptoms that include cough, shortness of breath and fatigue, with symptoms growing worse over a period of days or weeks before admission to the hospital. Other symptoms may include fever, chest pain, nausea, abdominal pain and diarrhea. Most of the cases are among adolescents and young adults.
The Alabama Department of Public Health (ADPH) recommends all consumers of non-regulated vape products voluntarily stop using them until the national and state investigations into vaping-related deaths and illnesses are complete. ADPH has requested that healthcare providers report any cases of suspected serious respiratory illness they treat among patients who use electronic cigarettes or other vaping devices through the Report Card located on the ADPH website.
State Health Officer Dr. Scott Harris especially urged women who are pregnant, youth and young people to refrain from using e-cigarettes or vaping products. In addition, he cautioned the public, "Never buy any type of e-cigarette or vaping products off the street, especially those containing THC, and do not modify or add any substances to these products bought at retail establishments."
Alabama law prohibits the sale or transfer of vaping products or electronic nicotine delivery devices to minors. Other states have reported that counterfeit e-cigarettes are of special concern and some states have moved to temporarily ban the sale of vaping products.
Free help is available for Alabama residents who are ready to stop using e-cigarettes or vaping products as well as traditional tobacco. The Alabama Tobacco Quitline number is 1-800-QUIT-NOW (1-800-784-8669) or residents may visit quitnowalabama.comfor help.
The Quitline provides individualized coaching to help any type of smoker or tobacco user, including e-cigarettes and vape, to quit. In addition, the Quitline offers up to eight weeks of free nicotine patches to those medically eligible and enrolled in the program. Quitline coaching services are available seven days a week from 6 a.m. to midnight.
For additional information on electronic cigarettes and their health effects, visit www.cdc.gov/tobacco/basic_information/e-cigarettes/index.htm. For more information on quitting tobacco, please visit ADPH Tobacco Prevention and Control at alabamapublichealth.gov/tobacco.