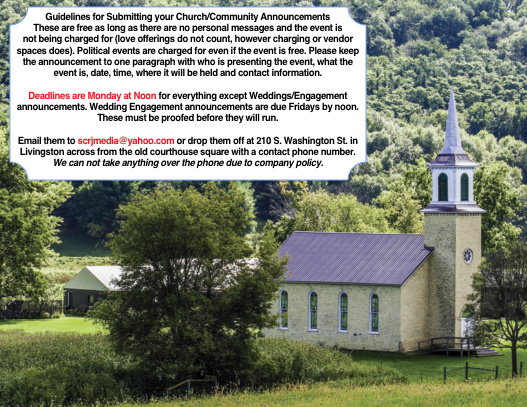 Deadlines are Mondays at Noon for everything except wedding/engagement announcements. Wedding engagement announcements deadline are Fridays by noon. Upcoming Holiday Deadlines: We will be closed for Memorial Day, Mon. May 27. Everything is due Fri., May 24.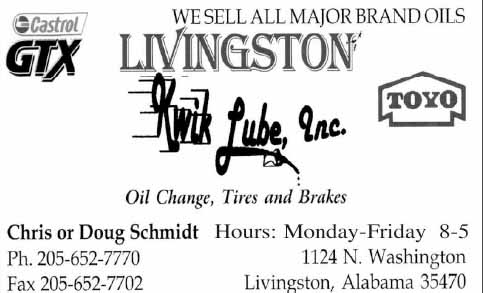 Church and Community Events
Fourth Creek Missionary Baptist 100 Men & Women- Black & White Program
We, the Pastor and members of the Fourth Creek Missionary Baptist Church, York, are cordially inviting you to come and share with us as we celebrate our 100 Men & Women- Black & White Program on Sunday, June 9 at 2 p.m. The Rev. C. L. Franklin, Pastor of Pleasant Hill Baptist Church, Yantley, will be the guest minister along with his choir and church family. Please come and share with us during this grand occasion. Rev. Mitchel Carter, pastor; Deac. Adolphus Moss, program chairperson.
Word of Life Church Pastor Appreciation
Word of Life Church will be celebrating the 21st pastoral appreciation for Pastor Russell "Shortman" Hardy and Co-Pastor Massie C. Hardy on Sun., June 9 at 11 a.m. and 3 p.m. The theme is "Shepherds Who Care." The guest speaker will be Bishop Effell Williams, Sr., founder and senior pastor of Tabernacle of Praise Church, Selma. For more information please contact Min. Tara Wiley at 205-499-2971 or Elder Mary Campbell at 205-392-4007 or 205-616-5877.
Living Word Church Health Screening
Living Word Church, 1408 AL Hwy. 28 E., Livingston, will have a free Health Screening June 1 10 a.m. – 2:30 p.m. with free food and toys, clothes, medicine, medical exam, and mentor for a day program for youth. For more information visit apromisetohelp.com. Sponsored by Spirit of Luke Charitable Foundation and Black Belt Faith & Medicine Wholeness Initiative.
Older Americans Month 2019
Each May, the Administration on Aging, part of the Administration for Community Living, leads our nation's observance of Older Americans Month. This year's theme is "Connect, Create, Contribute," which encourages older adults and their communities to: Connect with friends, family, and services that support participation; Create by engaging in activities that promote learning, health, and personal enrichment; and, Contribute time, talent, and life experience to benefit others. The Alabama-Tombigbee Regional Commission Area Agency on Aging and the Alabama Cooperative Extension System of Dallas County will celebrate Older Americans Month for persons age 60 and over, on Thurs., May 30 from 9 a.m. – 1 p.m. at the Carl Morgan Convention Center, 211 Washington St., Selma, for senior center participants from Dallas, Marengo, Perry, Sumter, and Wilcox Counties. Activities will include health promotion vendors, education, dance music, spring hat contest, door prizes, and lunch. For additional information, please contact: Thelma J. McCall, Alabama-Tombigee Regional Commission Area Agency on Aging (334) 682-5206 or (888) 617-0500.
Galilee Baptist Riding for Christ, Women of the World, Revival
The Galilee Baptist Church will have Riding for Christ on Sat., June 1 beginning with registration at 9:30 a.m. Lunch at noon. Then on Sun., June 2 at 2:30 p.m. the ladies will host Women of the World program. Minister Alexion Chaney will bring the message. Refreshments will be served. Revival: From the Cross to Pentecost, June 4, 5 and 6 at 7 p. m. nightly. Tuesday Pastor Rhonald Randolph and New Providence Baptist Church Church; Wednesday Pastor Anthony Gary, and the Popular Springs C. M. E. Church, Thursday Pastor Demetrius "Doddie" Smith and the Mt. Carmel Community Church. Come and be blessed. Gallilee Baptist Church, Panola. Rev. Dr. B. Nelson Little.
Farmer's Market Meeting:
All Sumter County farmers, landowners and Federation Coop Members are invited to attend a reorganizational meeting for the Sumter County Farmer's Market and Coop Wed., June 5, 4 – 5:30 p.m. at Land Hall on the UWA Campus Call the federation of southern cooperatives at 652-9676 for more information.
Vaction Bible School at Livingston First Baptist
VBS will be held for all kids who have completed K-5 through 6th grade during the interim of June 2-6, from 5:15 to 8 p.m. A light supper will be served at 5:15 each evening. Parents are encouraged to come with their children on June 2 to help them get registered; then they are asked to pick them up at 8 p.m. Theme for this event is "In the Wild;" different activities will include crafts, music, recreation, Bible study, missions and worship rally. We encourage all children to attend this annual encounter where they can enjoy games and learning and be together.
Lupus Project Annual Warrior Walk and Fun Day
The Lupus Project presents the annual Warrior Walk and Fun Day Sat., May 25 at the Sumter County Courthouse Square at 10 a.m. The Lupus project is sponsored by Zeta Phi Beta, Delta Sigma Theta and the Health and Wellness Education Center.
Alabama Archaeological Society Summter Meeting
Our own French Marine will be on hand to discuss interpreting the soldiers who lived there along with making a little noise via musket fire. After nine years, the AAS Summer Meeting returns to Fort Tombecbe, Fort Tombecbee Rd, Epes, on Sat., June 8. Members are encouraged to join us at 9:30 a.m. – 5:30 p.m. that morning for registration and snacks. At 10 Dr. Ashley Dumas will lead a tour of the fort and discuss recent excavations and future plans. We will cookout hamburgers, veggie burgers, and hotdogs for lunch. After lunch, we will gather under the pavilion while Brian Mast, the public historian for the Black Belt Museum, discusses strategies for interpreting historic sites and provides a demonstration. His program will include a black powder musket-firing demonstration. We will provide a driving tour map of Indian mounds and other sites in the area for participants. (Drive-by only.) Bring $5 for lunch and be sure to wear shoes appropriate for outdoors.
American Legion Post Ten Meeting
The American Legion Post Ten will meet at 11 a.m.. every third Saturday at Epes on U.S. Highway 11 N. All members are invited to attend, including all veterans and members of their families. For more information contact Public Information Coordinator Dave Lightfoot at 205-499-1944.
First Africian Baptist Church Bloody Tuesday Commemoration Program
The Bloody Tuesday Commemoration program will be held on Sun., June 9 at 6 p.m. at First African Baptist Church, 2621 Stillman Boulevard and T. Y. Rogers Avenue, Tuscaloosa. Rev. David Gay, pastor of Beulah Baptist Church, Tuscaloosa will be the guest speaker. This event willl honor Rev. T. Y. Rogers, native of Sumter County for his heroic efforts to bring equality for all during the Civil Rights Movement. Rev. F. Blackburn is interim church pastor.
It's Time Again to Get Ready for Lots of Summer Fun!
The Ruby Pickens Tartt Public Library will begin accepting registration for the summer reading program on May 1-31. Don't get left out of this year's excitement! This year we will celebrate Alabama as well as "A Universe of Stories."
Mount Herman Convention at Oak Grove
We want all Mt. Herman churches to participate. The Local convention will be held at the Oak Grove Baptist Church, York, Rev. P. S. Jenkins, Pastor. May 28-30, 2019.
Mount Herman Churches at State Convention
We want all Mt. Herman churches to participate.The State Convention will be in Huntsville, June 10-14. All oratorical winners will participate.
Mobile Food Pantry
Community Service Programs of West Alabama (CSP), Inc. will host mobile food pantries throughout Sumter County. The mobile food pantries are designed for food distribution to households in various areas of the county and not just one centralized location. Below is a listing of the location and date for the mobile food pantry that will serve ALL Sumter County residents: Wed., May 29, Geiger City Hall, 201 Broad St., Emelle. To enroll in this program, please contact Candace Harvey, Sumter County Coordinator, at (205) 652-1346 or visit your local CSP office at 106 Hospital Drive, Suite 103 Livingston, Alabama 35470. Please remember, you will need to present proof of income for prior month for all adults in the household, social security cards for all household members, proof that you reside in Sumter County (household bill in your name with current address) and picture identification. Quantities are limited to 150 households per food pantry. Only residents of Sumter County are able to apply.
Geiger Day
Geiger Day will be Sat., May 25. The parade starts at 1 p.m. For more information contact Mayor Michael Cunningham at 205-499-0107 or 205-455-2840.
UWA PD hosting human trafficking awareness training
The University of West Alabama Police Department will host a one-day human trafficking awareness class on Wed., June 12. The event offers training free of charge for law enforcement, first responders, prosecutors, judges, probation officers, victim service providers, social workers, healthcare professionals, and educators. The class, Human Trafficking 101, will be taught on the UWA campus in Livingston at Bell Conference Center, beginning at 8 a.m. and ending at 4 p.m. Information includes the Alabama Uniform Integrated Human Trafficking Initiative, which is a collaborative statewide guide to best practices regarding the prevention and ending of human trafficking. The course will also offer an exploration into investigation and prosecution of human trafficking cases. UWA is co-sponsoring the event with the Office of the Attorney General. APOST and CLE hours will be available, pending appropriate approval. There is no cost to attend, but registration is required. For more information or to register, contact UWA PD Officer Josette White at jhwhite@uwa.edu or 205-652-3602.
USDA Reopens Continuous CRP Signup
USDA's Farm Service Agency (FSA) will accept applications beginning June 3, 2019, for certain practices under the Conservation Reserve Program (CRP) continuous signup and will offer extensions for expiring CRP contracts. The 2018 Farm Bill reauthorized CRP, one of the country's largest conservation programs. A one-year extension will be offered to existing CRP participants who have expiring CRP contracts of 14 years or less. Producers eligible for an extension will receive a letter describing their options. Alternatively, producers with expiring contracts may have the option to enroll in the Transition Incentives Program, which provides two additional annual rental payments on the condition the land is sold or rented to a beginning farmer or rancher or a member of a socially disadvantaged group. Producers interested in applying for CRP continuous practices, including those under existing CREP agreements, or who need an extension, should contact their USDA service center beginning June 3. To locate your local FSA office, visit www.farmers.gov. More information on CRP can be found at www.fsa.usda.gov/crp. USDA is an equal opportunity provider, employer and lender.
Trivia Nights
The Ruby Pickens Tartt Public Library will be hosting Trivia Wednesday nights, May 29- July 31st at Tres Hermanos at 6:30 p.m.
SC Master Gardener Program
Alabama Master Gardeners, Alabama Cooperative Extension System, presents the Sumter County master Gardener Program. Interested in gardening, landscapes, and growing plants? Come join other gardeners for this 11 week volunteer training program. Topics include botany, vegetable gardening, plant propagation, diseases and insect identification, and more. After completion of the classroom requirement and 50 hours of volunteer service, you will become a certified Alabama Master Gardener. Classes are every Thursday, 9 a.m. – 2 p.m. Sept 12- Nov. 21, at Federation of Southern Cooperatives Rural Training and Research Center, Epes. For more information and price contact Sumter County Cooperatives Extension 205-609-7771, sb0042@aces.edu. Sponcered in part by the Federation of Southern Cooperative. www.aces.edu.
School Events
Sumter County School Announcements
Sumter Central Varsity Football 2019
August 23 @ Woodlawn
30 Linden
D. C. Educational Tour
To current 4th and 5th grade students (upcoming 5th and 6th grade students.) We have extended the application deadline for the D. C. Educational Tour to October 1, 2019. This means you have until Oct. 1 to sign up for this awesome trip which includes a D. C. Tour and the Amish country. We already have a wreath laying scheduled at the Tomb of the Unknown at Arlington Cemetery and will be booking more special attractions as we get closer to time. Please give your child a chance at this wonderful opportunity! Trip Dates are March 2-6, 2020. Fundraisers have started and we have several more planned. Any questions please contact Ms. Chris Clark Beard 205-499-6056.
Alabama 4-H West Ala. Competive Events Day
Fri., May 31, at Linden Elementary School 201 Shiloh St., Linden. Registration is at 9 a.m. There is a registration fee, and lunch will be provided for participants and with a small fee for additional guests for lunch. Competitive Events consist of Three levels: Junior ages 9-11, Intermediate ages 12-13, Senior ages 14-18. This Competitive Events Day competition will include participants form the following counties: Bibb, Choctaw, Dallas, Greene, Hale, Marengo, Pickens, Perry, Sumter, Tuscaloosa and Wilcox. Your registration fee and form has to be submitted to your local County Extension Office by May 10 (cash, check or money order.) Participants can only participate in one event. There will be a lst. 2nd and 3rd place winner in each category of each level. Events: Bake Off, Photography, What Would You Build, $15 Challenge, Extreme Birdhouse, Free Style Showcase, Speak Up Alabama (Persuasive or informative,) Chef 4-H and Blocks Rock. You will receive the rules for the event you compete 1n from your County Exten.ion Office. *Senior level pamclpants need to complete a community service project to participate. Contact your local County 4-H Agent or Extension office for any further information.
RESEARCHERS QUICKEN DRUG DISCOVERY METHOD VIA ZOMBIE-LIKE CELLS — Researchers are using zombie-like cells that behave normally on the outside, but are filled with magnetic particles inside, to screen potential drugs from natural products. Discovered at UA, the method could quicken a laborious task that slows drug discovery, according to findings in a paper published in the journal Nanoscale. For more information, contact Adam Jones, UA communications, at 205-348-4328 or adam.jones@ua.edu.
RESEARCHERS FIND PATTERNS ASSOCIATED WITH EXTREME FLOODS – Extreme floods across the continental United States are associated with four broad atmospheric patterns, a machine-learning based analysis of extreme floods found. Researchers analyzed relatively rare floods in the United States, using a machine-learning algorithm to place the floods into groups based on atmospheric patterns that happen at the same time. They found that tropical moisture exports, tropical cyclones, low-pressure systems and melting snow are the primary patterns associated with extreme floods. The findings are published in Scientific Reports. For more information, contact Adam Jones, UA communications, at 205-348-4328 or adam.jones@ua.edu.
LOCHMAN NAMED 2019 BUFORD AWARD WINNER – Dr. John Lochman, retired director of the Center for the Prevention of Youth Behavior Problems at UA, was named the 2019 winner of the Buford Peace Award, given annually to a UA faculty member who is active in causes that promote peace and justice. Lochman was honored at the UA School of Social Work's academic awards banquet. For more information, contact David Miller, UA Strategic Communications, at 205-348-5384.
Grant Archives Southern LGBTQ History
UA was awarded a $300,000 grant from The Andrew W. Mellon Foundation to archive LGBTQ history in the South. The grant will allow UA and its partner, the Invisible Histories Project, to curate collections of documents and memorabilia, like clothing, diaries, banners, quilts and board games, from the LGBTQ community across the South. For more information, contact Stephanie Kirkland, UA College of Arts and Sciences, at 205-348-8663 or stephanie.kirkland@ua.edu or UA communications, 205-348-5320.