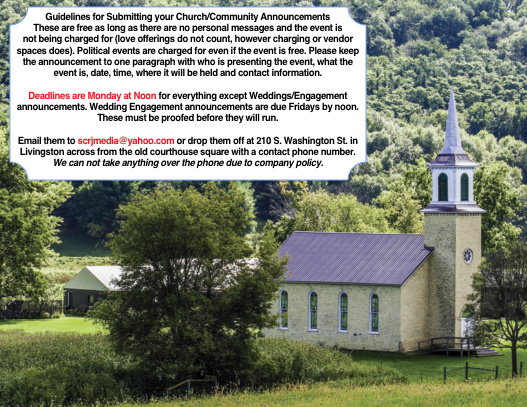 Deadlines are Mondays at Noon for everything except wedding/engagement announcements. Wedding engagement announcements deadline are Fridays by noon.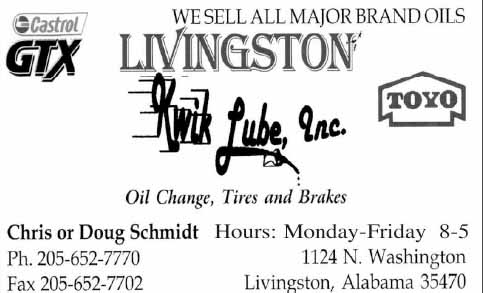 Church and Community Events
United Methodist Gathering
United Methodists from around the southeast will gather at Clearbranch United Methodist on Jan. 25 from 9:00 a.m.-12 p.m. The theme of the day is, "Why the Best Days of Methodism are Ahead of Us!" This gathering of traditionally orthodox United Methodist will feature Dr. Chris Ritter as the day's speaker, as well as a panel of Annual Conference delegates from around the southeast. You can register for the event at this link or by going to the "Events" link on the Clearbranch home page. For more information, contact Vaughn Stafford (334-549-9338), Lead Pastor of Clearbranch UMC; or Paul Lawler (205-306-1133), Lead Pastor of Christ Church UMC.

Want to Strengthen Your Parenting Skill?
Winter/Spring Enrollment for a 14 week session will start Tues., Feb. 11 at Sumter County Early Head Start at 5-7:30 p.m. The class is open to ALL interested parents and their children ages 12-17. Childcare is provided for children 11 years of age and younger. This program begins with a healthy home cooked meal where parents and children sit together, eat, talk and enjoy without the interruption of phones, television and social media. For More Information call: Eleanor James, Coordinator (205) 499-9566 or Lena Hardaway (205) 652-4477.

Twenty Second Annual Di's Hope Conference
The Twenty Second Annual Di's Hope Conference will be held on Jan. 25 the Cuba Baptist Church in Cuba. Registration and a light breakfast will start at 8:30. No pre-registration is necessary and there is no charge. A love offering will be taken. The Conference will begin at 9 a.m. A nursery will be provided for children up to five years. Lunch will also be provided. Women of all ages and denominations are welcome. For more information, please call 295-392-4395.

Reflections of an Endless Circle
Admission is complimentary. Donations benefit UWA music. Mr. Mark W. Turner, a dynamic professional performer and educator within the world of the Percussive Arts, along with UWA pianist Paul Lee and other guests, perform a unique array of works for a diverse group of percussion instruments Jan. 28 at 7 p.m. in Bibb Graves Auditorium. Among works ranging from the Baroque to 21st century, the concert's centerpiece is Paul Creston's "Concertina for Marimba and Orchestra", the first solo concerto ever written for the marimba. This piece was originally premiered on April 29, 1940 and will feature Mr. Turner's very own "Virtual Orchestra."
The Progression of the Piano Sonata: Haydn to Liszt Part Two of Three
Admission is complimentary. Donations benefit UWA music. Pianist Paul A. Lee presents the second in a series of recitals throughout the 2019/2020 academic year showing the development of the sonata beginning with Josef Haydn's Sonata in F and progressing through Franz Liszt's monumental Sonata in B Minor on Feb. 4 at 7 p.m. in Bibb Graves Auditorium. Recital Two consists of sonatas by Franz Schubert and Frederic Chopin.

Free Prostate Cancer Screening
On Sat., Feb. 8, the Urology Health Foundation will hold a free prostate cancer screening for men 40 years of age and older from 10 a.m.-2 p.m. at the Pickens County Health Department on 80 William E. Hill Dr., Carrollton. No appointments are needed. For more information about this free screening, please contact the Pickens County Health Department at 205-367-8157.

Annual Choir Day Celebration
Mt. Carmel Baptist Church, Co. Rd. 23, Belmont, cordially invites you to come and worship with us in our annual Choir Day celebration, on Feb. 16, at 2 p.m. We are asking for our Christian friends to please come and help in this spiritual effort. Your presence would be greatly appreciated.

Mt. Pleasant M. B. Church Pastor's Anniversary
You are invited to help us celebrate Rev. Douglas Newson's 14th Anniversary as Mt. Pleasant Missionary Baptist Church, Warsaw Co. Rd. 85, Panola, on Sun., Feb. 2 at 2 p.m. Rev. Gerry Chris Parker, pastor of New Mt. Calvary Baptist, Geiger, will deliver the sermon, along with his church family, family, and choir.
Union Chapel C. M. E. Missionary Program, Black Heritage Celebration & Parade of Colors
Annual Missionary Program of Union Chapel C. M. E. Church, Ward, will be Sun., Feb. 9 along with the 11 a.m. morning worship service. Our very own, Rev. Vera Smith, minister in residence, will bring the message. Rev. Joyce McCoy, Pastor. Sis. Mayola Robinson, Missionary President. The 1st annual Black Heritage Celebration & Parade of Colors will be held at Union Chapel C. M. E. Church, Ward, on Sun., Feb.23, 2020 at 2 pm. Rev. Desi L. Echoles, Presiding Elder of the Mobile District will be the Guest Speaker.
School Events
University Charter School Announcements
We are gearing up for this year's spelling bee! Students will be receiving spelling words to study over the next few days. The dates for classroom-level and school-level competitions are Feb. 3-7 for classroom level and Feb. 21 for school level. We hope you will join us for the fun and to learn more about the importance of literacy and how to partner in ensuring your Trailblazer is set up for success! January's character trait is "knowledge." When students return, January will focus on supporting students beginning a new calendar year on the pursuit for increased learning and setting goals to learn something new and different. We encourage you to engage in this discussion with your Trailblazer(s) at home to reflect on what they have learned in 2019 and how to use this to set some personal goals for the new year ahead! Please make plans to attend the PTA Meeting Feb. 11 at 5:30 p.m. at the UCS Auditorium. Each class will have a visual demonstration for Black History Month and/or Presidents' Day. Parents will sign in on your child's homeroom sheet which will allow your child to wear blue jeans and a UCS t-shirt on Feb. 14. Parents: We need your help with our 2019-2020 yearbook. Please download the Jostens ReplayIT App to share your photos with the UCS Yearbook Team. The Jostens ReplayIt® app is the best way to share photos with your school community while making them available for your school's yearbook.. Download ReplayIt from the App Store or Google Play for free today! A private uploading option is available. The 2018-2019 Yearbook will be availing for purchase in the coming weeks. This Thursday is our first Family Literacy Night for students and families in K-3 from 5:30-7 p.m. in the UCS Lunchroom. Parents will learn what is expected for their Trailblazer regarding literacy at the end of each grade level and to support families in working on literacy at home to reach end-of-grade expectations with literacy. This event is designed as a gaming experience where teachers and families will play various games including Family Feud and Bingo for Books! Pizza will be provided. Good luck, and good spelling to all! The UCS STREAM After School Program is new and improved. You don't want your kids to miss out on this awesome learning experience. We will continue to offer homework assistance from our staff, a snack and free play time, and also a creative and innovative learning activity each and every day. You don't want to miss out so come join us!
YWE Events
Jan. 28 Chinese acrobats at 2 p.m. Feb. 4 James Spann at 9 a.m. Jabali Afrika at 2 p.m. Family Reading Night at 5 p.m. Feb. 28 Black History Program at 9 a.m.
Back To School Bash Planning Meeting
Inviting all organizations, fusinesses, or individuals interested in helping to organize an event for welcoming our students back to school for the 2020/2021 school year, please join us for a planning meeting, Mon., Feb. 3, at 5 p.m. at the Sumter County Board of Education Material Center, Livingston. We are welcoming all ideas to help make this a fun and exciting event for our kids. Please RSVP to Ruby Jackson at 334-216-9927 or Dr. Anthony Gardner at 205-652-9605.

Alabama 4-H Foundation to Award $35,000 in Scholarships
Applications are now being accepted via 4HOnline at www.4honline.com. Completed applications are due online by March 1. As part of the application process, students must submit a resume, letter of recommendation and their 4-H story titled How Alabama 4-H Has Changed My Life. These requirements must meet the following guidelines: Limit the 4-H story to 500 words or less. Also, double space the text, use Arial or Times New Roman 12–point font and have one-inch margins. Limit a resume to one page. A letter of recommendation should be from a non-family member such as, 4-H staff members, school administrators, teachers or coaches. Save all documents as PDFs and upload them into 4HOnline. Scholarship winners can expect notifications by April 15
Sumter County Schools 2019-20 Calendar
Jan. 20 Dr. Martin Luther King Jr. Holiday (School Closed)
Jan. 21 ACCESS 2.0 and Alternate ACCESS for ELLs Window Opens
Feb. 3rd Nine Weeks Progress Reports
Feb. 17 Presidents' Day/Weather Day/Inservice (No Students), 3rd Nine Weeks Progress Reports
March 2 ACAP Alternative Assessment Window Opens (2nd – 8th Grade)
March 10 11th Grade ACT With Writing Test Given and Accommodation/Support. 3rd Nine Weeks Report Cards
March 20 ACCESS 2.0 and Alternate ACCESS for ELLs Window Closes
March 21 -29 Spring Break
March 30 ACAP Summative Assessment Window Opens (2nd – 8th Grade)
April 10 Good Friday (School Closed), ACAP Alabama Alternative Ends (2nd – 8th)
April 15 ACT WorkKeys Retest Option Given—And Accommodations/Support
April 20 4th Nine Weeks Progress Reports
April 21 11th Grade ACT With Writing Make-up Given (Option 2)
May 1 ACAP Summative Assessment Window Closes (2nd – 8th Grade)
May 15 Seniors Graduate
May 20 Second Semester Ends last day for students
May 21 Report cards mailed
May 22 Inservice Teacher day no students
Double Exposure Statewide Photography Competition
An exhibit featuring the entrants in the 2020 Double Exposure Statewide Photography Competition for Juniors will take place at the Bama Theatre's Junior League Gallery Jan. 27-Feb. 9. The event was open to photographers ages 12-17 from the state of Alabama only. Artists were allowed to enter up to three works and any photographic media was accepted. Winners will be announced at a later date. The exhibit will end with a closing reception and awards ceremony on Feb. 9 from 2-3 p.m. The Gallery is open weekdays from 9 a.m.-noon and 1 p.m.-4 p.m. and also during Bama Theatre events. Enter through the PARA Building, located adjacent to the theatre, during daytime hours. The Bama Theatre is located at 600 Greensboro Ave. in downtown Tuscaloosa. For more information about The Arts Council or Bama Theatre, patrons should follow and like "The Arts Council – Bama Theatre – Cultural Arts Center" on Facebook and Twitter and also Instagram @tuscaloosaartscouncil. Call 205-758-5195 or visit tuscarts.org for further information.

Applications Open for "The 7th Project" Congressional Internship Program
The 7th Project announced today the opening of the application process for the 2020 Congressional Summer Internship Program. The program gives college students who are residents of Alabama's 7th District with high academic achievement and demonstrated financial need the opportunity to participate in a four-week Congressional internship in the Washington, D.C. office of Congresswoman Terri Sewell. The 7th Project provides housing on a college campus in Washington, D.C. and a stipend for living and travel expenses. Internships in District offices are available as well. Program alumni have gone on to start careers on Capitol Hill and work with organizations such as the Southern Poverty Law Center, the NAACP, Human Rights Campaign, and Teach for America. These students are making powerful investments in their communities and across the 7th District. Interested students should visit www.The7thProject.com for more information and to apply for the 2020 Congressional Internship Program. Any undergraduate or graduate student with a 3.0 GPA or higher who is from Alabama's 7th Congressional District is eligible to apply for the Congressional Internship Program. Applications may be completed online and must be received by March 13, 2020.