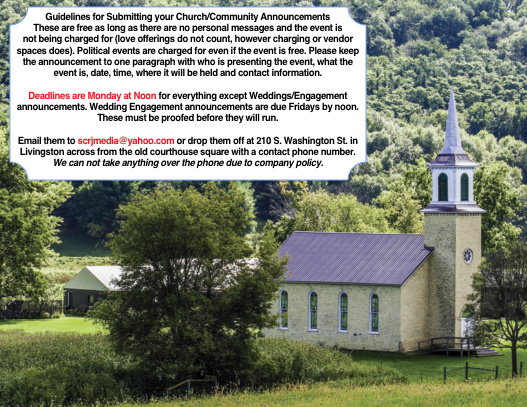 Deadlines are Mondays at Noon for everything except wedding/engagement announcements. Wedding engagement announcements deadline are Fridays by noon. Upcoming Holiday Deadlines: We will be closed for Memorial Day, Mon. May 27. Everything is due Fri., May 24.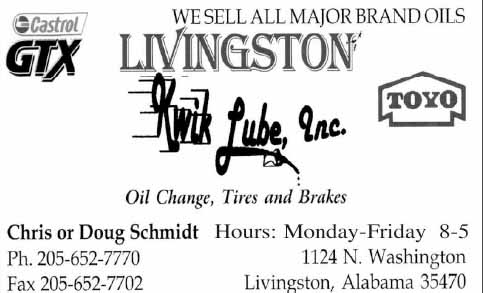 Church and Community Events
CCA Free Screening o"Hale County This Morning, This Evening"
Join filmmaker RaMell Ross for a screening of "Hale County This Morning, This Evening," a documentary film for free Fri., Aug. 23, at 6:30-8 p.m. An inspired and intimate portrait of a place and its people, the film follows Daniel Collins and Quincy Bryant, two young African American men from rural Alabama, over the course of five years. The audience is invited to experience the mundane and monumental, birth and death, the everyday and sublime. These moments combine to communicate the region's deep culture and provide glimpses of the complex ways the African American community's collective image is integrated into America's visual imagination. After the screening, there will be a Q&A with Ross. "Hale County This Morning, This Evening" continues the Coleman Center for the Art's new screening series which is held on Friday evenings in our newly renovated Pop Start facility. The series is open to the public and free of charge including refreshments (popcorn, bottled water). Whenever possible the filmmakers are present for post-screening talkbacks and workshops. Upcoming films include "In Search of the Truth/ Truth Booth," by Cause Collective, a team of artists, designers and ethnographers and featuring community members in Pike County (Mississippi), Uniontown, Selma, and York. RaMell Ross is an award-winning photographer, director, and educator. Ross earned a BA in both English and Sociology from Georgetown University and an MFA from the Rhode Island School of Design. His photographs have been exhibited internationally and his writing has appeared in such outlets as The New York Times and Walker Art Center. Ross is currently on faculty at Brown University's Visual Arts Department. "Hale County This Morning, This Evening" is his first feature documentary. For more information please contact the Coleman Center at info@colemanarts.org or (205) 392-2005.
Black Bluff Baptist A Child of God with the Words of God
It's coming! A child of God with the words of God! Come, listen and be blessed by the message from Min. A'Detrick Johnson at 11 a.m. morning services on Aug. 25 at Black Bluff Baptist Church in Whitfield. Dr. O. L. Sealy is church pastor and Min. Travis Baily is assist. pastor.
Christian Fellowship Baptist Church Men Day Program
Christian Fellowship Baptist Church, Yantley, cordially invite you and your church family to our annual Men Day program. The program will be held Sun., Aug. 25 at 11 a.m. during our worship service. Reverend Johnny Payton, Pastor of Pleasant Valley Baptist Church along with his church family will be our special guests. Rev., Dr. Robert L. Webb, Sr., is pastor and Dea. Bennie Ford is chairperson.
Revival Service
Mount Pilgrim Primitive Baptist Church located Hwy. 28 West in Livingston cordially invites you to attend their annual Revival Service beginning Sept. 2-4 starting at 7 p.m. Rev. Dr. Greg Watkins serves as pastor. Rev. Paul Ford of Porterville Zion M. B. Church of Porterville, Miss. will be the featured speaker.
Johnson Baptist Church Homecoming and Revival
You are cordially invited to come and share our homecoming and revival. Homecoming will be held Sun., Aug. 25 at 11 a.m. Rev. Kentray Sims, pastor of the Pine Grove Baptist Church of Livingston will be our guest for this special occasion. He will be accompanied by his choir and congregation. Revival will begin Mon., Aug. 26, through Fri., Aug. 30 at 7 p.m. nightly. Rev. Demetrius Williams, pastor of the First Baptist Church of Gainesville will be the evangelist for the week. Rev. Samuel Harris, pastor, Dea. Alfred Hale, clerk.
Mount Tabor Missionary Baptist 150th Anniversary and Homecoming
The pastor, Minister James McDonald, and members of the Mt. Tabor Missionary Baptist Church, Coatopa, invite you to worship with us in our 150th Church Anniversary and the 62nd Homecoming Program on Aug. 25 at 2 p.m. The Rev. Willie West and the Christian Valley M. B. Church family, Coatopa, will be our special guests. Pastor James McDonald and program committee.
Mt. Olive Homecoming Service
The pastor and members of the Mt. Olive Missionary Baptist Church would like to cordially invite you to our annual Homecoming Service, Sun., Sept. 8 at 11 a. m. Paster Emeritus Rev. Dr . C. L. Walk will be the evangelist. Revival service will be Sept. 9-12 at 7 p.m. nightly. Pastor John Pams of St. Luke Missionary Baptist Church, Corinth, Miss. will be the evangelist.
Grief Share at Livingston First Baptist Church
A grief share group is meeting at Livingston First Baptist Church on Tuesdays, 5:30-7:30 p.m. in the library. Leaders are Johnny and Ramona Larkin. This course consists of 13 sessions; guests can join the group at any point in those 13 weeks. Church office number is 652-2261 if one has questions.
Walk A Mile In My Shoes
Join United Cerebral Palsy of West Alabama to walk a mile in the park and raise awareness and support for individuals with disabilities. This event will feature music with a DJ, food trucks, games and activities. It is free and open to the public Fri., Sept. 27 at 10 a.m.-2 p.m. at Snow Hinton park, Tuscaloosa.
3rd Annual Northbound Bethlehem Consolidated District Convention Seasonal Tea Dinner
Sat., Sept. 28, at 4 p.m., Panola Community Center, 5816 Salem Road 35, Panola. Guest speaker: Dr. Monroe Tucker, pastor of Mt. Olive Missionary Baptist Church, Atmore, Alabama, 2nd vice president of New Era Progressive Baptist State convention and board member and past president, E. L. White Theological Seminary. For more information contact Rev. Douglas Newton at (601)527-9226.
School Events
Sumter County School Announcements
Sumter Central Varsity Football 2019
August 23 @ Woodlawn
30 Linden
York West End
9-4 PTA Meeting YWE Cafiteria
9-11 Come eat lunch with your grandchild! More information will be sent home in the coming weeks
Sumter County Schools 2019-20 Calendar


Sept 2 Labor Day
Sept. 5 1st progress report
Sept. 30 10th Grade Pre-ACT Testing Window Opens
Oct. 1 12th Grade ACT WorkKeys Test Given
Oct. 7 No school – parent visitation in service
Oct. 9 1st nine weeks report cards
Oct. 15 12th Grade work keys
Oct. 18 10th Grade Pre-ACT Testing Window Closes
Nov. 8 Fall Break (School Closed)
Nov. 11 Fall Break (School Closed) Vets Day
Nov. 12 2nd Nine Weeks Progress Report
Nov. 25 – Dec. 1 Thanksgivings Holiday (School Closed)
Dec. 20 – First Semester Ends
Dec. 21 – Jan. 5 Christmas Holiday and New Years
Jan. 6 Inservice (No Students)
Jan. 7 School Re-Opens for Students, 2nd Nine Weeds Report Cards
Jan. 20 Dr. Martin Luther King Jr. Holiday (School Closed)
Jan. 21 ACCESS 2.0 and Alternate ACCESS for ELLs Window Opens
Feb. 3rd Nine Weeks Progress Reports
Feb. 17 Presidents' Day/Weather Day/Inservice (No Students), 3rd Nine Weeks Progress Reports
March 2 ACAP Alternative Assessment Window Opens (2nd – 8th Grade)
March 10 11th Grade ACT With Writing Test Given and Accommodation/Support. 3rd Nine Weeks Report Cards
March 20 ACCESS 2.0 and Alternate ACCESS for ELLs Window Closes
March 21 -29 Spring Break
March 30 ACAP Summative Assessment Window Opens (2nd – 8th Grade)
April 10 Good Friday (School Closed), ACAP Alabama Alternative Ends (2nd – 8th)
April 15 ACT WorkKeys Retest Option Given—And Accommodations/Support
April 20 4th Nine Weeks Progress Reports
April 21 11th Grade ACT With Writing Make-up Given (Option 2)
May 1 ACAP Summative Assessment Window Closes (2nd – 8th Grade)
May 15 Seniors Graduate
May 20 Second Semester Ends last day for students
May 21 Report cards mailed
May 22 Inservice Teacher day no students
University Charter School Announcements
Arrival and Dismissal Procedures! Please notice a change this year for the dismissal of grades 7-9 from Hughes. Please plan to pick up your youngest child from the appropriate location and we will do our best to have your older students ready at that location as well!
D. C. Educational Tour
To current 4th and 5th grade students (upcoming 5th and 6th grade students.) We have extended the application deadline for the D. C. Educational Tour to October 1, 2019. This means you have until Oct. 1 to sign up for this awesome trip which includes a D. C. Tour and the Amish country. We already have a wreath laying scheduled at the Tomb of the Unknown at Arlington Cemetery and will be booking more special attractions as we get closer to time. Please give your child a chance at this wonderful opportunity! Trip Dates are March 2-6, 2020. Fundraisers have started and we have several more planned. Any questions please contact Ms. Chris Clark Beard 205-499-6056.
University Charter School Announcements
We want YOU to join UCS PTA! Attached are the PTA meetings and events for the 2019-2020 school year along with a membership form. Please join by September 13 for your child to receive a "No Uniform Day" free pass and to help your child(ren)'s class earn a sweet treat incentive this fall! Full details can be found in the attached pictures. Contact UCS PTA for more information at ucspta@universitycharterschool.org.
Our character education program is called Core Essentials. Each month, students focus on an important character trait and learn how to SAY IT, KNOW IT, SEE IT, and BE IT. Each week, we will be including information on how to teach your child more about our trait of the month while at home. It is important for home and school to be a united front where we teach students that what they learn at school is just as relevant and important outside of the school environment. Please spend some time reading through the newsletter (link below) to teach your child about August's focus of the "Big 3" — Treating Others Right, Making Smart Decisions, and Maximizing Their Potential.
There will be a Basketball interest meeting on Thursday, August 22nd, in the auditorium at 5 p.m. This is for all 7th – 9th grade boys and girls along with their parents interested in playing basketball this year.
SSCC Visual Arts Dept. Exhibition
Shelton State Community College's Visual Arts Department will present its first exhibition of the 2019-20 academic year. The free exhibition open to the public, "Erasing: The Art of Subtractive Drawing," Fri., Aug. 23-Mon., Sept. 23 in the Martin Campus Cadence Bank Art Gallery. For more information about visual arts, contact Jaia Chen at jchen@sheltonstate.edu.
UA & SSCC Collegiate 100
Shelton State Community College's Collegiate 100 will hold their Pinning Ceremony on Tues., Aug. 27 at 6 p.m. in the Alabama Power Recital Hall on the Martin Campus. The event is open to the public, and all are invited to attend. At the pinning ceremony, candidates from Shelton State Community College's and The University of Alabama's Collegiate 100 will be recognized as national Collegiate 100 members.Collegiate 100 provides an avenue for chapters of 100 Black Men of America, Inc. to continue their one-on-one mentoring program for students as they matriculate from high school to college. The program supports the initiatives set forth by the 100 Way Across a Lifetime organization. Both local Collegiate 100 chapters were established under the leadership of the 100 Black Men of West Alabama, Inc.For more information, contact Eric Prewitt at eric.prewitt@sheltonstate.edu.
SSCC Teriffic Tuesday Concerts
Shelton State Community College's 2019-20 Terrific Tuesday Concert Series opens with the Vuorovesi Trio on Tuesday, August 27 at 1:00 p.m. in the Alabama Power Recital Hall on the Martin Campus. Admission is free and open to the public for all Terrific Tuesday concerts. Shelton State's Terrific Tuesday Concert Series is designed to showcase a variety of repertory styles. Weekly performances are offered by guest artists as well as Shelton State faculty and students. For more information, contact Lillian Roberts at 205.391.2399 or lroberts@sheltonstate.edu.
INCOMING FRESHMEN GIVING BACK TO SCHOOLS, COMMUNITY – Entering freshmen in UA's Honors College will strive to contribute to the Tuscaloosa community through service Monday, Aug. 12, to Friday, Aug. 16, as part of three UA initiatives. About 160 freshmen students and 36 older students will tackle projects at Matthews and Crestmont elementary schools in Northport. Students will landscape, paint murals and update outdoor classrooms. In other projects, more than 75 freshmen and 20 student leaders will partner in efforts at Lake Lurleen State Park, Van de Graaf Park, Payne Lake, Alabama Museum of Natural History and Hurricane Creek. Media are invited to visit Matthews or Crestmont schools from 9 to 11 a.m. Thursday, Aug. 15, to observe the work. For more information about additional initiatives, contact Richard LeComte at 205-394-3040.
WILD EATS – FORAGING FOR YOUR GRUB – Believe it or not, food isn't only found on grocery store shelves and farms. It's all around, even in the average backyard. Dr. Michael R. McKain, assistant professor of biological sciences and curator of the UA Herbarium, said Alabama is one of the most biodiverse states in the nation, and with that comes a plethora of wild eats. Wild foraging is growing in popularity. But that comes with words of precaution. McKain is available this week to discuss some do's and don'ts. Contact him directly at mrmckain@uga.edu or 205-348-1826. For assistance, contact Jamon Smith, UA communications, at jamon.smith@ua.edu or 205-348-4956.
UA ALIGNS INVENTOR RESOURCES, COLLABORATION WITH BUSINESS INCUBATOR —The robust push by UA to promote entrepreneurship both on campus and throughout the region is increasing with an alignment of resources to better support innovators. The Bama Technology Incubator, which includes on-campus laboratories and additional support for start-up companies, will change its name to EDGE Labs and serve as the strategic counterpart to The EDGE, a 26,000 square-foot off-campus business incubator that opened in February as a collaboration between UA, the City of Tuscaloosa and the Chamber of Commerce of West Alabama. For more information, contact Zach Thomas, Culverhouse director of marketing and communications, at rzthomas@cba.ua.edu, 205-348- 8318, or UA communications, 205-348-5320.
UA CREATES PEDIATRIC FELLOWSHIP FOR FAMILY MEDICINE PHYSICIANS – UA's College of Community Health Sciences has created an innovative fellowship program to provide comprehensive instruction for family medicine physicians seeking additional skills in pediatric care. The year-long pediatric fellowship will offer a variety of transformative experiences in both primary and tertiary care settings. Fellows will also receive research time and financial support for continuing education activities. For more information, contact Bryant Welbourne, UA communications, at 205-348-8325 or bryant.welbourne@ua.edu.
HEAT WAVES GETTING BIGGER, MORE SEVERE – It's hot in Alabama this week with a heat wave bearing down. Dr. David Keeling, UA assistant professor of geography, was recently awarded a grant to study heat waves such as this one. His previous work showed heat waves are getting larger in area, affecting more people, and have become more severe over the past 60 years. The culprit? Climate change. "Temperature and extremes, i.e. heat waves, are the things we're most certain about with climate change, and they have definitely become more frequent, higher in magnitude, and longer in duration across many parts of the globe," he said. Contact Keelings at djkeellings@ua.edu. For more information, contact Adam Jones, UA communications, at 205-348-4328 or adam.jones@ua.edu.