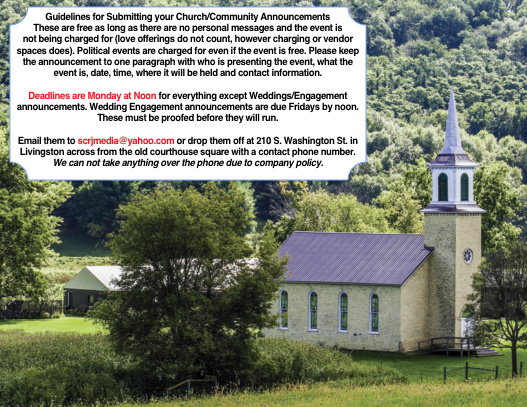 Deadlines are Mondays at Noon for everything except wedding/engagement announcements. Wedding engagement announcements deadline are Fridays by noon.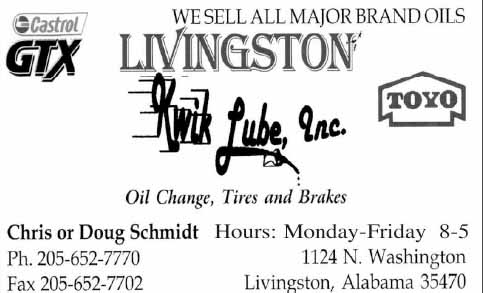 Church and Community Events
Episcopal Churches in the Diocese of Alabama have been directed by the Bishop to suspend all public worship We regret to inform you that all Episcopal Churches in the Diocese of Alabama have been directed by the Bishop to suspend all public worship and gatherings for the next three weeks (March 15, March 22, and March 29) in response to the COVID-19 crisis. This unfortunately means that we will have to postpone our reception in honor of Fr. Losch as well as the special service on Sunday morning. Please help us spread the word about these cancellations.
YORK HOMECOMING POSTPONED
York Homecoming 2020, scheduled for April 4, is postponed as a proactive health measure of large crowd gatherings due to coronavirus (COVID-19) concerns. The City of York looks forward to announcing a rescheduled event date in the future where we can gather and celebrate our community!
ALDOT operational plans in response to COVID-19 outbreak The Alabama Department of Transportation (ALDOT) is announcing how it will conduct operations during a national effort to prevent the spread of Coronavirus Disease (COVID-19.) The safety and protection of motorists using ALDOT facilities and the transportation network is a top priority. ALDOT is committed to providing essential services, while following state and federal guidance regarding COVID-19.
Restrooms will remain open at ALDOT rest areas across the state. A deep cleaning will be performed on the restrooms each week. Throughout each day, staff will clean and sanitize the areas used most frequently by travelers, including door handles, counters, faucets and toilets. Rest areas will be staffed to provide cleaning and with a point of contact for emergencies only.
Active construction and road maintenance projects and supporting ALDOT functions will continue, including scheduled bid openings for new projects. Work to repair slides and other roadway failures resulting from the recent record rainfall will continue.
ALDOT personnel will continue to monitor and respond to traffic incidents and roadway issues. ALDOT traffic operations and Alabama Service & Assistance Patrol (ASAP) responders will continue serving in areas where they currently operate.
All ALDOT public involvement meetings are postponed until further notice.
Local ALDOT offices will continue to receive and process permits for work on ALDOT right of way. The ALDOT Oversize/Overweight Permit Office will continue to accept and process applications for oversize/overweight vehicles on Alabama highways
The Alabama Bureau of Pardons and Paroles has set up special toll-free number for probationers and parolees to call to get information about reporting requirements during the State of Alabama's coronavirus emergency. This number is specifically for the more than 20,000 people supervised by parole and probation officers throughout the state. For more information on supervision over the next few weeks, parolees and probationers should call 1-800-269-5081. They can also email Questions@paroles.alabama.gov .
All Ala. Career Center locations will close to the public; services still available by phone or email Alabama Department of Labor Secretary Fitzgerald Washington announced today that beginning Wednesday, March 18, 2020, all of Alabama's 51 Career Centers will close to the public in order to help prevent the spread of COVID-19. This closure will be in effect until further notice.
Alabamians in need of Career Center services will still be able to receive them via telephone calls with their local staff, or through email correspondence.
Additionally, job search services and many other resources are available for self-service at www.joblink.alabama.gov, Alabama's free online jobs database.
Please note that Career Centers are NOT "unemployment offices." There are no "unemployment offices" in Alabama. The only ways to file an unemployment compensation claim are by calling 1-866-234-5382 or by visiting www.labor.alabama.gov. Online filing is strongly encouraged.
A listing of all Career Centers and their contact information is available at www.labor.alabama.gov or at www.joblink.alabama.gov/ada/r/contact. The ADOL Central Office in Montgomery will also be closed to the public until further notice.
Gaston Valley Baptist Church
Building Fund Program
We, the pastor and members of Gaston Valley Baptist Church, invite you to our Building Fund Program on Sun., April 5 at 2 p.m. The Rev. Willie Harrison pastor of Mt. Zion Baptist Church, Cuba, will be the guest speaker along with choir and church family. We are looking forward to seeing everyone. Rev. Kenneth Bell, pastor and Sis. Edna Brown, church clerk.
Gaston Valley Baptist Church
Spring Revival
We, the pastor and members of Gaston Valley Baptist Church invite you to our Spring Revival starting Mon., April 6 through Fri., April 10 beginning at 7 p.m. nightly. Rev. Walter Ball, pastor of Morning Star Baptist Church, Birmingham will be the guest speaker for four nights, along with his choir and church family. On Fri. night, Rev. Jonathan Byrd, pastor of First Baptist Church, York will be the guest speaker along with his church family to close the week out. Hope you can come one night of your choice, if not lift us in prayer. Rev. Kenneth Bell, pastor and Sis. Edna Brown, church clerk.
Kinterbish Usher Federation
Board Meeting
To all ushers, we will be having our Ushers Federation Meeting at Mt. Olive Baptist Church, Cuba where Rev. Jared Gibbs is pastor on Sat., March 28 at 5 p.m. and on Sun., March 29 at 11:30 a.m. morning worship will be held at Gaston Valley Baptist Church, Ward where Rev. Kenneth Bell is pastor. Rev. Willie D. Burton, pastor of Pine Grove Baptist Church, Yantley will be the guest speaker along with his choir and congregation. Looking to see all ushers there. Sis. Joann Sheffield is president, Rev. Jared Gibbs, vice-president, and Sis. Sylvia Bell, secretary.

Forestry Field Day in Sumter County
On Wed., March 18, 2020, consulting forester Larry Gibson will host a field visit in Sumter County to talk to area landowners about how to generate or enhance income from woodland property. Gibson's presentation, "Managing Timberland for Income and Wildlife," will cover forest management topics such as thinning pine plantations, understory burning, invasive plant control, and hardwood reforestation. Forest landowners interested in income from their property to help offset the costs of land ownership are invited to attend. Attendees will meet at M&M Market in Emelle at 9:30 a.m. and will caravan to the private property no later than 10:00 a.m. for the tour and presentation. Afterward, attendees are invited for a Dutch-treat lunch at M&M Market. If you'd like to attend, please RSVP to jnelson@afoa.org, or call (205) 624-2225 or (334) 524-1920(cell). This forestry field visit is sponsored by the Bradley/Murphy Forestry & Natural Resources Extension Trust. The trust was established in 1992 by an initial gift from forestry consultant Harry Murphy. Its mission is to encourage, promote, and develop through education and the free market system the stewardship of forest and related natural resources in the private sector. The Alabama Forest Owners' Association (AFOA) is a non-profit, self-supporting association, dedicated to providing management and ownership assistance to current and future owners of forested land. Forests cover 71 percent of Alabama, producing clean water, clean air, diverse wildlife habitat, and raw materials for thousands of jobs. Most forestland in Alabama is privately owned by individuals and families.

Morning Star Missionary
Baptist Usher Program
We, the Morning Star Missionary Baptist Church of Bellamy, would like to invite everyone to come and worship with us in our annual Usher program to be held on Sun., March 15 at 2 p.m. Rev. John Wright, pastor of Dugghill Primitive Baptist Church of Coatopa, along with his choir and congregation will be our special guest. Please come out and help us uplift the name of Jesus. Rev. Michael Howard, Sr. is pastor, Sis. Belinda Nation is secretary and Sis. Mattie Russell is usher president.
Ma-Chis Lower Creek Indian Tribe Meeting
There will be a meeting for Ma-Chis Lower Creek Indian Tribe, Ma-Chis Lower Creek Indian Tribe of Alabama Tribal Office, 64 Private Rd. 1312, Elba, GPS 2950 Co. Rd. 377, Elba, of Alabama on Sat., March 14, at 1 p.m. Please bring a covered dish, but do not bring anything with corn. Discussion: United States Census Tee shirts will be distributed while supplies last, Grants Administration for Native Americans (ANA), Community Service Block Grant (CSBG), Low Income Home Energy Assistance Program (LIHEAP), and others, Berry Festival, Educational Cultural Event (Pow Wow), Federal recognition. Your attendance is highly recommended to understand the future of the Ma-Chis Lower Creek Indian Tribe of Alabama. If you have any questions or concerns, please feel free to contact me Chief James Wright at the following: Ma-Chis Lower Creek Indian Tribe of Alabama, 64 Private Rd. 1312, Elba, Alabama 36323; Telephone: 334-897-3207; Email: machis@centurytel.net or chiefjames@outlook.com.
Shady Grove Choir Day
Shady Grove Baptist Church, Livingston, annual Choir Day will be held March 15 at 1:30 p.m. Everyone is invited. Sis. Rosie Gibson is choir president, and Min. John Powell is pastor.
Mt. Olive Missionary Baptist Spring Revival
The Pastor and members of the Mt. Olive Missionary Baptist Church would like to cordially invite you to our Spring Revival begining April 13-15, at 7 p.m. nightly. Minister Melissa Woods will be the evangelist each night.
Mt. Olive Missionary Baptist Annual Choir Day
The Pastor and Members of the Mt. Olive Missionary Baptist Church would like to cordially invite you to our annual Choir Day, Sun., April 12, at 2 p.m. All choirs, groups and soloists are asked to render an A and B selection. Please register at the door. No registrations will be taken by phone.
Barry Hause, Guitar: Iberian Romance
March 12, at 7 p.m. at the Bell Conference Center with a wine and cheese tasting at 5 p.m. There is a entry fee and wine will be sold. Barry Hause studied music at Emory University, and Philipps-Universitat in Weimar, Germany. He graduated in Guitar Performance of the Franz Liszt Conservatory. Barry has performed with the Franz Liszt Chamber Orchestra, Mississippi Symphony Orchestra and Opera, Memphis in Rossini's, "Barber of Seville."
Oboe Olympics
One of the most important 20th Century works for oboe, the Concerto by Czech composer Bohuslav Martin, was written in celebration of the 1956 Melbourne Olympic Games, March 19 at 7 p.m. in Bibb Graves Auditorium.. Larson's performance will include a restored cadenza in the final movement, removed by the oboist who premiered the work in 1956, and unknown until 2008. A suite of traditional Chinese melodies, arranged for oboe and piano, will conclude the evening.
100 Alabama Miles Challenge Kicks Off March 14
A program encouraging Alabamians to reach 100 miles of physical activity during 2020 kicks off March 14. Known as the 100 Alabama Miles Challenge, and sponsored by The University of Alabama Center for Economic Development and its partners, the program urges activity, exploration and connecting with others. Participants can walk, run, hike, bike, swim, paddle, ride, or roll to their 100 mile goal, and while they can participate at home, in their neighborhood, or at their favorite gym, the program encourages them to also visit Alabama's parks, nature preserves, and rivers with friends and family. Since the program's launch in 2018, participants have logged over 100,000 miles. The March 14 kickoff starts at with a 9 a.m. event at Birmingham's Railroad Park where 100 Alabama Miles Ambassadors will share stories about active living and their favorite Alabama places to explore. Attendees will receive free T-shirts and decals and participate in a one-mile walk as a symbolic "first mile" of the Challenge for 2020. Similar kick-off events will later be held in other cities statewide. Organizers invite the public to register for the 100 Alabama Miles Challenge at 100alabamamiles.org, where they will earn electronic badges for milestones reached and places visited while logging their miles. The website's visitors can find statewide recreational trails, track progress individually and by teams, and obtain safety and wellness information. Participants can take the challenge with friends and family and create teams and compete with others. Participants are encouraged to share photos and experiences on social media using the hashtag #100ALMiles. Partnering with UA's Center for Economic Development in developing and sustaining this program are: the Alabama Trails Foundation, Blue Cross and Blue Shield of Alabama, Lakeshore Foundation, Governor's Commission on Physical Fitness and Sports, Jefferson County Department of Health, AARP, Alabama Department of Public Health, and the Alabama Obesity Task Force. These partners designed the 100 Alabama Miles program to support public health and to enhance economic development through recreational tourism.
School Events
4-H #InspireKidstoDo Activity
Looking for some easy ways to keep your kids engaged and learning at home? Check out the 4-H #InspireKidstoDo Activity Guide to find 60 hands-on learning activity ideas! Download now: http://bit.ly/38NioDF
Storyline Online
With school closures around the country due to #coronavirus, please use our FREE children's literacy resource featuring the world's best storytellers reading books aloud. Each video includes an activity guide with lessons for K-5 students to do at home. https://www.storylineonline.net/
Discovery Ed https://www.discoveryeducation.com/coronavirus-response/
BrainPop https://educators.brainpop.com/2020/02/19/free-brainpop-access-for-schools-affected-by-the-corona-virus/?utm_source=organic&utm_medium=social&utm_campaign=coronavirus&utm_content=free-access
Kahoot https://kahoot.com/blog/2020/02/27/kahoot-free-access-schools-higher-education-coronavirus/
Pronto https://pronto.io/coronavirus/
BookCreater App https://bookcreator.com/2020/03/support-for-schools-affected-by-coronavirus/
Google for Edu https://www.blog.google/outreach-initiatives/education/distancelearning-covid19
Tynker https://mailchi.mp/tynker/in-support-of-schools-facing-health-related-closure
Buncee https://blog.buncee.com/supporting-remote-student-learning/
Pear Deck https://www.peardeck.com/staying-connected
Kami https://blog.kamiapp.com/remote-learning-with-kami-during-school-shutdowns/
Parlay https://parlayideas.com/school-closure-support/
Elementari https://docs.google.com/forms/d/e/1FAIpQLSdJ1LAywQdwvNKN_SpsypVA48XOaoCTQoGhuaP7e12fgwPnWA/viewform
EdPuzzle https://support.edpuzzle.com/hc/en-us/articles/360039805612-Help-for-schools-affected-by-Covid-19
Wakelet https://wakelet.com/wake/3af73ea4-a652-4e38-934d-765aefe0f35b
Twinkl https://www.twinkl.com/blog/how-to-utilise-twinkl-during-the-coronavirus-shutdown-a-guide-for-schools?utm_source=twitter&utm_medium=social&utm_campaign=corona
Hapara https://hapara.com/from-home/
Manga High https://www.mangahigh.com/en-gb/blog/2020-03-06-free-access-schools-online-maths-coronavirus
ListenWire http://blog.listenwise.com/2020/03/listenwise-support-for-schools-affected-by-the-coronavirus/
MobyMax http://press.mobymax.com/mobymax-to-provide-all-k-8-schools-and-school-districts-closed-by-covid-19-with-free-internet-learning-software
GoGuardian https://www.goguardian.com/blog/learning/goguardian-teacher-for-remote-learning/
Seterra Geography https://online.seterra.com/en/p/corona-support
We Video https://www.wevideo.com/education
Education Perfect https://epforlearning.com/2020/education-perfects-technology-minimising-impact-on-100-coronavirus-affected-schools-in-china/
Slido Education https://blog.sli.do/slido-for-education/
Breakout Edu https://www.breakoutedu.com/funathome
Microsoft Education https://educationblog.microsoft.com/en-us/2020/03/how-schools-can-ramp-up-remote-learning-programs-quickly-with-microsoft-teams/
NearPod https://nearpod.com/coronavirus
Zoom https://blog.zoom.us/wordpress/2020/02/26/zoom-commitment-user-support-business-continuity-during-coronavirus-outbreak/
ScreenCastify https://twitter.com/Screencastify/status/1226934956930281472
Mystery Science https://mysteryscience.com/?fbclid=IwAR0tiDhJA1fs0tvraKnXpDLa2JlJGXQhzPR4UnQRVfbOR1Ca3C5yQY5tNwQ
Age of Learning (ABCMouse, Adventure Academy, ReadingIQ) https://www.ageoflearning.com/schools
Atlantic White Shark Conservancy Join us on Facebook Live every day this week at 10AM (EST) for Shark Story Hour. Each day we will be reading a new shark themed book followed by a shark Q/A session. https://www.facebook.com/atlanticwhiteshark
National Weather Service Birmingham Basic Storm Spotter Free Online Class
Join the National Weather Service Birmingham Basic Storm Spotter Free Online Class Thurs., March 19 at 1-3 p.m. Visit Join.me, select the green, select the green 'join meeting' button, and enter code 726-373-081.
James Spann Special Online Weather Program for Kids
Yo moms and dads with kids at home (that would normally be at school)… I will be doing an online, live weather program Thursday morning at 10 a.m. CT. it is fun, interactive, and best for kids grades 1-5, but older kids (and adults) should enjoy it as well. Learn more about the science of meteorology, how we forecast weather, severe thunderstorms, hurricanes, tornadoes, and snow storms. You will learn and have a few laughs, and we all could use that now. So, get it on your calendar… this Thursday at 10a CT. It will be streamed live here on this Facebook page. Be sure it is the James Spann page with the blue check (verified), https://www.facebook.com/jamesspann
Free Virtual Museum Tours
The Louvre
https://www.louvre.fr/en/visites-en-ligne#tabs
The Solomon R Guggenheim
https://www.guggenheim.org/collection-online
The National Gallery of Art
https://www.nga.gov/
The British Museum
https://research.britishmuseum.org/research/collection_online/search.aspx
Smithsonian Institution National Museum of Natural History
https://naturalhistory.si.edu/visit/virtual-tour
The Metropolitan Museum of Art
https://naturalhistory.si.edu/visit/virtual-tour
The Dalí Theatre-Museum
https://www.salvador-dali.org/en/museums/dali-theatre-museum-in-figueres/visita-virtual/
NASA
https://oh.larc.nasa.gov/oh/
https://www.nasa.gov/glennvirtualtours
The Vatican
http://www.museivaticani.va/content/museivaticani/en/collezioni/musei/tour-virtuali-elenco.html
http://www.museivaticani.va/content/museivaticani/en/collezioni/musei/cappella-sistina/tour-virtuale.html
The National Women's History Museum
https://www.womenshistory.org/womens-history/online-exhibits
The National Museum of the United States Air Force
https://www.nationalmuseum.af.mil/Visit/Virtual-Tour/
The Google Art Project
https://artsandculture.google.com/
https://artsandculture.google.com/partner
Sumter County Schools 2019-20 Calendar

April 10 Good Friday (School Closed), ACAP Alabama Alternative Ends (2nd – 8th)
April 15 ACT WorkKeys Retest Option Given—And Accommodations/Support
April 20 4th Nine Weeks Progress Reports
April 21 11th Grade ACT With Writing Make-up Given (Option 2)
May 1 ACAP Summative Assessment Window Closes (2nd – 8th Grade)
May 15 Seniors Graduate
May 20 Second Semester Ends last day for students
May 21 Report cards mailed
May 22 Inservice Teacher day no students

Free Programs at UWA to learn how to become a Certified
Automotive Technician or
Certified Nursing Assistant
Become qualified to work as a CNA, PCA, Home Health Aide or Automotive Technician. Must be between the ages of 18-24. For information call (205) 652-5494 or email jmahaffey@uwa.edu. This project is funded 100% with Federal Funds made available to the State of Alabama Department of Commerce by the U. S. Department of Labor/Employment and Training Administration as the Grantor.

UWA Auditions
Advanced Scholarship Band Auditions: April 4 Register at: bit.ly/uwaband20; Guard and Majorette Auditions: April 4. Register at: bit.ly/uwaauditionsg-m; Dance Team Auditions: April 17-18. Register at: bit.ly/uwaauditionsdance. FAQ: Do I have to audition for a scholarship? Answer: No! Every instrumentalist receives a scholarship, regardless of an audition. Instrumentalists who wish to audition for an advanced scholarship will need to audition on one of the above dates, or work out a time if those dates will not work. If you have questions about our band or our auditions, please message us on Facebook, Instagram or email mtignor@uwa.edu.