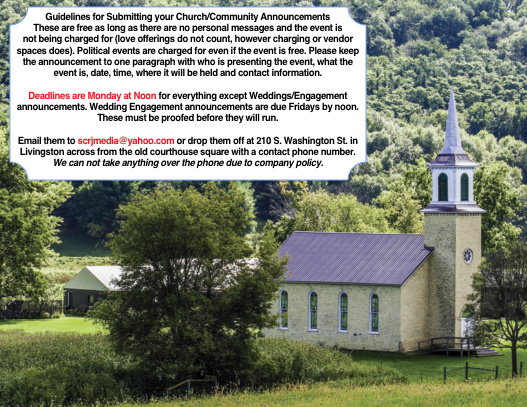 Deadlines are Mondays at Noon for everything except wedding/engagement announcements. Wedding engagement announcements deadline are Fridays by noon.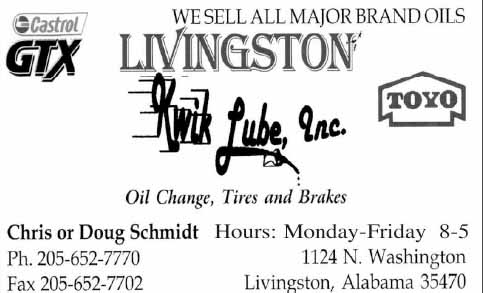 Church and Community Events
UWA announces free online ACT prep sessions
The University of West Alabama is extending a helping hand to high school students preparing to take the ACT soon through a series of help sessions that will be offered online as webinars with no cost to the student. Three sessions are scheduled already, and more support resources are expected to be developed. The second in the series, "The ACT – How to Prepare," is set for June 2 at 6 p.m. The session will offer students and parents information on other free ACT prep resources, study tips, and best practices on increased performance that leads to higher scores. The third in the series, "ACT Boot Camp," is set for June 8 at 6 p.m. This all-inclusive session is a one-hour crash course that explains the structure of the ACT, many ways to prepare, and practice questions as examples. At UWA, unconditional admission begins at a score of 19 or higher on the ACT and a 2.0 GPA. Conditional admission begins at a 17 and a 2.0 or better GPA. For more information on UWA, including admission requirements, or to know more about ACT Prep webinars, contact UWA Admissions at admissions@uwa.edu or 1-800-621-8044. To register for the webinars, visit www.uwa.edu/actprep. Students may sign up for any or all of the sessions and explore available ACT resources.
SSCC Offers Free Online Tutorials for Workplace Skills
Now through June 30, 2020, Shelton State Community College is offering ten FREE self-paced tutorials in conjunction with the ed2go online platform. As a response to the impact of COVID-19, these tutorials are available to the public at no charge. The free, self-paced system of tutorials includes a mix of hard and soft skills that apply to today's changing job market. "We believe that having the right skills and knowing how to utilize them is vital for both job seekers and those currently employed," states Rachel Waldrop, Continuing/Community Education Specialist at Shelton State. "We recognize that these are challenging times, and we want to do what we can to help our community members adjust to what is happening around us." A large selection of topics are available. Subject areas include accounting, real estate, medical coding, grant writing, website creation, computer skills, and many more. To select and register for one of the available free courses, visit sheltonstate.edu/ed2go.
UA OLLI Provides Free Online Educational Opportunities for Adults
n response to the COVID-19 pandemic, The University of Alabama's Osher Lifelong Learning Institute is offering free online educational opportunities for adults throughout May. While in-person lectures are suspended until further notice, OLLI instructors will use Zoom to provide online courses at no cost. OLLI courses are developed by a curriculum committee that looks for topics that are timely, newsworthy and of interest. Once identified, educators, professionals and experts are selected for instruction. Upcoming online course topics range from coronavirus, cybersecurity, nature and history, among others. A complete list of online courses and registration instructions can be found at www.olli.ua.edu/news-and-events.
Travel Impacts of the COVID-19 Response in Alabama
Dr. Steven Jones from the University of Alabama is conducting a study called "Travel Impacts of the COVID-19 response in Alabama." The goal is to learn how travel was impacted so that transportation organizations can be better prepared for future emergency situations. The survey takes less than 15 minutes to complete. Your participation in this research study is completely voluntary. You must be at least 18 years of age to participate in the study. All information you provide will be anonymous and will remain confidential. In order to participate in the survey please visit: https://universityofalabama.az1.qualtrics.com/jfe/form/SV_5dsRKTZ8O8rDlHL
USDA Announces Cooperative Agreements for Community Compost and Food Waste Reduction
The U.S. Department of Agriculture (USDA) today announced the availability of $900,000 for local governments to host a Community Compost and Food Waste Reduction (CCFWR) pilot project for fiscal year (FY) 2020. The cooperative agreements will support projects that develop and test strategies for planning and implementing municipal compost plans and food waste reduction plans. The agreements are offered through USDA's Office of Urban Agriculture and Innovative Production.
USDA will accept applications on Grants.gov until midnight June 26, 2020. Projects should span two years with a start date of October 1, 2020 and completion date of September 29, 2022. Cooperative agreements support projects led by local governments that: 1) generate compost; 2) increase access to compost for agricultural producers; 3) reduce reliance on, and limit the use of, fertilizer; 4) improve soil quality; 5) encourage waste management and permaculture business development; 6) increase rainwater absorption; 7) reduce municipal food waste; and 8) divert food waste from landfills. USDA's Natural Resources Conservation Service will provide assistance for conservation related activities.
Priority will be given to projects that anticipate or demonstrate economic benefits; incorporate plans to make compost easily accessible to farmers, including community gardeners; integrate other food waste strategies, including food recovery efforts; and collaborate with multiple partners.
USDA Offers Farm Loans for Farmers Facing Covid-19 Related Challenges
The U.S. Department of Agriculture (USDA) Farm Service Agency (FSA) reminds producers that FSA offers farm ownership and farm operating loans to agricultural producers who may not find success obtaining loans from their traditional financial institutions because of COVID-19. Farmers who cannot obtain commercial credit from a bank can apply for FSA direct or guaranteed loans.
USDA offers a variety of loans to meet different production needs. Direct loans are made to applicants by FSA. Guaranteed loans are made by lending institutions who arrange for FSA to guarantee the loan. FSA can guarantee up to 95 percent of the loss of principal and interest on a loan. The FSA guarantee allows lenders to make agricultural credit available to producers who do not meet the lender's normal underwriting criteria.
The direct and guaranteed loan program offers two types of loans: farm ownership loans and farm operating loans.
Farm ownership loan funds may be used to purchase or enlarge a farm or ranch; purchase easements or rights of way needed in the farm's operation; build or improve buildings such as a dwelling or barn; promote soil and water conservation and development; and pay closing costs.
Farm operating loan funds may be used to purchase livestock, poultry, farm equipment, fertilizer, and other materials necessary to operate a farm. Operating loan funds can also be used for family living expenses; refinancing debts under certain conditions; paying salaries for hired farm laborers; installing or improving water systems for home, livestock or irrigation use; and other similar improvements.
Repayment terms for direct operating loans are scheduled from one to seven years. Financing for direct farm ownership loans cannot exceed 40 years. Interest rates for direct loans are set periodically according to the government's cost of borrowing. Guaranteed loan terms and interest rates are set by the lender.
For more information on FSA's farm loan programs, please contact your local FSA office or visit farmers.gov.

Shelton State Community College Summer Class Registration
Shelton State Community College will open registration for summer classes on Fri., April 17. Summer classes will begin on May 26. The summer and fall schedules are viewable online. In order to comply with current COVID-19/Coronavirus regulations, the College's summer academic courses will continue to be held remotely while technical and health services courses will use hybrid scheduling. The College will modify and add courses as guidelines are updated or changed. Information on fall registration will be released in the coming weeks. In addition to summer and fall class schedules, the College will offer Maymester, an online, two-week mini-term May 6-22. Registration for Maymester will coincide with the opening of registration for summer classes on April 17. Space for Maymester is limited, and interested students are encouraged to register early. This situation is ongoing, and updates will be provided as they are available. For more information, visit sheltonstate.edu/register.
ADOL Encourages Employees to File for Benefits Under the CARES Act
The Alabama Department of Labor is encouraging employees who believe they may qualify for programs under the CARES Act to file a claim. These employees will also need to certify weekly to continue to let us know that they remain unemployed. Although ADOL does not yet have technical guidance or a start date regarding the CARES Act programs, benefits may be paid retroactively from the time the employee separated from his or her job or otherwise became eligible under the federal CARES Act, not from the time the application was submitted or approved. Employees who may be affected include: The self-employed; Church employees; Non-profit and governmental employees; Independent contractors; Gig economy workers; Those who have exhausted their regular UI benefits. These employees should also meet one of these conditions: The individual has been diagnosed; or A member of the individual's household has been diagnosed; or The individual is providing care to a household or family member; or A child or other person for which the individual has primary caregiving responsibility is unable to attend school or another facility as a result of COVID-19; or The individual is unable to reach the place of employment because of a quarantine imposed as a result of the COVID-19 public health emergency; or The individual is unable to reach the place of employment because the individual has been advised by a health care provider to self-quarantine; or The individual was scheduled to start work and does not have a job as a result of COVID-19; or The individual has become "the breadwinner or major support for a household because the head of the household has died as a direct result of COVID-19"; or The individual has to quit their job because of COVID-19; or The individual's place of employment is closed because of COVID-19. This list is not exhaustive. Claims can be filed online at www.labor.alabama.gov or by calling 1-866-234-5382. Patience is encouraged when trying to file a claim. Further details regarding the CARES Act programs will be forthcoming, including information regarding Federal Pandemic Unemployment Compensation, which provides for an additional $600 a week in unemployment compensation benefits. The additional $600 weekly benefit will only be available for weeks beginning March 29. Other programs included in the act are Pandemic Unemployment Assistance (PUA) and Pandemic Emergency Unemployment Compensation (PEUC).

COTV Food Needs amid School Shutdown
For locations and updates, follow COTVSumter on Facebook, or email COTV7@aol.com. COTV will continue food services for senior citizens at regular times and locations: second Thursdays monthly from 10 a.m. to 1 p.m. at the Livingston Fire Department and Epes Community Center; fourth Thursdays monthly from 10 a.m. to 1 p.m. at York City Hall and Geiger City Hall. In the weeks ahead, we will continue to support our community and hope to expand our partnership with individuals, government agencies, businesses and churches to get through these challenging times. We're asking others in the community to volunteer, provide food goods and money to sustain our food pantry and support our community. We don't know what will happen next week or next month, so as of right now, our main focus is to ensure that COTV continues looking for ways to support families, children, senior citizens and the community."

ALEA reminder: federal government has extended STAR ID deadline to October 2021 The Alabama Law Enforcement reminds the public the U.S. Department of Homeland Security, at the direction of President Donald J. Trump, has extended the STAR ID enforcement deadline to Oct. 1, 2021, in response to the Coronavirus (COVID-19).
STAR ID, which stands for Secure, Trusted and Reliable Identification, is Alabama's version of the federal REAL ID program.
ALEA began modifying its Driver License Division operations in mid-March. The agency then shut down public access to Driver License locations at the end of March 26. Driver License Division personnel have continued to serve customers online and via phone and email.
ALEA's Secretary Hal Taylor said, "As always, we are dedicated to serving the citizens of this state, but we must make the health and safety of our customers and our personnel a priority. The federal deadline extension should relieve some of the wait time at ALEA's DL offices to obtain a STAR ID during the next several months."
During the closure, ALEA's Driver License personnel continue to contact customers who scheduled appointments for services prior to the pandemic.
Until operations are back to normal, Driver License Division customers still may:
• Renew DL/CDL/ID online
• Renew by mail – for Alabama drivers out of state for military, employment, missionary work, under a physician's care or other issues on a case-by-case basis
• Request a hearing online or by mail/fax. We will not take any law enforcement actions until hearing can be held.
• Change address by mail/email/fax. Address change document available online.
• Change name by mail/email. Contact ALEA DL for instructions.
• Renew hardship license
• Have license reinstated by mail/email/phone. May use credit card.
• Order MVR (driver history) by mail/email/phone. May use credit card.
• Order crash reports by mail/email/phone. May use credit card.
• Submit medical cards by fax/email
• Submit medical unit forms – fax/email
• Handle Mandatory Liability Insurance – online/mail
• Renew vessel registration online
Once ALEA's Driver License Division resumes normal operations, customers may schedule an appointment on the agency's website to obtain a STAR ID and conduct other driver license business. In addition, Secretary Taylor would like to remind the public of the 60-day grace period for driver licenses (Code of Alabama, 32-6-1), but customers who would like to renew during the pandemic are encouraged to do so online. Individuals whose driver licenses must be reinstated may contact the Driver License Division to handle it by phone.
For more information on STAR ID, online renewals and other services, and the latest on Driver License Division office closures, please visit www.alea.gov.
School Events
4-H #InspireKidstoDo Activity
Looking for some easy ways to keep your kids engaged and learning at home? Check out the 4-H #InspireKidstoDo Activity Guide to find 60 hands-on learning activity ideas! Download now: http://bit.ly/38NioDF
Storyline Online
With school closures around the country due to #coronavirus, please use our FREE children's literacy resource featuring the world's best storytellers reading books aloud. Each video includes an activity guide with lessons for K-5 students to do at home. https://www.storylineonline.net/
Discovery Ed https://www.discoveryeducation.com/coronavirus-response/
BrainPop https://educators.brainpop.com/2020/02/19/free-brainpop-access-for-schools-affected-by-the-corona-virus/?utm_source=organic&utm_medium=social&utm_campaign=coronavirus&utm_content=free-access
Kahoot https://kahoot.com/blog/2020/02/27/kahoot-free-access-schools-higher-education-coronavirus/
Pronto https://pronto.io/coronavirus/
BookCreater App https://bookcreator.com/2020/03/support-for-schools-affected-by-coronavirus/
Google for Edu https://www.blog.google/outreach-initiatives/education/distancelearning-covid19
Tynker https://mailchi.mp/tynker/in-support-of-schools-facing-health-related-closure
Buncee https://blog.buncee.com/supporting-remote-student-learning/
Pear Deck https://www.peardeck.com/staying-connected
Kami https://blog.kamiapp.com/remote-learning-with-kami-during-school-shutdowns/
Parlay https://parlayideas.com/school-closure-support/
Elementari https://docs.google.com/forms/d/e/1FAIpQLSdJ1LAywQdwvNKN_SpsypVA48XOaoCTQoGhuaP7e12fgwPnWA/viewform
EdPuzzle https://support.edpuzzle.com/hc/en-us/articles/360039805612-Help-for-schools-affected-by-Covid-19
Wakelet https://wakelet.com/wake/3af73ea4-a652-4e38-934d-765aefe0f35b
Twinkl https://www.twinkl.com/blog/how-to-utilise-twinkl-during-the-coronavirus-shutdown-a-guide-for-schools?utm_source=twitter&utm_medium=social&utm_campaign=corona
Hapara https://hapara.com/from-home/
Manga High https://www.mangahigh.com/en-gb/blog/2020-03-06-free-access-schools-online-maths-coronavirus
ListenWire http://blog.listenwise.com/2020/03/listenwise-support-for-schools-affected-by-the-coronavirus/
MobyMax http://press.mobymax.com/mobymax-to-provide-all-k-8-schools-and-school-districts-closed-by-covid-19-with-free-internet-learning-software
GoGuardian https://www.goguardian.com/blog/learning/goguardian-teacher-for-remote-learning/
Seterra Geography https://online.seterra.com/en/p/corona-support
We Video https://www.wevideo.com/education
Education Perfect https://epforlearning.com/2020/education-perfects-technology-minimising-impact-on-100-coronavirus-affected-schools-in-china/
Slido Education https://blog.sli.do/slido-for-education/
Breakout Edu https://www.breakoutedu.com/funathome
Microsoft Education https://educationblog.microsoft.com/en-us/2020/03/how-schools-can-ramp-up-remote-learning-programs-quickly-with-microsoft-teams/
NearPod https://nearpod.com/coronavirus
Zoom https://blog.zoom.us/wordpress/2020/02/26/zoom-commitment-user-support-business-continuity-during-coronavirus-outbreak/
ScreenCastify https://twitter.com/Screencastify/status/1226934956930281472
Mystery Science https://mysteryscience.com/?fbclid=IwAR0tiDhJA1fs0tvraKnXpDLa2JlJGXQhzPR4UnQRVfbOR1Ca3C5yQY5tNwQ
Age of Learning (ABCMouse, Adventure Academy, ReadingIQ) https://www.ageoflearning.com/schools

UA Museums Goes Online to Provide Educational Content
University of Alabama Museums will begin livestreaming educational content starting March 27. The videos will be on the Facebook pages of the Alabama Museum of Natural History, Gorgas House Museum, Mildred Westervelt Warner Transportation Museum and Moundville Archaeological Park. While UA museums are closed because of COVID-19, each museum will continue to provide educational outreach through daily programming featuring experts in various fields, offering Q&A time for those watching at home. Dr. William Bomar, executive director of UA Museums, understands people are looking for quality online content that is both educational and entertaining during this time. All livestreams start at 10 a.m. Once finished, Facebook archives livestreams so they will be available to view anytime. The livestream schedule, subject areas and links are: Moundville Archaeological Park on Mondays https://www.facebook.com/moundvillepark/
History on Tuesdays https://www.facebook.com/GorgasHouse/; https://www.facebook.com/mwwtm/
Archaeology on Wednesdays: https://www.facebook.com/; ffice.Of.Archaeological.Research/
Collections or museum-based research on Thursdays: https://www.facebook.com/ALMNH/
Nature and natural science on Fridays: https://www.facebook.com/ALMNH/
The University of Alabama, the state's oldest and largest public institution of higher education, is a student-centered research university that draws the best and brightest to an academic community committed to providing a premier undergraduate and graduate education. UA is dedicated to achieving excellence in scholarship, collaboration and intellectual engagement; providing public outreach and service to the state of Alabama and the nation; and nurturing a campus environment that fosters collegiality, respect and inclusivity. Additional news about The University of Alabama can be found at: https://www.ua.edu/news/news-media/
Free Virtual Museum Tours
The Louvre
https://www.louvre.fr/en/visites-en-ligne#tabs
The Solomon R Guggenheim
https://www.guggenheim.org/collection-online
The National Gallery of Art
https://www.nga.gov/
The British Museum
https://research.britishmuseum.org/research/collection_online/search.aspx
Smithsonian Institution National Museum of Natural History
https://naturalhistory.si.edu/visit/virtual-tour
The Metropolitan Museum of Art
https://naturalhistory.si.edu/visit/virtual-tour
The Dalí Theatre-Museum
https://www.salvador-dali.org/en/museums/dali-theatre-museum-in-figueres/visita-virtual/
NASA
https://oh.larc.nasa.gov/oh/
https://www.nasa.gov/glennvirtualtours
The Vatican
http://www.museivaticani.va/content/museivaticani/en/collezioni/musei/tour-virtuali-elenco.html
http://www.museivaticani.va/content/museivaticani/en/collezioni/musei/cappella-sistina/tour-virtuale.html
The National Women's History Museum
https://www.womenshistory.org/womens-history/online-exhibits
The National Museum of the United States Air Force
https://www.nationalmuseum.af.mil/Visit/Virtual-Tour/
The Google Art Project
https://artsandculture.google.com/
https://artsandculture.google.com/partner

Free Programs at UWA to learn how to become a Certified
Automotive Technician or
Certified Nursing Assistant
Become qualified to work as a CNA, PCA, Home Health Aide or Automotive Technician. Must be between the ages of 18-24. For information call (205) 652-5494 or email jmahaffey@uwa.edu. This project is funded 100% with Federal Funds made available to the State of Alabama Department of Commerce by the U. S. Department of Labor/Employment and Training Administration as the Grantor.