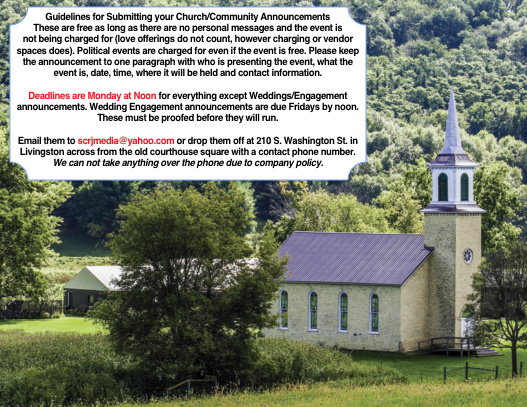 Deadlines are Mondays at Noon for everything except wedding/engagement announcements. Wedding engagement announcements deadline are Fridays by noon.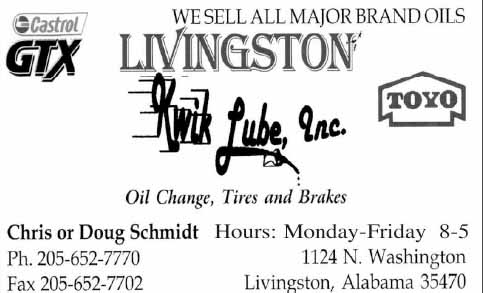 Church and Community Events
SSCC Ready to Work
In its continuing efforts to meet the needs of the West Alabama community during the COVID-19 pandemic, Shelton State Community College is continuing its enrollment of students in an online version of free Ready to Work training. Using a platform allowing students to complete requirements using a smartphone or a personal computer, participants meet together with an instructor via Zoom, and assignments are completed independently. Course topics include workplace communication, workplace behavior, problem solving, computer literacy, and financial literacy. The course can be completed in three weeks, and a $175 stipend is available to all who complete the free course. Alabama's Ready to Work program provides a career pathway for individuals with limited education and employment experience and entry-level skills needed for employment with most businesses and industries in the state. This training is provided at no cost to participants. New cohorts of students are continually launching. Individuals interested in registering for this free, online training can find information at sheltonstate.edu/readytowork. For additional information or questions, please contact Shelton State Workforce Development at workforce@sheltonstate.edu.

Black Belt Arts
Symposium 2020 Online
Hosted by the Black Belt Community Foundation and made possible by the support of the Alabama State Council on the Arts, the Black Belt Arts Symposium returns for 2020 and is undaunted by the pandemic. We'll be celebrating the rich tapestry of arts of the Alabama Black Belt and exploring the intersection of how the arts can accelerate literacy learning for our scholars. All this and more hosted in our online safe space across three separate ZOOM video conference events! Art connects. Make the connection between Art and Literacy and join us! Be sure to RSVP today by registering at https://bit.ly/BlackBeltArts July 21st Focusing on Best Practices and Presentation at 10 a.m. -12 p.m.; Aug. 18 Tools for Artist Classroom Experience 10 a.m. -12 p.m.; Sept 15 Arts in Education10 a.m. -12 p.m.

Bama Bug Fest:
On the Web
Bama Bug Fest: On the Web, a collaboration by University of Alabama Museums, UA Libraries and the Tuscaloosa Public Library, will provide interactive videos, interviews with experts and storytelling for all ages every Tuesday, Thursday and Saturday through July 25. Content will include a family-friendly bug-related stand-up comedy, insect fashion with UA's Fashion Archive, baking chocolate chirp cookies with Arthropod Apothecary and world-renowned science educator Dr. Sebastian A. Echeverri. Segments will air at 10 a.m., 2 p.m., 4 p.m. and 7 p.m. each day. A Q&A session with the public will be held at the conclusion of each day. Bama Bug Fest will crawl on the web via UA Museums' YouTube channel; the Tuscaloosa Public Library's YouTube channel and Facebook page; Alabama Museum of Natural History's Facebook page; and Mildred Westervelt Warner Transportation Museum's Facebook page. For more information, visit www.bamabugfest.org.

Substance Use Disorder Treatment Assistance: Alabama Sees an Increase of Overdoses and Naloxone Distribution in 2020
The emergence of Coronavirus Disease 2019 (COVID-19) has presented many challenges to Alabamians. During these uncertain times, those who misuse substances are particularly vulnerable. The isolation, lack of social interaction, and normal activities have challenged many individuals who are in recovery. In addition to increased mental health needs, the number of overdoses seen in some parts of the state have also increased. According to the Alabama Department of Public Health (ADPH), there was a significant increase in suspected overdose emergency department (ED) visits when comparing the weeks before and after the stay-at-home orders (effective April 4, 2020). The highest number of overdose-related ED visits that occurred weekly and monthly were during the month of May. There are options for an immediate connection to peer support specialists who can offer resources and important information for someone in need. The Recovery Organization of Support Specialists (ROSS), funded by the Alabama Department of Mental Health (ADMH), offers the state's only 24/7 Helpline at 1-844-307-1760, manned by certified peer support specialists. Please call this number if you, a family member, or friend should need information related to substance use disorder resources and treatment or just need to talk to someone who understands. ROSS also provides online support groups which can be accessed at www.rosshelpline4u.org. A link to all substance use disorder providers supported by ADMH can be found on the Provider Directory page. Additional group meeting information can be found here.
ADPH, Office of Emergency Medical Services (EMS) state that Alabama first responders have administered an increased number of doses of the opioid reversing medication, naloxone, in recent months. Naloxone is an easy-to-use antidote for an overdose from heroin or other opioid drugs, allowing for the temporary reversal of an opioid overdose. Naloxone administration totals in 2020 were: January, 544; February 513; March, 499; April 655; and May, 705. Initial June data indicates that naloxone administration by EMS remains higher than pre-pandemic.
Substance use disorders can progress quickly, especially during COVID-19 social isolation. If you are dealing with strong cravings or relapse, contact your provider immediately and, if possible, include your family or close friend. Ask about medication to treat your symptoms, a plan for refills, and options such as urgent or emergency services, as well as the risks of going to the local ED. Many providers are offering virtual visits via webchat or phone. Utilize Crisis lines such as National Association for Mental Illness' Crisis Text Line. Just text "NAMI" to 741741. Also, you can call SAMHSA's Disaster Distress Helpline, 1-800-985-5990, 24/7, which is dedicated to providing immediate crisis counseling for people who are experiencing emotional distress.
The Centers for Disease Control and Prevention also suggests the following: Take breaks from watching, reading, or listening to news stories, including social media. Hearing about the pandemic repeatedly can be upsetting.
Take care of your body: Take deep breaths, stretch, or meditate.
Eat healthy, well-balanced meals; exercise regularly; and get plenty of sleep. Avoid alcohol and drugs.
Make time to unwind. Try to do some other activities you enjoy.
Connect with others. Talk with people you trust about your concerns and how you are feeling.
Take proactive steps to safeguard your health.

Alabama Power Foundation Good Roots, Gateway Grant
As part of its longstanding commitment to Alabama communities, the Alabama Power Foundation is now accepting applications for the 2020 Good Roots and Gateway grant programs. Good Roots grants provide up to $1,000 to help cities, towns, schools and nonprofit organizations plant trees to enhance community green spaces. New to this year's program is the option to use the grants to support community beautification efforts. To date, the foundation has awarded more than 690 Good Roots grants totaling more than $620,000 to plant trees at schools, parks and other community locations. The Gateway grant program helps revitalize communities by supporting and advancing city and town promotion efforts. Grants of up to $2,500 provide funding for signs that greet visitors as well as marketing materials and website development. Since 2012, Gateway has awarded more than $100,000 to cities, towns and communities throughout Alabama. The deadline to apply for Good Roots and Gateway grants is Aug. 10. To access online applications and to learn more, visit www.powerofgood.com and click on "Grants." Since its creation in 1989 with funds donated by shareholders, the Alabama Power Foundation has supported Alabama communities, educational institutions and nonprofits through more than 20,000 grants and scholarships using nonratepayer dollars.

June 30 Last Day to Complete Enrollment for 2020 Agriculture Risk Coverage, Price Loss Coverage Programs
Agricultural producers who have not yet enrolled in the Agriculture Risk Coverage (ARC) or Price Loss Coverage (PLC) programs for 2020 must do so by June 30. Although program elections for the 2020 crop year remain the same as elections made for 2019, all producers need to contact their local USDA Farm Service Agency (FSA) office to sign a 2020 enrollment contract. To date, more than 1.4 million ARC and PLC contracts have been signed for the 2020 crop year. This represents 89 percent of expected enrollment. FSA will send reminder postcards to producers who, according to agency records, have not yet submitted signed contracts for ARC or PLC for the 2020 crop year. Producers who do not complete enrollment by close of business local time on Tuesday, June 30 will not be enrolled in ARC or PLC for the 2020 crop year and will be ineligible to receive a payment should one trigger for an eligible crop. ARC and PLC contracts can be mailed or emailed to producers for signature depending on producer preference. Signed contracts can be mailed or emailed back to FSA or, arrangements can be made in advance with FSA to drop off signed contracts at the FSA county office – call ahead for local drop off and other options available for submitting signed contracts electronically.Producers are eligible to enroll on farms with base acres for the following commodities: barley, canola, large and small chickpeas, corn, crambe, flaxseed, grain sorghum, lentils, mustard seed, oats, peanuts, dry peas, rapeseed, long grain rice, medium- and short-grain rice, safflower seed, seed cotton, sesame, soybeans, sunflower seed and wheat. For more information on ARC and PLC including web-based decision tools, visit farmers.gov/arc-plc.

Participation Encouraged in COVID-19 Agriculture Impact Survey
COVID-19 impacted the agricultural industry. However, the full extent of the impact is currently unknown. Professionals with the Alabama Cooperative Extension System and Auburn University's College of Agriculture are working to better understand these impacts. A study is currently underway to assess the effects that COVID-19 is having on Alabama's agricultural economy using an agriculture impact survey. Through this agricultural impact survey, professionals are gathering information from all agriculture-related segments, spanning from row crops to livestock. Complete the Assessment of COVID-19 Impacts on Alabama Agriculture survey at https://auburn.qualtrics.com/jfe/form/SV_aWWrxxhNwjs0vqZ The survey is voluntary and anonymous. Because of the broad-reaching impacts on all phases of agriculture, the survey may be longer than typical surveys. However, Runge says the gathering of as much accurate information as possible is crucial to making the best estimate. Those wishing to participate should use the following guidelines: Complete the survey only one time. If a farm has multiple operators involved, one complete survey is sufficient as long as it reports all the impacts. Submit surveys by June 30. Professionals will share survey results with industry leaders, commodity groups and legislators in support of any policy and industry response that may be appropriate. For more information on this survey contact Max Runge at rungemw@auburn.edu. People can also visit the Alabama Extension website, www.aces.edu, for information on the affects of COVID-19.

Cotton Leafroll Dwarf Virus Confirmed in Alabama Cotton
Alabama Cooperative Extension System scientists have confirmed the presence of cotton leafroll dwarf virus (CLRDV-AL) in Alabama cotton. This confirmation comes one month earlier than it did in 2019 and that concerns them. "Typically, the earlier disease onset occurs, the greater the associated yield loss," said Austin Hagan, an Alabama Extension plant pathologist. "We found CLRDV-AL in sentinel plots during the week of June 8." Hagan is part of a team of Alabama Extension and Auburn University scientists tracking the potentially devastating disease. "Sentinel plots act as an early warning system," he said. "We will put more plots in across the state as planting season progresses and will actively monitor them." The first cotton seedling samples taken from these plots showed leaf puckering or blistering. Hagan said this is a symptom associated with cotton leafroll dwarf disease, also known as cotton blue disease. While a visual diagnosis can be complicated by thrips damage, lab testing confirmed CLRDV-AL in about 30 percent of the samples collected. "All of the cotton varieties in the sentinel plots tested positive," he said. The virus appears to be present at some level in most Alabama cotton fields. "Farmers don't have effective control options for the disease," Hagan said. "Multiple insecticide applications to control aphids will not suppress disease spread." Alabama Extension cotton agronomist Steve Brown said aphids are difficult to control even with intense management. "In research plots, entomologists can never completely eliminate aphids, even with aggressive insecticide applications," Brown said. "We know we cannot manage the disease by efforts to control aphids." Kassie Conner, also an Alabama Extension plant pathologist, said alternate plant hosts for the disease may explain the earlier appearance. "The virus appears to be building in alternate hosts such as some common weeds," Conner said. "We might have started the season with a higher virus load and that led to earlier infection in cotton and earlier disease onset." According to Conner, they know henbit, white clover, Carolina geranium, evening primrose as well as chickweed act as hosts for the virus. However, there may be many more weeds that they have yet to identify as potential hosts. Brown said some crop management practices may help reduce the disease's impact. Plant early. Researchers have observed reduced virus effects in early cotton. Also, late plantings tend to have increased risk for significant yield effects. Stalk destruction. Cutting stalks off at the ground eliminates some overwintering habitats for aphids and the virus. This also prevents stalk regrowth where aphids could acquire the virus. Control and remove winter weeds. Cover crops. Research evaluations continue to determine the best cover crop options. Read more about Cotton Leaf Roll Dwarf Virus by visiting www.aces.edu.
Auburn University research to give voice to rural communities in pandemic
By Paul Hollis, Auburn University
As the United States has become the epicenter of the worldwide COVID-19 pandemic, much attention has been paid to metropolitan areas like New York City, where density and population are the largest.
But what about rural communities, especially those in the Deep South?
Researchers in Auburn University's College of Agriculture hope to give rural areas of the Deep South a voice to the hardships they have endured during the crisis.
"While there has been some media attention on the impact of the pandemic on rural communities, particularly in light of the impact to the meat processing section, few have focused exclusively on rural areas and even fewer on the Deep South more broadly," said Ryan Thomson, assistant professor in the Department of Agricultural Economics and Rural Sociology.
"There are many questions about the impacts to these areas, which too often are considered an afterthought despite their important and vibrant communities," Thomson said.
This "grand omission," as Thomson calls it, became the genesis of a research project including himself, Professor Michelle Worosz and graduate research assistant KC Vick titled "Rural Responses to the COVID-19 Pandemic: Analysis of Big Data from Southern Rural Communities."
"Much of the rural South suffers from persistent poverty, and the arrival of COVID-19 only makes rural vitality that much more difficult," he said. "Millions of people live in these areas, and many are consistently overlooked. By blending our shared rural and medical interests, we seek to document and give voice to their daily troubles during the COVID-19 crisis."
The research project—in its initial stages with a $5,000 planning grant from the College of Agriculture—has two aims, Thomson said.
"First, we make use of big data to identify the primary concerns among rural communities as expressed on Twitter," he said. "These data are analyzed using qualitative coding and text mining software to tease out key themes."
While it is a relatively new strategy for social scientists, Twitter has become an increasingly important means of tracking disease surveillance and community disaster response, Thomson said.
"Second, we plan to use these findings as a foundation for an expanded study integrating public health data to further explore these concerns and investigate the long-term impact of the pandemic on regional health disparities."
There currently is a lot of uncertainty regarding rural community health, although it is well known that these areas tend to have a number of residents who are older than urban residents and afflicted with higher rates of negative health indicators—obesity, hypertension, chronic respiratory disease, drug addiction—that lead to markedly shorter life spans, he said. A high percentage also struggle with food security.
"We have observed that COVID-19 was slow to arrive in many rural areas, in part due to more limited availability of testing," Thomson said. "Once positive cases were identified, they have been accompanied by a relatively quick community spread and a spike in the number of cases."
Many non-metropolitan counties do not have hospitals, he said, and residents are faced with a range of challenges in accessing health care.
"Even in rural counties with hospitals and clinics, many are facing shortages of doctors, nurses, ICU beds, ventilators and personal protective equipment," Thomson said. "Many of these hospitals are unable to stockpile equipment because they operate on thin margins, and now it is too late to get it."
The project focuses on 100 "non-metro," Black Belt counties throughout Alabama, Mississippi and Georgia as designated by the U.S. Census Bureau for the region's dark, fertile soil. Using geographic identifiers, researchers can focus exclusively on these rural counties.
While pandemic-mandated social distancing has created numerous challenges for data collection, Thomson and his colleagues are making strategic use of digital methods.
"More specifically, we are web-scraping thousands of social media posts from the rural counties we identified between January and July 2020," he said. "This approach will enable us to sift through the content and map the leading concerns throughout the region. We will then explore these various issues alongside public health data."
ALEA reminder: federal government has extended STAR ID deadline to October 2021 The Alabama Law Enforcement reminds the public the U.S. Department of Homeland Security, at the direction of President Donald J. Trump, has extended the STAR ID enforcement deadline to Oct. 1, 2021, in response to the Coronavirus (COVID-19).
STAR ID, which stands for Secure, Trusted and Reliable Identification, is Alabama's version of the federal REAL ID program.
ALEA began modifying its Driver License Division operations in mid-March. The agency then shut down public access to Driver License locations at the end of March 26. Driver License Division personnel have continued to serve customers online and via phone and email.
ALEA's Secretary Hal Taylor said, "As always, we are dedicated to serving the citizens of this state, but we must make the health and safety of our customers and our personnel a priority. The federal deadline extension should relieve some of the wait time at ALEA's DL offices to obtain a STAR ID during the next several months."
During the closure, ALEA's Driver License personnel continue to contact customers who scheduled appointments for services prior to the pandemic.
Until operations are back to normal, Driver License Division customers still may:
• Renew DL/CDL/ID online
• Renew by mail – for Alabama drivers out of state for military, employment, missionary work, under a physician's care or other issues on a case-by-case basis
• Request a hearing online or by mail/fax. We will not take any law enforcement actions until hearing can be held.
• Change address by mail/email/fax. Address change document available online.
• Change name by mail/email. Contact ALEA DL for instructions.
• Renew hardship license
• Have license reinstated by mail/email/phone. May use credit card.
• Order MVR (driver history) by mail/email/phone. May use credit card.
• Order crash reports by mail/email/phone. May use credit card.
• Submit medical cards by fax/email
• Submit medical unit forms – fax/email
• Handle Mandatory Liability Insurance – online/mail
• Renew vessel registration online
Once ALEA's Driver License Division resumes normal operations, customers may schedule an appointment on the agency's website to obtain a STAR ID and conduct other driver license business. In addition, Secretary Taylor would like to remind the public of the 60-day grace period for driver licenses (Code of Alabama, 32-6-1), but customers who would like to renew during the pandemic are encouraged to do so online. Individuals whose driver licenses must be reinstated may contact the Driver License Division to handle it by phone.
For more information on STAR ID, online renewals and other services, and the latest on Driver License Division office closures, please visit www.alea.gov.
School Events
TUITION TO REMAIN LEVEL FOR UA STUDENTS – Tuition for both in- and out-of-state students at The University of Alabama will remain the same for the upcoming academic year. It is the fourth consecutive academic year undergraduate tuition will remain steady for students who are residents of Alabama. An in-state freshman who entered UA in Fall 2017 and is graduating next Spring will have paid the same tuition rate every semester of their entire undergraduate education. For more, contact Deidre Stalnaker at deidre.stalnaker@ua.edu.
UA's MODEL UN TEAM AMONG THE BEST – UA's Model UN team ranked on Best Delegate's list of the Top 25 Collegiate Model UN teams in the World Division for the first time. UA ranked No. 25 for strong performances throughout the 2019-20 academic year. UA's Model UN team is comprised of 42 students. Unlike most top-performing universities that train one group of students within its team to compete at conferences, UA's team encourages all of its members to compete and gain experience. For more information, contact Bryant Welbourne, UA Strategic Communications, at bryant.welbourne@ua.edu.
STARGAZING THROUGH CYBERSPACE – Dr. Bill Keel, UA astronomy professor, set up the UA Observatory for digital stargazing while the facility is closed due to the COVID-19 pandemic. The public can now use electronic devices to see what UA's telescope views at any time. To schedule an interview, contact Jamon Smith at jamon.smith@ua.edu.
UA PARTNERS TO PROVIDE COVID-19 TESTING IN CHOCTAW COUNTY – UA's Office for Research and Economic Development and University Medical Center are collaborating with Alabama Power, the Rural Alabama Prevention Center and Go2 Foundation for Lung Cancer to provide COVID-19 screenings in Lisman June 9. Screenings will take place at Lisman Town Hall from 9 a.m. to noon, or as long as supplies last. Attempts will be made to screen all who come, but only those meeting Alabama Department of Public Health guidelines will be tested for COVID-19. Participants don't need health insurance to be screened. For more information, contact Bryant Welbourne, UA Strategic Communications, at bryant.welbourne@ua.edu.
CURRENT COMMENT
MILLIONS OF CICADAS EMERGING AFTER NEARLY 20 YEARS – After 17 years, millions of red-eyed periodical cicadas are emerging from the ground to swarm the East Coast. Dr. John Abbott, director of museum research and collections at UA, is available to discuss details of the cicada swarms. To schedule an interview, contact Jamon Smith
4-H #InspireKidstoDo Activity
Looking for some easy ways to keep your kids engaged and learning at home? Check out the 4-H #InspireKidstoDo Activity Guide to find 60 hands-on learning activity ideas! Download now: http://bit.ly/38NioDF
Storyline Online
With school closures around the country due to #coronavirus, please use our FREE children's literacy resource featuring the world's best storytellers reading books aloud. Each video includes an activity guide with lessons for K-5 students to do at home. https://www.storylineonline.net/
Discovery Ed https://www.discoveryeducation.com/coronavirus-response/
BrainPop https://educators.brainpop.com/2020/02/19/free-brainpop-access-for-schools-affected-by-the-corona-virus/?utm_source=organic&utm_medium=social&utm_campaign=coronavirus&utm_content=free-access
Kahoot https://kahoot.com/blog/2020/02/27/kahoot-free-access-schools-higher-education-coronavirus/
Pronto https://pronto.io/coronavirus/
BookCreater App https://bookcreator.com/2020/03/support-for-schools-affected-by-coronavirus/
Google for Edu https://www.blog.google/outreach-initiatives/education/distancelearning-covid19
Tynker https://mailchi.mp/tynker/in-support-of-schools-facing-health-related-closure
Buncee https://blog.buncee.com/supporting-remote-student-learning/
Pear Deck https://www.peardeck.com/staying-connected
Kami https://blog.kamiapp.com/remote-learning-with-kami-during-school-shutdowns/
Parlay https://parlayideas.com/school-closure-support/
Elementari https://docs.google.com/forms/d/e/1FAIpQLSdJ1LAywQdwvNKN_SpsypVA48XOaoCTQoGhuaP7e12fgwPnWA/viewform
EdPuzzle https://support.edpuzzle.com/hc/en-us/articles/360039805612-Help-for-schools-affected-by-Covid-19
Wakelet https://wakelet.com/wake/3af73ea4-a652-4e38-934d-765aefe0f35b
Twinkl https://www.twinkl.com/blog/how-to-utilise-twinkl-during-the-coronavirus-shutdown-a-guide-for-schools?utm_source=twitter&utm_medium=social&utm_campaign=corona
Hapara https://hapara.com/from-home/
Manga High https://www.mangahigh.com/en-gb/blog/2020-03-06-free-access-schools-online-maths-coronavirus
ListenWire http://blog.listenwise.com/2020/03/listenwise-support-for-schools-affected-by-the-coronavirus/
MobyMax http://press.mobymax.com/mobymax-to-provide-all-k-8-schools-and-school-districts-closed-by-covid-19-with-free-internet-learning-software
GoGuardian https://www.goguardian.com/blog/learning/goguardian-teacher-for-remote-learning/
Seterra Geography https://online.seterra.com/en/p/corona-support
We Video https://www.wevideo.com/education
Education Perfect https://epforlearning.com/2020/education-perfects-technology-minimising-impact-on-100-coronavirus-affected-schools-in-china/
Slido Education https://blog.sli.do/slido-for-education/
Breakout Edu https://www.breakoutedu.com/funathome
Microsoft Education https://educationblog.microsoft.com/en-us/2020/03/how-schools-can-ramp-up-remote-learning-programs-quickly-with-microsoft-teams/
NearPod https://nearpod.com/coronavirus
Zoom https://blog.zoom.us/wordpress/2020/02/26/zoom-commitment-user-support-business-continuity-during-coronavirus-outbreak/
ScreenCastify https://twitter.com/Screencastify/status/1226934956930281472
Mystery Science https://mysteryscience.com/?fbclid=IwAR0tiDhJA1fs0tvraKnXpDLa2JlJGXQhzPR4UnQRVfbOR1Ca3C5yQY5tNwQ
Age of Learning (ABCMouse, Adventure Academy, ReadingIQ) https://www.ageoflearning.com/schools

UA Museums Goes Online to Provide Educational Content
University of Alabama Museums will begin livestreaming educational content starting March 27. The videos will be on the Facebook pages of the Alabama Museum of Natural History, Gorgas House Museum, Mildred Westervelt Warner Transportation Museum and Moundville Archaeological Park. While UA museums are closed because of COVID-19, each museum will continue to provide educational outreach through daily programming featuring experts in various fields, offering Q&A time for those watching at home. Dr. William Bomar, executive director of UA Museums, understands people are looking for quality online content that is both educational and entertaining during this time. All livestreams start at 10 a.m. Once finished, Facebook archives livestreams so they will be available to view anytime. The livestream schedule, subject areas and links are: Moundville Archaeological Park on Mondays https://www.facebook.com/moundvillepark/
History on Tuesdays https://www.facebook.com/GorgasHouse/; https://www.facebook.com/mwwtm/
Archaeology on Wednesdays: https://www.facebook.com/; ffice.Of.Archaeological.Research/
Collections or museum-based research on Thursdays: https://www.facebook.com/ALMNH/
Nature and natural science on Fridays: https://www.facebook.com/ALMNH/
The University of Alabama, the state's oldest and largest public institution of higher education, is a student-centered research university that draws the best and brightest to an academic community committed to providing a premier undergraduate and graduate education. UA is dedicated to achieving excellence in scholarship, collaboration and intellectual engagement; providing public outreach and service to the state of Alabama and the nation; and nurturing a campus environment that fosters collegiality, respect and inclusivity. Additional news about The University of Alabama can be found at: https://www.ua.edu/news/news-media/
Free Virtual Museum Tours
The Louvre
https://www.louvre.fr/en/visites-en-ligne#tabs
The Solomon R Guggenheim
https://www.guggenheim.org/collection-online
The National Gallery of Art
https://www.nga.gov/
The British Museum
https://research.britishmuseum.org/research/collection_online/search.aspx
Smithsonian Institution National Museum of Natural History
https://naturalhistory.si.edu/visit/virtual-tour
The Metropolitan Museum of Art
https://naturalhistory.si.edu/visit/virtual-tour
The Dalí Theatre-Museum
https://www.salvador-dali.org/en/museums/dali-theatre-museum-in-figueres/visita-virtual/
NASA
https://oh.larc.nasa.gov/oh/
https://www.nasa.gov/glennvirtualtours
The Vatican
http://www.museivaticani.va/content/museivaticani/en/collezioni/musei/tour-virtuali-elenco.html
http://www.museivaticani.va/content/museivaticani/en/collezioni/musei/cappella-sistina/tour-virtuale.html
The National Women's History Museum
https://www.womenshistory.org/womens-history/online-exhibits
The National Museum of the United States Air Force
https://www.nationalmuseum.af.mil/Visit/Virtual-Tour/
The Google Art Project
https://artsandculture.google.com/
https://artsandculture.google.com/partner

Free Programs at UWA to learn how to become a Certified
Automotive Technician or
Certified Nursing Assistant
Become qualified to work as a CNA, PCA, Home Health Aide or Automotive Technician. Must be between the ages of 18-24. For information call (205) 652-5494 or email jmahaffey@uwa.edu. This project is funded 100% with Federal Funds made available to the State of Alabama Department of Commerce by the U. S. Department of Labor/Employment and Training Administration as the Grantor.