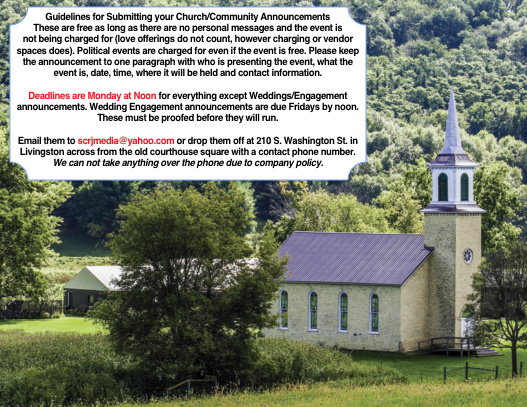 Deadlines are Mondays at Noon for everything except wedding/engagement announcements. Wedding engagement announcements deadline are Fridays by noon.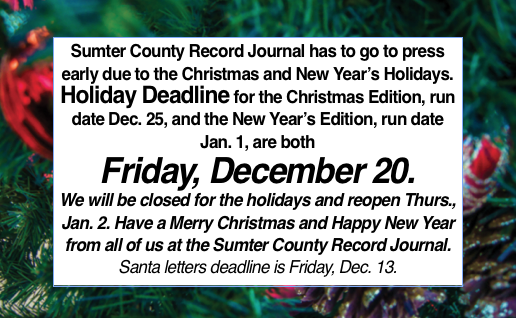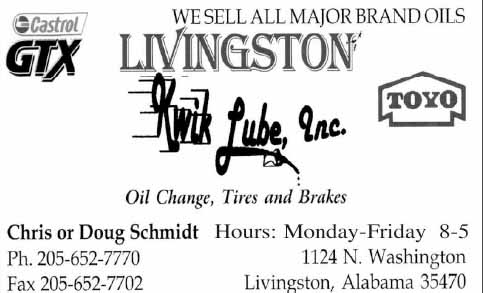 Church and Community Events
Mt. Pilgrim P. B. Church Annual Anniversary Program
You are cordially invited to our annual Anniversary program honoring Rev. Dr. Greg Watkins and Sis. Shirley Watkins at the Mt. Pilgrim P. B. Church on Sun., Dec. 8 at 12:30 p.m. along with the morning service. The guest speaker for the occasion is Rev. Tenonne Hopson, pastor of Mendon Zion P. B. Church, Lauderdale, Miss. Dinner will be served. Rev. Dr. Greg Watkins, pastor, Sis. Brenda Blutcher, secretary and Sis. Birda Eades, assistant secretary.

Christ Church Choir Will Present Advent Lessons & Carols
On Sunday, December 8, the Christ Episcopal Church Adult Choir will celebrate the beginning of the Advent season by presenting the Festival Service of Nine Lessons and Carols. The Advent season is a time for prayer and preparation for the coming of the Christ Child on Christmas Day. For 100 years this English tradition has ushered in the season, which is marked by the decoration of the church with winter greenery and the lighting of the Advent wreath. The service will begin at 6:00 p.m. at Christ Episcopal Church in downtown Tuscaloosa and is free and open to the public. A nursery will be provided.

VFW Christmas Dinner
Greetings Fellow Veterans: VFW Post 5377 will not be having our normal business meeting on Dec. 10. We are instead going to have our annual VFW Christmas dinner at the Simple Delicious Resturant, off of Hwy. 80 West, inside the Walmart Parking lot, at 6 p.m. We are asking everyone to call in their menu request to myself, no later than Dec. 6 at 334-327-2491 and I will give you the prices. Just a reminder that this is a dutch treat event. We will not be conducting any business, so just come out for fun, laughter, and a great meal, with our post members and their guests.

Sumter County Bicentennial Audio Tour Reception
The Sumter County Bicentennial Audio Tour, a self-guided tour of historic sites throughout the county, will be unveiled at a community reception on Wed., Dec. 11 at 10 a.m. at the Black Belt Museum in Livingston. The tour was developed through the Black Belt Heritage Area managed by the Center for the Study of the Black Belt at UWA, and Alabama Bicentennial Community Grants to the Sumter County Commission, and the cities of Gainesville, Livingston, and York. Each site features a short history recorded by local citizens.

Bellamy Christmas Parade
The third annual Bellamy Christmas Parade is Sat., Dec. 7 beginning at noon.

Christmas on the Square
Join the Sumter Chamber for the Annual Christmas on the Square in Livingston, Sun., Dec. 8 at 3-6 p.m. It is a celebration for all of Sumter County and any who want to visit! The festival will include vendors, live music, a Merchant Tree Contest, cookies, letters to Santa, and of course Santa himself! If you are interested in setting up as a vendor or would like more details, please contact Lindsey Truelove at sumteralchamber@gmail.com

Christian Fellowship Baptist Pastor and First Lady Anniversary
Christian Fellowship Baptist, Lisman, invites you to Rev. Robert Webb and First Lady Meratha Webb's 12th Anniversary on Sun., Dec. 1 at 2 p.m. Rev. Oscar Hold, pastor of New Fellowship Baptist, Enterprise, and congregation will be our guests.

Gospel Concert Giving Thanks
Come share with us in a Gospel Concert on Sat., Dec. 14 at 4 p.m. at God United Spiritual Kingdom, 4800 Hwy. 11, Cuba. Guest groups will be Rev. Lonnie Weaver and Genesis, Min. Courtey Crispin, and others. Sponsors are Rev. Darrell and Sis. Patricia Jones. Call 205-496-4808 or 334-596-0341 for more information.

New Bethel Baptist Pastor and First Lady Anniversary
New Bethel Baptist, Gainesville, invites you to Pastor Frank S. Rogers and First Lady Sis. Angela Rogers 10th Anniversary on Sun., Dec. 8 at 2 p.m. Rev. Samuel Harris, pastor of Johnson Missionary Baptist Church, Livingston, along with his church choir and congregation will be our guests.
School Events
University Charter School Announcements
Third through sixth grade singers will sing at UWA Christmas Tree Lighting Dec. 3, Call Time 5:45 p.m., with performance at 6 p.m. in the columned front of Webb Hall, front of UWA Campus Dress comfortable. Uniforms not required). UCS Students will sing two Christmas carols. UCS' Robotics Team will meet on Tues., Dec. 3 at 3 p.m. in UCS' STREAM Lab! UCS' Robotics Team has their first competition on Sat., Dec. 7! The next R.U.N meeting for 5th through 8th grade female students is Wed., Dec. 4, at 2 p.m. Fall Make-Up/Retake Picture Day will be Wednesday, December 4th. Your student(s) should be in their dress uniform. UCS' Time for Time Program will start on Sat., Dec. 7 from 8 – 11:30 a.m. Please be in attendance if you were notified. UCS' Girls and Boys Basketball teams have the following upcoming games: Sat., Nov.r 30 at 4 p.m. vs. Amelia L. Johnson in an away game, Mon., Dec. 2 at 5 p.m. vs. Pickens County at home, and Wed., Dec. 4 at 4 p.m. vs. Brookwood in an away game. UCS hopes each of our families has a wonderful Thanksgiving Break. UCS will be closed from Nov. 25-29 for Thanksgiving Break. We look forward to everyone's return to school on Mon., Dec. 2. Join us for No Soda November, heart.org/sugar. Save the date for the next general meeting, and cookies and milk with Santa, Thurs., Dec. 5 at 5:30 p.m. Parents of girls interested in playing softball, please visit www.uwasoftballcamps.com/camps.cfmif you are interested in participating in a UWA softball camp! If you have any questions or if one of the camps fill up, please contact Ms. Richardson at hrichardson@universitycharterschool.org.
UCS and UWA Campus School Care Packages for Deployed Marines
UCS would like to join the UWA Campus School in helping create care packages for deployed Marines during this Christmas Season to help them know that they are remembered and appreciated. Below is a list of suggested items. The UWA Campus School will need these items dropped off to them by December 6th. The Marines would also love any notes or cards reminding them how much we appreciate them and their service to our country. The UWA Campus School is located right around the corner from UCS at 1 Stadium Dr., Station 42, Livingston, AL 35470. Care package suggestions: high quality socks, shoe inserts, toothpaste, floss, floss pickers, lip balm, foot powder, baby wipes, pain relieving topical cream, hand sanitizer, lens cleaning wipes, reading material, ipods or thumb drives loaded with music or movies, handheld video games, decks of cards, pens and pencils, puzzle books (word search, sodoku, crosswords, etc), baseballs and gloves, board games, 3m wall hooks, gum, mints, candy (nothing that will melt), 5 hour energy drinks, sunflower seeds, snack crackers, protein bars, beef jerky/slim jims, cookies (no chocolate), small cans bean dip, canned chips, hot sauce (packets from taco bell are great), trail mix, small packets of gatorade or juices, dried fruits, raisons, etc, instant soup, cereals.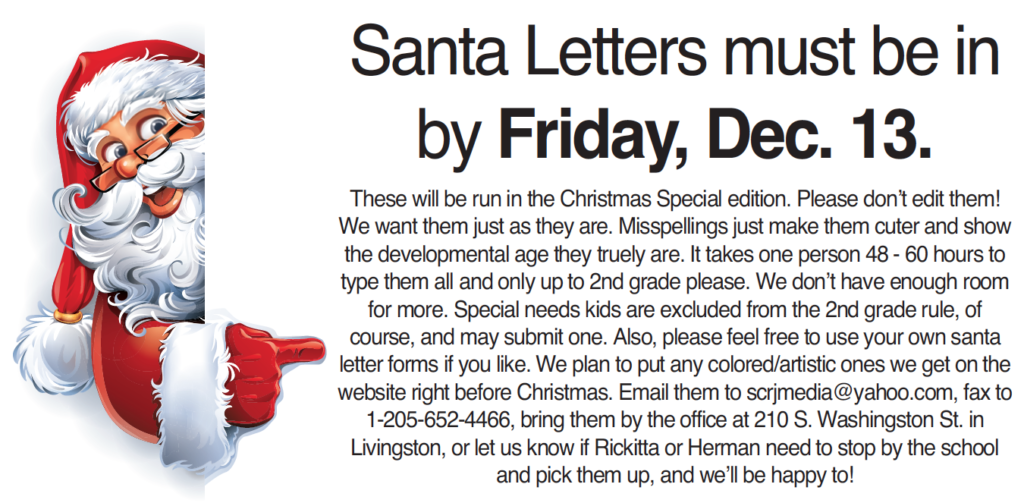 SSCC Holiday Events and Commencement
Shelton State Community College will be closed Nov.r 27 – 29 for Thanksgiving. The College's regular hours of operations will resume on Dec. 2 and will include multiple events celebrating the upcoming holiday season. The Terrific Tuesday Concert Series will host the Annual Tree Lighting and Sing Along on Dec. 3 at 1 p.m. in the Martin Campus Atrium. Sacred and secular holiday pieces will be performed, and the audience will participate in a sing-along. Admission is free and open to the public. The Tree Lighting event will also highlight the College's Here Comes Santa Claus annual giving campaign. Now in its ninth year, Here Comes Santa Claus is sponsored by the Shelton State Ambassadors and allows students, faculty, staff, and community members to offer assistance to those in need. Donations will be accepted through Dec. 6. To learn how to help, contact Forrest Smith at fsmith@sheltonstate.edu. Shelton State's Music Department will present its annual Christmas Concert on Dec. 5 at 7:30 p.m. in the Martin Campus Atrium. Featuring the Shelton Singers and the Shelton State Jazz Ensemble, the concert is free and open to the public. Shelton State Community College will host fall commencement events on Thursday, December 12 and Friday, December 13. All events will be held in the Martin Campus Gymnasium. Theatre Tuscaloosa's The Watsons Go to Birmingham – 1963 will begin its run on Dec. 6 and close on Dec. 15. Times and prices vary. Visit theatretusc.com for additional information. The College will be closed for the holidays Dec. 23 – Jan. 1. Regular hours of operation will resume on Jan. 2. For more information, contact SSCC Media and Communication at mediacom@sheltonstate.edu.
Sumter County Schools 2019-20 Calendar

Dec. 20 – First Semester Ends
Dec. 21 – Jan. 5 Christmas Holiday and New Years
Jan. 6 Inservice (No Students)
Jan. 7 School Re-Opens for Students, 2nd Nine Weeds Report Cards
Jan. 20 Dr. Martin Luther King Jr. Holiday (School Closed)
Jan. 21 ACCESS 2.0 and Alternate ACCESS for ELLs Window Opens
Feb. 3rd Nine Weeks Progress Reports
Feb. 17 Presidents' Day/Weather Day/Inservice (No Students), 3rd Nine Weeks Progress Reports
March 2 ACAP Alternative Assessment Window Opens (2nd – 8th Grade)
March 10 11th Grade ACT With Writing Test Given and Accommodation/Support. 3rd Nine Weeks Report Cards
March 20 ACCESS 2.0 and Alternate ACCESS for ELLs Window Closes
March 21 -29 Spring Break
March 30 ACAP Summative Assessment Window Opens (2nd – 8th Grade)
April 10 Good Friday (School Closed), ACAP Alabama Alternative Ends (2nd – 8th)
April 15 ACT WorkKeys Retest Option Given—And Accommodations/Support
April 20 4th Nine Weeks Progress Reports
April 21 11th Grade ACT With Writing Make-up Given (Option 2)
May 1 ACAP Summative Assessment Window Closes (2nd – 8th Grade)
May 15 Seniors Graduate
May 20 Second Semester Ends last day for students
May 21 Report cards mailed
May 22 Inservice Teacher day no students
Governor Ivey Announces Alabama's Participation in the 2020 Girls Go CyberStart Challenge
Governor Kay Ivey announced that Alabama will participate in the 2020 Girls Go CyberStart Challenge. The Girls Go CyberStart Challenge is a skills-based competition designed to encourage girls to pursue cyber-based learning and career opportunities. The Girls Go CyberStart Challenge is an online game that consists of a series of challenges that places students in the role of a cyber protection agent charged with solving realistic problems and puzzles. The program is open to girls in grades nine through 12. Registration opens Dec. 2, with online gaming commencing on Jan. 13, 2020. Additional details and preregistration can be found at www.girlsgocyberstart.org. Teacher information and student practice programs are available now and can be found at https://medium.com/girls-go-cyberstart/mrsgcyberstarttips/home. To see the types of challenges the students will face, please visit https://go.joincyberstart.com.

Applications Open for "The 7th Project" Congressional Internship Program
The 7th Project announced today the opening of the application process for the 2020 Congressional Summer Internship Program. The program gives college students who are residents of Alabama's 7th District with high academic achievement and demonstrated financial need the opportunity to participate in a four-week Congressional internship in the Washington, D.C. office of Congresswoman Terri Sewell. The 7th Project provides housing on a college campus in Washington, D.C. and a stipend for living and travel expenses. Internships in District offices are available as well. Program alumni have gone on to start careers on Capitol Hill and work with organizations such as the Southern Poverty Law Center, the NAACP, Human Rights Campaign, and Teach for America. These students are making powerful investments in their communities and across the 7th District. Interested students should visit www.The7thProject.com for more information and to apply for the 2020 Congressional Internship Program. Any undergraduate or graduate student with a 3.0 GPA or higher who is from Alabama's 7th Congressional District is eligible to apply for the Congressional Internship Program. Applications may be completed online and must be received by March 13, 2020.
GIFTS FOR AGING LOVED ONES NOT AS COMPLICATED AS YOU MAY THINK – Christmas arrives again, bringing both joy and stress. Mom, Dad, Grandma and Grandpa are getting older, and ideas for gifts are running thin. What could they possibly want? Christina Pierpaoli-Parker, a UA student pursuing her doctorate in clinical geropsychology, has conducted research that provides some answers. "In general, they don't want stuff," she said. "They want you. They want to spend time with their children, their grandchildren, and savor those experiences." For assistance, contact Jamon Smith in UA communication at jamon.smith@ua.edu or 205-348-4956.

COMBATTING OPIOID OVERDOSES: TEAM TO BEGIN TRAINING RURAL EMS PERSONNEL – The Substance Abuse and Mental Health Services Administration has awarded UA's School of Social Work a $3.2 million grant to study the occupational stress of first responders and train them to better deal with opioid overdoses. The hope is that, through specific training relative to the dynamics and resources of 14 rural counties in Alabama, the state can lower its number of opioid overdose deaths, a number that more than doubled from 2012 to 2017, according to the National Institute on Drug Abuse. In 2017, the state recorded 422 opioid overdose deaths. Watch for a news release with more details. For more information, contact David Miller, communications specialist, UA School of Social Work, at 205-348-3942 or David.c.miller@ua.edu.

Tuscaloosa Bicentennial Landmarks Unveiled Dec. 13
The yearlong celebration of Tuscaloosa's bicentennial will culminate with the unveiling of three landmarks celebrating the city's past, present and future on Tuscaloosa's 200th birthday. A sculpture depicting Minerva, the Roman goddess of wisdom and strategy; a timeline of monumental dates in the city's history; and a time capsule will be dedicated during a 10 a.m. Dec. 13 ceremony at Manderson Landing. The event is open to the public. Watch for an upcoming news release with more details. For more information, contact Bryant Welbourne in UA communications at 205-348-8325 or Bryant.welbourne@ua.edu.