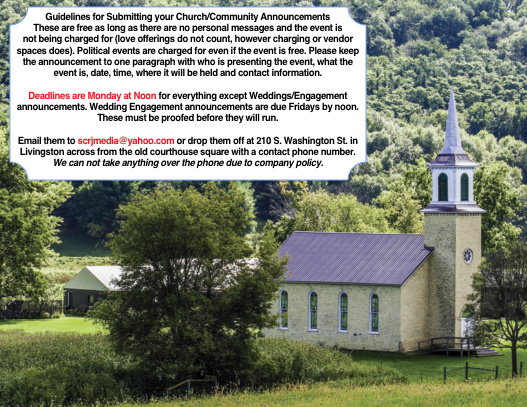 Deadlines are Mondays at Noon for everything except wedding/engagement announcements. Wedding engagement announcements deadline are Fridays by noon.

2020 Upcoming Holiday deadlines: Friday, Nov. 20 for Thanksgiving Edition. Friday, Dec. 4 for Santa Letters. Friday, Dec. 18 for the Christmas and New Years Editions. SCRJ will be closed for the Thanksgiving Holidays. SCRJ Will be closed Dec. 23-Jan. 3 for the Christmas & New Years Holidays.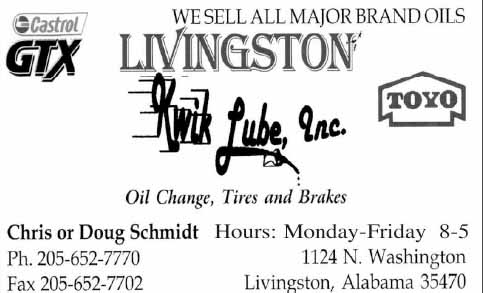 Church and Community Events
Cuba Christmas Parade
The Cuba Christmas Parade is Dec. 12 at 11 a.m. Our Grand Marshal is Pat Hatcher. For more information on how to participate contact Tanya Storey at 601-616-5641. We will be practicing social distancing.
SSCC Free Training
Continues Nov. 30
Shelton State Community College Workforce Development (SSCC) continues its JumpStartAL training with a new class beginning on Mon., Nov. 30. Using leading edge virtual reality (VR) training solutions from the job simulator TRANSFRVR, JumpStartAL offers new education and training programs to develop the state's next generation of highly skilled workers. One of five Alabama community colleges utilizing JumpStartAL training, SSCC is using modules that were created with input from industry partners and will help participants develop specific skills needed to jobs, beginning with manufacturing and expanding into other industries in the future. JumpStart AL training is free of charge, and qualified completers will earn a $175 stipend. JumpStartAL training is available for anyone interested in career in the skilled trades, including high school students, veterans, workers in existing industries, the unemployed, and the underemployed. In addition to individual training available on campus, on-site employee training is available for interested business and industry. To register for JumpStartAL training or receive more information about corporate training through JumpStartAL, contact SSCC Workforce Development at workforce@sheltonstate.edu.
Livestock Auction Market Direct Payment Program & Poultry Processor
Reimbursement Program
Applications due by Dec. 1
Commissioner Rick Pate is pleased to announce the Livestock Market Direct Payment Program and the Poultry Processor Reimbursement Program. Applications for each program will be available at agi.alabama.gov or crf.alabama.gov and the deadline to submit applications is Dec. 1. Each program will assist Alabama's agriculture with costs associated with disruptions experienced due to COVID-19. Commissioner Pate and agricultural stakeholders developed a broad based relief plan to support agribusiness in the State of Alabama. In August, Gov. Kay Ivey announced that $26 Million of CARES Act Funds could be used to assist Alabama Agriculture impacted by COVID-19. These funds were used to establish the Alabama Agricultural Stabilization Program (AASP). The new programs announced today are: Livestock Market Direct Payment Program – $500,000 to provide direct payments not to exceed $25,000 to Alabama licensed cattle auction markets. Poultry Processor Reimbursement Program – $1.2 million to reimburse Alabama poultry processing facilities for purchases of Personal Protection Equipment (PPE), disinfectants, workstation dividers, and COVID-19 testing kits to protect their employees from COVID-19. These expenses would be up to a maximum of $40,000.00 per facility. Eligibility requirements will be posted at agi.alabama.gov or crf.alabama.gov at 10 a.m. on Tues., Nov. 17.
Coat Drive
During the month of November, the City of York, the City of Livingston, UWA, and the SC Commission will be holding a donation coat drive. Drop off coats at City Hall in York, City Hall in Livingston, Sumter County Courthouse, or the Student Union Building at UWA. Pick up date is Dec. 4 at Sumter Central High Schoo from 9 a.m. until 1 p.m. Need more information? Call CityHall in York at 205-392-5231 or City Hall in Livingston at 205-652-6100.
Third Annual Christmas on the Square
Join us in Livingston for the Third Annual Christmas on the Square Dec. 6 at 1-6 p.m. There will be photos with Santa, a merchant tree contest, live music and vendors.
SSCC Charity Drive Hear Comes Santa Claus
Now in its tenth year, Shelton State Community College's annual holiday donation drive, Here Comes Santa Claus, will be held Monday, November 30 until Friday, December 11. Due to current pandemic and social distancing requirements, only monetary donations will be accepted this year, and the total donation amount will be divided equally among the College's traditional list of agencies. Credit or debit card donations can be made over the phone by calling the Martin Campus Cashier's Office at 205.391.2335 or cash donations can be made in-person in the Cashier's Office on both campuses. In cooperation with United Way and sponsored by the Shelton State Ambassadors, Here Comes Santa Claus provides opportunities for the SSCC family to cooperate with local service providers in offering assistance to those in need. Monetary donations to Here Comes Santa Claus will benefit the following West Alabama organizations: Caring Days, FOCUS on Senior Citizens, Phoenix House, Tuscaloosa's One Place, Turning Point, Five Horizons, Veteran's Outreach, and Metro Animal Shelter. For more information, contact SSCC Media and Communication at mediacom@sheltonstate.edu.
Ring in the New Year with the Alabama Symphony
Orchestra
The power of music has a way to bring all of us together, whether that's in the concert hall, through headphones, or on a computer screen. This year the Alabama Symphony Orchestra is inviting you to ring in the new year virtually at the 2020 Maestro's Ball! This free online event will take place on the evening of Thurs., Dec. 31 at 7 p.m. The Maestro's Ball is the Orchestra's largest annual fundraiser that provides critical support for the Orchestra's many artistic performances, its arts education initiatives, and outreach programs throughout the year to patrons, students, and families across the state. On average ASO educational programs serve over 15,000 students, and 250 Alabama Schools each year. On presenting the ball digitally this year, Carlos Izcaray said, "The Orchestra has delighted audiences across Alabama for almost 100 years and during times like these when we look for joy and community, we need music now more than ever. Because of this, we are thrilled that we are able to give this gift of music to all Alabamians." Music will be the star of the night as the ASO celebrates the beginning of 2021. The evening will feature a variety of music that will uplift and inspire music lovers everywhere. The program includes performances by the ASO conducted by Music Director Carlos Izcaray and Principal POPS! Conductor Chris Confessore, in addition to a performance by the Alabama Symphony Youth Orchestra conducted by their Music Director and ASO Assistant Conductor Kevin Fitzgerald. Since March of 2020, the Orchestra has had to cancel or postpone over 100 concerts and programs in response to the COVID-19 pandemic. ASO Interim Executive Director and General Manager, Mark Patrick said, "While COVID-19 has certainly brought its challenges to our organization, it's also given us new opportunities to connect with patrons virtually across the state and beyond. We are so excited to be able to bring this year's Maestro's Ball to every home in Alabama." Those interested in donating may call 205.314.6917. As this year comes to the close, the ASO continues to be grateful for the outpour of love and support from audience members and patrons. For more information on this free online event, visit alsymphony.org/MaestrosBall.
School Events
Santa Letter deadline for 2020 is Friday, Dec. 4.
The Alabama State Department of Education(ALSDE) announced today it will honor educators across Alabama with a special Thank Alabama Teachers Week beginning Nov. 16 and concluding Nov. 22.
Individuals and businesses throughout the state are encouraged to express gratitude to the men and women currently going above and beyond for both their students and communities.
"The challenges presented to Alabama teachers this year are unprecedented, and we want them to know how much they are appreciated and how much we see them and all they are doing," said Dr. Eric Mackey, Alabama state superintendent of education. "From ensuring classrooms are safe for in-person learning to wrangling the new realities of online teaching, these exemplary Alabamians are to be commended and recognized."
Nationally, teachers are honored each spring with a dedicated Teachers Appreciation Week, however, due to the unique and challenging set of circumstances teachers have experienced this year, it was important that the state provide Alabama teachers with extra praise as quickly as possible. Alabama teachers have been thrust into a reality that none of us could have predicted, however they've done so with determination, strength and perseverance," said Gov. Ivey, whois herself a former teacher.
"The mounted stresses of today's classroom along with the new world in which we find ourselves are a heavy brunt to bear, yet we see the resilience and tenacity of our educators across the state daily. Their sacrifices are unlimited and their selflessness immeasurable, and for that, we proudly honor them."
As part of Thank Alabama Teachers week, businesses, individuals and influencers will been couraged to show gratitude by offering teacher discounts, posting thanks via organizational and personal social media accounts using #ThankALTeachers, writing favorite teachers a thank you letter, gifting teachers a small sign of appreciation, or donating essential items to local schools. Additionally, Thank Alabama Teachers messages will be visible via multiple forms of advertising and through a dedicated initiative landing page.
"As the Thanksgiving season draws near, we hope all Alabamians will use this week's observance to dedicate time and resources to properly give our teachers the most heartfelt thanks they deserve for going above and beyond and for making sacrifices to ensure every student has the most opportunity to succeed — despite the monumental barriers facing them today," added Mackey. For more information, please visit weteachalabama.com.
UA STUDENTS SWIPE AWAY HUNGER TO DONATE 500 MEALS TO FOOD BANK – With the goal of 500 meals reached, UA students, through the program Swipe Away Hunger, have donated their unused meal plan meals so they can be made into Thanksgiving meals for those in need in the Tuscaloosa area. On Nov. 18 between 10-11 a.m. the donated meals will be loaded onto a truck at the dock of Lakeside Dining Hall and transported to the West Alabama Food Bank where they'll be distributed to various churches and food banks. For more information, contact Jamon Smith, UA Strategic Communications, at jamon.smith@ua.edu.
UA TO LAUNCH EARLY LEARNING INITIATIVE AT GADSDEN IN JANUARY – UA's College of Education will launch the UA Early Learning Initiative at Gadsden in January 2021 at the University's Gadsden Center. The program will provide area children and families with high-quality, inclusive learning experiences, act as a professional development site for teacher education students and practicing teachers from around the state and serve as a research site where UA faculty can conduct innovative research related to early childhood education and child development. "Our college is doing everything it can to make a good difference in the educational lives of children and their families," said Dr. Peter Hlebowitsh, dean of UA's College of Education. "We are happy to bring our resources and expertise to the work of advancing early childhood education efforts across the state." For more information, contact Bryant Welbourne, UA Strategic Communications, at bryant.welbourne@ua.edu.
FREE PROGRAM HELPS CHILDREN WITH DISABILITIES, DEVELOPMENTAL DELAYS – The University of Alabama is offering support to families of young children with disabilities or developmental delays free of cost through a new early intervention program called EI@UA. "EI@UA is an early intervention program through Alabama's Early Intervention System that provides special education and related services to infants and toddlers under the age of 3 and their families," said Dr. Kimberly Tomeny, program director of EI@UA and a clinical assistant professor of special education and multiple abilities. EI@UA can be reached at earlyintervention@ua.edu or 205-348-4714. The program's hours are flexible as needed. For more information, visit EI@UA's website or contact Jamon Smith, UA Strategic Communications, at jamon.smith@ua.edu.
MOUNDVILLE ARCHAEOLOGICAL PARK VIRTUAL 5K SUPPORTS EDUCATION FUND – UA's Moundville Archaeological Park will hold its annual 5K Footrace virtually throughout November, which is Native American Heritage Month, and December to support its education fund. Instead of the traditional "Run 'Round the Mounds," held annually at the park, the public can register to run a 5K on a course of their choice or treadmill. Participants will receive a downloadable race bib and finisher certificate; commemorative finisher medal; and free admission pass to Moundville Archaeological Park. They can also listen to a curated playlist of traditional and modern Native American music on Apple Music, YouTube and Spotify while completing the 5K. For more information, contact Bryant Welbourne, UA Strategic Communications, at bryant.welbourne@ua.edu.
BEAT AUBURN BEAT HUNGER RESULTS – UA's annual food drive competition wraps up this Thursday. Results will be announced at 11 a.m. on Friday, Nov. 20 at the West Alabama Food Bank, 3160 McFarland Blvd., and the winner of the drive versus Auburn University will be named. The event will be held outdoors, and media are invited to attend. For more information, contact Melissa Parker, UA Strategic Communications, at melissa.parker@ua.edu.
Free program helps children with disabilities,
developmental delays
Most would agree that parenting, though joyous, isn't an easy undertaking.
And parenting children with disabilities can be even more difficult at times. That's why professionals at The University of Alabama are offering support to families of young children with disabilities or developmental delays free of cost through a new early intervention program, EI@UA, which is funded through the Alabama Department of Rehabilitation Services.
"EI@UA is an early intervention program through Alabama's Early Intervention System that provides special education and related services to infants and toddlers under the age of 3 and their families," said Dr. Kimberly Tomeny, program director of EI@UA and a clinical assistant professor of special education and multiple abilities.
Tomeny said the program works by partnering with families of children who need their services to support them in the context of their everyday lives and routines.
They do this by determining the family's specific goals for their children or the family as a whole and work to help them achieve those goals.
"If a parent has concerns about their child talking, for example, we would work with them within the context of their routines like family meals, diaper changes, bath time and outings," she said. "We talk about strategies they can use regularly to support the child and family within that routine.
"We provide intervention that addresses the child's overall development, not just one specific developmental area."
The team consists of professionals from various backgrounds such as early childhood special education, speech-language pathology and physical therapy. The primary interventionists partner with families to develop goals and implement strategies that help the child function in the family's routines, such as mealtimes or getting dressed.
"Parents or caregivers are with the children regularly and it's really beneficial for them to be the ones to implement the strategies that we jointly come up with," Tomeny said. "It really is a collaborative process and the goal is to support children and families during the many hours that the interventionist is not with them throughout the week."
Anyone can make a referral to UA's early intervention program. If parents, pediatricians, or other caregivers or professionals have a concern about a child under the age of 3, they can contact EI@UA to find out if the child is eligible for services. Currently, all services are being administered remotely through Zoom. EI@UA can be reached at earlyintervention@ua.edu or 205-348-4714. The program's hours are flexible as needed. For more information, visit EI@UA's website.
'Share Your Smile With Alabama' 2021 Photo Contest Showcases Smiles of 3rd Graders
The Alabama Department of Public Health (ADPH) Oral Health Office announces the fourth annual "Share Your Smile with Alabama" statewide photo contest. Two third grade students, one girl and one boy, will be selected from photo submissions as the winners of the campaign. The pair of third graders will be highlighted in ADPH marketing campaigns to promote children's oral health throughout the state and will be featured in a news conference on January 29, 2021. This contest is open to children living in Alabama who are either enrolled and attending third grade, or 8 to 10 years of age being homeschooled. The official rules of the photo contest and an application form can be viewed at www.alabamapublichealth.gov/oralhealth/contest.html. Submissions must be made by a parent or legal guardian, and will be accepted Nov. 1-30, 2020. There is no entry fee. February is National Children's Dental Health Month 2021 and is designated to promote the benefits of good oral health to children, their caregivers, teachers and others. The theme for 2021 is "Water: Nature's Drink."
Camp Conservation
Webinar
Are you interested in a career in forestry, conservation, or natural resources? During this online event, we will work with 7th-12th graders exploring conservation and natural resource management issues and career possibilities. We will also learn more about scholarships and internships with the Federation of Southern Cooperatives on Tues., Nov. 10 at 11 a.m.and Thurs., Nov. 12, at noon CT. Questions? Email Roosevelt or Audrey robinrl@auburn.edu or audreyhaskin@federation.coop.Register: http://www.aces.edu/go/CampConservation. Presented by Alabama Extension's Urban Forestry, Wildlife, and Natural Resources Management Team, the Federation of Southern Cooperatives (FSC), and Project Learning Tree (PLT).
Shelton State Offers
Community Scholarship "Bogo" For Spring
In conjunction with the opening of spring registration, Shelton State Community College will offer a one-time "buy one, get one" community scholarship option for spring 2021. Students can take up to nine (9) credit hours tuition-free. Registration for spring begins Friday. As a response to the many challenges students are currently facing, the Alabama Community College System has approved tuition assistance through this special opportunity. The "buy one, get one" (BOGO) option is a chance for students to double their efforts and increase their chances for success at a reduced price. Guidelines for taking advantage of the community scholarship are listed below. The student must complete the 2020-2021 FAFSA. Dual Enrollment/Accelerated High School students are not required to complete the FAFSA. The student may not already be receiving an institutional scholarship or a third-party billable aid source (i.e. Pell grant, SEOG, VA benefits, WIOA, etc.) for spring 2021. The student must register for at least six (6) credit hours to utilize the BOGO option. Payment will be required for at least three (3) credit hours for the spring 2021 semester. The scholarship is a last-dollar tuition only scholarship. Fees are not included in the scholarship. This means the dollar amount will be determined once all other financial resources have been exhausted. This includes all federal/state grants. If the total cost of tuition is covered by other financial resources, a student will not be eligible to receive the scholarship. Any student who meets the minimum qualifications listed above will be able to take advantage of this scholarship opportunity. There are no forms to submit or requests to complete. The College will apply funding to the accounts of students who qualify. Staggered registration for spring 2021 will begin on Friday, November 6 at 8:00 a.m. with currently enrolled students with 32 or more attempted hours registering for classes. Beginning Monday, November 9 at 8:00 a.m., currently enrolled students with one (1) or more attempted hours will be able to register for spring. Starting Thursday, November 12 at 8:00 a.m., any student who has been advised by his or her assigned advisor will be able to register for spring. Spring classes will begin on January 13. For additional information, email bogo@sheltonstate.edu.
Shelton State to
Participate in ALACRAO
Virtual College Fairs
As part of the Alabama Association of Collegiate Registrars and Admissions Officers (ALACRAO), Shelton State Community College will participate in the organization's virtual college fairs. Alabama Association of Collegiate Registrars and Admissions Officers (ALACRAO) will host Virtual College Fair options for high school students. The event is free to public, private, and homeschool students and all are invited to attend. Live virtual fair options are: Nov. 17, 9-11 a.m. and 6-8 p.m. Students will be able to apply for admission to the college, receive financial aid and scholarship information, and chat live with college representatives. To register, visit https://alacrao.swoogo.com/virtual. For more information, visit https://alacrao.swoogo.com/vir
Alabama School of Fine Arts Virtual Open House
The Alabama School of Fine Arts invites you to visit its Virtual Open House page on the school's website at www.asfaschool.org/open-house . On the page, families can learn more about ASFA's application and audition process and hear from the school's six specialty department chairs and other members of the administration. "Due to the limits of COVID-19, this was the best possible way to inform the public about ASFA, and the audition process," said Jaronda Little, ASFA's student recruiter and outreach coordinator. "We will have live Zoom sessions scheduled in November that families can attend and ask questions. Those dates and times will be announced on our web site." The Alabama School of Fine Arts is a public, tuition-free school for Alabama students, and offers instruction for grades 7-12. Admission is by audition in one of six specialty areas: Creative Writing, Dance, Mathematics & Science, Music, Theatre Arts and Visual Arts. Current 6th -10th graders are encouraged to apply for the 2021-2022 school year. The mission of the Alabama School of Fine Arts, a diverse community of explorers, is to nurture impassioned students by guiding and inspiring them to discover and fulfill their individual creative abilities in an atmosphere distinguished by the fusion of fact and feeling, risk and reward, art and science, school and society. For more information, please see our website at www.asfaschool.org or email Jaronda Little at jlittle@asfa.k12.al.us.

Dolly Parton's Imagination Library
Success By 6 of United Way of West Alabama is proud to provide Dolly Parton's Imagination Library books FREE to children ages birth to 5 years old in Greene, Hale, Marengo, Pickens, Sumter, and Tuscaloosa counties. Once a month, your child will receive a new book by mail. You only need to do two things: register your child and pledge to read the books to him/her. Please, climb on board Dolly Parton's Imagination Library! Since UWWA launched the Dolly Parton Imagination Library: 13,467 children have participated in the program in Greene, Hale, Marengo, Pickens, Sumter, and Tuscaloosa Counties. 10,427 children have "graduated" from the program. 443,856 books have been delivered to children in West Alabama. Sign up at https://imaginationlibrary.com/check-availability/