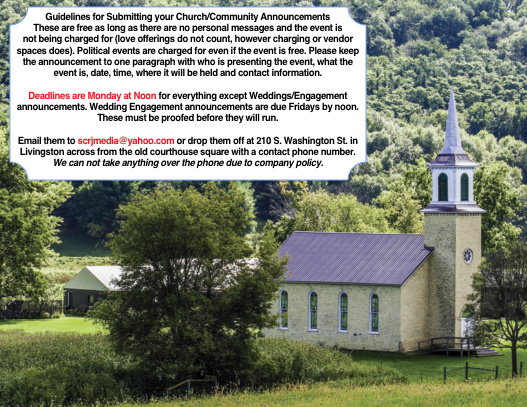 Deadlines are Mondays at Noon for everything except wedding/engagement announcements. Wedding engagement announcements deadline are Fridays by noon.

Upcoming Holiday Deadlines:
Thanksgiving Deadline is Fri., Nov. 22 by 4 p.m. We will be closed Nov. 27-Dec. 1. Christmas & New Year's deadline is Friday, Dec. 20.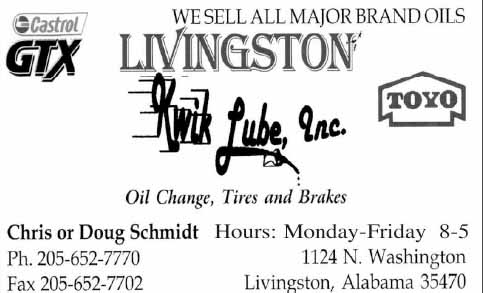 Church and Community Events
Rural Strong – Alabama A Rural outreach Event
Representatives from the USDA, SBA, SBDC and other small business resources will explore capital access and investment programs as well as additional sources of assistance to help strengthen and grow small businesses Thurs., Sept. 26, at 8:30 a.m. -1 p.m. at Theo Ratliff Activity Center, 306 1st Ave., Demopolis. For more information, please contact Ms. Yvette Zheng at zhengf@uwa.edu or205-652-5432.
Walk A Mile In My Shoes
Join United Cerebral Palsy of West Alabama to walk a mile in the park and raise awareness and support for individuals with disabilities. This event will feature music with a DJ, food trucks, games and activities. It is free and open to the public Fri., Sept. 27 at 10 a.m.-2 p.m. at Snow Hinton park, Tuscaloosa.
3rd Annual Northbound Bethlehem Consolidated District Convention Seasonal Tea Dinner
Sat., Sept. 28, at 4 p.m., Panola Community Center, 5816 Salem Road 35, Panola. Guest speaker: Dr. Monroe Tucker, pastor of Mt. Olive Missionary Baptist Church, Atmore, Alabama, 2nd vice president of New Era Progressive Baptist State convention and board member and past president, E. L. White Theological Seminary. For more information contact Rev. Douglas Newton at (601)527-9226.
Wildin: Artist Talk with Muthi Reed
Will be recheduled at a later date. For more information please contact the Coleman Center at info@colemanarts.org or (205) 392-2005.
Strait Out of the Blackbelt Celebration
A special celebration of the Blackbelt's talents, artists, singers, soloists, quartet groups, praise dancers, preachers, and many others will be held Sat., Sept. 21 at the Old Carver Middle School Auditorium, 527 Greensboro St., Eutaw, at 4 p.m. The guest minister will be Rev. Russell "Shortman" Hardy of the Friendly Four of Selma. The master of ceremony will be Elder Terry Ball. This is a open door, free admission event. We hope to see your face in the place. For more information contact Bro. Toney Nixon at 334-507-4240.
Grants To Help Conserve Pine Forests, Coastal Habitats For Rare Species
From helping preserve and enhance the state's longleaf pine forests and coastal habitat, to supporting protection of rare species such as the red-cockaded woodpecker, Alabama will benefit from multiple grants just announced by the National Fish and Wildlife Foundation (NFWF). Alabama Power and its parent Southern Company are among the supporters of NFWF. NFWF awarded more than $6.3 million in grants to restore, enhance and protect longleaf pine forests in nine states. The 24 grants will support conservation work in Alabama, Florida, Georgia, Louisiana, Mississippi, North Carolina, South Carolina, Texas and Virginia. Together, the grants are expected to establish nearly 11,000 acres of longleaf pine forest and improve more than 305,000 additional acres across the longleaf pine's historic range. The grants also will support the recovery of several rare species, including the red-cockaded woodpecker in Alabama and the reticulated flatwoods salamander in Florida. The grants were awarded through the Longleaf Stewardship Fund, a public-private initiative involving multiple partners, including Alabama Power and its parent company, Southern Company, the U.S. Department of Agriculture's (USDA) Natural Resources Conservation Service, the U.S. Forest Service, the U.S. Department of Defense, the U.S. Fish and Wildlife Service and others. "Longleaf pine forests are one of the world's most biodiverse and vulnerable ecosystems, providing essential habitat for 29 endangered and threatened species," said Jeff Trandahl, executive director and CEO of NFWF. "The Longleaf Stewardship Fund brings together government agencies, private corporations, foundations and landowners to strategically restore longleaf habitat at a scale that is only possible through public-private collaboration."
West Alabama Juried Show
The Arts Council of Tuscaloosa will be sponsoring its annual West Alabama Juried Show from Dec. 6-20, and Jan. 2-10, 2020 in The Arts Council Gallery at the Dinah Washington Cultural Arts Center. An opening reception will be held on Dec. 6 from 5-8 p.m. during First Friday. The public is invited to attend. One Best in Show award of $750, one cash award of $500 and three cash awards of $100 each will be presented and announced at the opening reception. Visual artists residing in Bibb, Dallas, Fayette, Greene, Hale, Jefferson, Lamar, Marion, Pickens, Perry, Shelby, Sumter, Tuscaloosa and Walker counties will be eligible. A entry fee entitles participants to submit up to three works for judging. All original two- and three-dimensional works will be accepted with the exception of photography. Entries must not have been shown in any previous West Alabama Juried Show. All dates, entry requirements, procedures and applications are available on The Arts Council's website at https://tuscarts.org/competition-westaljuried. The completed application and up to three entries should be emailed to competitions@tuscarts.org from Oct. 14-20. All two-dimensional pieces accepted for the show must be ready for hanging and matted, framed and under glass if appropriate. No work should be submitted that has been executed in a class or workshop. Maximum size is 5 1/2 feet x 5 1/2 feet, and maximum weight is 50 pounds for all entries. For questions about the West Alabama Juried Show including the entry procedure, call 205-345-9801 or 205-758-5195, ext. 6. The Dinah Washington Cultural Arts Center is located at 620 Greensboro Avenue in downtown Tuscaloosa. For more information about The Arts Council or Bama Theatre, patrons should follow and like "The Arts Council – Bama Theatre – Cultural Arts Center" on Facebook and Twitter and also Instagram @tuscaloosaartscouncil. Call 205-758-5195 or visit tuscarts.org for further information.
Fourth Creek Missionary Baptist Pastor's 6th Appreciation
We, the Pastor and members of the Fourth Creek Missionary Baptist Church, York, are cordially inviting you to come and share with us as we celebrate our Pastor Mitchel Carter and First Lady Doretha Carter's 6th Appreciation on Sun., Sept. 22 at 2 p.m. The Rev, Willie Ivory Sr., Pastor of Oak Grove Baptist Church, Coatopa, and Assist. Pastor of Bethel-Pine Baptist Church, Coatopa, will be the guest minister along with his choir and church family. Diane Woodard, chairperson; Dora Campbell, secretary; Rev. Mitchel Carter, pastor.
Renew Our Rivers Kicks Off Fall Season of Cleanups
Football season is underway but fall also brings the second half of the Renew Our Rivers cleanup schedule. So far this year, volunteers have removed more than 164,000 pounds of trash and debris from Alabama lakes and rivers. The Renew Our Rivers program began in the spring of 2000 with Gene Phifer's vision to clean a stretch of the Coosa River near Alabama Power's Plant Gadsden, where he worked at the time. Since then, more than 117,000 volunteers have joined the effort and collected more than 15.5 million pounds of trash and debris from waterways across the Southeast. In 2018 alone, 4,000 volunteers removed more than 268,000 pounds of trash from Alabama lakes, rivers and shorelines. The next cleanups are Sept. 12 on Smith Lake, and Village Creek in Jefferson County. The last cleanup of the year is Nov. 1-2 on Lake Martin. Renew Our Rivers is one of many initiatives in which Alabama Power partners with others to promote conservation and environmental stewardship in communities across the state. Please see below the 2019 schedule of Renew Our Rivers cleanups. For updates to the schedule, please visit https://apcshorelines.com/blog/.
School Events
Sumter County Schools 2019-20 Calendar

Sept. 30 10th Grade Pre-ACT Testing Window Opens
Oct. 1 12th Grade ACT WorkKeys Test Given
Oct. 7 No school – parent visitation in service
Oct. 9 1st nine weeks report cards
Oct. 15 12th Grade work keys
Oct. 18 10th Grade Pre-ACT Testing Window Closes
Nov. 8 Fall Break (School Closed)
Nov. 11 Fall Break (School Closed) Vets Day
Nov. 12 2nd Nine Weeks Progress Report
Nov. 25 – Dec. 1 Thanksgivings Holiday (School Closed)
Dec. 20 – First Semester Ends
Dec. 21 – Jan. 5 Christmas Holiday and New Years
Jan. 6 Inservice (No Students)
Jan. 7 School Re-Opens for Students, 2nd Nine Weeds Report Cards
Jan. 20 Dr. Martin Luther King Jr. Holiday (School Closed)
Jan. 21 ACCESS 2.0 and Alternate ACCESS for ELLs Window Opens
Feb. 3rd Nine Weeks Progress Reports
Feb. 17 Presidents' Day/Weather Day/Inservice (No Students), 3rd Nine Weeks Progress Reports
March 2 ACAP Alternative Assessment Window Opens (2nd – 8th Grade)
March 10 11th Grade ACT With Writing Test Given and Accommodation/Support. 3rd Nine Weeks Report Cards
March 20 ACCESS 2.0 and Alternate ACCESS for ELLs Window Closes
March 21 -29 Spring Break
March 30 ACAP Summative Assessment Window Opens (2nd – 8th Grade)
April 10 Good Friday (School Closed), ACAP Alabama Alternative Ends (2nd – 8th)
April 15 ACT WorkKeys Retest Option Given—And Accommodations/Support
April 20 4th Nine Weeks Progress Reports
April 21 11th Grade ACT With Writing Make-up Given (Option 2)
May 1 ACAP Summative Assessment Window Closes (2nd – 8th Grade)
May 15 Seniors Graduate
May 20 Second Semester Ends last day for students
May 21 Report cards mailed
May 22 Inservice Teacher day no students
University Charter School Announcements
Sumter Central Announcements
Class of 2020, are you interested in attending the Infinite Scholars Program Scholarship Fair on Oct. 30? If you answered yes, go to bit.ly/2bx31X6 and register for this free event which will provide you the opportunity to gain knowledge about college admission, on-site scholarship offers, and on-site college acceptance. See Ms. Merriweather for additional information!
Dear Parent(s) or Guardian(s) of Sumter Central High School Students: Cell phones have become a way of life, a technological convenience that has impacted all of our lives in one way or another. However, in the school environment, cell phones have become a distraction, interruption, and a method of illegal exchange of information. No student will be allowed to possess or use a cell phone on the SCHS campus.
Your student(s) may be aware of the BYOD Pass, which is also invalid and null as of today Thurs., Sept. 5, at 3 p.m. If a student is found to be in possession or use of a cell phone, the phone will be confiscated and delivered to the office. Other disciplinary actions will be left in the hands of the school administration.
University Charter School Announcements
9/12 Volleyball away game at Hale County High School 5 p.m.
9/13 Deadline to join PTA
UCS has partnered with the local public library to provide all UCS students more opportunities to engage in the love of reading.
Each month, all students will walk to the local library for programming and to check out books. In order to check out books, a student must have a library card. These are free of charge, even if the student does not live in town. Parents, please take a few minutes to swing by the Ruby Pickens Tartt Library to get your child a library card before his/her first class visit in September. We enjoyed our partnership last year and look forward to even more success this year together!
Flu shots will be offered to students on Sept. 18. Flu is a contagious disease that spreads every year, usually between October and May. The Flu Vaccine can keep you from getting the flu, make the flu less severe, and keep you from spreading the flu to your family. Forms will go out next week. Please send the form back ONLY if you want your child to be vaccinated. Pre-K and Kindergarten parents will receive information regarding time so they can be here with their student for comfort and support.
Important dates coming up: 9/9-24 Charlston Wrap fundraiser; 9/13 deadline to join PTA for incentives; 9/30-Oct. 4 DREAM Week; 10/22 Fall Festival; 12/5 PTA Meeting and UCS Tree Lighting; 2/11 PTA Meeting; 4/25 UCS Color run; 4/28 PTA voting meeting; 5/4-9 Teacher Appreciation Week.
Free ACT Prep Class
There will be a free ACT prep class Sat., Sept. 13 9 a.m. – 1 p.m. Penning Town Hall, Pennington. Refreshements will be provided. Call to register at 205-361-1421.
SSCC Blood Drive
Shelton State Community College's Association for Respiratory Care Students (SSARCS) and Health Information Technology (HIT) students will sponsor the C.A. Fredd Campus Blood Drive on Sept. 17 from 8:30 a.m.-1:30 p.m. in the mobile bus in front of Building 100.
Voting Rights Speaker Series Begins Thursday
UA's School of Social Work has created "Own Your Vote," a speaker series to highlight voting rights and equal access. John Paul Taylor, voting rights fellow of the Southern Poverty Law Center, will discuss his work in overcoming systematic challenges to vulnerable populations in the series' first of four lunch-and-learns Sept. 12. The public is invited to attend at 1 p.m. in room 2019 of Little Hall on the UA campus. For more information, contact David Miller, UA communications, at 205-348-0825 or david.c.miller@ua.edu.
RISE Fundraiser
UA's RISE Center will host its annual BUY for RISE Fundraiser Sept. 13-14. New items from dozens of local retailers will be offered at deep discounts during the sale. The charity sale and silent auction is the school's second largest fundraiser of the year. Money raised helps fund the school's programs. For more information, contact Bryant Welbourne, UA communications, at 205-348-8325 or bryant.welbourne@ua.edu.
Sharing Our Legacy Dance Theatre To Perform
Sharing Our Legacy Dance Theatre will perform at Hillcrest High School in Tuscaloosa Sat., Sept. 14, at 2 p.m. as part of the ongoing Realizing the Dream performing arts series. The performance is free.
The student group uses art to highlight stories. Created at the University of Delaware, the group is under the direction of Dr. Lynnette Young Overby. The performance brings attention to Mary Ann Shadd Cary, the first African American woman newspaper editor in North America. The group will conduct a workshop for Hillcrest students Fri., Sept. 13. The events are hosted by the Realizing the Dream Committee, comprised of Stillman College, Shelton State Community College, the Tuscaloosa Southern Christian Leadership Conference and UA. For more information, contact Diane Kennedy-Jackson at 205-348-4480 or dkkennedy1@ua.edu or UA'S Division of Community Affairs at 205-348-8376.
Alabama Power Foundation Education Grants
The Alabama Power Foundation is now accepting applications for its 2019 education grant programs. The three grant programs, Power to Play, Students to Stewards, and the new Classroom grant, focus on improving and expanding educational opportunities at schools throughout the state. Power to Play offers athletics and arts grants to public middle and high schools.
Up to 36 grants of $2,500 each will be awarded to schools to increase participation in extracurricular activities. The Classroom grant is available to public elementary, middle and high schools to purchase materials, supplies and other resources to enhance learning in the classroom. Up to $1,000 will be awarded per classroom. Students to Stewards grants provide funding opportunities for school field trips that expand STEAM (science, technology, education, arts, mathematics) or environmental education.
Grants of $1,000 will be awarded. The grants are available to schools in which 50 percent or more of students qualify for free or reduced-price lunches. The deadline to apply for Power to Play and Classroom grants is Oct. 13.
Students to Stewards grants will be awarded to eligible recipients on a first-come, first-served basis until all funds are exhausted. To learn more or to apply, please visit www.powerofgood.com.
UA Enrollment Highlighted by Talented Class, In-state Freshmen Increase
One of the most academically talented freshman classes in The University of Alabama's history and a more than 10% increase of in-state freshmen highlight UA's fall 2019 enrollment numbers.
The freshman class includes 256 National Merit Scholars, the largest in UA history. Last year, UA ranked second nationally among public universities with 187 among the freshman class. Currently, UA has 727 National Merit Scholars enrolled, an increase of 113 over last fall.
At 38,103 students, UA's enrollment surpassed 38,000 for the third consecutive year, boosted by the in-state increase and a gifted freshman class.
40% graduated in the top 10% of their high school graduating class (a UA record).
38% have a high school grade-point average of 4.0 or higher, with the average grade-point average being 3.77 (both are UA records).
Approximately 40% have an ACT score of 30 or more for the third consecutive year.
"The quality of our student body is impressive by every measure," said UA President Stuart R. Bell. "Once again, ACT scores, high school GPAs and the high number of entering National Merit Scholars demonstrate that students are attracted to our campus because we offer a premiere educational experience."
This marks the second consecutive year UA has had a tuition freeze for in-state residents.
"With the support of Chancellor Finis St. John and our Board of Trustees, we continue to hold down costs, while investing in facilities and transformational educational experiences," Bell said. "We challenge our students to reach for excellence in all they do, so they can have a profound impact and contribute to Alabama's expanding economy."
UA is educating and graduating more students than any college in the state. More than 9,100 degrees were awarded over the past year, adding significantly to the state's workforce. The University of Alabama System educates more Alabamians than any university system worldwide.
"We remain focused not only on attracting outstanding undergraduate and graduate students, but also ensuring these students complete their degrees," said Dr. Kevin Whitaker, UA executive vice president and provost.
For fall 2019, UA has 32,798 undergraduate students, including 6,764 first-time undergraduate students; 4,868 students enrolled in graduate programs, and 437 professional students enrolled in the School of Law and the College of Community Health Sciences. UA announced last month that for the first time, women make up a majority of law students in an entering class at the School of Law. Of the 137 first-year law students, 53% are women.
In addition to the historic number of National Merit Scholars this fall, it has been a banner year for UA. It had another historic fundraising year, raising approximately $200 million from 62,300 donors over the last fiscal year, far exceeding the previous historic total of $119 million in 2017.
It was announced last December that the Carnegie Classification named UA among the top doctoral research universities in the United States. For the first time in its history, UA achieved Doctoral Universities – Very High Research Activity status, formerly known as the R1 category in the Carnegie Classification of Institutions of Higher Education. This is the nation's highest level of research activity for institutions that grant doctoral degrees.
UA also had a record year in sponsored funding for fiscal year 2018, reaching almost $100 million through external grants and contracts for research, instruction, service and fellowship.
"As the state's flagship university, our commitment to our students and our state has never been stronger," said Bell. "This is evidenced by the impact we have daily in the lives of students on our campus and in communities across our state where our research and community partnerships are making a real difference in the lives of so many Alabamians."
Research Examines Path To Cancer For Common Carcinogen
Recent research from UA sheds light on how a common industrial chemical and potent carcinogen begins the path to cancer. The work led by Dr. John B. Vincent and Dr. Stephen A. Woski, UA professors of chemistry and biochemistry, could lead to methods to prevent the development of cancer from exposure to a variant of chromium, known as chromium(VI) or hexavalent chromium. Chromium(VI) is an additive to steel and a coating in a large number of materials, and people can be exposed to it in industrial and construction settings or in contamination of drinking water. When inhaled, it is a potent carcinogen that can kick start cell mutation that results in cancer. Watch for an upcoming news release, or, for more information, contact Adam Jones in UA communications at 205-348-4328 or adam.jones@ua.edu.
NSF Grants Career Awards To Professors
The nation's most prestigious recognition of top-performing young scientists was recently awarded to a biologist and a physicist at UA. The National Science Foundation granted a CAREER Award to Dr. Paulo T. Araujo, UA assistant professor of physics and astronomy, and Dr. Kevin M. Kocot, UA assistant professor in biological sciences and curator of invertebrate zoology in the Alabama Museum of Natural History. With the funding from the awards, Araujo will understand how to control the optical properties of certain polymers and expand their application toward more sustainable technology while Kocot will use cutting-edge techniques to speed up identification of new species of a group of worm-like mollusks while also training the next generation of scientists studying invertebrates. For more information, contact Adam Jones in UA communications at 205-348-4328 or adam.jones@ua.edu.