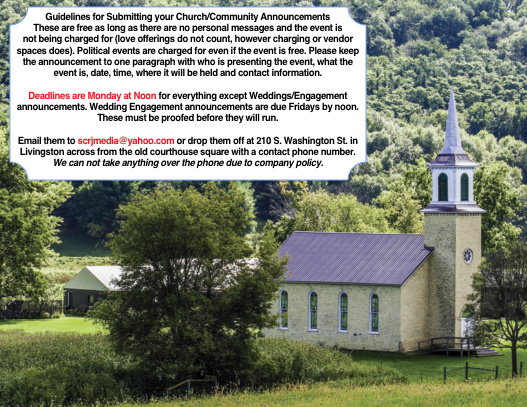 Deadlines are Mondays at Noon for everything except wedding/engagement announcements. Wedding engagement announcements deadline are Fridays by noon. Upcoming Holiday Deadlines:
Thanksgiving deadline Friday, Nov. 16 before noon. We will be closed Nov. 21-25.
Christmas (Dec. 27 edition) Fri., Dec. 21 before noon. We will be closed Dec. 22-27.
New Years (Jan. 3rd Edition) Fri., Dec. 28 before noon. We will be closed Dec. 29- Jan. 3.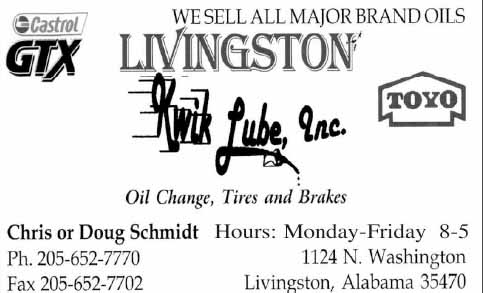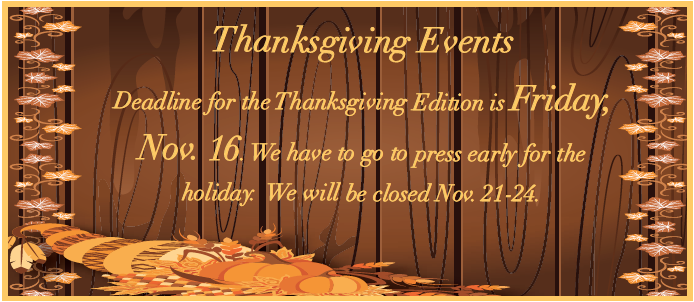 Church and Community Events
York Lions Club Annual Veterans Day Program
Come join us as we celebrate
York Lions Club Annual Veterans Day Program
The York Lions Club will hold their annual Veterans Day program Nov. 12, at 11 a.m. at the York Lions Club Aubrey D. Green Veterans Park/ York Lion's Club Memorial next to the York Drug Store. All veterans and the public are encouraged to attend.
EVERYONE IS INVITED!
VFW Post 5377 Meeting and Celebataion
Attention All Members of VFW Post 5377 and all veterans who are eligible for membership in our organization, this announcement is to inform you that our next regularly scheduled meeting will be held on Nov. 13, starting 6 p.m. We will be meeting in the Training Room, located in the basement at Bryan W. Whitfield Memorial Hospital. In addition we will be helping sponcer our annual Veterans Day Celebration on Nov. 12, starting at 11 a.m. in front of Bryan W. Whitfield Memorial Hospital in Demopolis. We will have special music a Flag retirements ceremony guest speakers and refreshments afterwards. Now would be an ideal time for all of you Veterans who served this great nation during times of war to become a member of the oldest American Veterans organization so bring a copy of your DD Form 214 with you when you attend, that way we can sign you up on the spot. Remember "no one does more for Veterans than we do." We need you, your energy and ideas as we continue to serve this great nation, our community and our fellow Americans.
Vietnam Veterans Memorial Foundation Project "Faces Never Forgotten"
The Vietnam Veterans Memorial Foundation project "Faces Never Forgotten" needs help obtaining missing photos of Vietnam veterans from Alabama. These photos will help complete an electronic "Wall of Faces" in the new education center at the Vietnam Memorial Wall. Would you please help us locate a photo of each soldier? If there is a soldier missing from your area, perhaps they attended one of your schools? Please send any missing photos (high-resolution jpegs if possible) to jaclyn@alabamapress.org.
Sumter County
Name, Birth Date, Cit,y Branch of Service, Casualty Date, Rank
THOMAS ALLEN CAMPBELL 12/27/1935 YORK 10-Jul-70 SFC
MOSE SMITH JR 10/23/1944 CUBA ARMY 29-Jun-66 PFC
TAYLOR HENRY MCLEMORE 3/5/1947 BOLIGEE ARMY 3-Jun-67 CPL
Story care of Orlando Sentinel
The more than 50-year-old photograph shows Ronald Sefton Gaffney of Groveland smiling slightly, looking every bit the proud military man.
It's available for all to see on the Wall of Faces website, an effort of the Vietnam Veterans Memorial Fund with the goal of displaying a photograph of each soldier killed in Vietnam.
The site includes biographical information on those who paid the ultimate sacrifice with a spot for people to leave remembrances, such as this one a Marine posted to honor Gaffney, killed at 21 in 1965: "I will think of you every time I drive through Groveland. Thank you for your service Soldier!"
As Memorial Day looms, a project to track down remaining photos of the more than 58,000 killed in Vietnam is progressing nicely. In Florida, a two-year concentrated effort to round up photos has cut the number needed from 788 to 32, said John Thomstatter of the Vietnam Veterans of America Chapter 1036 in The Villages. The hunt is down to photos of soldiers who lived in Broward, Duval, Palm Beach and Miami-Dade counties.
Nationwide, the number of photos needed is down to 2,700, he said.
Explaining the importance of the task, Thomstatter said, "If you've been to the [Vietnam Veterans Memorial] Wall you see the names, but by finding a picture it puts a face and a story to the name."
Now, Chapter 1036 is lending a hand on a related project in the works, a $130 million interactive education center to complement The Wall in Washington, D.C.
The underground structure will be located across from The Wall adjacent to the Lincoln Memorial. It will feature multimedia exhibits with firsthand accounts by veterans and others and a two-story, 50-foot wide Wall of Faces digital display of photos of service members killed in Vietnam.
The center will offer an historical account of the war, "tell the story of how The Wall became a site of individual grief and public mourning in the years following a painful and divisive war" and include "voices of veterans who returned to tell us their stories and preserve memories of those who did not," according to the Vietnam Veterans Memorial Fund's website, vvmf.org.
About a third of the money needed for the center has been raised so far. Thomstatter has proposed an ambitious $1 million Florida fundraising campaign to assist. So far, Chapter 1036 has raised about $10,000, but Thomstatter hopes to get all 32 Vietnam Veterans of America chapters in the state involved and also enist support from businesses and others.
Meanwhile, the search goes on to complete the Wall of Faces. Looking for a filler article for the chapter's newsletter, for which he serves as editor, Thomstatter had seen a story about the Wall of Faces and that bio information on hundreds of Floridians killed in Vietnam didn't include their faces — the point of the site.
"That's why we decided to spearhead the effort to find photos," he said.
As for Gaffney, his name lives on in a 7.5-acre park that opened last Memorial Day. Ronald Sefton Gaffney Memorial Park, on Maravilla Way in the Marina del Rey subdivision, features dog-park facilities and grassed nature trails.
Gaffney also is one of seven local veterans who died serving their country highlighted on banners placed along State Road 50 in a project by the Groveland Historical Society and the city. The banners were installed this month, in time for Memorial Day. Another man honored, Jess Thomas, also served in Vietnam. Four others — Lester Roberts, Ed Sibley, Earlie Story and Ray Tedder — served in World War II. The seventh, Eric Ramirez, was killed while serving in Iraq.
SC Soil and Water Conservation Meeting
The Sumter County Soil and Water Conservation District will hold their monthly board meeting on Tues., Nov. 20, at 5 p.m., in Bibb Graves, Room 124, on the University of West Alabama campus. The public is invited to attend.
Annual Fall Harvest Revival
Rev. Dr. B. Nelson Little and the Galilee Baptist Church Family will host our annual Fall Harvest Revival beginning Tues., Nov. 13-Thurs., Nov. 15 at 7 p.m. nightly. Rev. DeAmphis Williams of Jonesboro, Ga. will be the guest Evangelist each night. Come, bring a friend or family, get revived, restored and blessed.
Local Retired Teachers' Day Celebration Planned
In conjunction with American Education Week, the Sumter County of the Alabama Education Retirees Associationm, Inc., is taking a leadership role in developing activities for "Retired Teachers' Day." Events planned for Tues., Nov. 13, include inviting all schools, Superintendent Gardner, principals, city and county officials, and concerned citizens to come and greet Retired Educators on their day, Nov. 13, at Livingston Community Center, Livingston, at 10 a.m. Recognizing the contributions retired educators have made, the Alabama Legislature passed Act No. 90-183 to honor Alabama's education retirees. The joint resolution sets aside the Tuesday of American Education Week each year for recognition of the state's retired education personnel. The Sumter County Education Retirees Association is just one of over 75 local units of the Alabama Education Retirees Association, Inc. (AERA), which represents more than 23,000 retired educators. The Sumter County Education Retirees Association is proud to participate in the events honoring education retirees in the Sumter County area.
Bellamy Christmas Parade
Bellamy Christmas Parade will be the first Saturday in December in downtown Bellamy.
York's Christmas Tree Lighting & Parade
York's Christmas Tree Lighting Ceremony will be Monday, Dec. 3 and the Christmas Parade will be Saturday, December 15 in downtown York. The parade this year will recognize and honor York's businesses and will feature Piggly Wiggly owners Brad and Ruth Robinson, and Larkin Restaurant owner Wendell Larkin as Grand Marshals.
Sumter County's Christmas on the Square
Sumter County's Christmas on the Square will be Sun., Dece. 2, at 3-6 p.m. at the Sumter County Courthouse. Hosted by Sumter County Alabama Chamber of Commerce.
33rd Juried Show for West Alabama
The Arts Council's 33rd Juried Show for West Alabama artists will be displayed in The Arts Council Gallery at the Dinah Washington Cultural Arts Center Dec. 7-21. A public opening reception honoring the winners will be held on Dec. 7 from 5-8 p.m. during First Friday. West Alabama artists were allowed to submit up to three works for judging including two and three dimensional pieces. Twenty-eight submissions were chosen representing artists in Jefferson, Pickens, Shelby and Tuscaloosa counties. Jason Guynes, Chair of the Department of Art and Art History and Professor of Art and Painting at The University of Alabama, served as the adjudicator.
Money 101: Accounting Workshop at Pop Start
Join us for a FREE accounting workshop with Tim Clay, 211B Broad St., York, Tues., Nov. 27, at 5:30-7 p.m., owner of Accounting & Business Consultants, Inc., Birmingham. Mr. Clay will cover introductory accounting topics with time for questions following the talk: Money 101: Why accounting is the language of business? How to know if you're making money or not? How to get the car or house you want? How to make & keep your money? Coleman Center for the Arts will host this public workshop as part of Pop Start Art Apprenticeships, which provides area high school students with creative and professional skills. The workshop will be held at Pop Start, Coleman Center's community space in downtown York (across from Super Dollar). For more information please contact the Coleman Center at info@colemanarts.org or (205) 392-2005. The Coleman Center for the Arts is a 33-year-old arts organization located in rural west Alabama. Its work is done through five main programmatic arms: arts education for area youth and adults; a community-based artists' residency producing socially engaged public art projects and events; exhibitions featuring the work of regional artists; a free, public community garden that promotes small-scale food production; and Pop Start, a permanent community pop-up offering a storefront space for artists-community experimentation.
Black Bluff Baptist Family and Friends Day
Everyone is cordially invited to the Black Bluff Baptist Church on Sun., Nov. 25 at 2 p.m. We will be celebrating our annual Family and Friends Day program. Rev. Kentray Sims and the Pinegrove Baptist Church family will be our special guests. Come one, come all and let's have a good time in the name of the Lord. Dr. O. L. Sealey church pastor, Dec. Lowry Gayle, Sis. Delsey Goodwin program sponsors.
Shady Grove Missionary Baptist Church Pastor's Appreciation
Annual Pastor's Appreciation for Rev. John Powell will be held at the Shady Grove Missionary Baptist Church, Livingston, Nov. 18 during regular service. Rev. Samuel Harris will deliver the message. He is the pastor of the Johnson Missionary Baptist Church, Livingston, and will be accompanied by choir and church family. Rev. John Powell. pastor; Sis. Eleanor Randolph, church secretary.
Mt. Valley Missionary Baptist Harvest Program
On behalf of our pastor, the Rev. Tory T. Moore, and the Mt. Valley M. B. Church, 2207 7th Ave., Meridian, Miss., family you and your entire church family are cordially invited to our Harvest Day Program on Sun., Nov. 18, beginning at 2:30 p.m. The speaker will be Pastor W. R. Clark of Mt. Sinai M.B. Church, along with his choir and church family.
St. John Baptist Church 135th Church Anniversary
We, the pastor and the members of the St. John Baptist Church, Panola, cordially invite you to join us as we celebrate our 135th Church Anniversary to be held Sun., Nov. 18, 2018 at 2 p.m. Rev. Willie Coley, pastor of the Mt. Zion Missionary Baptist Church, Fosters, will be our guest speaker for the occasion. Look Forward to seeing you there.
Livingston UMC Community Thanksgiving Service
Livingston United Methodist Church is hosting this year's Community Thanksgiving service on Sun., Nov. 18. The service will begin at 6 p.m. in the sanctuary and all are welcome! Please note this year we are inviting anyone interested in singing the anthem to meet in the sanctuary at 5 p.m.
School Events
Sumter County Schools Events
NOV
19-23 Thanksgiving Holidays (No School)
University Charter School Events
NOV
19-23 M-F Thanksgiving Holiday
UWA's annual "Calling All Tigers" set for Nov. 13 and 14
On Tuesday, Nov. 13, and Wednesday, Nov. 14 the University of West Alabama alumni, students, faculty, staff and friends will come together for the second annual UWA Giving Day, a two-day fundraising drive to benefit initiatives across campus and future Tigers.
Throughout the drive, matching and challenge opportunities are expected to increase the impact of contributions. A slate of University Celebrity callers will spend the day connecting with friends, fellow alumni, and colleagues to assist with the phone-a-thon portion of the drive, Calling All Tigers.
The initiative has garnered quite a few supporters and corporate sponsors already, and coordinators say that list continues to grow.
"We are looking forward to this exciting day to connect the entire University family in sharing a common goal, which is raising funds for all of our programs and initiatives, from scholarships and academic empowerment to athletics and outreach and enrichment activities," said Danielle Buckalew, director of alumni affairs and annual giving at UWA.
The Calling All Tigers marathon begins at 9 a.m. on Nov. 13 and concludes at noon on Nov. 14. While callers will be on phones all day and night calling alumni and friends, there are several additional ways to participate, including online at giving.uwa.edu, stopping by the event call center on campus, or by calling in at 205-652-3939.
"With several options for pledging support, we hope that our alumni and friends will step up and be counted as part of this important drive," Buckalew said. "Everyone has an opportunity to make a positive difference and make a great impact on whatever is most important to them at UWA."
Coordinators ask for support of the University family in spreading the word about giving to UWA and joining the conversation online by using the hashtags #UWAGivingDay and #CallingAllTigers.
The giving marathon is a collaboration between UWA's Office of Institutional Advancement and the senior capstone class of UWA's Integrated Marketing Communications students. The IMC students have led the direction of marketing and promotion, as well as sponsorships for the event and social media engagement leading up to the event.
"The spirit of giving is contagious," Buckalew said. "When someone gives to the University, it's important to us that they share their decision with former classmates and friends. It shows their commitment, which is encouraging, and it also reminds others who may not have known about this particular opportunity to make a difference. Social media is where we hope the giving wildfire will spread to alumni and friends across the globe."
To know more about UWA Giving Day and the Calling All Tigers phone-a-thon, contact the Office of Institutional Advancement at 205-652-3867. If you are interested in a sponsorship, contact Dr. Amy Jones, IMC director, at ajones@uwa.edu or 205-652-3558.
Mediacom Offers $55,000 in Scholarships to H.S. Seniors
Mediacom Communications is offering $55,000 in scholarship support for high school seniors who plan to obtain further education. The scholarship program is in its 18th consecutive year and Mediacom's investment will award $1,000 World Class Scholarships to 55 high school seniors. Scholarship recipients are given the flexibility to use the financial award to support educational expenses for higher education or vocational training from any accredited post-secondary institution starting in the fall of 2019. Award selection is based on academic achievement and leadership. Applications for Mediacom's World Class Scholarships are available online at: www.mediacomworldclass.com. All high schools in Mediacom-served communities were sent informational cards asking school officials to make seniors aware of the scholarship and encourage submission of applications on or before the February 15, 2019 deadline. Applicants do not have to be Mediacom customers but must live in areas where Mediacom provides broadband, video, phone and other digital communication services. Recipients will be selected from the 21 states where Mediacom provides service. A complete list of communities in Mediacom service areas is included with the online application. Inquiries may be sent to: scholarship@mediacomcc.com.