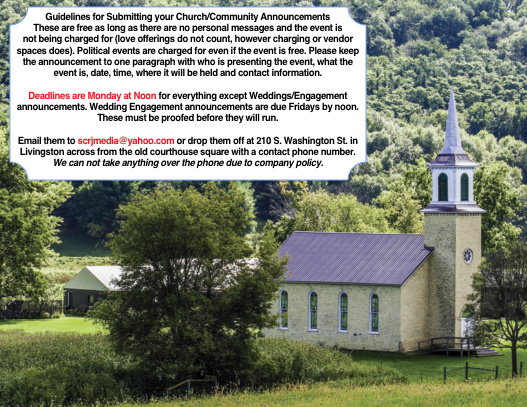 Deadlines are Mondays at Noon for everything except wedding/engagement announcements. Wedding engagement announcements deadline are Fridays by noon.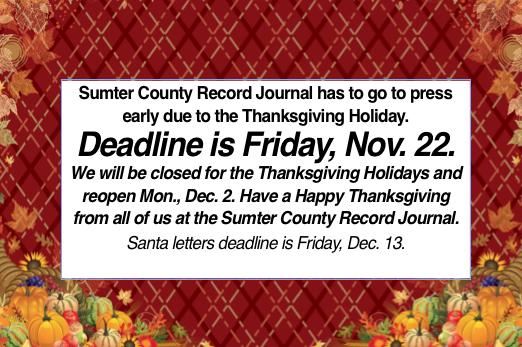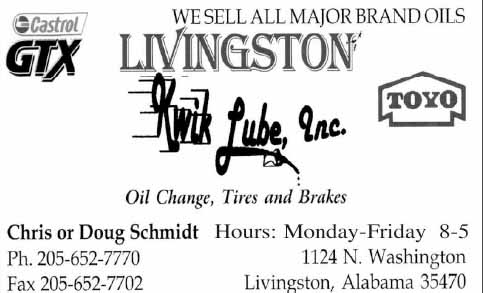 Church and Community Events
2019 Monster March
The RPT Library, Sumter County Chamber of Commerce and Livingston Alive are hosting the 2019 Monster March Thurs., Oct. 31 at 4-5:30 p.m. Participants will meet at the Board Well and will start walking around the Sumter County Courthouse Square at 4 p.m. There will be 16 sponsored tables handing out goodies. If you would like to sponsor a table or donate items to be given out, please contact Kelley at 205-652-2349. Tables are going fast. Hurry and sponsor a table today! In the event of rain, the event will be canceled.
Operation Christmas Child's National Collection Week
This month, sites will be among 5,000 U.S. drop-off locations collecting shoebox gifts for children overseas during Operation Christmas Child's National Collection Week, Nov. 18-25. Sumter County families, churches and groups are busy transforming empty shoeboxes into fun gifts filled with toys, school supplies and hygiene items. Livingston pick up is Livingston First Baptist Church, 103 Lafayette St., Livingston: Mon-Sun., 9 a.m. – 4 p.m. & Mon., Nov. 25: 9-11 a.m. The Samaritan's Purse project partners with local churches across the globe to deliver these tangible expressions of God's love to children affected by war, disease, disaster, poverty and famine. For many of these children, it will be the first gift they have ever received. For more information on how to participate in Operation Christmas Child, call 770-777-9342, or visit samaritanspurse.org/occ. Participants can donate $9 per shoebox gift online through "Follow Your Box" and receive a tracking label to discover its destination. Those who prefer the convenience of online shopping can browse samaritanspurse.org/buildonline to select gifts matched to a child's specific age and gender, then finish packing the virtual shoebox by adding a photo and personal note of encouragement. Operation Christmas Child is a project of Samaritan's Purse, an international Christian relief and evangelism organization headed by Franklin Graham. The mission of Operation Christmas Child is to demonstrate God's love in a tangible way to children in need around the world and, together with the local church worldwide, to share the Good News of Jesus Christ. Since 1993, Operation Christmas Child has collected and delivered more than 168 million gift-filled shoeboxes to children in more than 160 countries and territories.
Boyd Community Annual Veterans' Appreciation
Boyd Community will be celebrating their Annual Veterans' Appreciation on Saturday, November 9th, beginning at 11 a.m. Sumter County native, Mr. Willie Williams of Huntsville will be the featured speaker. Everyone is invited.
Santa for Seniors
Christmas, the most wonderful time of the year! But not for everyone. Many needy seniors never experience the joys of Christmas. You can change this by partnering with the Alabama Tombigbee Regional Commission Area Agency on Aging (AAA) to sponsor a senior for the 1st Annual Santa for Seniors service project. Non-identifying information about needy seniors within our 10 county region will be placed on Christmas Star cards along with a list of items requested by the senior. ATRC Case Managers have chosen the neediest seniors in the area as Santa for Seniors recipients. Many are low-income, homebound and alone. Most of the requests are for everyday items such as cleaning supplies, bed linens, adult diapers, and other basic necessities. Christmas Star cards may be requested during the month of October by calling the Area Agency on Aging, 334-682-5206 or 888-617-0500. Please consider becoming a Santa for Seniors sponsor and purchasing the items requested. Monetary donations are also welcome and will be used to purchase items requested by our seniors. Purchased items should be dropped off at the AAA prior to November 15, 2019. If you need to have your items picked up, please call the AAA prior to Oct. 31, to schedule a pick-up.
West Alabama Community Development Car Show
West Alabama Community Development Car Show will be at Old Sumter County High School, US Hwy. 11, York, Nov. 2 at 9:30-3:30 p.m. All cars must be preregistered before Oct. 15 or one hour before the car show on Nov. 2. For more information contact George Hale 205-652-7896 or 205-844-0306.
Christian Fellowship Baptist Church Family and Friends Day
Christian Fellowship Baptist, 12379 Co. Rd. 32, Lisman, will be having Family and Friends Day Sun., Oct. 27 at 2 p.m. Apostle John Willis, pastor of Storehouse Apostle Church, Meridian, along with church family will be our special guests. Rev. Dr. Robert L. Webb, Sr., pastor; Deac. Bennie Ford, pastor aide president.
Minding Your (Creative) Business
Creatives, build a stronger foundation for your business. We'll start with what does a creative's business plan look like, and work to refine your business pitch. Join us Sat., Nov. 16 at 9 a.m. – 2 p.m. at the Student Union Building on the campus of UWA in Livingston. Hosted by Black Belt Community Foundation.

Second Annual Co-op Symposium
Second Annual Co-op Symposium in observation of National Coop Month will be Oct. 25 at 10 a.m.-2 p.m. at Rural Training & Research Center, 575 Federation Rd. Epes, RSVP and information: (205) 652-9676. Registration begins at 9 a.m. Theme: Political Advocacy – Strengthening the National Cooperative Movement. Come meet your elected officials and find out how you can make your community strong. Lunch will be served.

Sumterville-Hamner Community Association Annual Meeting
All Sumterville-Hamner residents join us for the Community Association annual meeting at the home of Austin and Hasty Robinson on Tues., Oct. 29 at 5:30 p.m. Come out and support your community. For more information call Austin Robinson at 205-652-6100 or 205-499-6326.
Ghostly Halloween at Hightower Memorial Library
Join us for Tricks or Treats at Hightower Memorial Library on October 31, 2019 from 3:00 pm to 4:00 p.m. Parents, please bring your children by for TREATS or TRICKS! Books and goodies will be given out. See you at the "Library"!
Di's Hope's Chicken BBQ Lunch
Di's Hope's Chicken BBQ lunch will be held Oct. 19 at 11 a.m.-12"30 p.m. in the Cuba BBQ Building. A donation of $8.50 per plate will help benefit Di's Hope community service. For tickets please call Pam Wooldridge at 205-392-4395 or any Di's Hope member. Walk-ins are welcome.
York West End Jr High Breast Cancer Awaareness.
We are asking all cancer survivors to participate Oct. 24.
Gainsville Health & Wellness Center 2nd Annual Breast Cancer Walk
Friends don't let friends fight alone. Join us Sat., Oct. 19 at 7 – 10 a.m., rocking your pink, starting at Gainsville Town Hall and ending at Gainseville Health & Wellness Center. Donations can be made directly to American Cancer Society in Regions Bank in Livingston or with any team captain. For more information please contact Aenetta Eskridge at 205-609-8330 or Carrie Fulghum at 205-652-3393. Cosponsors are Dorcas Chapert #14 OES, Davide Temple Lodge #9, and Masonic Brothers and Sisters.
Hightower Memorial Library "PINK OUT"!
Join us for a "PINK OUT" Celebration at the Hightower Memorial Library on Tuesday, October 22, 2019. Come and share your story! There will be all sorts of information and handouts for "Breast Cancer Awareness Month!" We know that early detection Save Lives. So, Think Pink at Hightower Library! Pink lemonade and cookies will be served. See you there!
School Events
Science Saturdays
Halloween Chemistry Oct. 26, Bibb Graves Room 102 at UWA, 9:30 – 11 a.m. A fun activity for grades 1-12. To reserve a spot, contact Mrs. Rosie Campbell @205-652-3414 or email: rmc@uwa.edu.

YWE Events
10/16 Homecoming Coronation in YWE Gym. 10/24 Breast Cancer Awareness: We are asking all cancer survivors to participate. 10/30 Muffins for Moms and Doughnuts for Dads in the YWE Cafeteria at 9 a.m.

Sumter Central Announcements
SCHS Homecoming Week: All dress up days must stay with in the school dress code.
Oct. 14 Nerd day & SCHS Feud
Oct. 15 Pajama day & movie
Oct. 16: Celeb. Day & SCHS Wild N' Out
Oct. 17: Decade Day & Homecoming Coronation
Oct. 18: Spirit day & Block party
Class of 2020, are you interested in attending the Infinite Scholars Program Scholarship Fair on Oct. 30? If you answered yes, go to bit.ly/2bx31X6 and register for this free event which will provide you the opportunity to gain knowledge about college admission, on-site scholarship offers, and on-site college acceptance. See Ms. Merriweather for additional information!

University Charter School Announcements
UCS & UWA Campus School Fall Festival will be Oct. 22 at 5 p.m. in McConnell Field at Lyon Hall. paid wristbands inclue all games and activities except BINGO. The pumpkin decorating contestt winner will be announced at the Fall Festival. Carved and painted group class entries are welcome!
October is Statewide Parent Visitation Month! To kick-off this event, UCS would like to invite parents to visit their children's teachers and classrooms at UCS on Mon., Oct. 14, from 4:30-5:30! Report cards will be handed out and you will have time to visit with your child's teacher and view any past, current, or upcoming projects your child is working on. At UCS, we want to constantly build, reinforce, and improve relationships among parents, teachers, and students! We hope to see you at UCS!
The UCS DC Travel Club has started a Winston Pecan Fundraiser. This fundraiser will be from October 1st-24th. Please contact any fifth or sixth grade Travel Club Student or Mrs. Chris Beard at 205-499-6056 if you are interested in purchasing pecans or have any questions.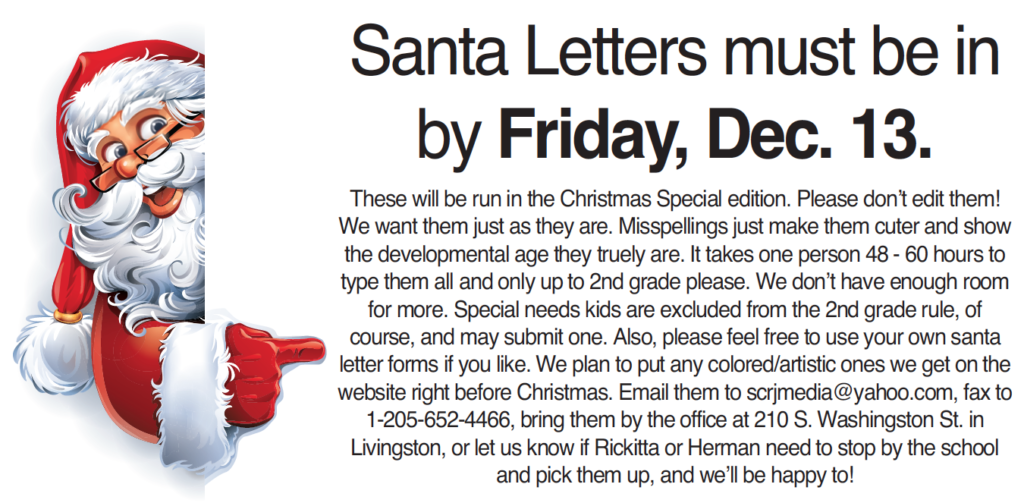 2nd Annual UWA Band Day
Come march with the Tigers at our 2nd annual UWA Band Day on Nov. 9! Sign up today at bit.ly/UWABandDay2019. For more information, please visit our website: band.uwa.edu. Registration deadline Oct. 28.

Beat Auburn Beat Hunger Kicks Off Tuesday
The annual Beat Auburn Beat Hunger food drive kicks off Tuesday, Oct. 1, at UA. The drive will run through Nov. 20; results will be announced Nov. 21. Kickoff events will run from 10 a.m. to 2 p.m. Tuesday at the Ferguson Center. Big Al will arrive at noon, and activities include an inflatable basketball toss. In addition, student volunteers will meet at 10 a.m. Tuesday at City Hall with Tuscaloosa officials to kick off the campaign. The drive collects food donations for the West Alabama Food Bank. Watch for an upcoming news release, or, for more information, contact Richard LeComte in UA communications at Richard.lecomte@ua.edu or 205-394-3040.

KHEAA Financial Aid Tip of the Month, October 2019
You should know these financial aid terms
As high school seniors and their parents begin the college financial aid process, they may find themselves faced with unfamiliar terms. This short glossary from KHEAA–Alabama may help.
Conversion scholarship/loan. This type of scholarship requires students to provide certain services. If they don't provide the service, the scholarship becomes a loan.
Cost of attendance. The total cost of one year of college: tuition, fees, room, meals, supplies, transportation and personal items.
Expected family contribution (EFC). This is the amount the student and family are expected to pay for the student's education. It is based on a formula set by Congress.
FAFSA. The Free Application for Federal Student Aid must be submitted by students applying for federal and state aid. The best way to do so is at www.fafsa.gov.
Financial need. The difference between the cost of attendance and the EFC.
Institutional aid. The scholarships, grants and other financial aid programs provided by the college.
Verification. The process of making sure the information submitted on the FAFSA is correct. The federal government requires colleges to have certain students' FAFSA information verified.
KHEAA is a public, non-profit agency established in 1966 to improve students' access to college. It provides information about financial aid and financial literacy at no cost to students and parents. KHEAA also helps colleges manage their student loan default rates and verify information submitted on the FAFSA. For more information about those services, visit www.kheaa.com. For more information about financial aid and college planning, visit www.alstudentaid.com.
Sumter County Schools 2019-20 Calendar

Oct. 15 12th Grade work keys
Oct. 18 10th Grade Pre-ACT Testing Window Closes
Nov. 8 Fall Break (School Closed)
Nov. 11 Fall Break (School Closed) Vets Day
Nov. 12 2nd Nine Weeks Progress Report
Nov. 25 – Dec. 1 Thanksgivings Holiday (School Closed)
Dec. 20 – First Semester Ends
Dec. 21 – Jan. 5 Christmas Holiday and New Years
Jan. 6 Inservice (No Students)
Jan. 7 School Re-Opens for Students, 2nd Nine Weeds Report Cards
Jan. 20 Dr. Martin Luther King Jr. Holiday (School Closed)
Jan. 21 ACCESS 2.0 and Alternate ACCESS for ELLs Window Opens
Feb. 3rd Nine Weeks Progress Reports
Feb. 17 Presidents' Day/Weather Day/Inservice (No Students), 3rd Nine Weeks Progress Reports
March 2 ACAP Alternative Assessment Window Opens (2nd – 8th Grade)
March 10 11th Grade ACT With Writing Test Given and Accommodation/Support. 3rd Nine Weeks Report Cards
March 20 ACCESS 2.0 and Alternate ACCESS for ELLs Window Closes
March 21 -29 Spring Break
March 30 ACAP Summative Assessment Window Opens (2nd – 8th Grade)
April 10 Good Friday (School Closed), ACAP Alabama Alternative Ends (2nd – 8th)
April 15 ACT WorkKeys Retest Option Given—And Accommodations/Support
April 20 4th Nine Weeks Progress Reports
April 21 11th Grade ACT With Writing Make-up Given (Option 2)
May 1 ACAP Summative Assessment Window Closes (2nd – 8th Grade)
May 15 Seniors Graduate
May 20 Second Semester Ends last day for students
May 21 Report cards mailed
May 22 Inservice Teacher day no students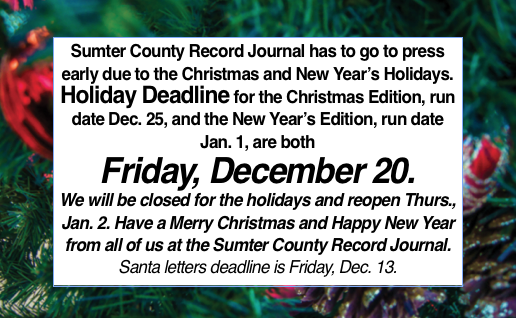 CONVERSATIONS ON SLAVERY, HISTORIC PRESERVATION HIGHLIGHT THURSDAY EVENT — The White House Historical Association will partner with UA and its Blackburn Institute to present lectures and conversations about some of today's most-discussed topics—slavery, historic preservation and community in the South. Thursday's program will feature talks from White House Historical Association leadership and UA faculty. A new White House Historical Association internship available exclusively for UA students, beginning summer 2020, will be announced. The panels and guided conversations begin at 2 p.m. in Ferguson Center, room 2408, and are free and open to the public. For more information, contact Sara Beth Bolin, communication specialist in UA's College of Arts and Sciences, at 205-348-8539 or sbbolin@ua.edu, or Dr. Julia Brock, UA assistant professor of history, jbrock2@ua.edu.
ENVIRONMENTAL HEALTH EXPERTS TO SPEAK AT #GREENJUSTICEUA EVENT — UA's School of Social Work will host "Environmental Justice: Research, Conversation and Networking Across Disciplines," a panel discussion of environmental justice issues in Alabama and across the country, Oct. 16 at the Hotel Capstone. The panel discussion will be held from 2-4 p.m. Researchers from UA, University of Alabama-Birmingham and the University of Tennessee will discuss access to severe weather warnings, air quality issues in North Birmingham, unsewered homes in the Black Belt and how inequities in green spaces can adversely affect one's health. The event will also feature exhibits from various environmental advocates, such as Friends of Hurricane Creek and the Black Warrior Riverkeeper. The event is free and open to the public. For more information, contact David Miller, UA School of Social Work, at 205-348-3942 or David.c.miller@ua.edu.
UA COLLEGE OF CONTINUING STUDIES CELEBRATES A CENTURY OF INNOVATION — For 100 years, the College of Continuing Studies his extended the reach of UA well beyond the shadows of Denny Chimes. On Thursday, Oct. 17, the College will celebrate its first century and take the first steps into the future. At 2 p.m., there will be a dedication of the new home for CCS, University Hall, which is located on the Bryce Campus. Then, at 3 p.m., the public is invited to join in at the newly renovated Bryant Conference Center as CCS will be on display. Come by and learn more about what the College of Continuing Studies can do for you and your family. For more information, contact Antoine Bell in the College of Continuing Studies, 256-797-3526 or abell@ccs.ua.edu. For assistance, contact UA communications, 205-348-5320.
Scholarship To Fund 50 High School, College Students' Paths To Automotive Manufacturing Careers
A second round of scholarships will be awarded this year for 50 students to train for automotive manufacturing careers at Alabama's community colleges. The Alabama Automotive Manufacturers Association and Alabama Community College System have partnered to provide a total $180,000 in scholarships, as well as mentors, to 50 students who want to pursue a technical education certificate or associate degree in the automotive manufacturing industry. The deadline to apply is Nov. 15. The first scholarship recipients were awarded earlier this year to start programs this fall. Students awarded after the November deadline will begin classes in the spring, summer or fall semesters of 2020. Interested students with at least a 2.5 GPA can learn more information and apply directly through the website, https://dreamitdoitalabama.com/aama/. Applicants must use the scholarship toward an automotive-related program, including the following: Automotive Manufacturing Technology; Automotive Manufacturing; Automotive Service Technician; Computer Numerical Control; Engineering Technology; Industrial Electronics Technology; Industrial Maintenance Technology; Injection Molding; Logistics; Machine Shop/Tool Technology; Manufacturing Technology; Mechanical Design Technology; Mechatronics; or Welding Technology. AAMA President Ron Davis said the scholarship program was designed to build interest in the exciting and rewarding careers the automotive industry offers. The total award is $3,600 for each student. The award covers tuition, fees and/or books needed. A full submission for the scholarship requires the following: a completed application; a resume; a maximum 500-word essay on why the student wants to work in Alabama's automotive industry; one signed reference letter; an unofficial college or high school transcript; and a headshot photo.