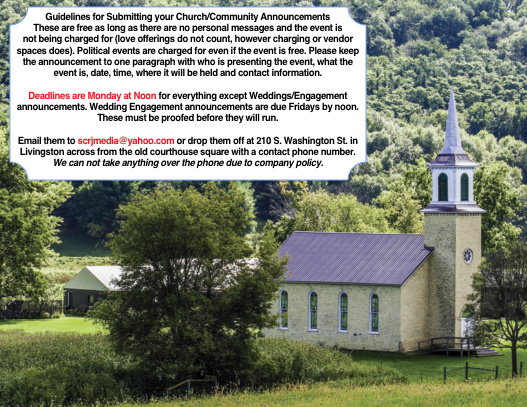 Deadlines are Mondays at Noon for everything except wedding/engagement announcements. Wedding engagement announcements deadline are Fridays by noon. Upcoming Holiday Deadlines:
Thanksgiving deadline Friday, Nov. 16 before noon. We will be closed Nov. 21-25.
Christmas (Dec. 27 edition) Fri., Dec. 21 before noon. We will be closed Dec. 22-27.
New Years (Jan. 3rd Edition) Fri., Dec. 28 before noon. We will be closed Dec. 29- Jan. 3.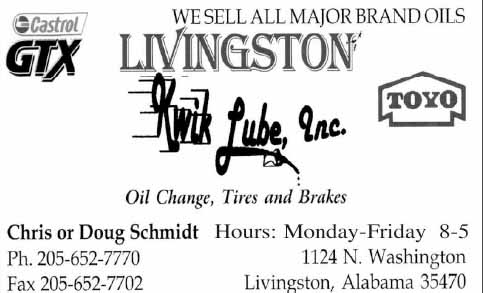 Community & Church Events
Galilee Baptist Northbound Fifth Sunday Fellowship Service
Rev. Dr. B. Nelson Little and the Galilee Baptist Church cordially invites you to the Northbound Fifth Sunday Fellowship Service on Sun., Sept. 30 beginning with Sunday school at 10 a.m. Worship Service starting at 11:30 a.m. Dinner immediately following worship Service.
Annual West Alabama Juried Show
The Arts Council of Tuscaloosa will be sponsoring its annual West Alabama Juried Show from Dec. 7-21, in the Arts Council Gallery at the Dinah Washington Cultural Arts Center. An opening reception will be held on Dec. 7 from 5-8 p.m. during First Friday. The public is invited to attend. Visual artists residing in Bibb, Dallas, Fayette, Greene, Hale, Jefferson, Lamar, Marion, Pickens, Perry, Shelby, Sumter, Tuscaloosa and Walker counties will be eligible. A  entry fee entitles participants to submit up to three works for judging. All original two- and three-dimensional works will be accepted with the exception of photography. Entries must not have been shown in any previous West Alabama Juried Show. All dates, entry requirements, procedures and applications are available on The Arts Council's website at https://tuscarts.org/competition-westaljuried. The completed application and up to three entries should be emailed to competitions@tuscarts.org from October 22-26, 2018. All two-dimensional pieces accepted for the show must be ready for hanging and matted, framed and under glass if appropriate. No work should be submitted that has been executed in a class or workshop. Maximum size is 5 1/2 feet x 5 1/2 feet, and maximum weight is 50 pounds for all entries. For questions about the West Alabama Juried Show including the entry procedure, call 205-345-9801 or 205-758-5195, ext. 6.
Public Safety Night Out
Join us Sept. 29 in downtown Livingston at 6 – 9 p.m. for  Public Safety Night Out with the Livingston Police Dept. There will be a parade, food, music, and demonstrations at Jaycee Park. All Pie The Police proceeds will benefit local school children. $2 for one chance, $20 for 15 chances, $50 for a guaranteed pie accepted through Sept. 25. 
Town of Emelle Business Appreciation Day
Town of Emelle Business Appreciation Day will be Oct. 6 at 11 a.m. – 3 p.m., at 123 Dailey Ave., Emelle. 
Fourth Creek Missionary Baptist Pastor and First Lady 5th Appreciation
Fourth Creek Missionary Baptist Church, York, cordially invites you to come and share with us as we celebrate our Pastor and First lady, Rev. Mitchel and Sis. Doretha Carter's 5th Appreciation on Sun., Sept. 23, at 2 p.m. The Rev. Antwon Plott, pastor of Bethlehem Baptist Church, Hillsboro, will be the guest minister. 
Healthy Places, Healthy People Workshop
You are invited to share your ideas for supporting a more vibrant and stronger downtown Livingston through improved access to healthcare and promotting healthier lifestyles. This is a workshop to bring people together to create an action plan for Livingston through local health and community planning strategies. We encourage anyone interested to come out to the opening evening session on Sept. 25, 6-8 p.m., lo learn and shore ideas.  Learn more about UWA and the City of Livingston's "Healthy Places for Healthy People" initiative by visiting the following link: https://www.uwa.edu/news/UWALivingstonHealthyPlaces
Free Yoga 101: Yoga for Every Body Introduction to Yoga at CCA
The Coleman Center for the the Arts will host a free introductory yoga class with certified yoga teacher Debbie Robinson on Sept. 29, 10 -11:30 a.m. at Pop Start in downtown York. Curious about yoga but don't know where to start? Looking for new ways to be active and practice self-care? This 90 minute beginners class will introduce you to the basic building blocks of yoga and show you how yoga can be adapted for all bodies and fitness levels. Yoga is for the body and mind – find focus and calm while also building strength and flexibility! Join us for food, conversation, and a cup of tea following class! Robinson and some of her students will be available for follow-up questions. Free! Mats provided. Just show up in your favorite sweatpants or leggings! For more information: 205.392.2005 / info@colemanarts.org / colemanarts.org. To find or submit information about more yoga events in the Sumter County area: facebook.com/SumterYoga.
West Alabama Symposium on the Management of Invasive Species
The University of West Alabama will host its first West Alabama Symposium on the Management of Invasive Species Oct. 3-5. The second program sponsored by Cooperation PAIS (Partners Against Invasive Species), the symposium is open to the public, and land owners and property managers are strongly encouraged to attend. There is a  registration fee per attendee. For more information on the West Alabama Symposium on the Management of Invasive Species or Cooperation PAIS, contact UWA's Dr. John McCall at 205-652-3414 or jmccall@uwa.edu.
New Prospect Baptist Youth Day
You and your youth are invited to come and celebrate with New Prospect Baptist Youth in their annual Youth Day Sun., Sept. 23 at 2 p.m. Theme: "Let no man despise thy youth; but be thou an example of the believers in word, conversation, in charity, in spirit, in faith, in purity.,"Timothy 4:12. Pastor Aquilla Pack of Salem Mission Baptist, Butler, will be guest speaker. A & B selections are requested in singing. Praise dancing and Steps are also welcomed. New Prospect Youth Dept., Felix Jones, pastor; Sis. Rhonda V. Bibbs, clerk.
School Events
Need $$$ for your team or event? It's as easy as selling papers!
Contact Tommy McGraw at scrjmedia@yahoo.com or 205-652-6100 or stop by Thursday or Friday at the office at 210 S. Washington St. across from the courthouse to get started.
UWA Homecoming 2018
UWA Homecoming 2018 will be Fri., Oct. 26 – Sat., Oct. 27.
Sumter County Schools Events
OCT
10 In-service
11 1st 9 week report cards
University Charter School Events
OCT
11-12 Fall Break Holiday
16 End of 1st 9 Weeks
SSCC Child Development Demonstration Suite
Shelton State Community College (SSCC) announces the official opening of the Child Development Demonstration Suite on the C.A. Fredd Campus.  The community is invited to an open house event on Sept. 20 from 5:30 p.m. until 7:30 p.m.   The event is free, and all are invited to attend.
York West End News
Pre-k registration is still ongoing. Please register your children immediately. Applications can be found in the York West End Jr. High main office.
Science Saturdays
The University of West Alabama's College of Natural Sciences and Mathematics invites students from 4th to 12th grades in and around Sumter County to the next event in its series of Science Saturdays on Sept. 29 from 9:30 a.m. until noon at Bibb Graves Hall on the UWA campus. Dr. Mustafa Morsy, a UWA professor, will present an engaging workshop on farming, designed to connect students with the food they eat and introduce them to some of the sciences related to agriculture through hands-on activities. For examples, students will learn about dairy science by making ice-cream and learn about plant science and how to grow fresh organic produce as well as many other subjects. The workshop is free and open to students from grades 4-12. The series is supported by a grant from Tombigbee RC&D.
For more information and updates, follow Science Saturdays on Facebook at https://www.facebook.com/ScienceSaturdays, Students can receive a free Science Saturdays T-shirt when registering for the event by providing shirt size. Space is limited. To reserve a spot email Rosie Campbell at rmc@uwa.edu or call 205-652-3414.
Moundville Park Celebrates 30th Native American Festival Oct. 3-6
UA's Moundville Archaeological Park will host the 30th annual Moundville Native American Festival Oct. 3-6. The annual event features artists, craftsmen and educators from around the nation sharing their knowledge of Native American culture. Aside from traditional activities, organizers plan to commemorate the 30th year of the festival by reflecting on the past and celebrating how far the event has come. The 2018 Moundville Native American Festival has been designated as a special event celebrating the state of Alabama's bicentennial. For more information, contact Bryant Welbourne, UA Strategic Communications, at 205-348-8325 or bryant.welbourne@ua.edu.