Classified and Legal Rates are 60 cents per word each week. A minimum charge of $12.00 for 20 words or less is set for every classified and legal advertisement. Display advertising is accepted at display ad rates. Email: scrjmedia@yahoo.com or mail advertisements to the Sumter County Record-Journal, P.O. Drawer B, Livingston, AL 35470; bring them to 210 South Washington St., Livingston, AL; call 205-652-6100; FAX to 205-652-4466. DEADLINE: MONDAY AT NOON. Legals and Classifieds run for FREE on our website in addition to the paper. We also place the legal on www.alabamapublicnotices.com for no additional cost.
2021 Upcoming Holiday deadlines: We will be closed for Labor Day and have a late deadline for Sept. 7 by noon. Deadline is Friday, Nov. 19 for Thanksgiving Edition and will be closed for the Thanksgiving Holidays. Deadline isFriday, Dec. 3 for Santa Letters. Deadline isMonday, Dec. 20 for the Christmas and New Years Editions. SCRJ Will be closed Dec. 23-Jan. 2 for the Christmas & New Years Holidays.
Local Classifieds
SAY WHAT?!
Run a classified in the paper and get a free classified on our website: www.recordjournal.net.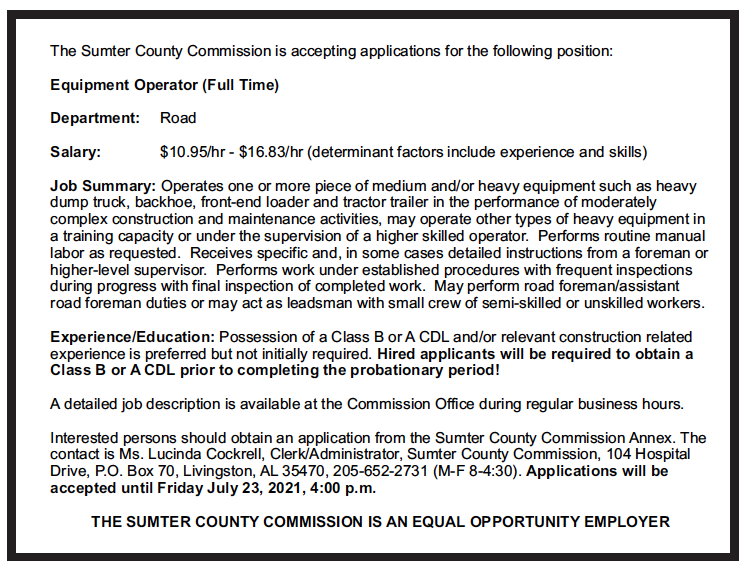 DIRECTV. Call & Switch Now – Get NFL Sunday Ticket for FREE! Every Game. Every Sunday. CHOICE- All-Included Package. Over 185 Channels. $60/month (for 12 Months.) CALL 1- 855-421-9994
DENTAL INSURANCE. Call Physicians Mutual Insurance Company for details. NOT just a discount plan, REAL coverage for 350 procedures. 888-608-3257 or http://www.dental50plus.com/301 Ad# 6118
DISH Network. 190+ Channels. FREE Install. FREE Hopper HD-DVR. $49.99/month (24 months) Add High Speed Internet – $14.95 (where avail.)
CALL Today & SAVE 25%! 1-888-970-4932
Need to run a classified in Sumter County Record Journal?
Email scrjmedia@yahoo.com to get a price quote. Deadlines are Mondays by noon for everything including payments and cancelations.
State Classifieds
SERVICES
ADVERTISE STATEWIDE or by Region in over 100 Newspapers, reaching over 1 million readers each week! Run your ad in our Classified Network for just $210 per week! Make one call to this newspaper (participating Alascan newspaper) or call 1-800-264-7043 to find out how easy it is to advertise statewide!
ARE YOU BEHIND $10k OR MORE ON YOUR TAXES? Stop wage & bank levies, liens & audits, unfiled tax returns, payroll issues, & resolve tax debt FAST. Call 855-887-9533 (Hours: Mon-Fri 7am-5pm PST).
BATH & SHOWER UPDATES in as little as ONE DAY! Affordable prices – No payments for 18 months! Lifetime warranty & professional installs. Senior & Military Discounts available. Call: 833-449-1307.
LONG DISTANCE MOVING: White-Glove Service from Americaís Top Movers. Fully insured and bonded. Let us take the stress out of your out of state move. FREE QUOTES! Call: 844-513-0651.
SAVE UP TO 80% ON YOUR MEDICATION. Eliquis, Xarelto, Viagra, Cialis and more.
Licensed and Certified. Lowest Price Guaranteed. Call 855-899-6256 and get free shipping on your first order. (Open M-F).
TRAIN ONLINE TO DO MEDICAL BILLING! Become a Medical Office Professional online at CTI! Get Trained, Certified & ready to work in months! Call 866-475-1014. (M-F 8am-6pm ET).
INSURANCE
ATTENTION MEDICARE Recipients! Open enrollment is upon us! We want to save you money on your medicare supplement plan. Free quotes from top providers. Excellent coverage. Call for a no obligation quote to see how much you can save! 1-877-326-0344.
HEALTH/BEAUTY
ATTENTION DIABETICS! Save money on your diabetic supplies! Convenient home shipping for monitors, test strips, insulin pumps, catheters and more! To learn more call now 1-855-504-9031.
HELP WANTED-DRIVERS
FLATBED CDL-A DRIVERS WANTED!! .50 PER MILE. HOLIDAY/VACATION PAY. MEDICAL/DENTAL. NO DEF TRUCKS. CALL 1-334-863-2205 OR GO TO WWW.WTWENTERPRISESINC.COM TO APPLY.
HELP WANTED-TRADES
LEARN MORE about high-demand skilled trades and construction positions. Begin your construction career with Go Build Alabama. Apply today at GoBuildAL.com.
AUTOMOTIVE
VEHICLE TITLE Problems? We have a solution! Call Jason Steward Enterprises, We're Alabama's #1 Vehicle Title Problem Experts! Free telephone consultation. North AL 1-256-850-0527, Central AL 1-205-267-5735, South AL 1-251-342-8538.
FOR SALE
Directv Satellite Service starting at $59.99/month! 1 Year Price Lock! 155+ Channels available. Call Now to get the Most Sports on TV! 888-404-2087.
NEED NEW Flooring? Call Empire Today to schedule a Free in-home estimate on Carpeting and Flooring. Call Today! 1-888-381-0916.
UPDATE YOUR HOME with Beautiful New Blinds & Shades. FREE in-home estimates make it convenient to shop from home. Professional installation. Top quality – Made in the USA. Call for free consultation: 844-809-9165. Ask about our specials!